Advertiser Disclosure – Katie's Travel Tricks is part of an affiliate sales network and receives compensation for sending traffic to partner sites, such as MileValue.com. This compensation may impact how and where links appear on this site. This site does not include all financial companies or all available financial offers. Terms apply to American Express benefits and offers. Enrollment may be required for select American Express benefits and offers. Visit americanexpress.com to learn more. For Capital One products listed on this page, some of the above benefits are provided by Visa® or Mastercard® and may vary by product. See the respective Guide to Benefits for details, as terms and exclusions apply
The vacation rental market has grown tremendously over the past few years. While Airbnb and VRBO are big names in vacation rentals, a smaller, lesser known vacation rental company called Vacasa takes the cake for best value on points.
What is Vacasa?
Vacasa is a vacation rental property management company with over 35,000 vacation rentals throughout North America, Belize, and Costa Rica. Within the United States, Vacasa currently operates in 34 states.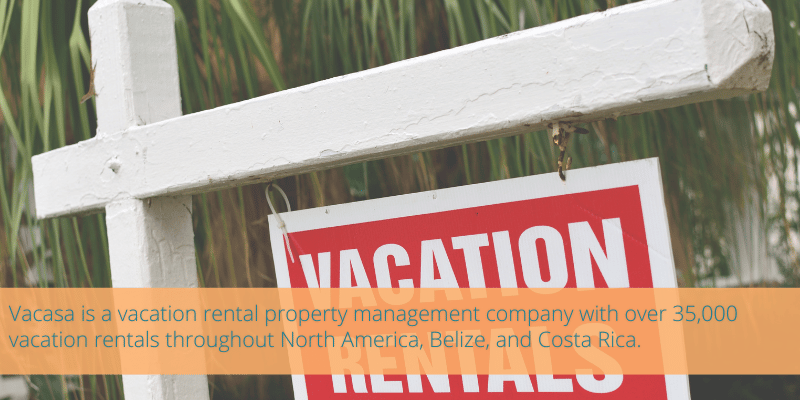 As a vacation rental management company, Vacasa operates differently than companies like Airbnb and VRBO. Airbnb and VRBO serve as sites for people to list their properties for rent. Owners using these sites are still responsible for managing the properties, hiring and coordinating cleaning, etc.
However, as a full service vacation rental management company, Vacasa will manage listings (including listing properties on booking platforms like Airbnb, VRBO, and Booking.com), perform maintenance, set rental rates, offer guest assistance, and perform professional cleaning.
Vacasa has been around since 2009, with tremendous growth over the past few years as they have acquired other rental platforms.
Vacation rentals on points
Booking vacation rentals on points usually doesn't offer a great redemption rate. For example, if you use your Capital One Venture to book an Airbnb, you could erase the purchase or get a statement credit back at a rate of up to 1 cent per point. It would take 10,000 points to cover a $100 cost.
Some credit card travel portals list vacation rentals, but your redemption value will be 1-1.5 cents per point, depending on the card.
Another option is hotel chain timeshare properties. There are hotel chains that offer condo-style vacation resorts, such as the Holiday Inn Vacation Club, the Marriott Vacation Club, the Hyatt Residence Club, Bluegreen Vacation (via Choice), and Hilton Grand Vacations. These are a great option — when you can find them. They will offer kitchens and more space than a traditional hotel. But their locations are limited and they can be hard to find availability to book with points.
Wyndham-Vacasa partnership
That's why our favorite way to book vacation rentals on points is by taking advantage of Wyndham's partnership with Vacasa. This partnership, which started in 2021, has opened up some great possibilities for using points for vacation homes in the large Vacasa network!
Unfortunately, Vacasa is not as widespread as other vacation rental companies, so there may not be any rentals available where you are going. If this is the case, check out our article on how to book vacation rentals with points for some more ideas on how to cover your rental with points.
Wyndham Rewards rate
Vacasa bookings made with Wyndham Rewards cost a flat 15,000 Wyndham Rewards per bedroom, per night. So a 1 bedroom rental for 3 nights would cost 45,000 Wyndham Rewards (15,000 points x 3 nights) and a 2 bedroom rental for 5 nights would cost 150,000 Rewards (30,000 points x 5 nights).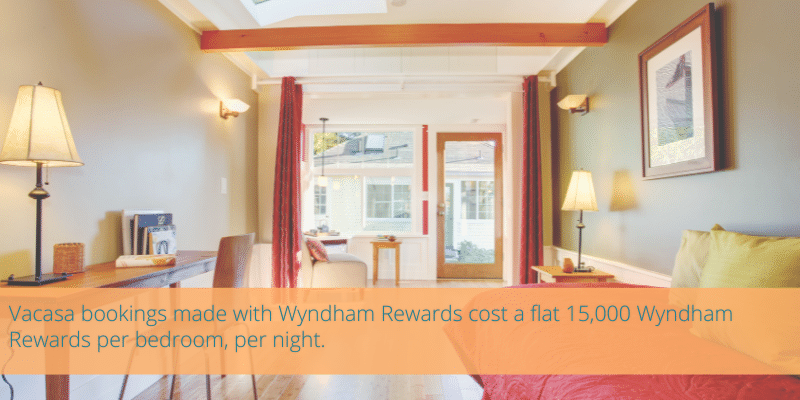 This makes homes with lots of bedrooms very expensive, but one bedroom rentals can be a great value. Since the rentals are priced based on bedrooms, homes with lofts or basements with extra sleeping areas do not cost more. Some one-bedroom homes actually sleep up to 8 people!
Not all properties are available to book with points. A property may have a minimum number of nights stay to be bookable with points. In addition, data points suggest that the cash price of the property needs to be $350 or less per night (before taxes and fees), per bedroom to be bookable with points.
As if that isn't a good enough redemption value, when you book a Vacasa rental with your Wyndham Rewards, you are not charged any taxes or cleaning fees.
In addition, if you have a Wyndham Rewards credit card, you receive a 10% discount on free night redemptions with points.
Vacasa booking process
Booking Vacasa rentals using your Wyndham Rewards cannot be done online or by email. Currently, reservations can only be done by phone. Here are the steps to find and reserve your Vacasa vacation rental.
Find a Vacasa rental
First, start on the Vacasa site to find rental options. If you're looking for the best value, start by filtering for 1 bedroom places and then the number of people you are hoping to accommodate. You can also filter by type of property and amenities.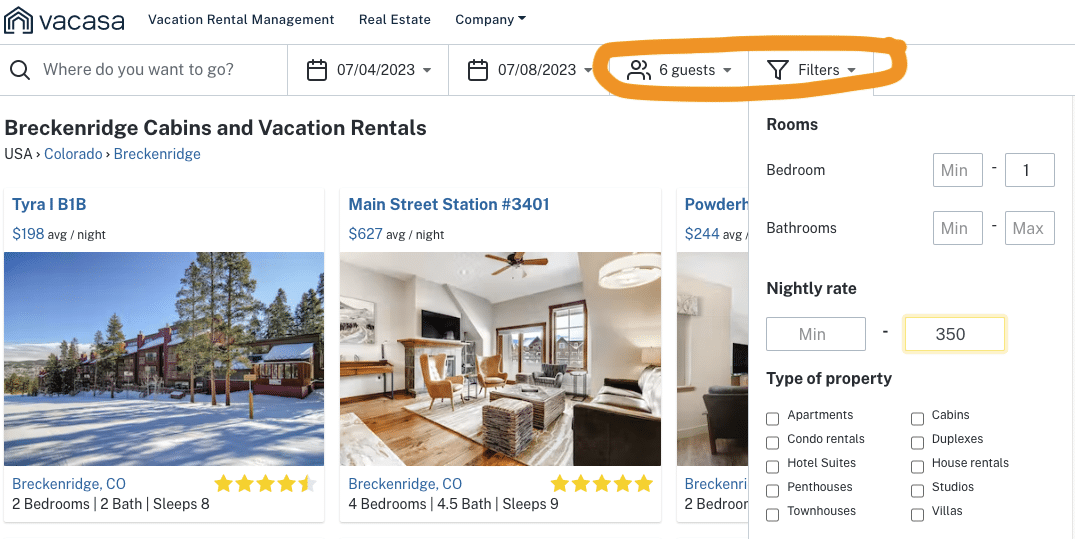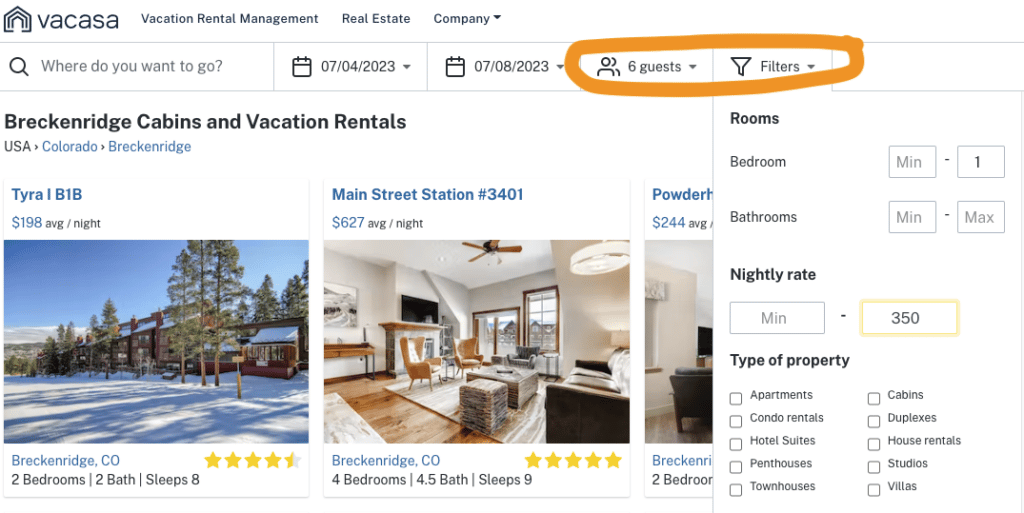 Since Vacasa rentals that cost more than $350 per night seem to be unavailable to book with Wyndham points, you can also filter with a $350 maximum.
If you want to get an idea of what's available, here are the search results for all the 1-bedroom properties within the United States. There are more than 300 rentals that are 1-bedroom and under $350 per night that sleep 6 people.
Vacasa also has a limited number of properties listed in Mexico, Belize, and Costa Rica. However, because these properties are typically less expensive to start with, the redemption value won't be as high.
Identify a few properties that you are interested in booking. Since you won't be able to tell on the website if a property is bookable with points, make a list of a few properties you like. This way you'll have alternatives available for the Wyndham agent in the event that your top choice(s) aren't bookable with points.
Create/log-in to your Wyndham Rewards account
You'll need to have a Wyndham Rewards account in order to book a Vacasa property. Wyndham Rewards is free to join and it just takes a few minutes to set up an account and get your rewards number. Have this account set up and your account number handy when you call to make your reservation.
If you'll be transferring points from Capital One or Citi to Wyndham, make sure that the name on your Wyndham Rewards account matches the name of the credit cardmember (Capital One or Citi) or an authorized user (Capital One).
Call Wyndham to confirm Vacasa availability
Call 800-441-1034 to talk to an agent and confirm availability and make your reservation. Each property has a listing number, so have that number available, along with the listing numbers of any alternative properties.
Transfer points to Wyndham
Wyndham Rewards partners with Capital One and Citi. Capital One Venture Miles and Citi ThankYou® Points can be transferred at 1:1 to Wyndham Rewards.
If you aren't sure how transfer partners work, be sure to download our free transfer partner cheatsheet and guide. Transferring points is quick and easy, and our guide includes sections on how to transfer flexible rewards to transfer partners for both Capital One and Citi.
We never recommend transferring points out of a flexible rewards account until you have confirmed availability since transfers are irreversible. Rewards typically transfer quickly. In my experience, I have been able to confirm availability, transfer points, and complete my reservation during the course of one phone call.
Confirm booking
After completing your reservation by phone, you will get a confirmation email from Wyndham. You will receive a separate reservation confirmation from Vacasa. It may take 24-48 hours after booking to get your reservation confirmation information and rental agreement from Vacasa. If it takes longer than this, follow-up with Wyndham.
Vacasa cancellation policy
If you cancel your Vacasa rental more than 30 days before check-in, your points will be fully refunded. If you cancel 30 days or less before check-in, your points will not be refunded.
How to earn Wyndham Rewards
Credit card bonuses
Our favorite way to earn Wyndham Rewards is through credit card bonuses.
Barclays offers three Wyndham credit cards: the earner, the earner+, and the earner business card. Annual fees range from $0-$95 and if you hold one of these cards you will get a 10% redemption discount on points redeemed for free nights. For most people, the personal cards aren't worth a 5/24 slot–but could be a good option to get once you pass 5/24. The Wyndham Business Earner card is a better option to get that discounted rate since it won't add to your 5/24 count. Wait for the offer to go up to at least 60,000 points.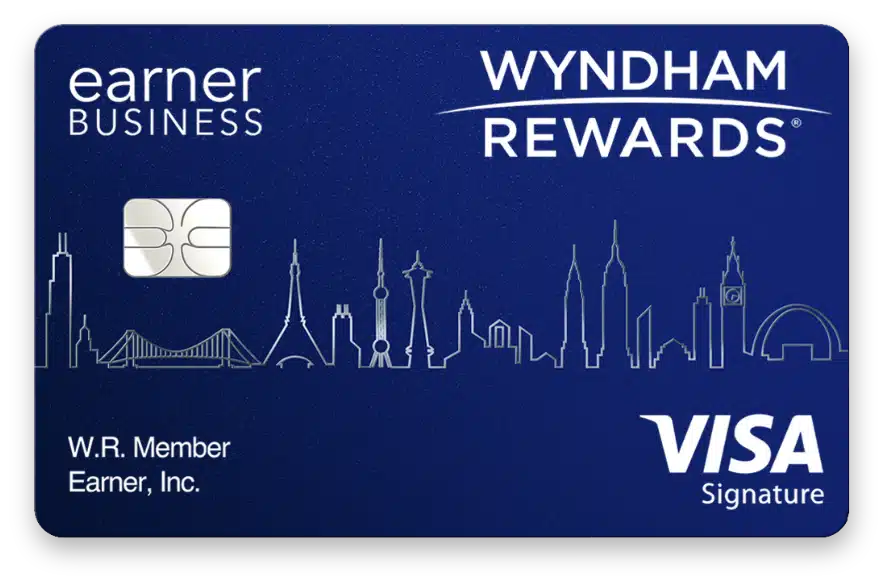 $95 annual fee
Earn 15,000 bonus points on account anniversary
8 points per dollar on gas
Automatic Diamond status which gives free upgrades
Status match to Caesar's Diamond for a free 5 night stay at Atlantis Bahamas
Great for booking vacation rental homes.
Since both Citi ThankYou® Points and Capital One® Venture® miles transfer to Wyndham, earning card bonuses on a Citi Premier® card or a Capital One® Venture®/Venture X card will get you more free nights in a Vacasa rental!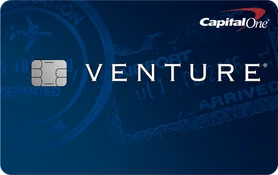 $95 annual fee
Earn 75,000 bonus miles when you spend $4,000 on purchases in the first 3 months from account opening, equal to $750 in travel
Miles can be redeemed to erase any travel purchase. 50,000 miles = $500
Can be transferred to a variety of partners like Jet Blue, Wyndham, Avianca, Turkish Airways and more
Also worth considering the Venture X which has more benefits and the same offer.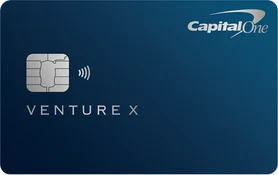 Earn 75,000 bonus miles when you spend $4,000 on purchases in the first 3 months from account opening, equal to $750 in travel
$395 annual fee
$300 annual travel credit when booking through Capital One's portal
10,000 points every year on account anniversary (worth at least $100)
Statement credit for Global Entry or TSA Precheck
Miles can be redeemed to erase any travel purchase. 75,000 miles = $750
Can be transferred to a variety of partners like Jet Blue, Wyndham, Avianca, Turkish Airways and more.
Get our downloadable checklist here so you can max your benefits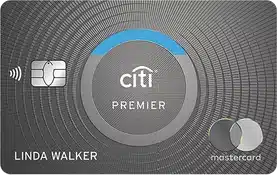 Wyndham shopping portal
Wyndham also has a shopping portal that offers the opportunity to earn Wyndham Rewards with your online purchases.
European vacation rentals through Wyndham
If you're looking to book a vacation rental in Europe, Wyndham also partners with Landal Properties and Cottages.com to offer rentals for 15,000 Wyndham Rewards per bedroom, per night.
Landal Properties offers 118 properties (or "parks") in the Netherlands, Germany, Belgium, Austria, Switzerland, Denmark, the United Kingdom, Czech Republic, and Hungary. Accommodations through Landal are typically bungalows and apartments surrounded by nature. Many properties include family friendly amenities, including water parks, playgrounds, mini golf, and more.
Cottages.com offers rural vacation cottages throughout England, Scotland, and Wales.
Wyndham Rewards bookings must be made by calling 866-232-8628 for Cottages.com and 888-862-8053 for Landal Properties.
While we have not used this yet, if you use it please let us know what your experience is!

Editorial Disclosure – Opinions expressed here are author's alone, not those of any bank, credit card issuer, hotel, airline, or other entity. This content has not been reviewed, approved or otherwise endorsed by any of the entities included within the post.