Advertiser Disclosure – Katie's Travel Tricks is part of an affiliate sales network and receives compensation for sending traffic to partner sites, such as MileValue.com. This compensation may impact how and where links appear on this site. This site does not include all financial companies or all available financial offers. Terms apply to American Express benefits and offers. Enrollment may be required for select American Express benefits and offers. Visit americanexpress.com to learn more. For Capital One products listed on this page, some of the above benefits are provided by Visa® or Mastercard® and may vary by product. See the respective Guide to Benefits for details, as terms and exclusions apply
There are more than 35 credit cards and loyalty programs that will cover TSA PreCheck or Global Entry as a card benefit. If you have some travel cards, there's a good chance that you have one of these cards in your wallet, and this is one benefit that you don't want to miss out on!
TSA PreCheck and Global Entry are two of the five Trusted Traveler Programs overseen by the Department of Homeland Security. They are our favorite programs for families to expedite the time spent in lines at airports. Nobody likes lines, but kids get especially antsy, so anyway you can get your family through a line faster is a win!
TSA PreCheck
Why we love TSA PreCheck
Having TSA PreCheck is one of our top recommendations for families wanting to cut down on stress at the airport. Going through security may seem like a small part of your day, but it is hard to relax until you've gotten through and can go to your gate.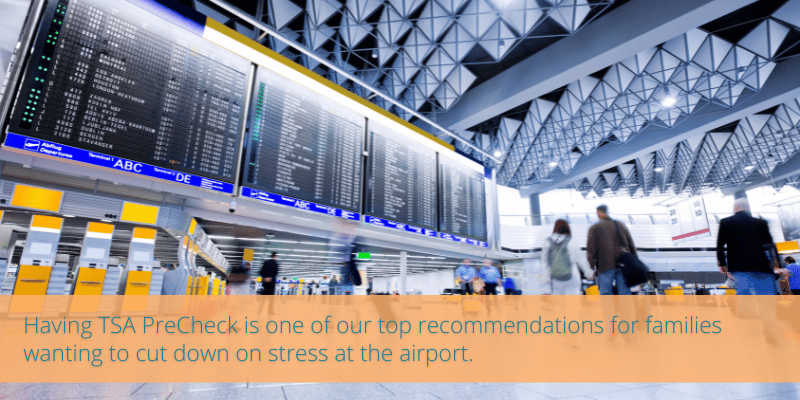 TSA PreCheck is great because:
Lines are shorter
People in the TSA PreCheck line move more quickly through the line because they know what they are doing
You don't have to take off your shoes
You don't have to remove liquids from your bag
You don't have to remove laptops or devices
Any kids 12 and under can go through the TSA PreCheck with an adult who has it — so you only need to get it for the adults in your family.
How to get TSA PreCheck
Apply Online – You will need to fill out an online application. At the end of your application form you will be able to schedule an in person appointment at an enrollment center.
Enroll – At your appointment at the enrollment center, you will pay your $85 (if you have the right credit card, you will receive this back as a statement credit!), and you will have your fingerprints taken and a background check will be run. This appointment just takes a few minutes.
If you are approved, you will receive an email with your Known Traveler Number.
You will enter your Known Traveler Number in your airline accounts and/or when you are booking flights. Your boarding pass will indicate that you are TSA PreCheck. You can only use the TSA PreCheck lane if it is on your boarding pass! If you forget to add your Known Traveler Number and the airline does not have it on record, you will be turned away from the TSA PreCheck lane.
Global Entry
Why we love Global Entry
While TSA PreCheck helps you through the line when you are departing the U.S. by air, Global Entry helps you when you are entering the U.S. by air, land, or sea. As an added benefit, if you have Global Entry, you will also have access to the TSA PreCheck lines.
If you travel outside the country regularly, Global Entry can save you a lot of time spent in the passport control line on your way into the U.S. You will be directed to a special Global Entry line and be received by a kiosk.
Global Entry comes with all of the same benefits as TSA PreCheck – since you also get TSA PreCheck line access – in addition to expedited entry into the U.S. for the member.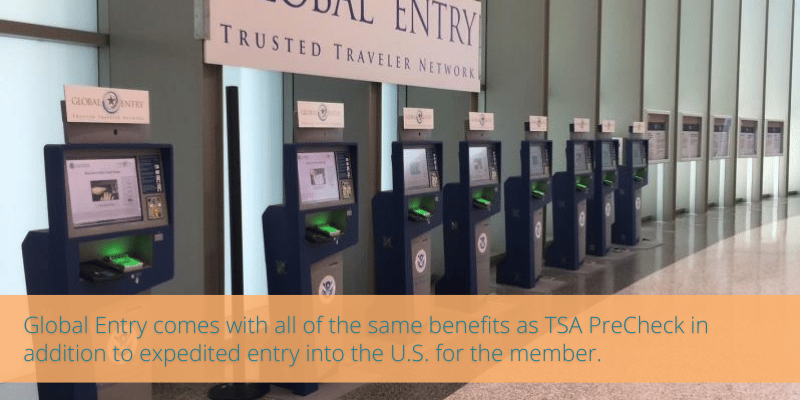 How to get Global Entry
Apply Online – The application process for Global Entry is more extensive than for TSA PreCheck. You will pay your $100 application fee when you apply. With the right credit card, you will be able to receive a statement credit for your application fee.
Schedule an interview – In order to get approved for Global Entry, you will need to go to an in person interview. You may schedule your interview at an enrollment center or, in some cases, you may be able to complete this when you return to the U.S. at an Enrollment on Arrival location.
Note that interviews can take months to schedule and U.S. Customs and Border Control sometimes recommends that people utilize Enrollment on Arrival or sign up for TSA PreCheck instead.
TSA PreCheck or Global Entry?
Enrolling in TSA PreCheck or Global Entry will give you access to the TSA PreCheck lines at the airport. So which one should you sign up for?
Cost
At $100, Global Entry costs slightly more than TSA PreCheck ($85), but most cards that offer this benefit will allow you to use it for either program.
Years valid
Both programs are valid for 5 years. You may renew your TSA PreCheck membership up to six months before the expiration date. You may renew your Global Entry membership one year prior to expiration. (Credit cards typically allow this benefit to be used once every four years.)
What's included
TSA PreCheck will get you AND any kids 12 and under into the TSA PreCheck lane at the airport. These are dedicated security lanes that allow you to keep your shoes on and leave your liquids and laptops in your bags.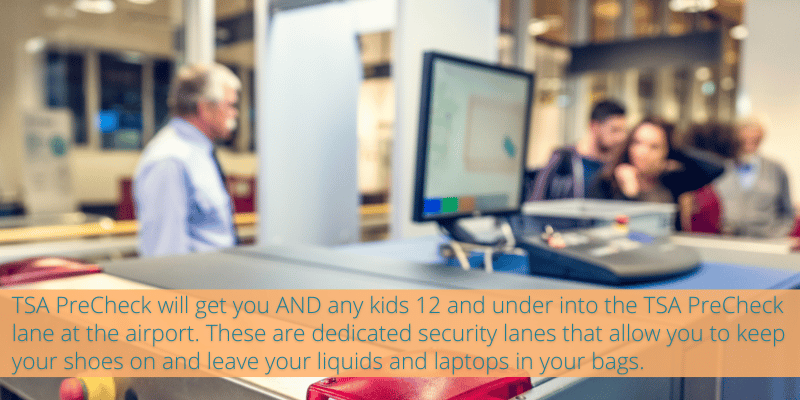 Global Entry will get you and any kids 12 and under into the TSA PreCheck lane. You (and only you) will also have expedited reentry into the U.S. through automatic kiosks at dozens of U.S. airports, as well as some international airports. The full list of participating airports is available through Customs and Border Protection.
Eligibility
Both programs are open to applicants that are U.S. citizens and U.S. lawful permanent residents. Global Entry is also available to citizens of more than a dozen other countries.
Passport requirements
A passport is not required for TSA PreCheck. A passport is required for Global Entry.
Application process
The application process for Global Entry is a lot more involved and can take several months to complete. Most Global Entry applications must be completed at an enrollment center.
However, Global Entry does have an Enrollment on Arrival option that allows conditionally approved applicants to complete their interviews upon arrival into the U.S. You can read more about Enrollment on Arrival here.
Important to note: There are fewer enrollment centers for Global Entry interviews so make sure there is one near you if you choose to apply for that program. Interviews are often scheduled farther out, even months in the future.
After approval, then what?
You will be issued a Known Traveler Number (KTN). Just having this number will not automatically get you access to the TSA Precheck line at the airport.
First, you will need to be flying on an airline that participates in the program. There are some international airlines who do not participate even though they depart from US airports. Check the list here.
If you are flying on an eligible airline:
Add your Known Traveler Number to your flight reservation
Make sure "TSA PRE" printed on your boarding pass
Enjoy the shorter lines!
You must link your KTN to your flight reservation. You can add it to your frequent flier account, add it when you are making a reservation, or add it after you have made your reservation. If your TSA PreCheck status does not make it onto your boarding pass, you will NOT be able to use the TSA PreCheck lane.
Alternatives to Global Entry and TSA PreCheck
If you don't have Global Entry or TSA PreCheck, there are several other options that can help make your travel a bit smoother.
NEXUS and Sentri are two additional Trusted Traveler Programs that your credit card may cover. These programs are primarily for those who are looking for expedited crossing between the U.S. and Canada (NEXUS) or expedited entrance into the U.S. from Canada and Mexico (Sentri). While these programs have their own benefits, enrollment centers are limited and only located near the Canadian and Mexican borders.
CLEAR
CLEAR is a private company that offers an expedited airport security experience through the use of biometric information (iris scan) to verify your identity.
CLEAR lines at major airports are often empty. CLEAR is more expensive ($189) than both Global Entry and TSA PreCheck, and is only valid for one year. Both the American Express Platinum card and the American Express Green card offer a $189 CLEAR credit. Children go through CLEAR free, and you can add additional adults to your membership for $60 per person.
If you are interested in trying CLEAR you can sign up for a CLEAR trial for you and your family here.
Mobile Passport Control App
If you are looking for expedited reentry into the U.S. without Global Entry, be sure to download the Mobile Passport Control app on your phone before your flight.
This free app allows eligible travelers to submit passport and customs declaration information to Customs and Border Protection electronically, after arrival at one of the 38 participating locations. You will then have access to an expedited passport control line. You can read all about Mobile Passport Control here.
Which cards offer this benefit for free?
For a complete list, see the TSA website's list here.
Some of our favorite cards are on this list – including the Chase Sapphire Reserve, Capital One Venture and Venture X, and Southwest Rapid Reward Performance Business – and provide a statement credit for the cost of Global Entry or TSA PreCheck once every four years.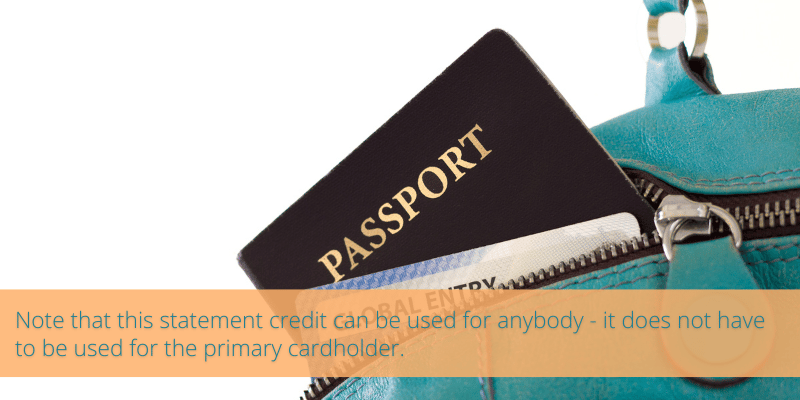 Note that this statement credit can be used for anybody – it does not have to be used for the primary cardholder. So if you have multiple cards with this benefit, you can get Global Entry for yourself on one card and for someone else with your other card(s).
Our favorites
Cards with the annual fee waived the first year:
Cards with a $99 annual fee or less:
$95 annual fee
$100 annual airline incidental credit
Annual fee is $95 but is waived for military members and veterans.
You also receive a $100 annual airline incidental credit.
Cards with an annual fee from $199-$250:
Premium Cards (annual fees $450+)
Citi Prestige Card (currently not open for applications)
Need help picking a travel rewards credit card? Send me an email at katie@katiestraveltricks.com – I'm happy to help!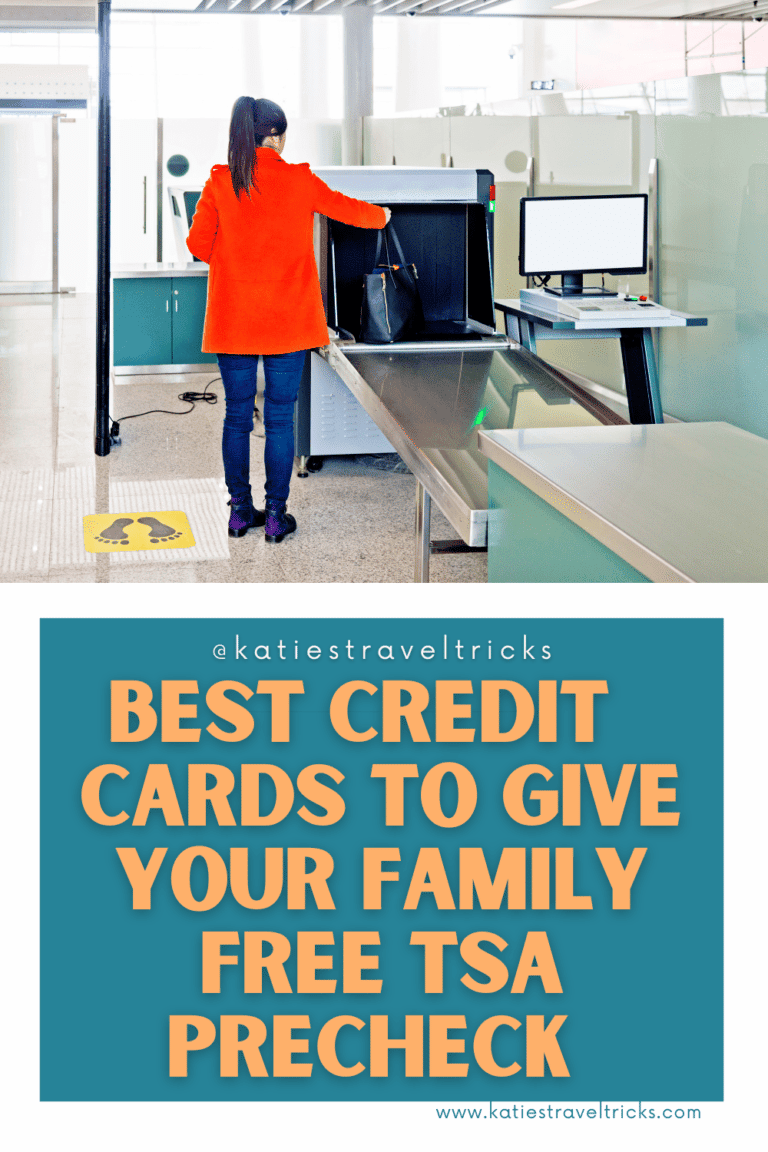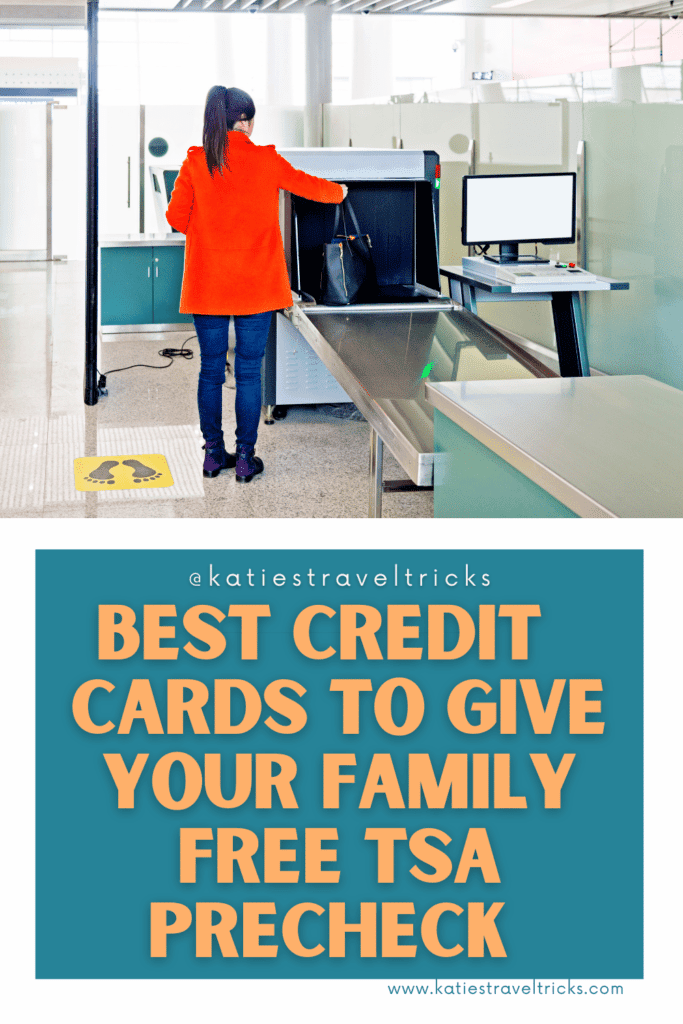 Editorial Disclosure – Opinions expressed here are author's alone, not those of any bank, credit card issuer, hotel, airline, or other entity. This content has not been reviewed, approved or otherwise endorsed by any of the entities included within the post.