As of Fall 2022, getting Southwest Upgraded Boarding is easier than ever — and can be free if you hold the right credit card.
If you've flown Southwest, you know that the most annoying part of it is having to remember to check in 24 hours before your flight to get your boarding number. But sometimes you forget and end up with a C boarding group and know you are going to end up in a middle seat.
You could pay for Early Bird Check In for $15-$25 each way to get automatically checked in and that will usually get you an A group. Even better: if you have the right credit card, though, you can upgrade to A1-A15 for free if space is available. Read on to learn the ins and outs of upgrading your boarding group on Southwest.
Credit Cards That Give Southwest Upgraded Boarding
There are two Southwest credit cards that give Upgraded Boarding — a personal and business version. Both provide 4 Southwest upgraded boardings per cardmember year. This means that if you open a card in October 2022, you will get 4 upgraded boarding credits to use over the next 12 months. If you don't use them, you will lose them. The following year in October 2023, you will get 4 more.
How to Upgrade Your Boarding on Southwest
It used to be that if you didn't purchase a Business Select fare, upgrading could only be done at the gate for your flight. Southwest just made this easier and you can now upgrade in the app or website instead! This is still subject to availability. If 15 passengers have booked Business Select Fares, there won't be any upgraded boarding available for your flight. In practice, I haven't seen this happen but it is possible.
The terms of the credit card benefit still officially say it covers Upgraded Boarding at the counter but Kendyl from @kendyltravels tested this and confirmed upgrades via the app were also credited.
Note this: Upgraded Boarding is purchased per segment. That means if you have a connecting flight, you would have to purchase for each flight segment you are on.
How to get Upgraded Boarding on the Southwest App
When you're logged into the app, click the 3 lines to pull down the menu


You'll see the Upgraded Boarding option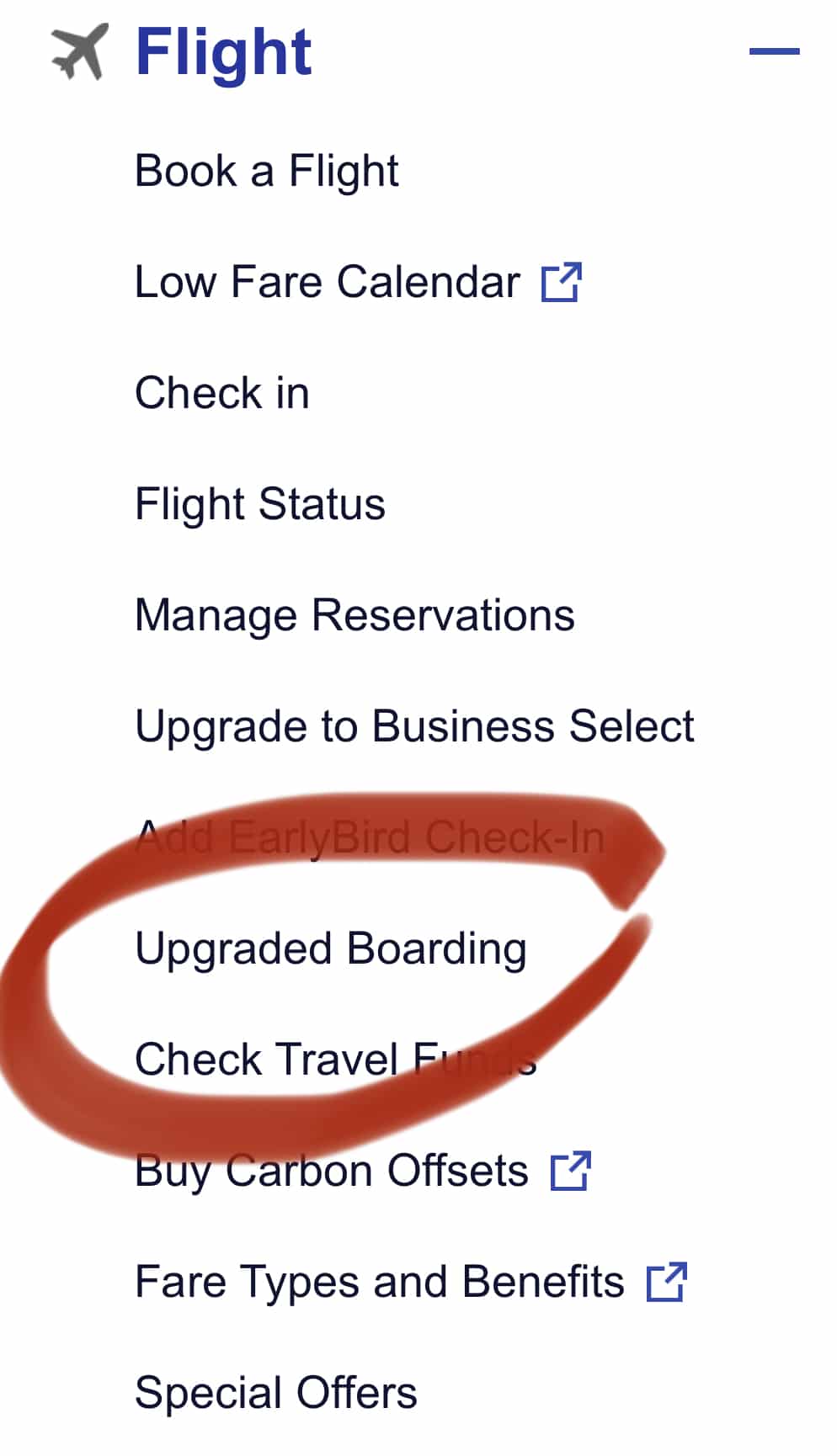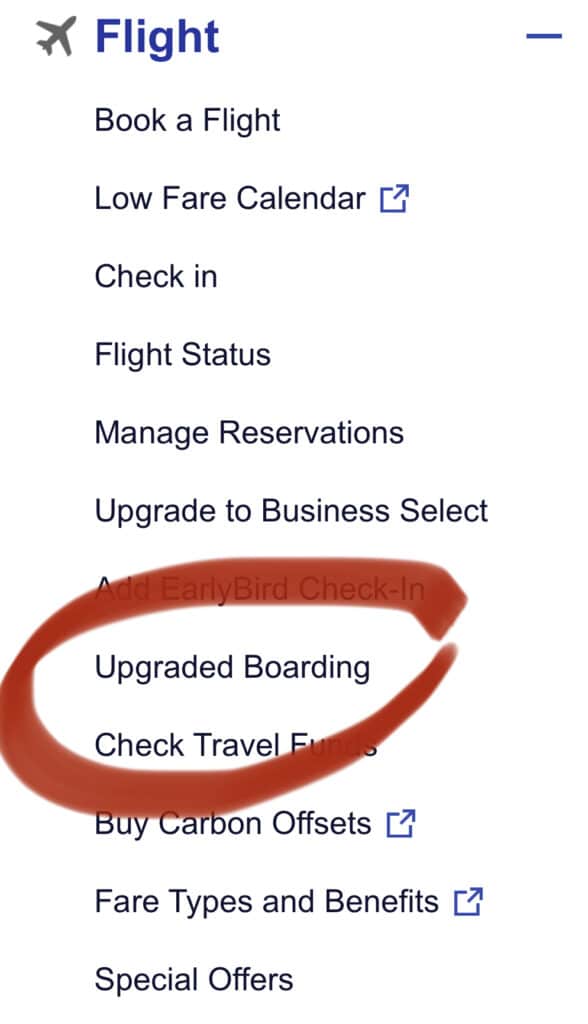 You'll then be prompted to enter in your confirmation number and first and last name to pull up your booking.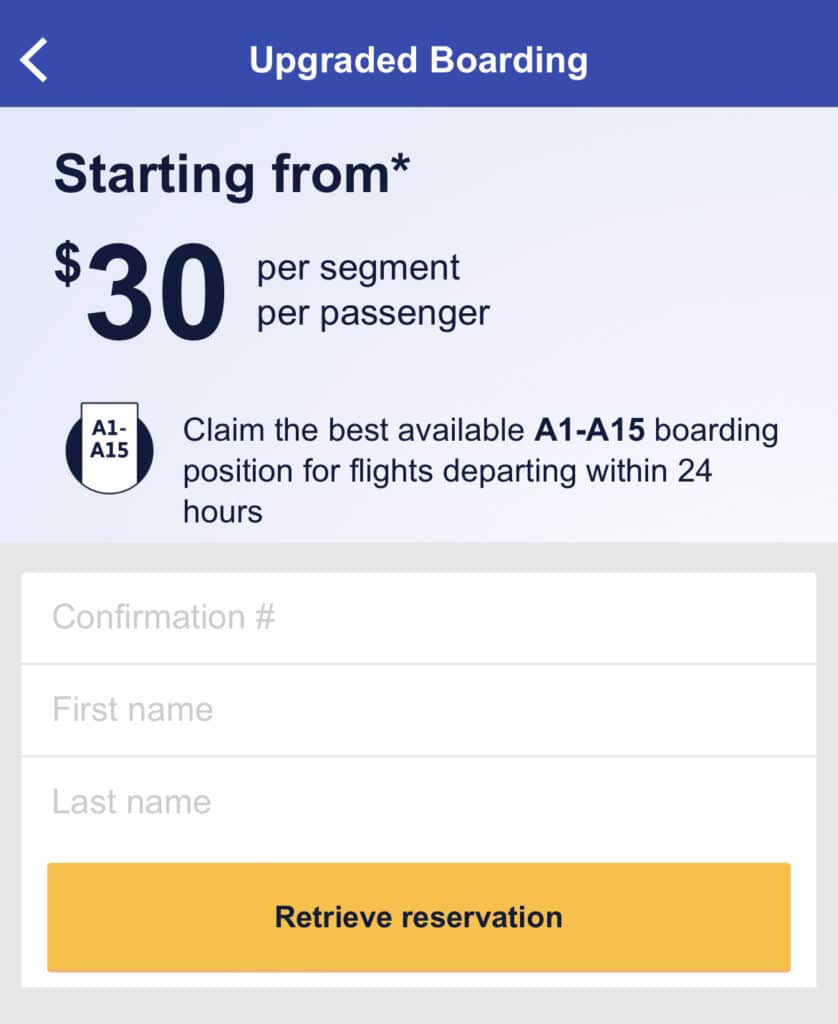 Note that you can only upgrade a boarding within 24 hours.
How to Upgrade at Southwest.com
The same option is available at Southwest.com landing page for Upgraded Boarding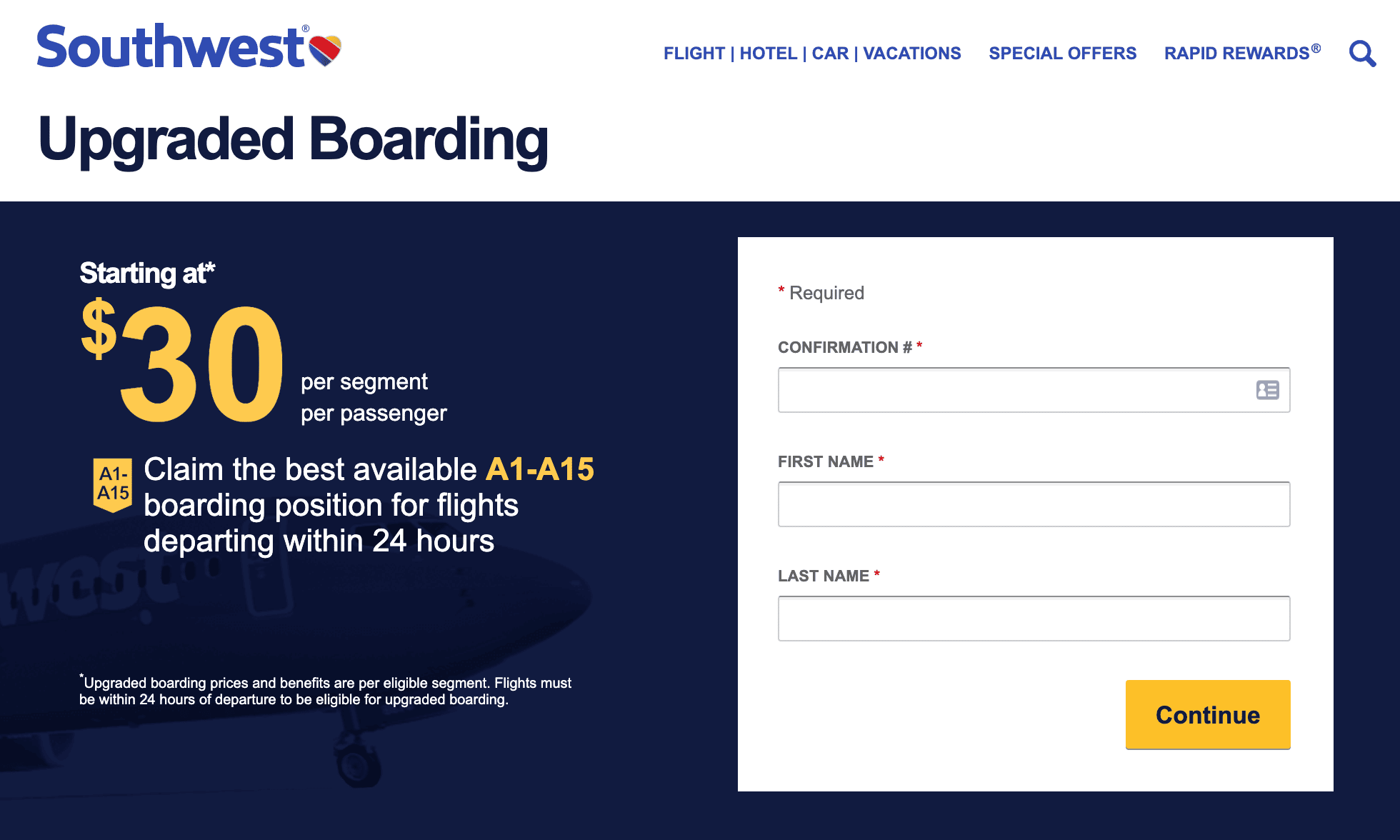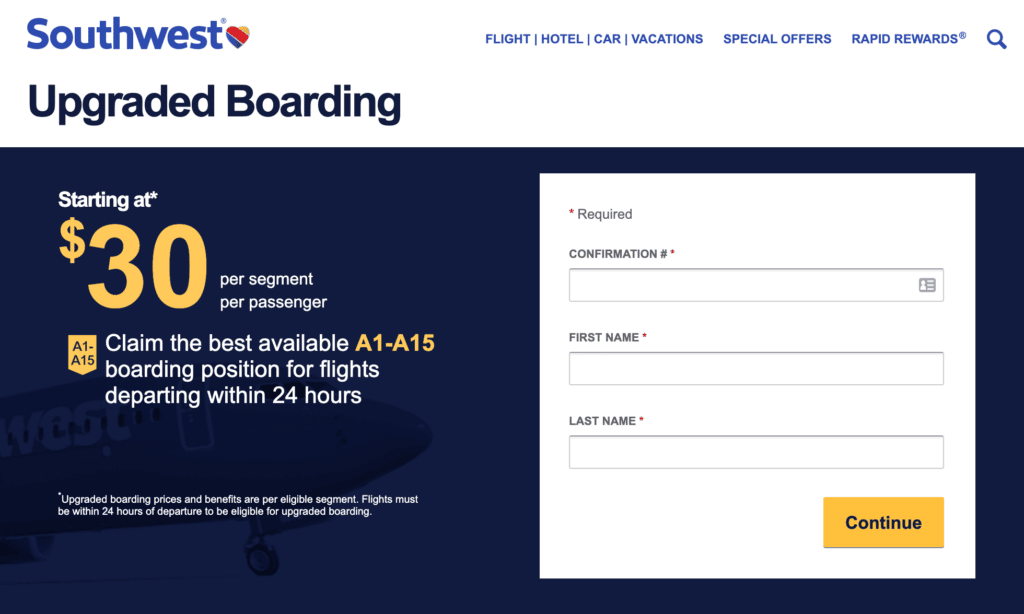 Tip: Set your alarm!
You can only upgrade a boarding within 24 hours. Set an alarm just as you would for check-in. The earlier you try to upgrade, the better chance you have of securing a A1-A15 spot with this credit card perk.
How to Upgrade Southwest Boarding at the Airport
Go to the gate where your flight will be departing. You can only use your upgraded boardings at the gate, you cannot book them in advance.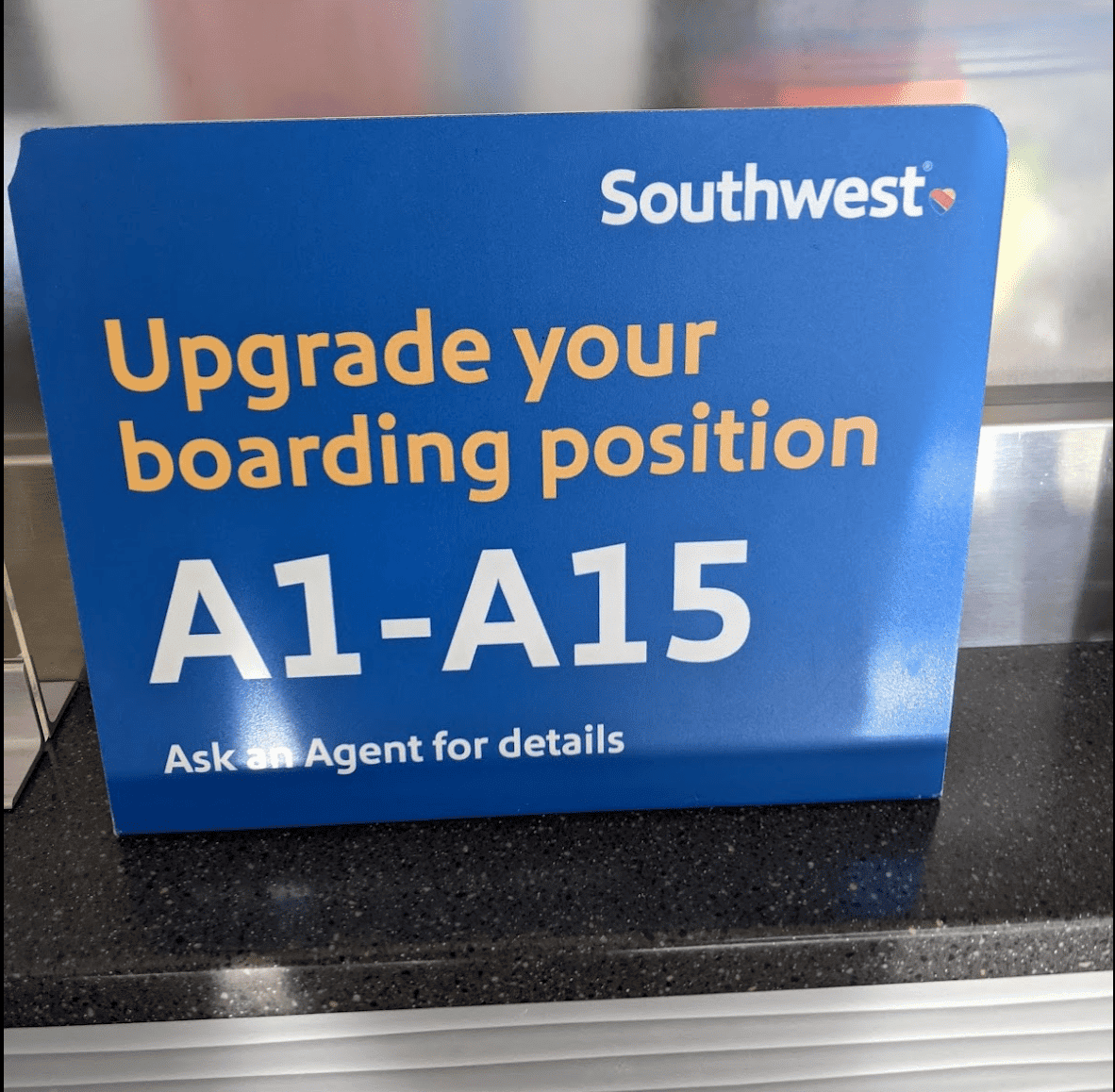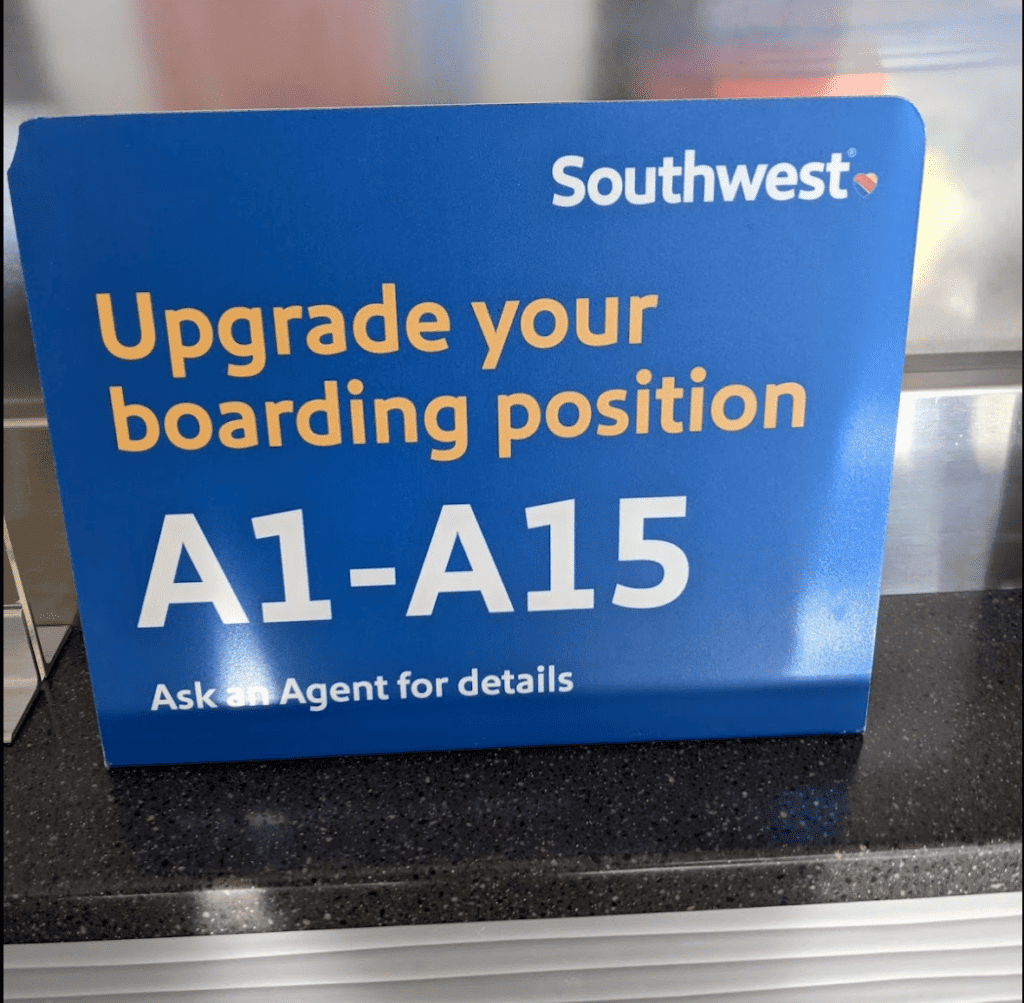 Ask the gate agent if any upgraded positions are available. If so, you will need to pay for it with your Southwest Priority or Business Performance Credit card. If you are traveling with another person you might be able to use one of your credits to get Southwest upgraded boarding for them as well. But when I tried to do this for my mom, the card kept declining because her ZIP code on file was different from my credit card billing ZIP code. If you have a Southwest Companion Pass, your upgraded boarding is only valid for you and not for your Companion, unless you upgrade them as well.
The gate agent will charge your card (on my recent flight it was $50), take your old boarding pass and issue you a new one.
How to Get A1 with Upgraded Boarding
Basically, you just have to be lucky. If other travelers booked Business Select Fares, A1 might already be taken. But your best chance is to set your alarm to 24 hours before your flight departs and be ready to check in and upgrade right away.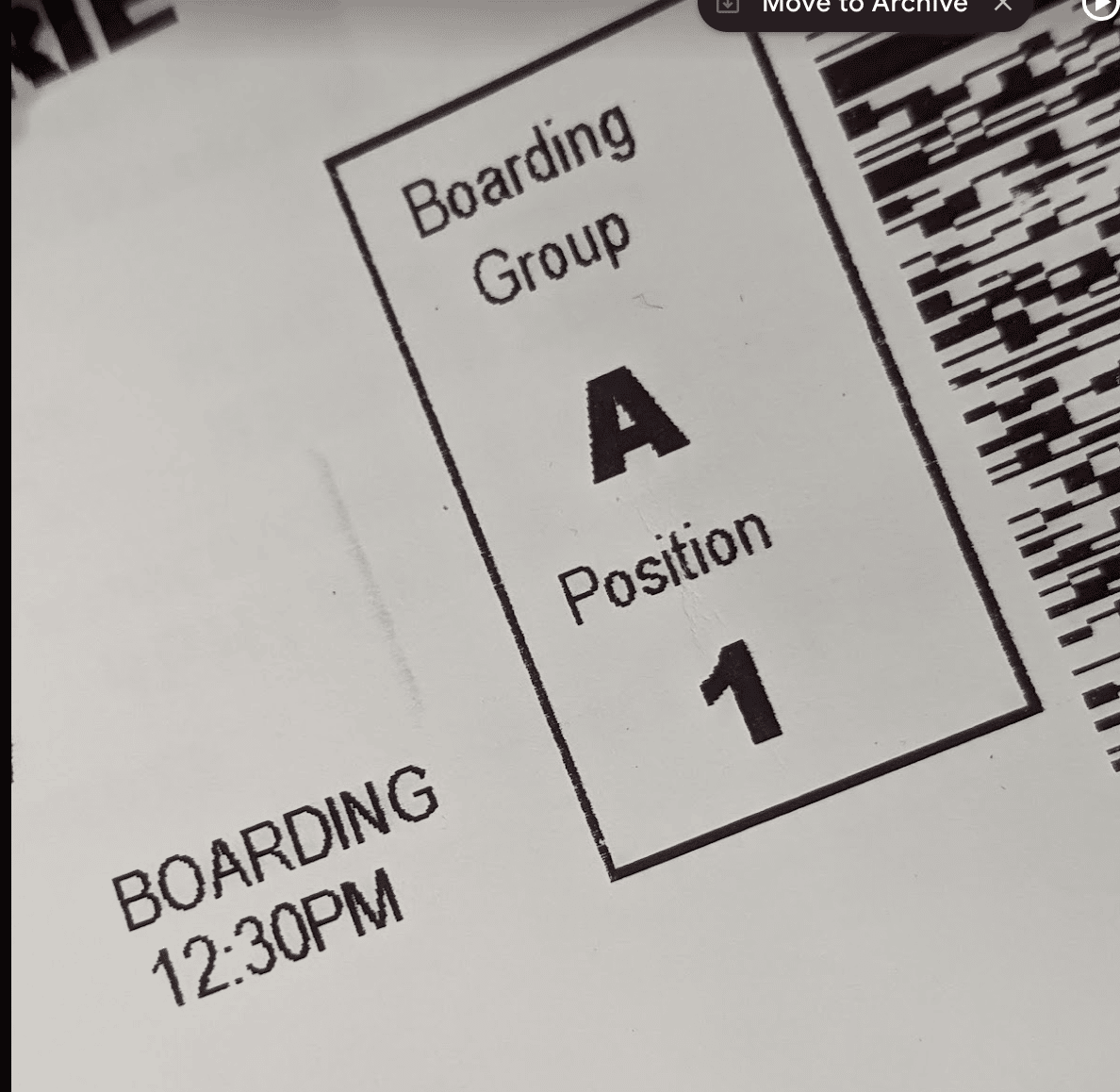 When Will the Southwest Upgraded Boarding Credit Post?
My credits posted within a few days. I also got an email from Southwest and Chase that showed my benefit had been applied.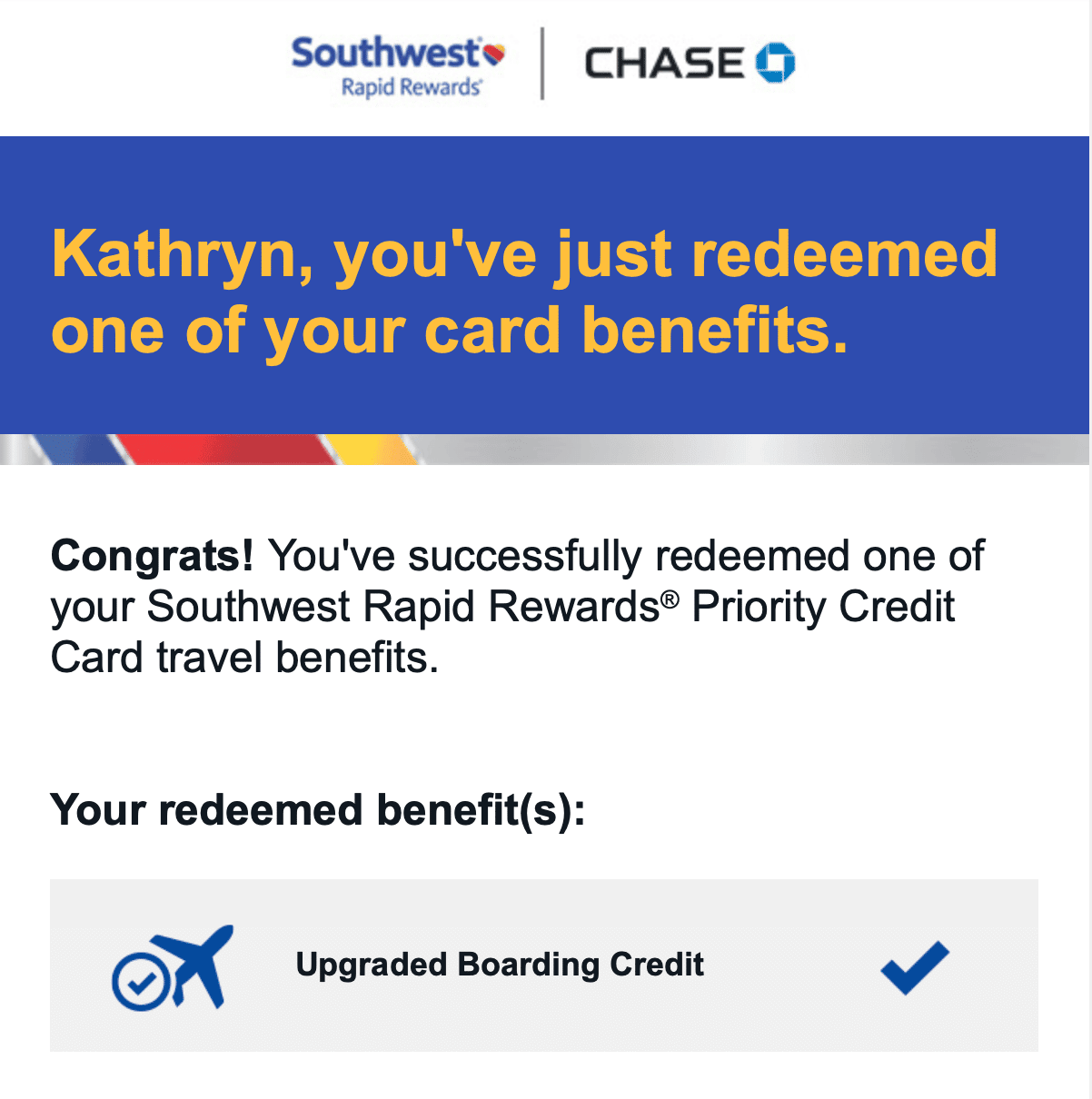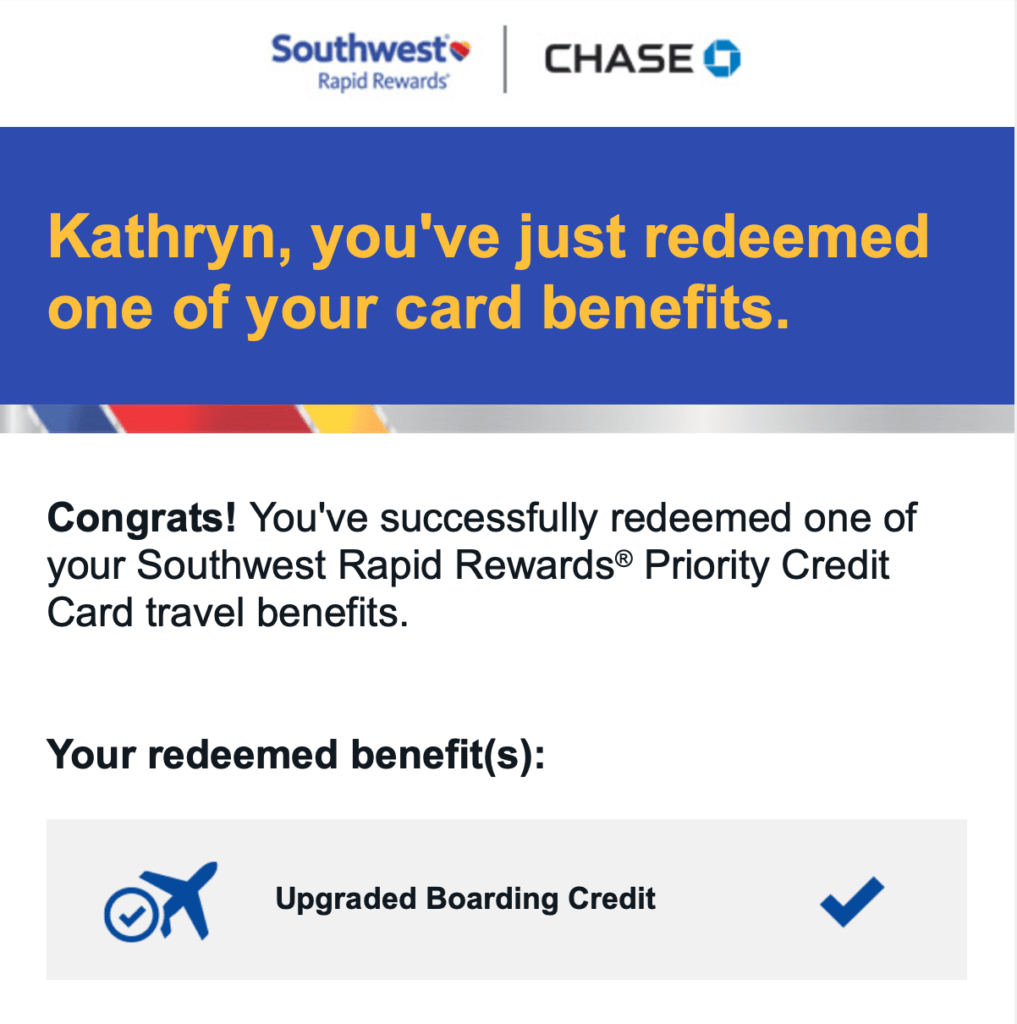 I also had this confirmed on my statement




How Do I Know How Many Southwest Upgraded Boarding Credits I Have Left?
You can track your Upgraded Boarding credits by logging into the Chase site using a computer.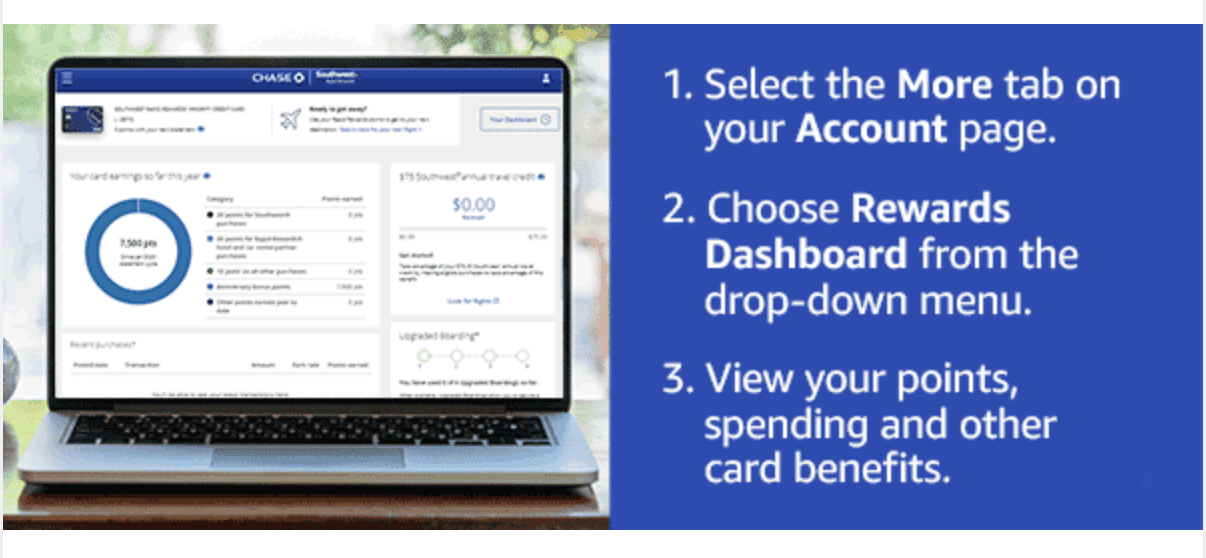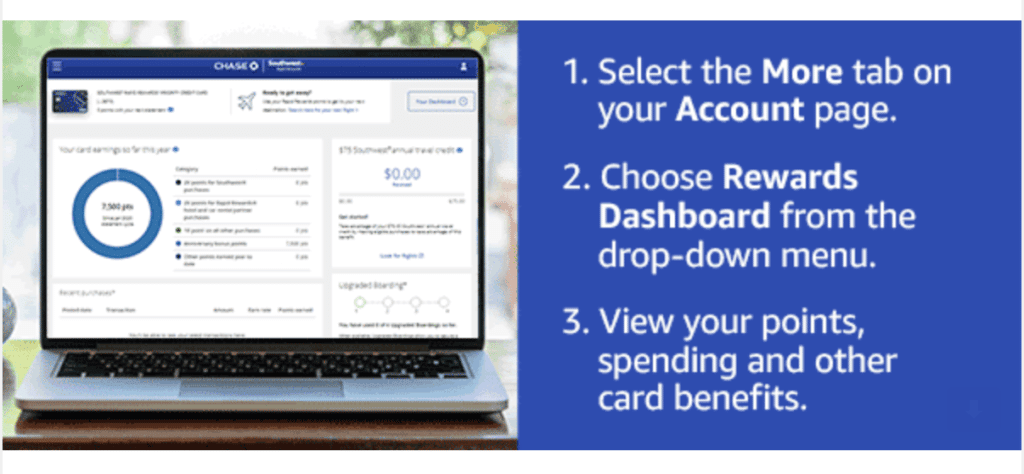 Navigate to your Southwest Credit Card Account
Click "More"
Click "Rewards Dashboard"
You will then see a summary of any credits you have used and what you have remaining.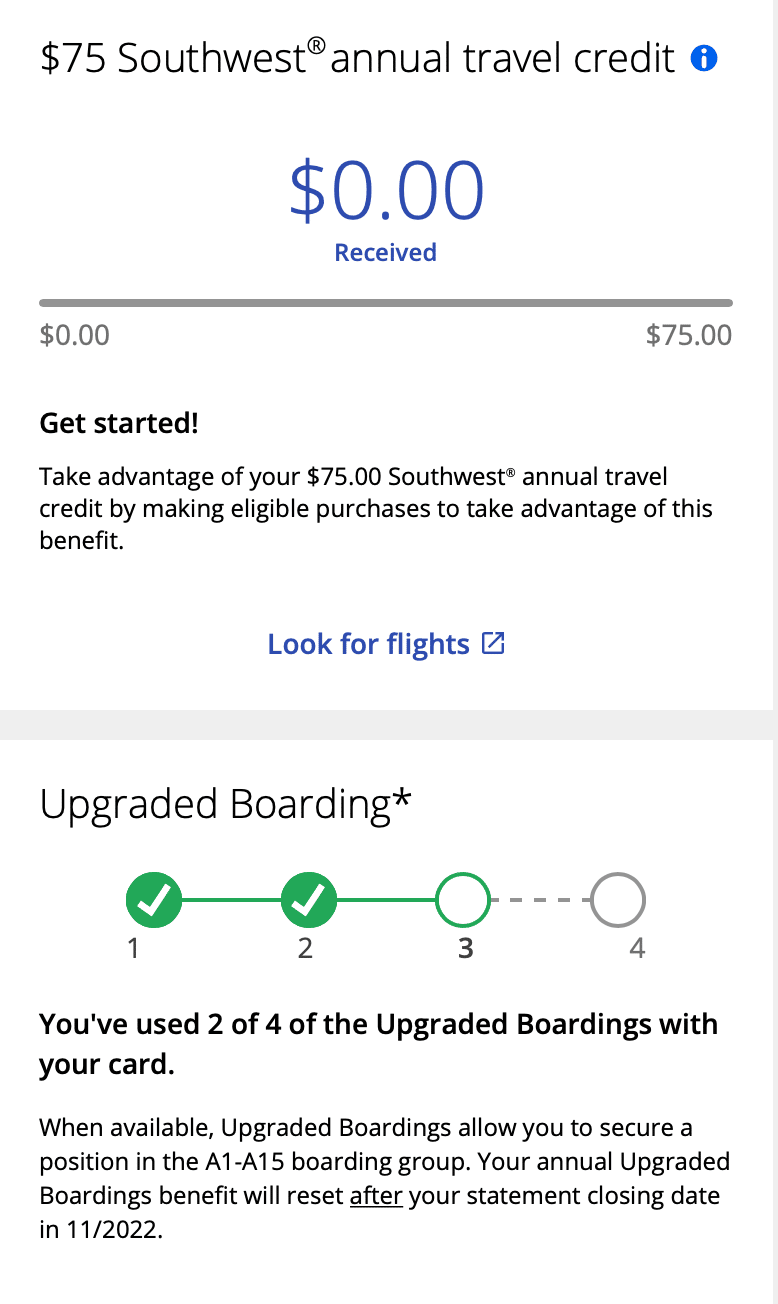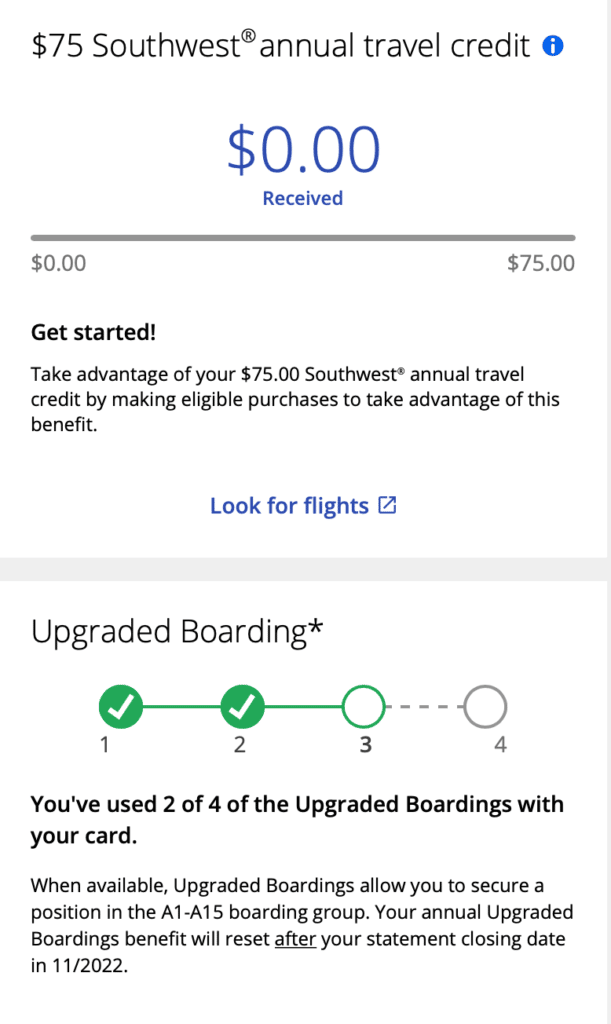 I scored Upgraded Boarding. Now What's the Best Seat to Pick?
Most travelers with A1-15 will either pick the bulkhead seats or the exit row.
My favorite is the Exit row seat that has no seat in front of it, so you get double leg room. Depending on the plane, there may be 1 or 2 of these on a flight. Don't be afraid to ask the flight attendant to move if he/she is standing in a row where you want to sit!
Which Southwest Card with Upgraded Boarding Should I Pick?
You have two options for cards with benefits for Southwest Upgraded Boardings.
Southwest Priority Card (personal credit card)
The Southwest Priority card has the best value of all the Southwest credit cards. Though the annual fee of $149 appears high, it also comes with $75 of annual credit on Southwest. You can even buy a $75 Southwest gift card and get credited for it (make sure you buy from Southwest.com)
You also get 7,500 points each year on your account anniversary which is worth at least $100 in Southwest flights
And the 4 Southwest upgraded boardings!
If you fly even one time on Southwest per year, this card is worth holding.
Sign up bonuses vary greatly throughout the year from 40,000 points to up to 100,000 points. You'll also want to consider whether you are trying to earn a Southwest Companion Pass before you apply.
Southwest Performance Card (business credit card)
If you have a small business (or even a side hustle, as many will qualify for a business card), you can sign up for a Southwest Business card. Though it has a higher annual fee of $199 you get 9000 points on your cardmember anniversary, those 4 upgraded boardings, TSA Precheck credit, and free in-flight wifi.
Questions? Let me know in the comments and I'm happy to answer!