There are a lot of travel cards out there to choose from! Since too many options often leads to decision paralysis, we want to make it easy for you.
Best Starter Cards
These are our favorite two starter cards: Chase Sapphire Preferred and Capital One Venture.
You really can't go wrong with either of these cards. We recommend these cards for beginners because they:
have low fees,
always have a good bonus,
earn flexible rewards, and
they are harder to get approved after you have opened a bunch of other cards.
Low fees
Both the Chase Sapphire Preferred and the Capital One Venture cards have an annual fee of $95. If you cringe at the idea of paying an annual fee, know that cards with annual fees have better benefits and perks than cards without annual fees. And better welcome bonuses too!
If you are really averse to a fee, hold the card for one year and then downgrade the card to a no annual fee card or close your account.
Solid Bonus
Card bonuses regularly change, but the standard bonus for the Chase Sapphire Preferred and Capital One Venture is 60,000 points.
Right now the Capital One Venture has a limited time bonus offering 75,000 miles.
The simplest redemptions will get you 1 cent per 1 mile for both these cards, so a 60,000 point bonus is worth a minimum of $600.
At the most, these rewards could be worth thousands of dollars when transferred to a hotel or airline partner. See the posts below to get an idea of how you can leverage transfer partners for great value!
Flexible rewards
Unlike a co-branded hotel or airline card's rewards, flexible rewards are just that, flexible. Because they are so flexible and easy to use, Chase Sapphire Preferred rewards and Capital One Venture rewards can be put to use by anybody.
For example, you can use your rewards to book travel through a card's travel portal, transfer them to hotel partners or airline partners, cash them out, or use them to "erase" travel purchases.
Approval odds
We recommend opening both of these cards early on because getting approved can get more difficult after you have opened other cards.
Chase cards are subject to something called the 5/24 rule, which means you won't be able to open Chase cards if you have opened 5 personal cards from any issuer in the past 24 months.
Capital One doesn't have clear rules on approvals, but they are more likely to approve people who haven't had any hard credit inquiries or opened any new cards in the past 6 months.
Chase Sapphire Preferred®
The Chase Sapphire Preferred is our favorite starter card because there are so many options for redeeming your points, known as Chase Ultimate Rewards (URs).
URs can be transferred to 10 airline partners. Airline transfer partners include several international carriers as well as U.S. based carriers JetBlue, United Airlines, and Southwest Airlines.
URs can be transferred to 3 hotel partners. Our favorite hotel transfer partner is Hyatt! These hotel transfers can be a great value. For instance, 25,000 points could be transferred to a Hyatt resort in Hawaii that usually costs $600-$700 a night. For more info on this booking, check out our article on Hawaii family hotels on points.
URs can be used to book travel through Chase's booking portal at a rate of 1.25 cents per point. At this rate, a $125 travel purchase uses 10,000 points.
The Sapphire Preferred card also includes some important travel benefits like primary rental car insurance as well as including trip cancellation, interruption or delay coverage, and baggage delay coverage. You can see my full guide to this card.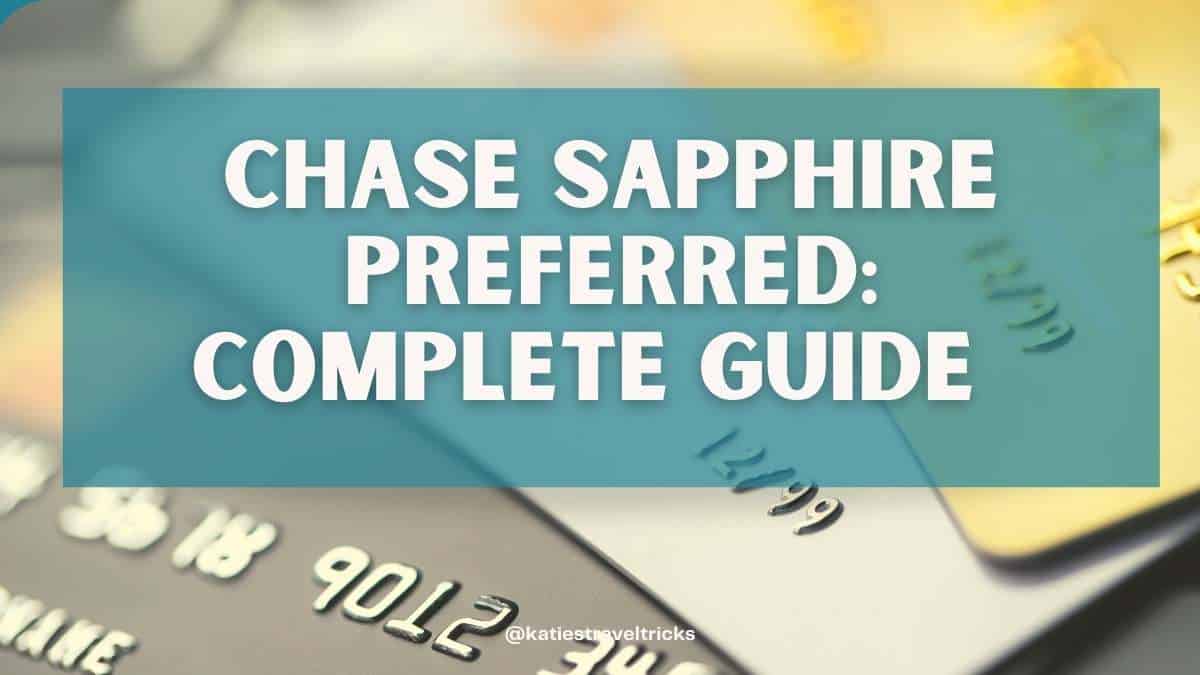 Capital One Venture
The Capital One Venture card is our other favorite starter card.
If you want something really easy, it doesn't get much easier than this card. Miles are earned at a rate of 2 miles/$1 spent for all purchases outside of the Capital One travel portal. Capital One Rewards offer a quick return and flexible redemptions.
Miles can be transferred to 15 airline partners. Unlike Chase URs, none of the airline partners are U.S. based so if you want to fly domestically you'll have to book a partner award ticket. These can provide great value, but do take a bit more effort and knowhow to find and book. For an example of how to leverage transfer partners, check out our article on booking with Turkish Airlines.
Miles can be transferred to 3 hotel partners. The standout here is Wyndham Rewards since you can book a one-bedroom vacation rental through Vacasa for 15k rewards per night. You can read more about this sweet spot here.
You can even use the card to book your trip and then later use the points to cover the trip! Essentially you can get the card, pay for 3 nights at a hotel (or plane ticket or Airbnb or whatever) that costs $500. That money will count towards the minimum spending you have to do. Finish your minimum spending, get your points, reimburse yourself, and you've just saved $600+ on your vacation! Check out this video on Instagram for how to do that.
Favorite benefits of the Capital One Venture card are a $100 statement credit for Global Entry or TSA precheck every four years, rental car and travel accident insurance, and two complimentary visits per year to Capital One or Plaza Premium lounges.
Capital One Venture X
Capital One also offers a new premium card, the Venture X. I don't include this as a starter card because, with a fee of $395, it's more than most beginners want to pay. But we love the Venture X for its high end perks – check out our full post to read it all – and the fee easily pays for itself.
Chase Sapphire Preferred® vs. Capital One Venture
As you decide between these cards, check out the table below for some of our favorite benefits and redemptions for these two cards. Really though, you can't go wrong with either!
Our transfer partner guide makes it easy to see and compare which cards transfer to which airline and hotel partners and learn how to transfer your points. Get our guide sent to your inbox by filling out the form below.
Take our quiz
Still not sure which card to get first? Take our brief quiz to get our recommendation.
Apply for your card
You will need good credit (750+ is best) to get approved for either of these cards. You will also need to be able to abide by the number one rule of travel hacking: pay off your credit card bills in full every month.
After you've decided which card to start with (and remember, you can't go wrong!), click on one of the links below to apply.
We always appreciate when readers apply through these links. These are the same bonus offers you will find directly through Chase or Capital One. It costs you nothing and Katie's Travel Tricks earns a small commission that helps keep our content free.
If you think your spouse might start opening cards for points too, don't add him/her as an authorized user since authorized user cards count towards one's 5/24.
Complete Minimum Spending
The spending requirements on these cards can be high for a lot of people, so you may have to do some planning. Some tips for meeting your minimum spend:
Put all your regular spending on that card until you reach your bonus,
Plan opening cards when you know you'll have some big bills coming up,
Buy store gift cards to places you regularly shop,
Add your card information into your spouse's Apple Pay or Google Pay account so they can help you meet your spend.
Refer your partner
The easiest way to double up on points is for you and your partner to open the same card.
For even more points, see if you can refer your partner to your card for a referral bonus. Use Chase's Refer a Friend portal or sign in to Capital One to make a referral.
Want to learn more?
If you are new to travel hacking, Travel Hacking 101 is the place to start. You can find the articles below and more resources to help you on your way to free travel.