There are a lot of moving pieces in travel hacking. The more cards you open, the harder it is to keep track of bonus deadlines, payment due dates, annual fees, how long it's been since you opened your last card, your 5/24 status, your credit score, when your points and miles expire, etc.
If you are just getting started – or maybe you have been travel hacking for a while – you may be looking for better ways to stay organized. Deciding what cards to open and dreaming up your next vacation is fun, but staying organized is key to making the most of this hobby.
In order to make sure all your hard work pays off, here are 8 steps to help you manage your travel hacking:
Monitor your credit
Despite popular belief, opening credit cards doesn't have to have a negative impact on your credit. In fact, travel hacking can be beneficial to your credit score because of how FICO scores are calculated. As you open and close cards you'll want to keep an eye on your credit score so you can adjust accordingly, if needed. Follow these tips to keep your score high.
Monitoring your credit will also ensure that YOU are the only one opening accounts in your name.
There are a number of free ways to monitor your credit and access your credit report.
Credit Karma gives you free access to your TransUnion and Equifax credit reports. Credit Karma also gives you a credit score based on the Vantage Scoring model. You can set it up to notify you of any changes to your credit report so you always know about new inquiries and accounts. It also assists in any disputes, if necessary.
Experian gives you free access to your Experian credit report and FICO Score. It can also be enabled to send alerts regarding any changes.
Most banks also enable you to monitor your credit from their credit card portal and will send alerts when anything changes. Capital One offers Credit Wise, Chase offers Chase Credit Journey, and American Express offers MyCredit Guide.
After you have enabled these services, you will receive notifications of new activity and changes to your credit score.
Your credit report on any of these services will show you the cards you have open and when they were opened. Taking a look at your credit report can help you determine whether you are at 5/24 or how many more card slots you have available before reaching 5/24. Not sure why your 5/24 matters? Find out more here.
Track your miles and points
The more hotel and airline points you have, the harder it is to keep track of how many points you have, where they are, and when they expire. You've done all this work to accumulate points, so don't lose them because you miss an expiration date!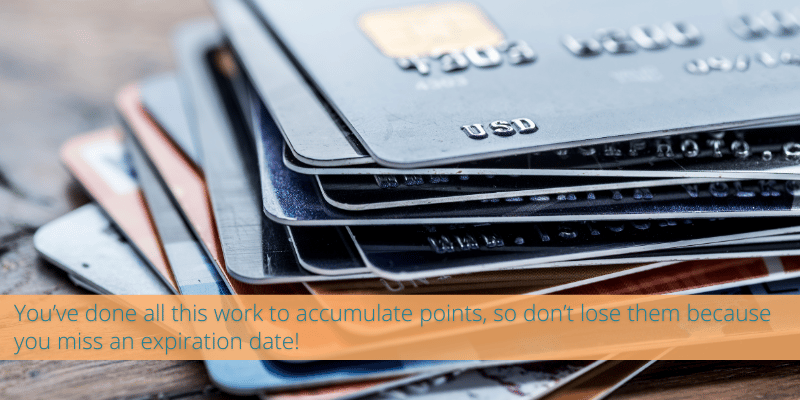 We recommend AwardWallet to track miles and points. Award Wallet covers 680 loyalty programs! It can take a while to set up if you have memberships in a lot of programs but it's worth doing. There is both a free and a paid option.
I like that I can track my whole family's points on Award Wallet and link our accounts. The Plus upgrade allows me to track expirations and sends alerts about points that are about to expire.
If you are concerned about security, you can choose to have the password info for all the accounts saved locally to your computer.
Make travel goals and work towards them
Have general travel goals in mind as you open cards, especially when you are just getting started. This makes it easier to strategize which cards to open when.
Remember that the best points are the ones that you are actually going to use for something you want to do. Don't focus so much on getting the best redemption value that you get redemption paralysis and don't use your points and miles.
Sign up for awards programs before you sign up for the credit card
This will make your life easier since your new card can be linked to your hotel or airline account from the start.
Make an online account. Make note of your username and password and account number. Add it to your award tracking system (like AwardWallet). Then sign up for the credit card.
There is no need to go out and sign up for every hotel and airline program when you're starting out — just whatever one(s) you are planning to get the credit card for.
Track your credit cards
We think the free online app, Travel Freely, is the easiest way to track your credit cards. This is essentially an interactive smart spreadsheet. You'll input when you open a new card and it will track cards, bonus deadlines, annual fee due dates, and your 5/24 status. You can use one account to track both you and your partner's personal and business cards.
Travel Freely will send you automated reminders about bonus deadlines and when your annual fee is coming due. You'll get a reminder and some suggestions for downgrading the card in case you are no longer finding value in it.
You don't input any sensitive information into Travel Freely, just the date you signed up for a card and what the signup bonus was.
If you want to track your cards with a spreadsheet, here is a sample credit card tracking spreadsheet you can use.
Set up calendar reminders
After I've been approved for a card, I figure out when I have to complete my minimum spending (let's say it is 3 months) and then I put a reminder on my calendar for 2 weeks before then to make sure I've completed it.
The great thing about Travel Freely is that it will automatically remind you by email, too. I also set up reminders to check to make sure I've received bonus points and to evaluate cards after 11 months.
Manage your credit card payments
Whenever you open a new card, immediately set up auto pay so that you don't miss any payments. Travel hacking only pays off if you pay off every bill in full on time. It's not worth paying interest, going into debt, or plummeting your credit for points.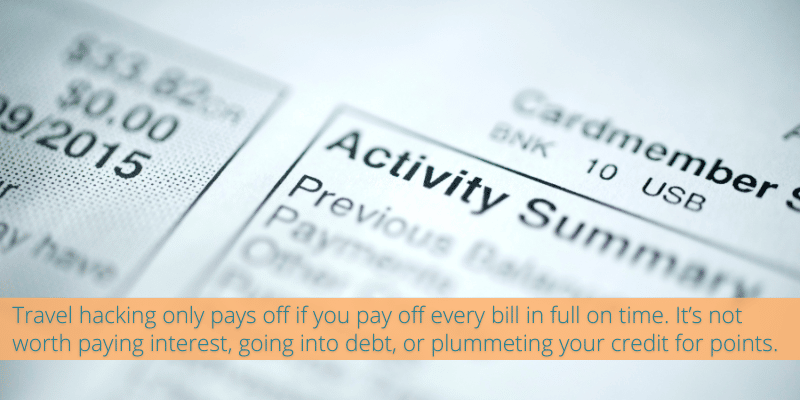 After you've had a card for 12 months, evaluate that card
You want to keep cards for a minimum of 12 months. Banks can (and might!) take back points if you sign up for a card and cancel it right after getting the bonus. They also might not want to approve you for more cards.
Your options at 12 months include keeping the card (sometimes worth it), downgrading the card to a no-annual-fee version (this can help those credit scores and your relationship with the bank), or canceling.
If you are thinking of keeping a card, it is ALWAYS worth calling or messaging customer service and seeing if they have a retention offer available. Retention offers may include waived annual fees, statement credits, or bonus points for keeping your card open.
When you contact the bank, let them know you are considering canceling your card, why you aren't finding the card worth the annual fee, and ask if there are any retention offers available for your account.
After your annual fee posts, you typically have 30 days to call in and receive a full refund if you cancel the card. Contact customer service after your annual fee posts, but not more than 30 days after, for the best chance of a retention offer.
Sign up below to download a script to use when you call and ask for a retention offer.
Want to learn more?
If you are new to travel hacking, Travel Hacking 101 is the place to start. You can find the articles below and more resources to help you on your way to free travel.