If you've done any reading on opening credit cards to earn miles and points, you've probably heard of the Chase "5/24 rule". You may be wondering what it is and why it matters.
It is important to understand this rule as you start opening cards so that you can make the most of travel hacking.
What is the Chase 5/24 rule?
Chase is one of the most restrictive banks when it comes to card approvals. You will only be able to get approved for their cards if you have fewer than five new credit cards opened (from any issuer) in the past 24 months. This is known in the miles and points world as the Chase 5/24 rule.
Why does the Chase 5/24 rule matter?
The 5/24 rule matters because Chase offers some really good cards with really good bonuses and you don't want to miss out on them!
If you're just getting started, you are probably wondering how you could possibly open five cards in 24 months – that seems crazy! Take it from us, once you learn how you can travel with points, it can get a bit addicting.
As you open new cards, you'll need to come up with a strategy to stay under 5/24 so that you can take advantage of Chase's great bonus offers. There's a good chance you're going to want Chase cards on your miles and points journey.
Chase issues a lot of cards. They have their own branded cards which earn Chase Ultimate Rewards points, such as the Chase FreedomFlex, Chase Sapphire Preferred, and Chase Sapphire Reserve cards. In addition, they issue co-branded cards for the following airlines and hotels (and more):
United Airlines
Southwest Airlines
British Airways
Hyatt Hotels
Intercontinental Hotel Group (IHG – includes Holiday Inn, Kimpton, and many other brands)
Marriott Hotels
Am I under 5/24?
The easiest way to check if you are "under 5/24" is to go through your credit report and count how many new accounts show up in the past 24 months.
There are a number of free ways to access your credit report. We usually recommend opening a free account with Credit Karma and Experian. If you currently have a credit card, you may also be able to see your credit history through your credit card's online portal.
People are often asking if a card counts for this, and the very basic rule is if it is on your credit report, it counts. So look at your credit report to check!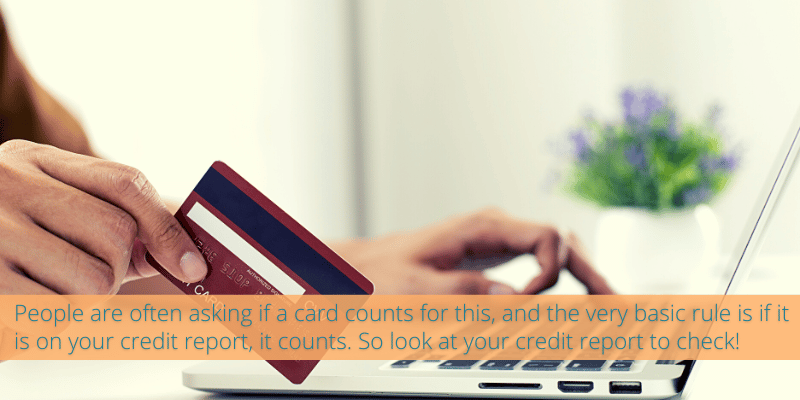 Travel Freely offers a free app that will track personal and business cards for you and a partner. You don't input any sensitive information, just what cards you have opened and when. In addition to sending reminders for bonus deadlines and annual fees, Travel Freely also makes it easy to track your 5/24 status by showing what cards you've opened and when. After you hit 5/24, they will no longer suggest Chase cards for you.
What if I'm over 5/24?
If you're over 5/24 you will have to wait until you are under 5/24 to open any personal or business Chase cards. You may choose to continue to open cards from other issuers, or you may choose to take a break from opening cards until you are back under 5/24.
Strategies to stay under 5/24
Because of the Chase 5/24 rule, we typically recommend applying for Chase cards first since if you were to apply for cards from American Express, Citi, and Capital One first – you may later find yourself ineligible for a card from Chase you wanted.
Other than that, my two biggest tips for staying under 5/24 are to not add (or become) authorized users and to open business cards early on.
Don't automatically add authorized users
If you are an authorized user (AU) on an account, it will show up on your credit report and count towards your 5/24. So if your partner adds you as an AU, this will count against your 5/24 "score." This may not seem like a big deal, but if your partner opens a couple of cards and adds you as an AU, you are already at 2/24!
Sometimes you need your partner to be putting spend on your card, or vice versa, to hit a bonus. Nowadays, cards can be added and used through phone apps such as Apple Pay or Google Pay. When you open a new card, enter the card information onto your partner's phone so they can use it too.
In some cases, it may make sense for you to add an AU on a card. My husband is an AU on my Capital One Venture X card since this is our everyday spend card and it allows him to have his own Priority Pass. But I've learned not to automatically add him to every card.
If you do make this mistake, you can have an AU card removed from your credit report by first removing the AU from the account and then requesting through the card issuer and/or credit bureaus that the card be removed. It's a bit of a hassle though and can take a few weeks to come off the report.
Open business cards
Your first reaction may be to skip this section because you don't think of yourself as a business owner. But you might be, from the perspective of a bank.
Examples of "businesses" that could qualify you from the perspective of a bank include renting out property, Airbnb-ing your home, selling things on eBay or Etsy, babysitting, or driving for Uber.
If you are making side income, no matter how small, it's worth applying for business cards. We have heard of people getting approved by listing $100 annual income from a garage sale business.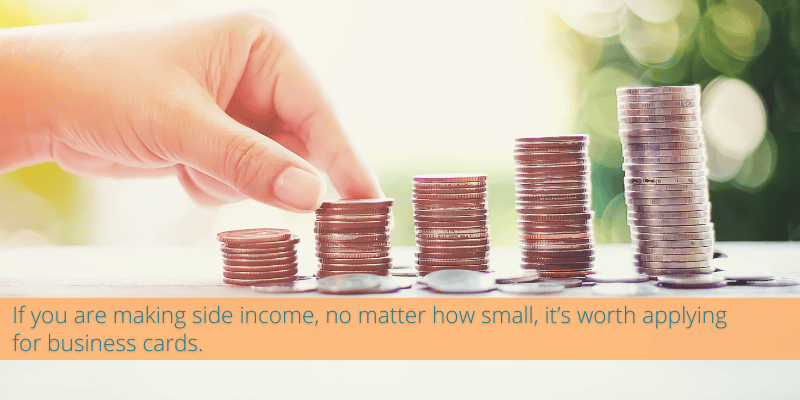 Unless you have an Employer Identification Number (EIN) or have incorporated, you'll apply as a "Sole Proprietorship." You'll use your social security number rather than an EIN on your application.
Why bother with business cards though? There are two big reasons: reducing the number of cards on your personal credit report AND access to great offers.
Reducing the number of cards on your personal credit report
Before I get too excited about the great business card offers, this article is about the 5/24 rule. Here's why business cards are so important to your miles and points strategy: business cards are generally not reported to credit bureaus so you typically will not see those on your credit report.
Since business cards typically don't show up on your credit report, this also means Chase does not count them against you. Even Chase business cards won't count towards your 5/24 status because they don't appear on your credit report.
Note, however, that if you are at or above 5/24, you will also not be able to open a Chase business account.
For example, you've opened 4 personal cards in the past year and don't want to get blocked out of Chase cards just yet. You teach piano to a couple kids so you decide to switch over from opening personal cards to opening business cards to keep your miles and points hobby going.
These business cards will not count against your 5/24 so when there is a great offer in 6 months for a Chase card, you'll be able to take advantage of it since you are still under 5/24.
However, if you have already opened 5 personal cards in the past 24 months, you will not be eligible to open new personal OR business cards.
Access to great offers
Having a small business will open the door to a lot more offers for you. For instance, Chase has a family of business cards called the Chase Ink cards. The bonuses allow you to earn 50k-100k points depending on the card and offer available at the time. Though you may need to do some planning to meet the minimum spend on these cards, both the Ink Business Cash and Ink Business Unlimited currently have offers of 75k points with no annual fee.
Essentially, the ability to open business cards doubles your card options and earning potential.
The Southwest Rapid Rewards business cards are an important part of hacking a Companion Pass.
The IHG Rewards Premier Business Card offers a bonus of 140,000 points right now and, like the personal IHG Rewards card, comes with a free night each year and 4th night free on award bookings.
Want to learn more?
If you are new to travel hacking, Travel Hacking 101 is the place to start. You can find the articles below and more resources to help you on your way to free travel.