Though we have stayed in Airbnb or VRBO properties for many years, it never occurred to us that we could rent out our suburban home on short term rental sites until I read this article on Travel Is Free.
A few months after reading that article, we were prepping our house to rent out on Airbnb. For us it provided a great solution to providing some income while we set out on a family gap year of traveling.
Want to try renting out your house on Airbnb? Use my link to sign up and you will get a $25 bonus after your first booking! If you use my link, let me know! I will send you all my email templates I use to communicate with guests.
We have found a variety of solutions to help simplify the process.
Will my house actually be rented?
This is usually one of the first questions people ask. Of course I can't predict exactly, but I definitely recommend looking at the current VRBO and Airbnb listings in your area and seeing what the prices and availability are. We live about an hour from Chicago, so we are a little too far for people who are coming for primarily tourist reasons.
Here are some of the reasons people have rented our home:
Coming to attend birthday parties or other celebrations with family and/ or friends
Attending weddings
Visiting family
Attending conferences or competitions
Short-term jobs
Moving to the area and their house isn't available yet
Visiting adult children at nearby colleges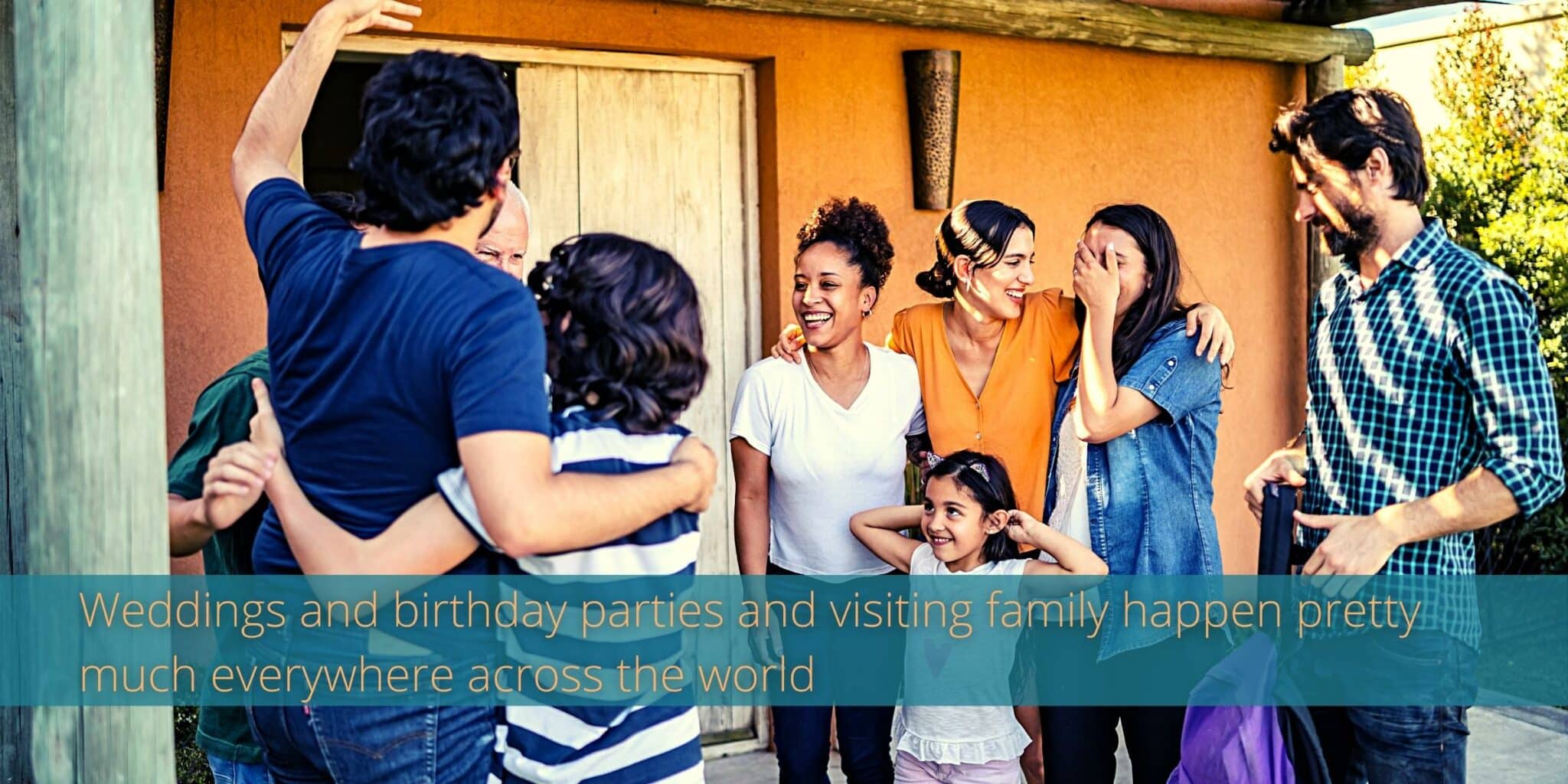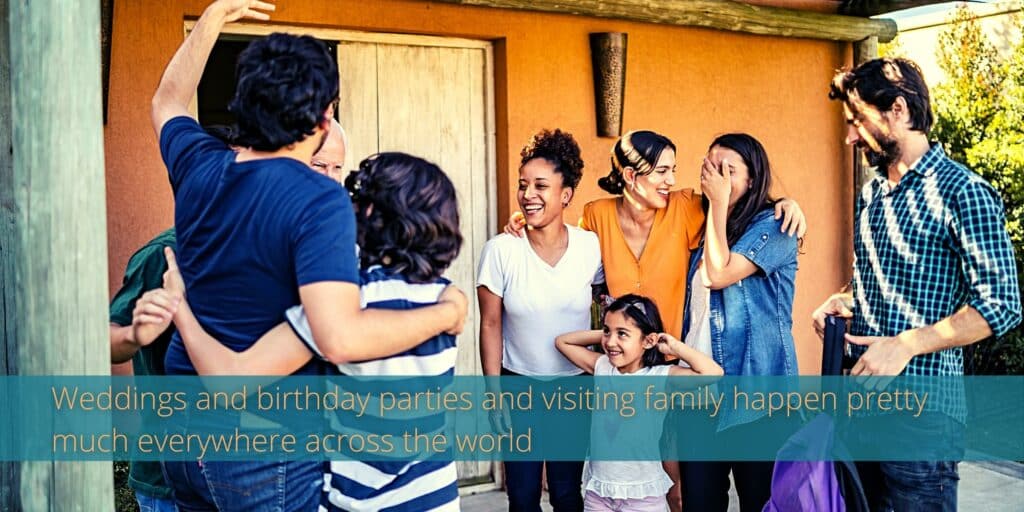 As you can see, none of these reasons are specific to our particular suburb. Weddings and birthday parties and visiting family happen pretty much everywhere across the world. Are you in a rural area? Your home might be in even more demand right now as people are looking to connect with nature!
What about partiers destroying my house?
This is an important concern. Here are some things we do to vet our guests: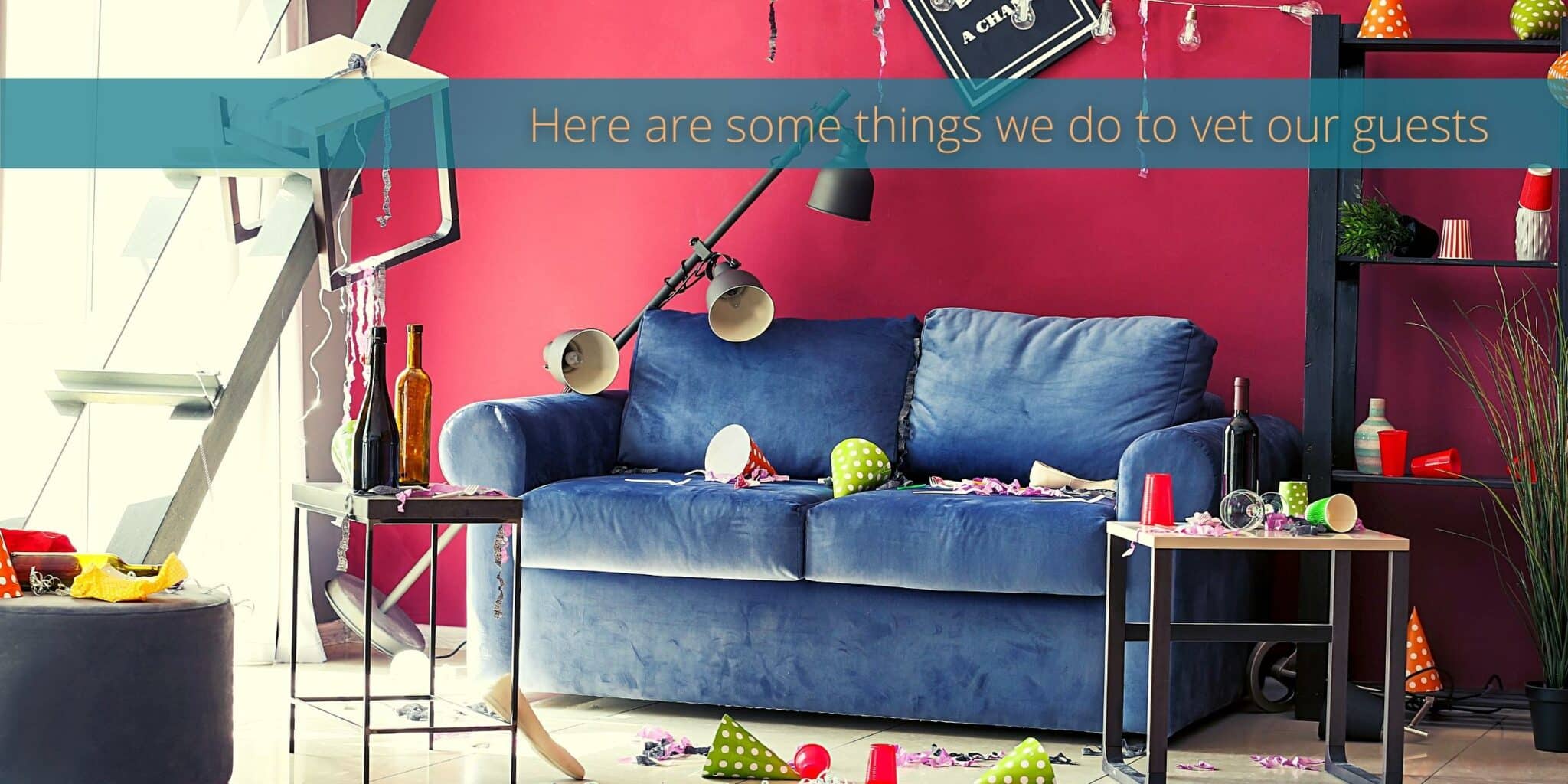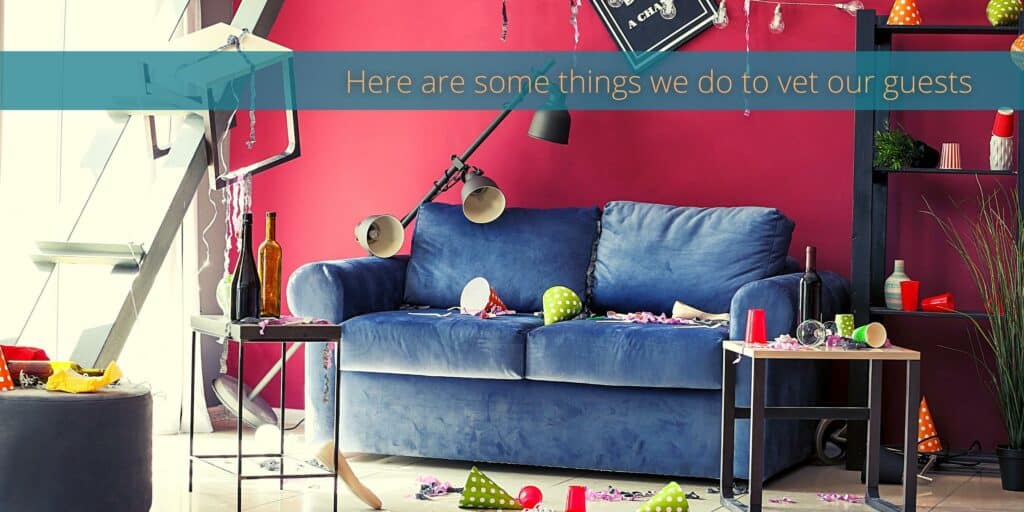 When someone books on Airbnb, we ask "What brings you to the area?" I'm not afraid to turn someone down if their answer is vague or I don't have a good feeling about it.
We generally don't rent to people who are under 25.
Our listing states clearly that parties aren't allowed and that we know all of our neighbors.
We have a friend who lives in our basement apartment — this is stated in the listing and it likely deters parties.
We only rent to people who have prior positive reviews, unless their reasons for coming are very clearly stated.
We only rent to people with a verified ID.
Our minimum stay is 3 nights.
Our furniture is nice but not very expensive- most items are from thrift stores, Ikea, facebook marketplace, or other used sites. So we aren't afraid of anything in particular getting ruined, but of course we do want to protect our house!
Preparing the house for guests
Changes we made to our home
Put locks on a lot of closets. We purchased a 12-pack of small padlocks with identical keys and put them on small latches which we installed on doors that we wanted to keep closed. Anyone could easily break the locks or latches with a bit of force, but they are there as a simple deterrent to keep our personal items secured. This allows us to leave most of our closets locked while guests are here. We totally clear out 1 closet in our master bedroom before guests arrive. In our kids rooms, instead of using closets, we use an over-door rod for each bedroom with hangers and we clear out their dressers for guests to use. We also zip-tie or lock some dining room and kitchen cabinets, as well as hall closets.
Simplify. If you are a minimalist, this will come more easily to you than it did to us. Fortunately we also have a big walk-up attic where we could store some stuff while we decided whether to keep it. I was able, for instance, to reduce my clothes down to fit in one closet, which leaves an empty dresser in our room for guests to use.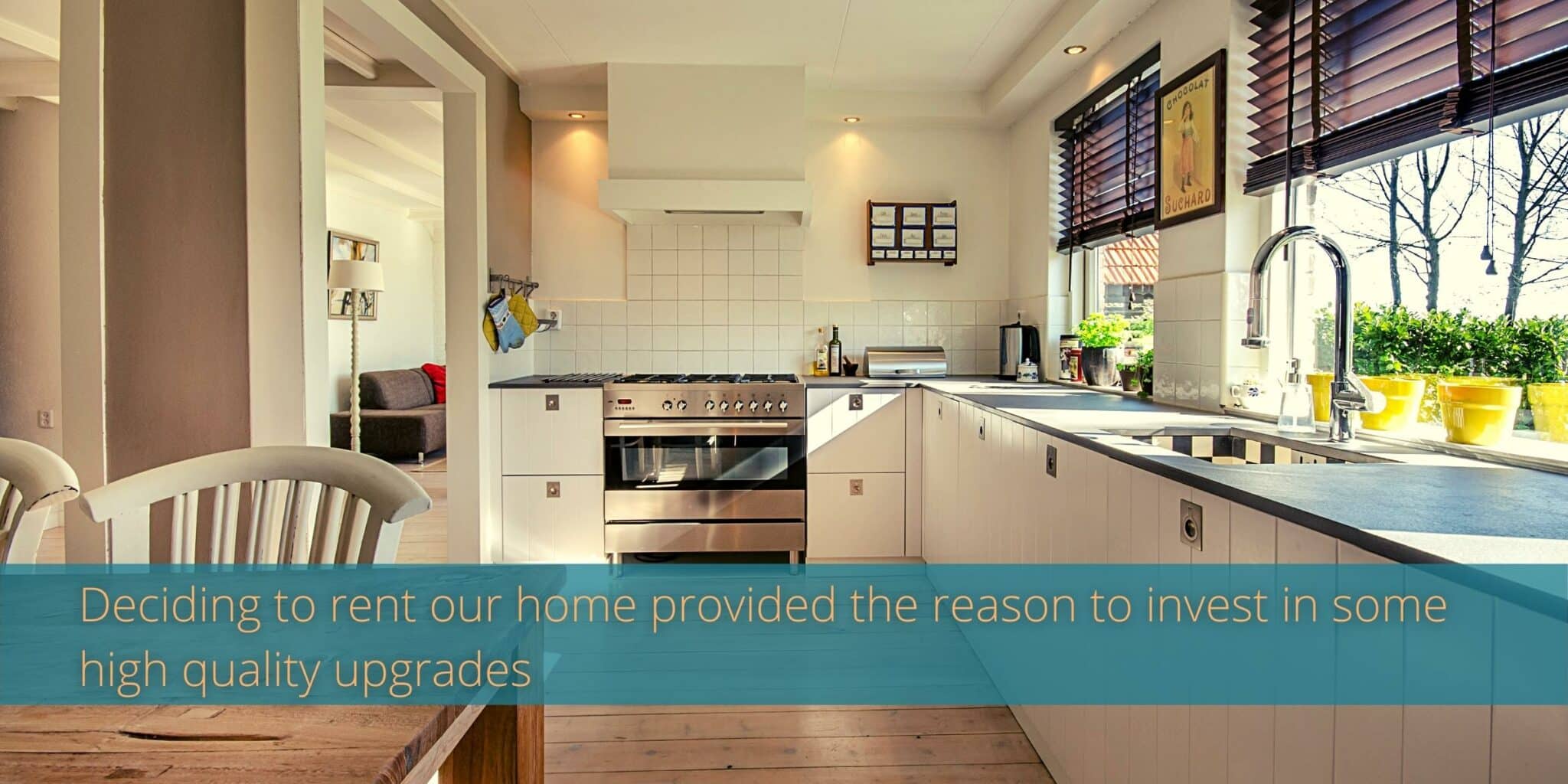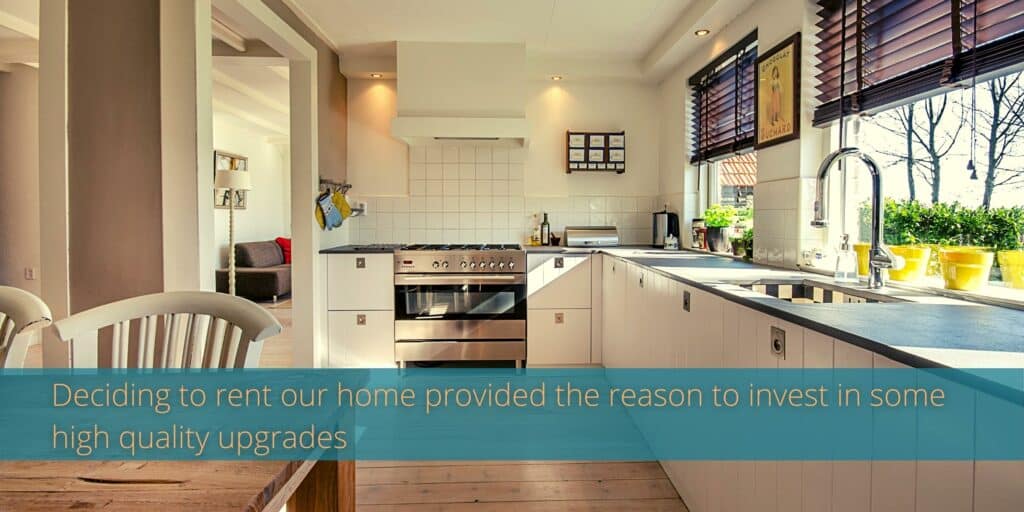 Upgrades. Deciding to rent our home provided the reason to buy a high quality dishwasher, have our 90 year-old bathtub refinished, and purchase nice patio furniture. As a bonus, those things could be partially written off on our taxes.
We added a smart lock to our front door. This was a key part of our automation strategy.
What we bought
Two sets of sheets and towels for each bed. If you aren't doing back to back guests, you don't really need 2 sets, but it made it easier for us.
New bedspreads for all the beds.
Smart lock for the front door and receiver (electronic smart hub).
Dishes, glasses, and silverware at Ikea (to replace our Fiestaware). Because we were doing this for a year, we wanted to be able to say "Don't worry about it," if a guest broke a dish or glass.
New patio furniture
Bedside nightstands and lamps with USB ports (we should have purchased years ago for ourselves)
Dishwasher
A few more wall decorations and pictures, especially for our kids' rooms
What we do right before guests come
Move the kids' clothes from their dressers to their closets (they are in boxes in the drawers, so this is easy)
Move any food in our fridge or freezer to our fridge/freezer outside in our garage.
Put away personal photos and anything else that feels too cluttered.
Lock closets and pantry. Zip tie a few cabinets.
Move our personal toiletries out of the bathroom into a closet. These are also on trays to make it easier.
Pay a cleaner to come and clean and change the sheets.
Marketing your house
What is it that makes your house unique? If you have kids, this can actually be a great selling point. Families are looking for family-friendly places! We advertise that we have kids toys and books, as well as slides in our backyard, a high chair, and a pack n play.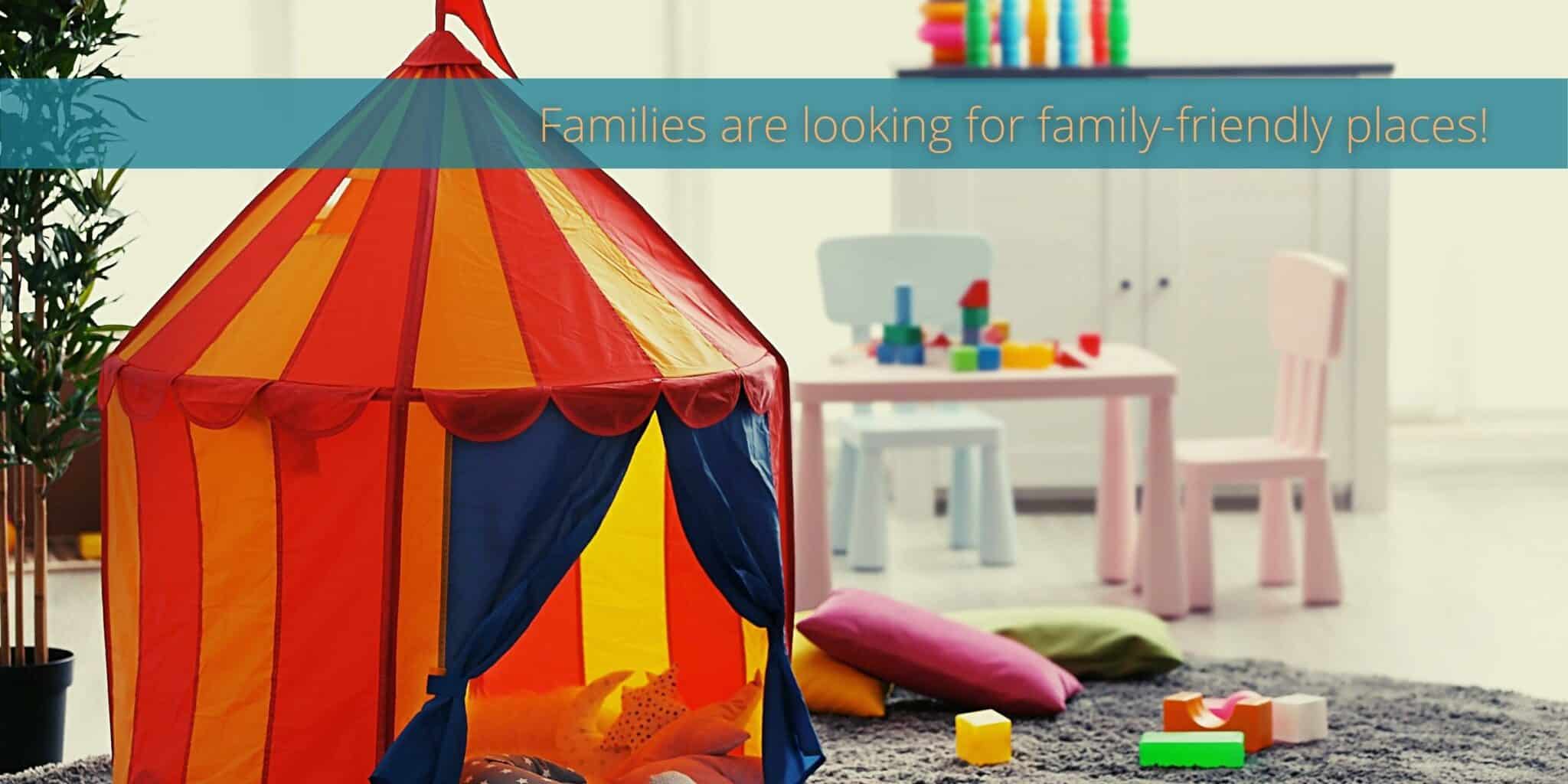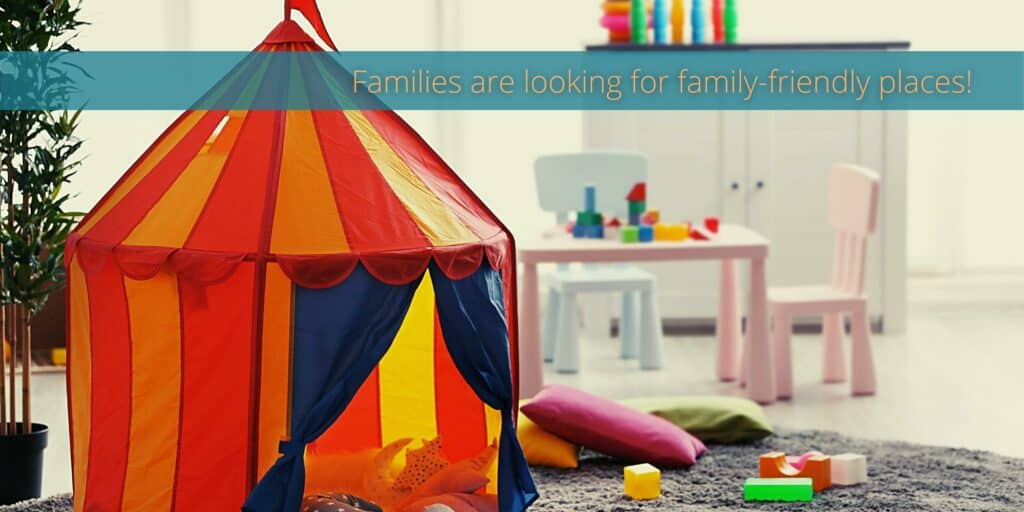 In our case, we also advertise the communities we are close to, as well as easy access to the train to Chicago.
We have a historic home with a large kitchen and big patio out back — with two fire pits.
Your home will be different! Talk about what you're close to or events nearby. Use the max number of characters in your listing title to draw attention to your home. And make sure that first photo is a really great one!
In our pictures on Airbnb, we also use the captions to give more descriptions of selling points — like a photo of our dining room also says "Large table seats 8 comfortably. The window seat in the back is full of board games you can enjoy playing during your stay!"
For the first six months, we only listed on Airbnb. We eventually expanded to VRBO, but most of our listings still come through Airbnb. I still like to have it listed on both to diversify.
Automations that save time
Locks
Having a smart lock that automatically updates helps us know that guests can't get in and out if it isn't their reservation time. We bought this Schlage Smart Lock because our front door is 100 years old and doesn't have a dead bolt. If you can just replace a deadbolt with a smart lock, you will have more options.
Then we use the Rental Lock Automator from RBoyApps to automatically update the codes. We also needed to buy a Smart Things Hub.
Our guests get messages that let them know that their code to enter will be the same as the last 4 digits of their phone number and is only valid for the duration of their stay.
Messages
I use Host Tools to send messages automatically to guests at certain times. My guests get messages:
When their reservation is confirmed (general welcome email and link to our online guidebook). This email also asks them to confirm they have read the house rules in the guidebook and reply that they will comply within 48 hours. This also allows me to weed out people who aren't paying attention to to details/
4 days before arrival (including parking and check in information)
Morning after they check in (short "Let me know if you have any questions!")
Night before they check out (includes check out instructions)
The service costs $5/month. I only activate it when we have our listing up and running.
Pricing and Availability
We are currently listing our home on both VRBO and Airbnb so I use Host Tools to sync my availability. I also set pricing rules on Host Tools. I don't recommend using Airbnb's "Smart Pricing" tool as it is consistently too low, in my opinion. At least in our market!
We generally only open our house as available when we have a trip planned. At this point, though, we have a lot of reviews and are Superhosts so it is easier for us to be a little bit more restrictive.
Cleaning and management
This is the trickiest part when we are traveling for an extended period! For our gap year, we were able to hire a good friend as a property manager and cleaner, which was an ideal situation for us. She responded to guest concerns via the Airbnb app if we couldn't respond in time. She also addressed issues in person at the house. She also turned over the house between guests. We paid her hourly for all of her work.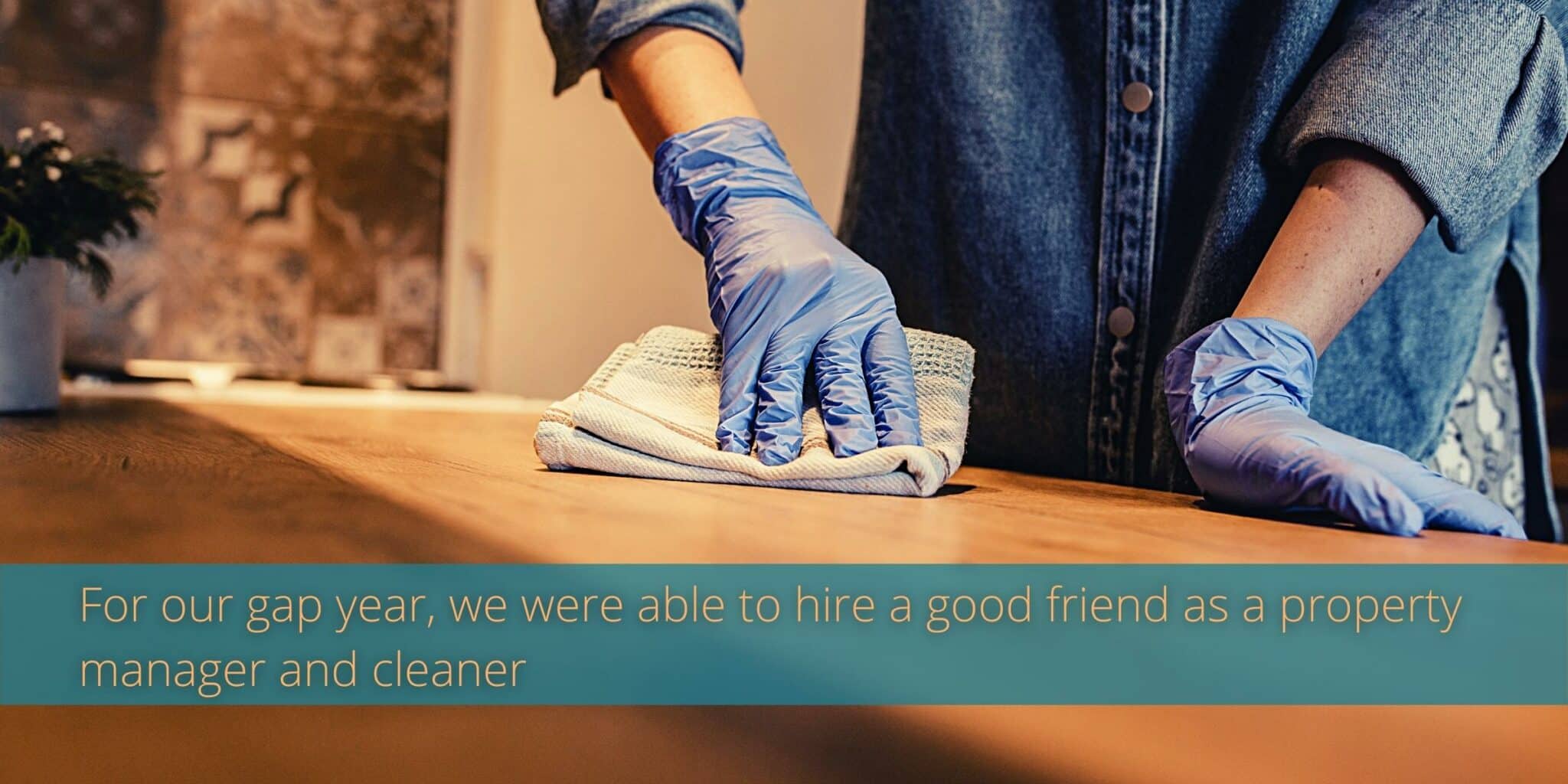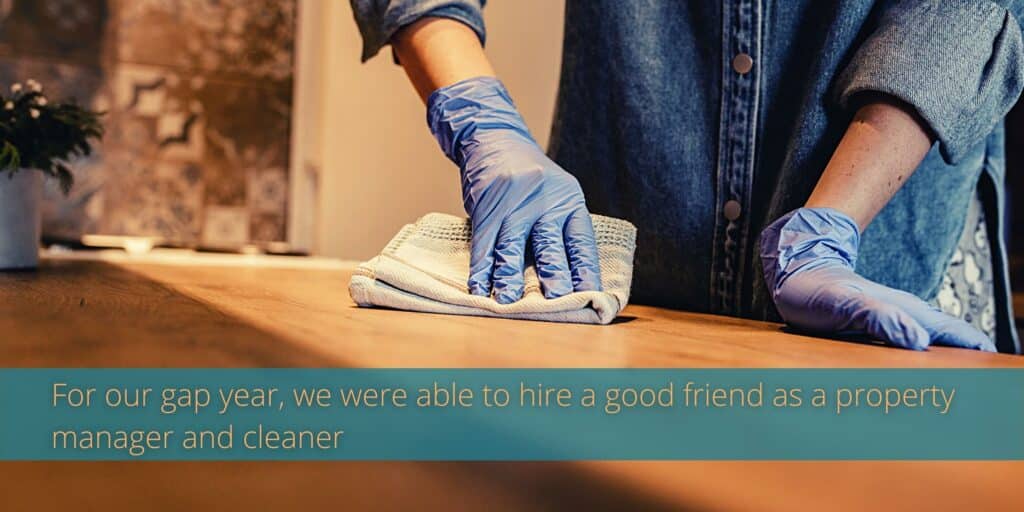 When we are renting our house out for shorter periods, we hire a cleaner locally. Then we ask friends and family in the area to be available if there is some sort of house emergency.
We set out a basket of snacks and a personalized note for each guest. This is something that most cleaners aren't used to doing — but our friend/property manager did for us.
I have checklists to make sure the house is just how I want it to be.
For an upcoming month long-trip, we reached out to another Airbnb owner in our area and plan to hire them to do our turnovers.
Guidebook
We use Hostfully to create an online guidebook, as some guests prefer having the information electronically. If you only have one property, this is free. The guidebook provides information about our home, our recommendations of local restaurants, places to go, and things to see. We also print out a hard copy of the guidebook and have it in a binder on our table when guests arrive.
Earnings
Your earnings will of course depend on how often you have your house available to book! Here were our earnings from 2019. We were traveling full-time in August through November, so those months our house was available to rent every day. Payouts are generally the day after a guest checks in, so it is best to look at averages. We easily surpassed our goal of earning $1800 per month in order to cover our mortgage and utilities.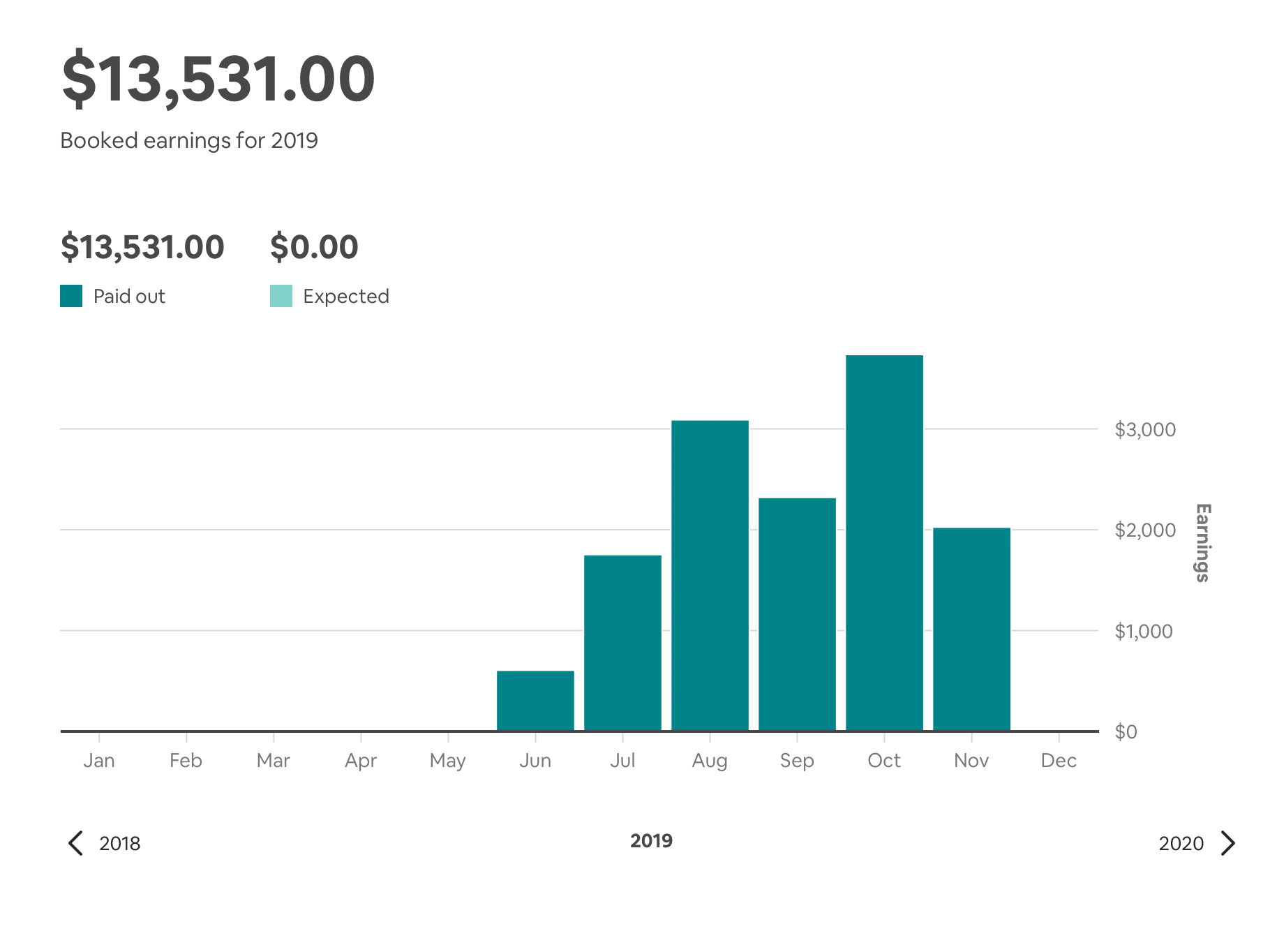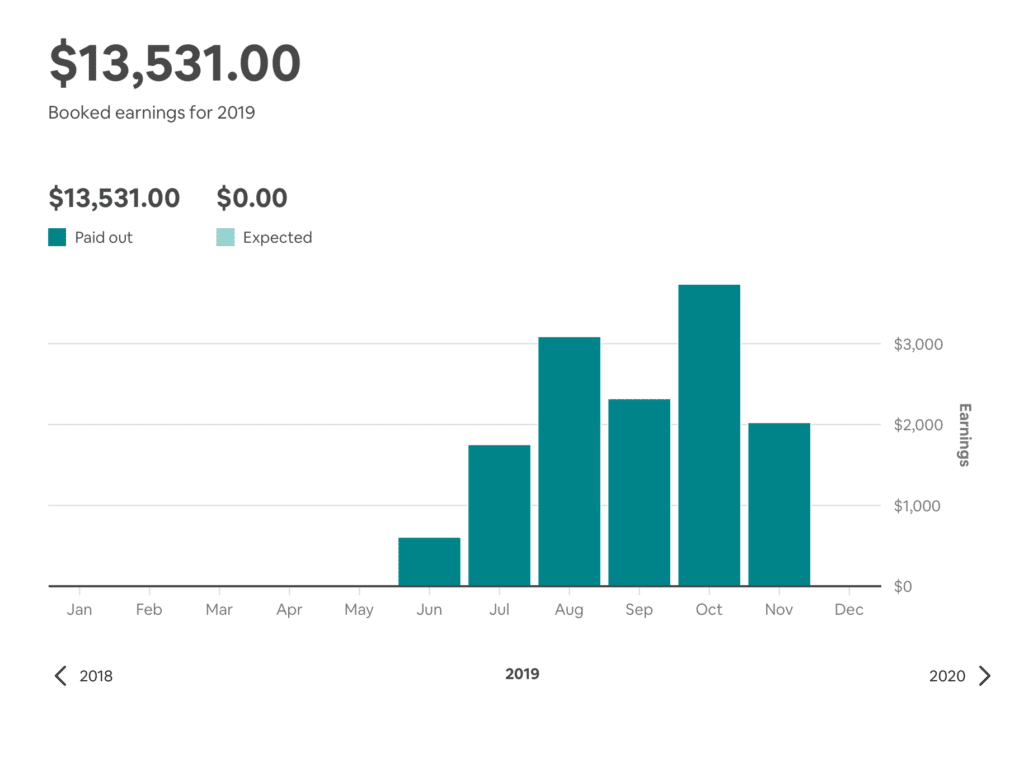 Want to try renting out your house on Airbnb? Use my link to sign up and you will get a $25 bonus after your first booking! If you use my link, let me know! I will send you all my email templates I use to communicate with guests.