If you've ever arrived at your destination only to find your checked baggage didn't arrive with you, you're not alone. According to the U.S. Department of Transportation (DOT) more than 230,000 bags were "mishandled" (damaged, delayed or stolen) by U.S. airlines in May 2022. And that was before the summer travel season kicked off!
Things weren't much better during the 2022 holiday season, when weather affected all the airlines and Southwest had its meltdown. If your luggage was mishandled by Southwest during this time, make sure to submit your bag info to Southwest here. Under DOT rules, they are also responsible for reimbursing you for items while your luggage was lost or delayed. While Southwest doesn't have a site to request reimbursements specific to mishandled luggage, you can submit your documentation and receipts on using their expense reimbursement request form.
When our family of six flew on Delta from Denver to Madrid, by way of JFK, in February 2022, we experienced first hand the stress of delayed baggage when all six of our checked items went to France instead.
Delta delivered our bags to us at our hotel in Madrid. Five of our bags ended up being delivered about 12 hours late and the final bag was delivered two days later, as we were packing up to leave Madrid. It took about 12 weeks for Delta to send us our reimbursement of $422, but they did reimburse us for every receipt we submitted, no questions asked.
Prepare for the Worst
I prefer not to check bags, but with four kids sometimes the fear of baggage delays is outweighed by the hassle of getting everybody and everything through the airport. If you are checking bags, keep any valuables in your carryon as well as a change of clothes, medications and anything you absolutely need when you arrive. If you're traveling with young kids, this may mean packing swimsuits, diapers, or baby food in your carryon.
Be sure to save all your boarding passes and baggage claim checks until you have secured your luggage since you may be asked to submit these with your baggage reimbursement claim.
File a Claim Immediately
If your bag doesn't arrive with you, go to the baggage service agent and start a claim immediately. Do not leave the airport without filing a claim. There are time limits on filing claims but, more than that, getting any kind of response will be harder once you leave. While you are at the airport be sure to ask them: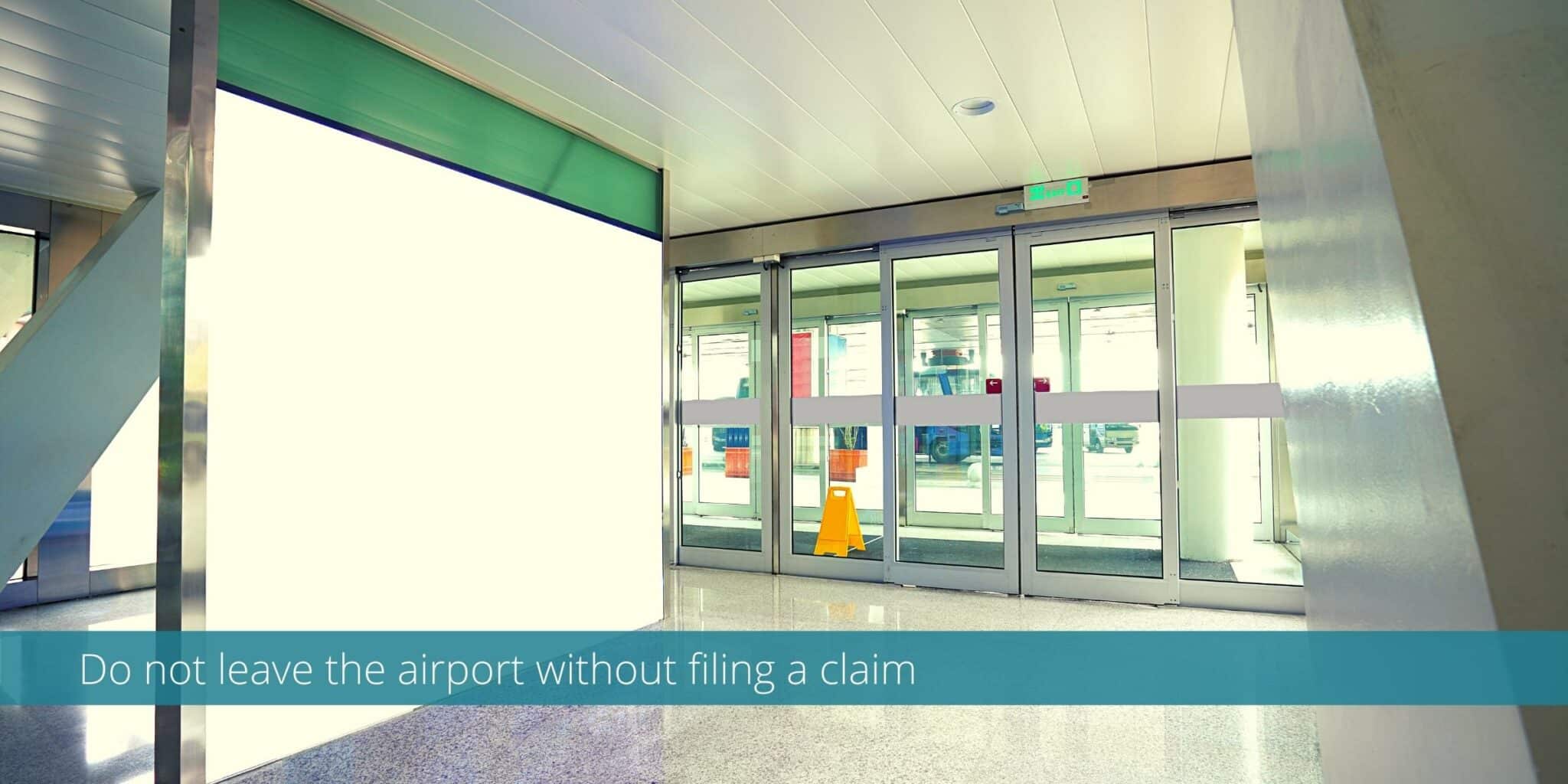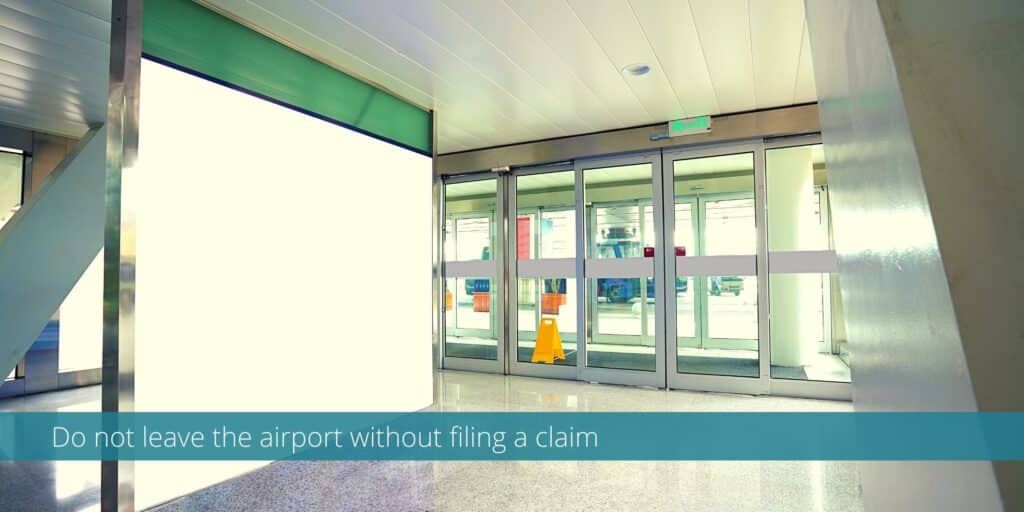 -What your reference number and bag tracking number(s) are;
-What is the airline's policy for reimbursing purchases;
-How will you submit a claim for reimbursement;
-How will they get your bag(s) to you; and
-What is the best phone number you can call to talk to an actual person about the status of your baggage?
Reimbursement Limits for Domestic Flights
For domestic flights, the DOT has established rules for handling delayed and lost baggage. Airlines are required to reimburse you for expenses you incur while you wait for your luggage. While the airline may give you a line about what they consider a "reasonable" daily limit for reimbursement, by law airlines cannot set an arbitrary limit. If your bag is delayed or lost on a flight within the U.S. your airline must reimburse you up to $3,800.
Airline delayed and lost baggage policies
| | |
| --- | --- |
| American Airlines Policy | "Reasonable and necessary items" up to $3,800 (within U.S.); receipts required for items over $100. |
| Delta Policy | "Reasonable expense reimbursements" up to the "limit of liability" |
| Southwest Policy | Reimburses for "reasonable expenses" |
| United Policy | Reimbursement of "interim expenses" for delayed bags; bags missing more than 5 days are eligible for up to $1,500 without receipts and up to $3,800 with receipts (within U.S.) |
Airline reimbursement policies
Reimbursement Limits for International Flights
If you are on an international flight, the Montreal Convention of 1999 sets airline liability in the case of destroyed, lost, damaged, or delayed baggage. While they use a conversion unit called "Special Drawing Rights", as of July 2022 the limit for baggage reimbursement equated to about $1,780.
Getting Reimbursed By Your Airline
Most airlines require you to submit receipts for everything you want reimbursed. Save any receipts for expenses you think you can claim and be prepared to justify anything that might seem excessive.
It may take awhile for your baggage reimbursement to come through, so be careful charging things you may not be able to pay off while you wait.
Most airlines are flexible in what they will reimburse you for since they don't know your situation and they are liable for your bag. Delta took about three months to reimburse us, but they did cover things like a SIM card, chargers, diapers, baby food, a new suitcase, a hostess gift, and transportation to/from shopping.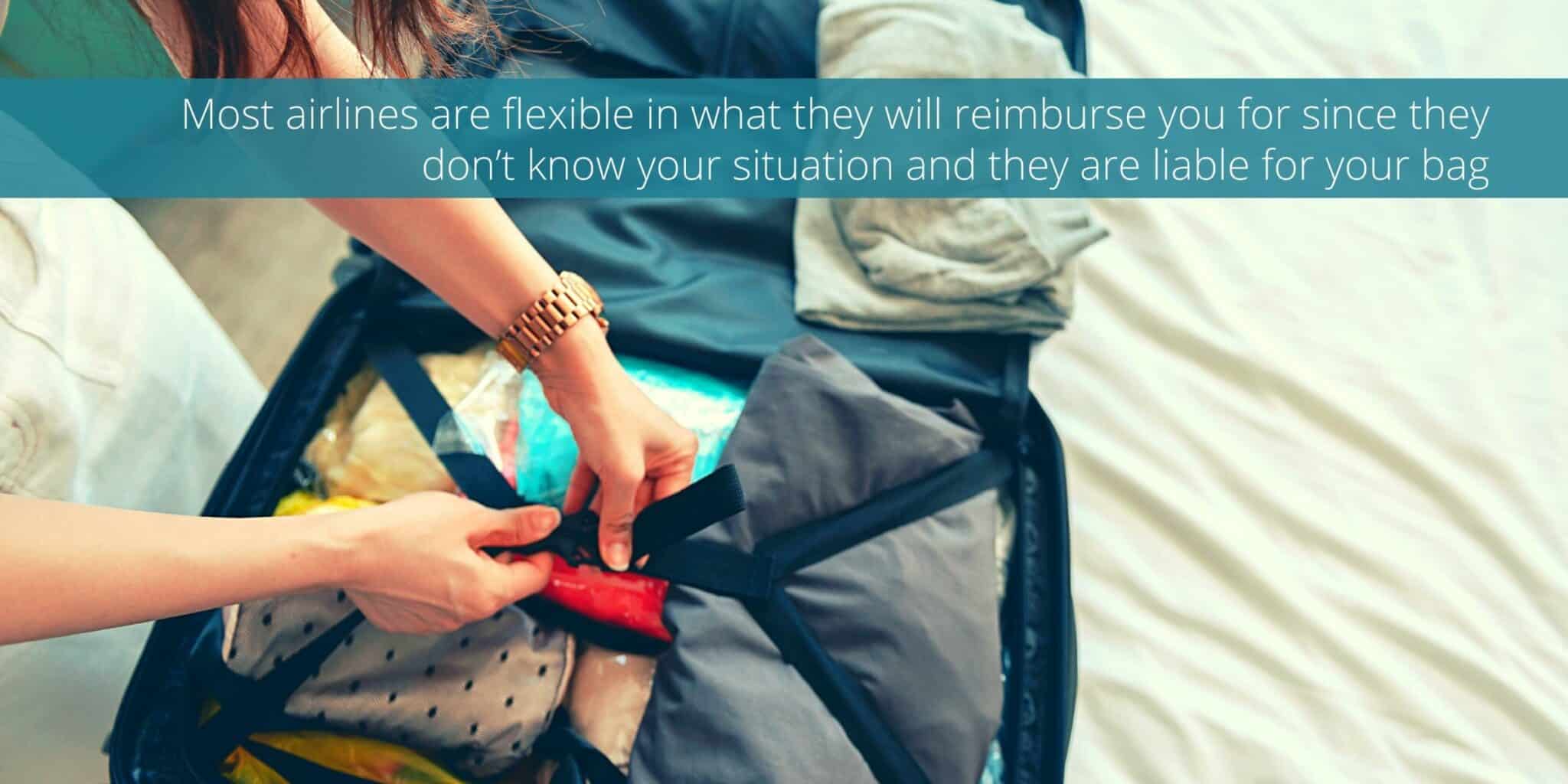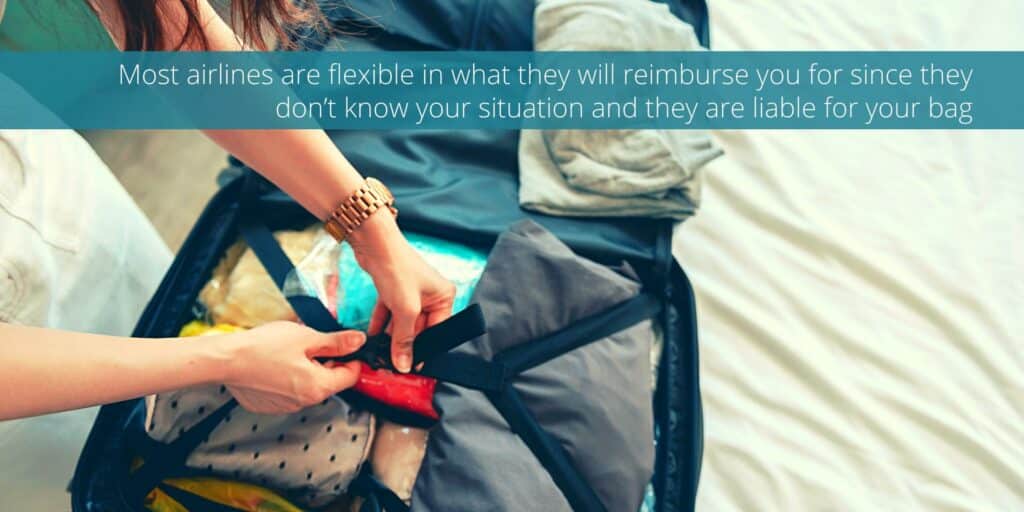 Even if it's a stretch, if you feel like you could justify the expense, add it to your claim form. If you aren't traveling with four kids in a foreign country, it might even be fun to go on a shopping spree on the airline's dime.
When I submitted our claim to Delta, I took photos of each receipt and put a note saying what the receipt was for. I also included redacted screenshots of my credit card statement that showed the dollar amount I spent so I wouldn't be hurt by a fluctuating exchange rate.
The claims process takes a long time, especially in this time of decreased staff and increased issues, so give them as much information as possible to reduce any back and forth that may delay your reimbursement.
Getting Reimbursed By Your Travel Insurer
Private travel insurance
If you have travel insurance, check the delayed and lost luggage sections of your policy to find out when it will kick in and what it will cover. You may need receipts for anything you want reimbursed and there may be verbiage in your policy against being reimbursed from both your airline and your insurer for the same items.
Credit card insurance
If you don't have a travel insurance policy, you may be covered if you purchased your flight on a credit card that provides lost and/or delayed baggage protection. Check the terms as these cards often have exclusions and are secondary to reimbursements from airlines and travel insurance.
These are some personal credit cards that offer baggage loss and/or delay coverage. After a canceled flight in Oregon that required an overnight stay, I always use a card that includes travel protection for flights.
Many cards with travel insurance have annual fees under $100 and are worth the peace of mind, but read the fine print. Different cards have different stipulations as to what "activates" their travel insurance coverages (i.e. round trip tickets vs. full fare vs. taxes and fees charged to the card).
| | | | |
| --- | --- | --- | --- |
| Credit Card | Annual Fee | Maximum Reimbursement – Lost Baggage | Maximum Reimbursement – Delayed Baggage |
| American Express Gold | $250 | $500 | N/A |
| American Express Green | $150 | $500 | N/A |
| American Express Platinum | $695 | $2,000 | N/A |
| Capital One Venture | $95 | $3,000 | N/A |
| Capital One Venture X | $395 | $3,000 | N/A |
| Chase IHG One Rewards Premier | $99 | $3,000 | $100 per day for 3 days |
| Chase World of Hyatt | $95 | $3,000 | $100 per day for 5 days |
| Chase Sapphire Preferred | $95 | $3,000 | $100 per day for 5 days |
| Chase Sapphire Reserve | $550 | $3,000 | $100 per day for 5 days |
Comparison of lost and delayed baggage maximums offered by credit cards
$99 annual fee
Reward Night after each account anniversary year at eligible IHG hotels worldwide (worth 40,000 points)
4th night free when you redeem points for any stay of 4 or more nights
Earn up to 26 points total per $1 spent when you stay at an IHG hotel
Earn 5 points per $1 spent on purchases on travel, gas stations, and restaurants. Earn 3 point per $1 spent on all other purchases
Platinum Elite status as long as you remain a Premier card member
Global Entry or TSA PreCheck Fee Credit of up to $100 every 4 years as reimbursement for the application fee charged to your card
$50 in United TravelBank cash each calendar year
$95 annual fee
30,000 Bonus Points after you spend $3,000 on purchases in your first 3 months from account opening
Provides 1 free night certificate every year on account anniversary (up to a category 4 hotel)
If you spend $15,000 per year on the card you will earn an additional free night certificate
$550 annual fee
Earn 60,000 bonus points after you spend $4,000 on purchases in the first 3 months from account opening.
$300 travel reimbursement. This is automatic credit for any hotel, airfare, parking, car rental, etc.
Fee reimbursement for Global Entry for 1 person (which is $100). This benefit is available once every 4 years.
Airport lounge access for primary card user and 2 guests traveling with them through Priority Pass
Premium Trip insurance: If your flight is delayed 6 hrs or more for any reason they will reimburse you up to $500 for hotels, food, etc. — as long as you pay for at least a portion of your fare with the card (like taxes).
Whether you are trying to get reimbursed from your travel insurance provider or through your credit card, be sure to keep ALL documentation. Take pictures and screenshots and save everything in an album on your phone. Boarding passes, baggage checks, receipts, verification of your delayed or lost bag, credit card statements, and proof of delivery may all be requested.
What to do if Your Claim is Taking Too Long
If you want to be reimbursed in a (semi) timely manner, be respectful and proactive. If you aren't getting a response from the airline, the DOT and the Better Business Bureau (BBB) may be able to help you resolve your issue. Several weeks after I filed my claim, I filed complaints with both of these entities. I don't know whether it sped up the process, but when I finally got reimbursed they did acknowledge both my complaint to the DOT and the BBB.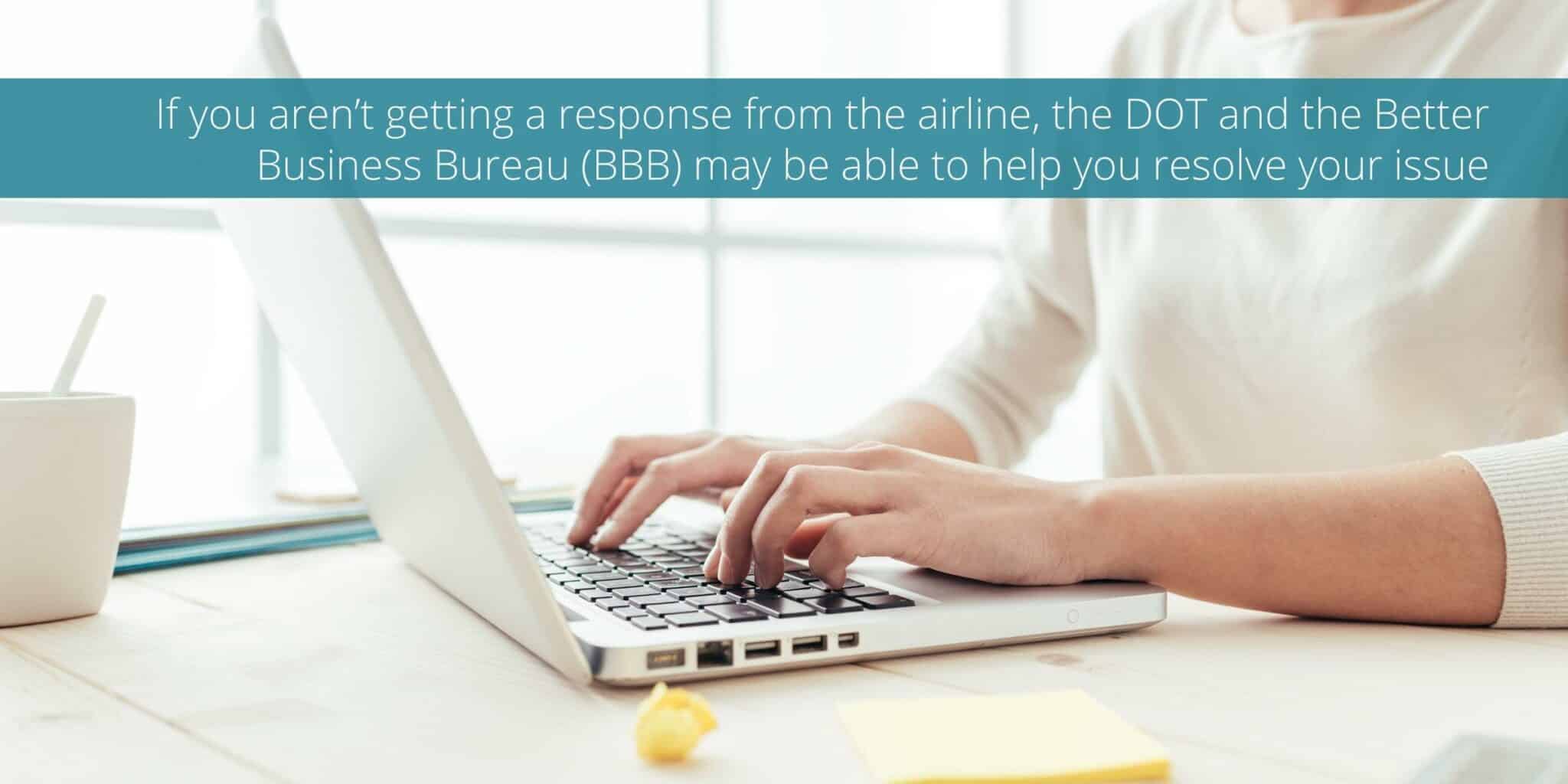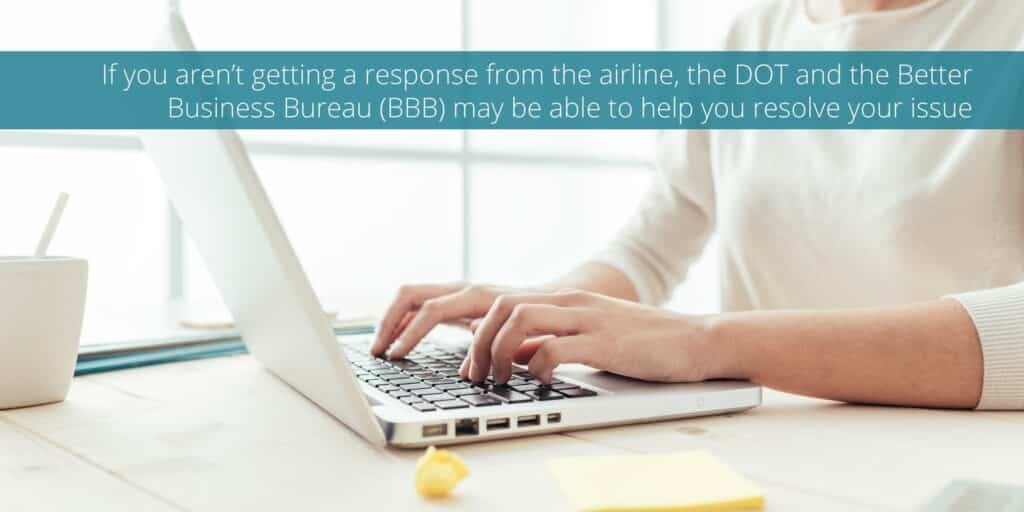 Submitting complaints
Start with the airline. Follow-up your baggage reimbursement claim with a comment or complaint through their website respectfully requesting action. Check here to find the best way to contact your airline.
Submit a complaint to the DOT. The DOT takes airline complaints on delays, cancellations, overbooking, baggage issues, family seating, etc.
The DOT requires that airlines acknowledge complaints within 30 days of receipt and provide written responses within 60 days. It's easy to fill out a complaint online and not only will it help you get a response from the airline, it helps the DOT track the shortcomings of the airline industry.
Submit a complaint through the BBB. The BBB has no regulatory authority and cannot make anybody do anything. A lot of businesses don't bother to respond to BBB complaints. However, many U.S. airlines have high BBB ratings because they have staff that respond to complaints and forward them appropriately to help resolve issues.
Have a story about your mishandled bag this summer? Share it with us in the comments!