It's that time of year when many people are making (or already breaking!) resolutions and setting goals. Maybe some of your goals center around a trip – or trips – you'd like to take, and you just don't feel like you can afford it.
That's why we're here! To show you what's possible with miles and points, and to help you get there!
When I opened my first travel credit card several years ago, my goal was simply to get a free flight for our growing family. I saw a United credit card ad and I thought we could get a couple airfares out of the bonus and that would be it.
My college friend, Katie, had been mentioning this miles and points things for years. She pointed me to the Chase Sapphire Preferred card, which I opened. From there? Well, we didn't do much with miles and points for another year or two.
When I opened that first travel credit card, I hadn't really thought about goals. I just liked the idea of a free flight. If we had defined some goals, we probably would have ramped up more quickly!
That said, there's nothing wrong with just earning as many points as possible and going from there! But for some people, having specific goals will motivate you to get the ball rolling and will guide your card-making decisions.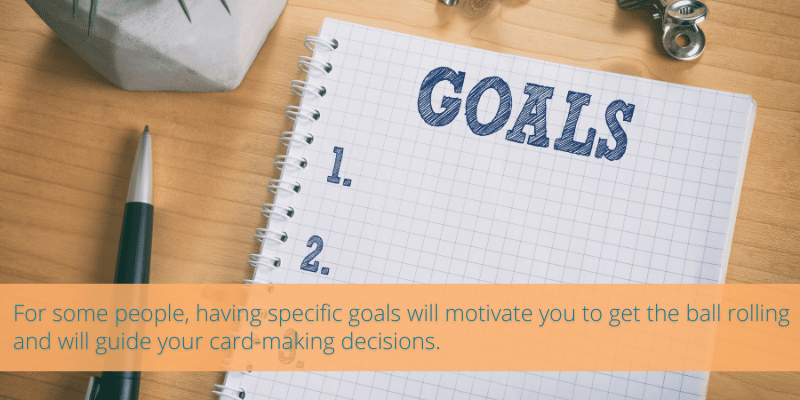 So, whether you haven't yet taken the leap and opened your first card, or whether you are a few cards in, I encourage you to take some time to think about your travel goals – and how miles and points can help you achieve them.
Figuring out how you want to use the miles and points you accumulate will help you figure out a strategy so that you can make your first (or second or third or fourth) trip on points a reality.
Easier to Redeem Goals: Flexibility
As you think about your goals, and how you'll get there, also keep in mind that if you are flexible with your travel dates and style, you will have more success finding availability to turn your goal into a reality. If you are set on very specific dates, a very specific hotel, or a very specific airline and class of travel, it will probably be more challenging to find a redemption.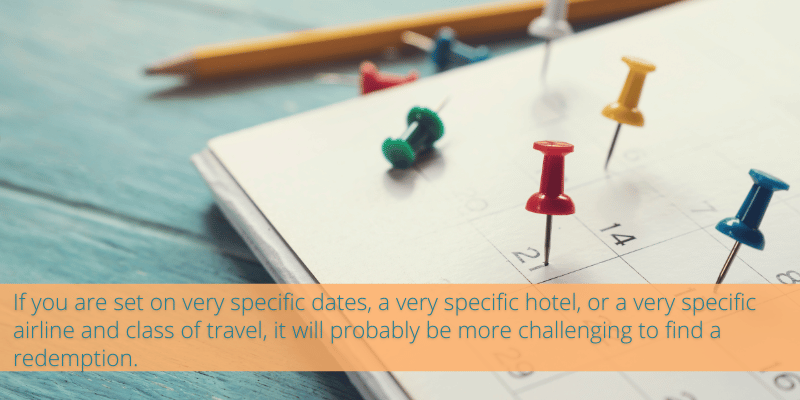 Why is this?
Most airlines and hotels limit the availability of award nights and tickets. This means that just because a ticket is available for sale does not mean that it will be available to book with points. Limited availability will, naturally, make it harder to find a very specific redemption if you aren't able to be flexible.
In addition, most loyalty programs have gone to dynamic award pricing. Dynamic pricing means that the number of points required for a redemption varies with demand. It will be a lot easier to find award availability at a reasonable price if you aren't trying to travel over – for example – the holidays, or spring break, or the summer.
When you are travel hacking, it's easy to get caught up in getting the best redemption possible. Some of the highest "value" redemptions are for business and first class airfare. When you can get a $8,000 ticket for 60,000 points, your redemption value is going to be more than 10 cents per mile. But if you are flexible with what class you fly in and (gasp), are willing to fly economy, you'll find a lot more availability, making it easier to redeem those points. (Plus, your points will go a lot further!)
Easier to Earn Goals: Fewer Points
Some travel hacking goals are easier to achieve because they don't require a lot of points and/or because there are a lot of opportunities to earn the points you need.
You can sign up for one flexible rewards card and the bonus will give you $600-$800 in cash back that you can use to offset that Disney vacation or that vacation rental.
With a combination of the right Chase Ultimate Rewards earning cards, you're well on your way to a stay at a Hawaiian Hyatt resort or all-inclusive.
Open a couple Southwest Rapid Rewards cards, and closely follow the timing outlined here, and you can have almost two years where your companion flies for just the cost of taxes.
Earn a Capital One Venture or Venture X card bonus, and you've got enough points to fly your family to Hawaii or stay at a vacation rental for five nights.
Harder to Earn Goals: More Points
There's nothing wrong with dreaming big and having a harder to earn goal!
A harder to earn goal will require more time as it will require more points (so more sign up bonuses). These goals will probably require more strategic planning as you map out your plan and figure out what cards you need, but that's part of the fun!
Harder to earn goals include:
Covering travel costs for more people,
Flying business/first class,
Very specific dates and/or routes,
Longer trips (for example, a month in Europe),
Holiday travel, and
Highly coveted resorts and hotels.
Setting Your Goal
Setting your travel hacking goal is just like setting any travel goal – except instead of figuring out how much money you'll need and how you're going to save it, you're figuring out what kinds of points you need and how you're going to leverage your current spending to get them.
There are no right or wrong goals in travel hacking! Don't get caught up in getting the very highest redemption value or flying first class or going to exotic destinations if that's not really your thing. If your miles and points goal is something that makes you happy – that's all that matters!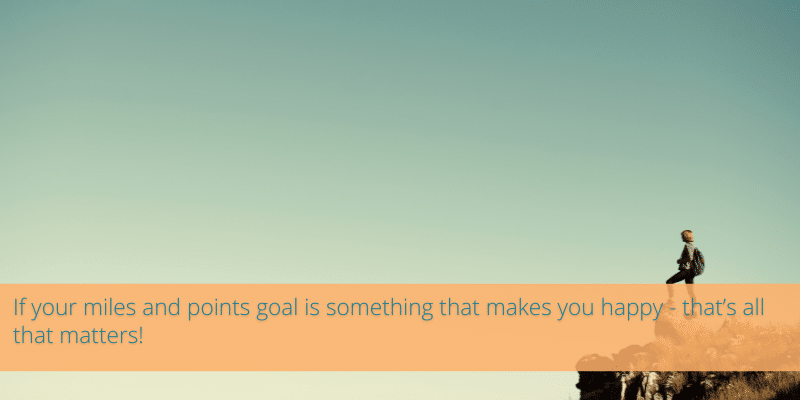 Download our goal setting worksheet below and start brainstorming how you want to use your miles and points and how you will achieve your goal!
Who?
Who do you want to travel with? Do you want to go on a solo trip or go with friends or family?
The number of people you are covering travel for makes a huge difference in your strategy. More people means you'll need to accumulate more points for airfare and may limit the types of accommodations you can stay at.
What?
What expenses do you want to cover with points? Airfare? Hotels? Rental cars? Activities?
Do you want to travel in luxury and stay at 5 star hotels and fly first class? Or do you prefer to stretch your points further by staying in budget accommodations and flying economy?
It's all possible with miles and points, but obviously the higher your travel standards, the more points you'll need.
Where?
Where do you want to go? Do you prefer to travel domestically or do you want to go abroad? Do you have a specific destination in mind, a region of the world, or do you just want to go wherever you can travel for the cheapest?
When?
When do you want to take your first miles and points trip?
You need to think about the time frame you have to save points. Be realistic. If you are trying to cover spring break in Hawaii and it's already Thanksgiving, you'll have limited options.
Hoping to travel within a few months? You can get a card that offers a travel "eraser" or "pay yourself back" option to save $500+ on an upcoming trip.
If you have six months to a year before you plan to book your trip, you should easily be able to save $1,000-$2,000 (or more) on your trip.
Thinking even further out? If you have more than two years, it's realistic to accumulate enough airline miles and hotel points to go pretty much anywhere in the world (except maybe Antarctica, that's a challenge!). And yes, your credit will still be intact (and probably even higher) if you have been paying bills on time and in full.
Why?
Are you looking to make family memories or celebrate a special occasion? Do you want to show your kids the world or to find time and space to relax?
While the why behind travel may not impact your travel hacking strategy as much as the who, what, where, and when, remembering why you want to do this is what can keep you going at the beginning. After you've been on a free trip or two, you'll probably be pretty self motivated to keep going!
I often question my sanity when I am planning a trip (because traveling with kids is a trip, not a vacation!) or when everyone (myself included) is melting down in a hotel room. But my why – my desire to show my kids the world – makes all the difficulties of traveling with little ones worth it. Easy? No. Worthwhile though, definitely.
How?
After you've figured out all the other stuff, it's time to think about out how you're going to turn your goal into reality!
This can be the hard part. Spend some time researching airline alliances (start with google flights) and hotel chains to figure out what types of points you might need. From there, you can start identifying credit cards you will need to open and when in order to meet your "when" goal!
It's ok if your "how" changes along the way. In fact, it probably will. Maybe a card that wasn't on your radar comes out with an elevated sign up bonus or you learn more about transfer partners and figure out a better way to get where you want!
Share with us below – what are your travel hacking goals?