Flying Blue is one of the very cheapest options to fly from the US to Europe in points. Taxes are a bit higher than some other options but you will save on points. Check for monthly Flying Blue monthly promos as well. Specific cities change every month or so as promos change but you can use these steps to find deals at any time. In this article, I'll provide easy-to-follow steps for booking this sweet spot. From search tools to booking, I'll cover everything you need to know to unlock this budget-friendly way to experience Europe.
What is Flying Blue?
To take advantage of this deal, you need to use Flying Blue to book your flights. But what exactly is FlyingBlue? It's the loyalty program for Air France and KLM, which together make up the Flying Blue Alliance. It's free to sign up for a loyalty account.
This deal is best for booking non-stop flights from North America to Paris or Amsterdam. The cheapest departure cities depend on the current Flying Blue promo awards.
Flying Blue Monthly Promo Awards
Every month, Flying Blue releases different promo awards. These will change to highlight different U.S. departure cities. You can find current promos here. Scroll down to Long Haul awards to see flights from North America.

These are sample Promo awards from April 2023. Some cities will cost more. For instance, this month Salt Lake City had a promo for 22,500 points each way on KLM.
Will my city ever have this promo?
Flying Blue seems to cycle through most of their routes for this promo. When it will hit your city (and what it will cost) is uncertain. To find out if your home airport is serviced by AirFrance or KLM, you can use the free tool Flight Connections and filter by airline.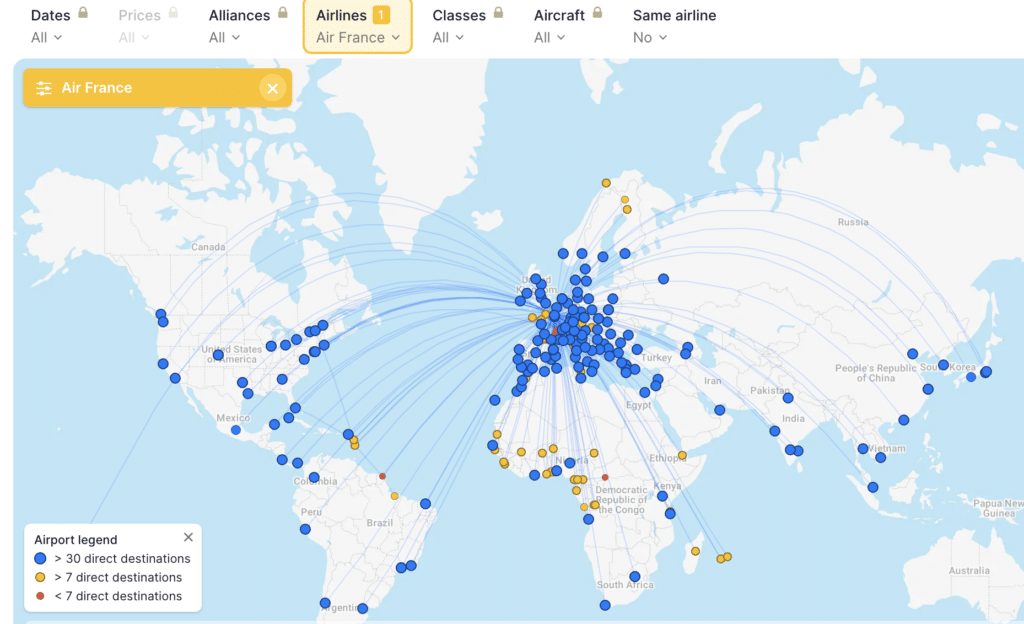 What if my home airport doesn't have these flights?
Many people will also fly to another city (referred to as "repositioning") in order to take a non-stop flight with a promo like this. This often makes sense if you live by a smaller airport and non-stop flights are limited. If you have the Southwest Companion Pass, it is a great way to use that benefit to get to an East Coast city. Just be sure to leave yourself plenty of time to get to your Europe flight. Ideally, overnight layover is best.
What if I don't want to go somewhere else besides Paris or Amsterdam?
AirFrance and KLM connect to a number of cities throughout Europe. Pricing for booking a connecting flight can vary wildly. Sometimes it is the same price as the flight from the US to Paris or Amsterdam. Sometimes it is a lot more! You'll need to search to find a flight that works for you.
Keep in mind that flights within Europe are incredibly cheap. So even if you just use this promo to get to Europe, you can then hop on a cheap flight on an airline like RyanAir and often get to another destination for $20-$50.
More Flying Blue Perks and Discounts
Free Stopover in Paris or Amsterdam
One great new perk of the FlyingBlue program is the ability to add a free stopover in Paris or Amsterdam! These free stopovers are allowed even on award flights but can't be booked online. You'll need to call in to ticket this.
To book a stopover, I recommend searching first for the nonstop route you want to take (US to either Paris or Amsterdam) to make sure your dates have cheap long haul pricing.
Kids Discount on Flying Blue
One other FlyingBlue perk is a 25% award discount for children age 2-11. This discount doesn't seem to be available for the FlyingBlue promo awards but make sure you're pricing the total price for your family before you transfer your points in case it does apply to your route.
Credit Card Programs That Transfer to FlyingBlue
One of the best things about using FlyingBlue to book your flights is that all the major credit card programs transfer points to the program. This means that you have even more opportunities to earn points and save money on your travels.
You can transfer points from
American Express Membership Rewards
Chase Ultimate Rewards
Capital One Venture Miles
Citi ThankYou Points
Generally you can transfer points to FlyingBlue at a 1:1 ratio. This means that for every 1,000 American Express Membership Rewards points you transfer, you'll receive 1,000 FlyingBlue miles.
But sometimes these banks will offer transfer bonuses where you get even more FlyingBlue miles! For instance, if you see a 25% bonus on transfers, that means for every 1,000 Ultimate Rewards you transfer, you can get 1,250 FlyingBlue miles. Check current transfer bonuses here.
American Express offers transfer bonuses most frequently. Capital One seems to offer them about once a year. You can see history of transfer bonuses here.
Now that you know about credit card programs that transfer to FlyingBlue, it's time to start searching for availability using SeatSpy. With this tool, you can easily find the flights that fit your budget and schedule.
Search for Availability using SeatSpy
One of the biggest challenges when it comes to redeeming frequent flyer miles is finding available flights. Thankfully, there are tools out there that can help make this process a little easier. SeatSpy is one such tool. And it's free if you're searching for economy flights!
You can only search for non-stop flights on SeatSpy. If you want to connect from Paris or Amsterdam to another European city, you'll want to first find cheap long haul availability here. Then you can search for connection options on Air France's website.
With SeatSpy, you can search for available flights based on your preferred dates, departure city, arrival city, and more. The tool will show you the availability of flights in real-time, so you can easily find the flights that fit your needs.
Using SeatSpy is incredibly easy. Simply input your search criteria, select One Way, and click Search. Then filter the points cost to the lowest option.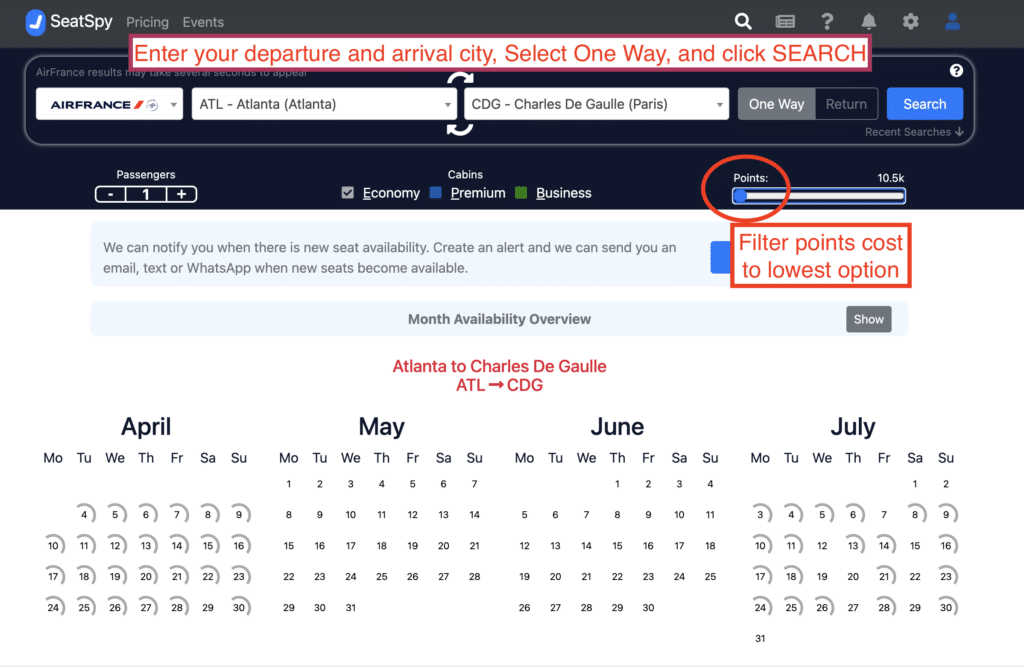 When you hover over the dates, you'll see the number of flights that are available and the pricing.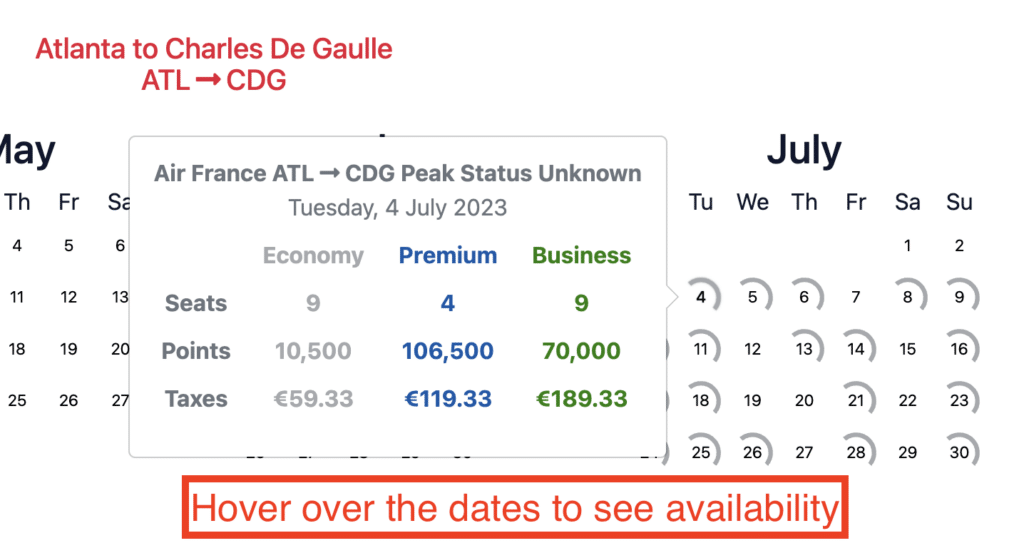 Confirm Available Flights on Flying Blue
Before you transfer any bank points to Flying Blue, you'll always want to confirm available flights directly. SeatSpy is generally accurate but since transfers can't be reversed, you'll want to confirm.
I usually search from AirFrance.com as I find the interface to be fairly user friendly. You'll need to create a Flying Blue account before you can search.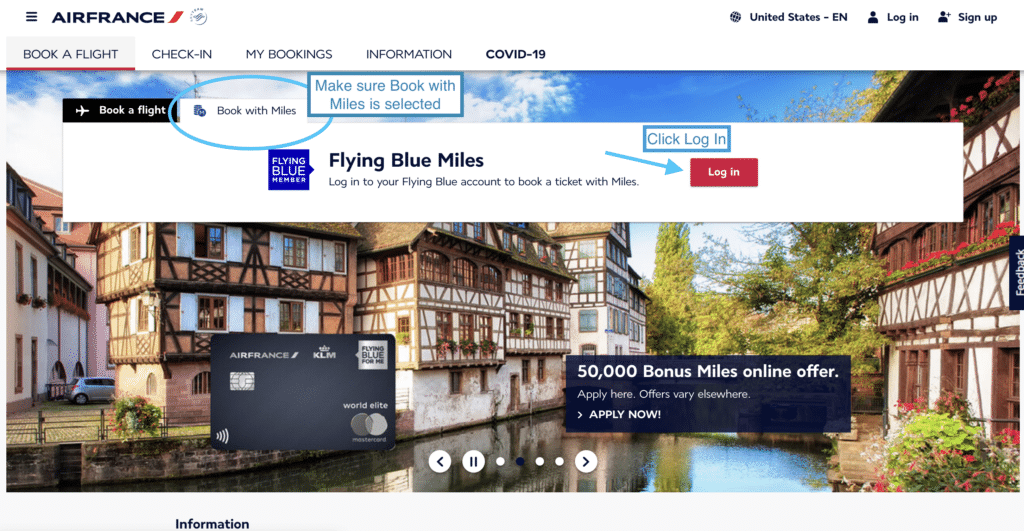 Once you're logged in, enter the same flights you found on SeatSpy.

Flights will show total price for your group. If you search for two people, this would show 21,000 miles. Keep in mind taxes will be more on your flight returning back to the U.S. This is showing the rate for a promo award in April 2023.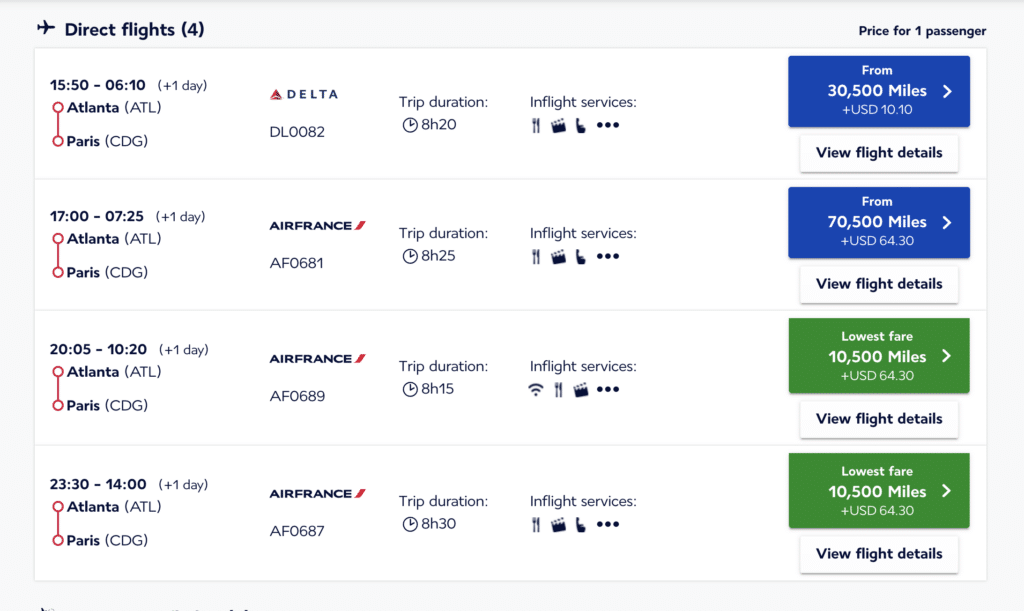 Also note that promo awards do have a 50 euro fee for changes and cancellations.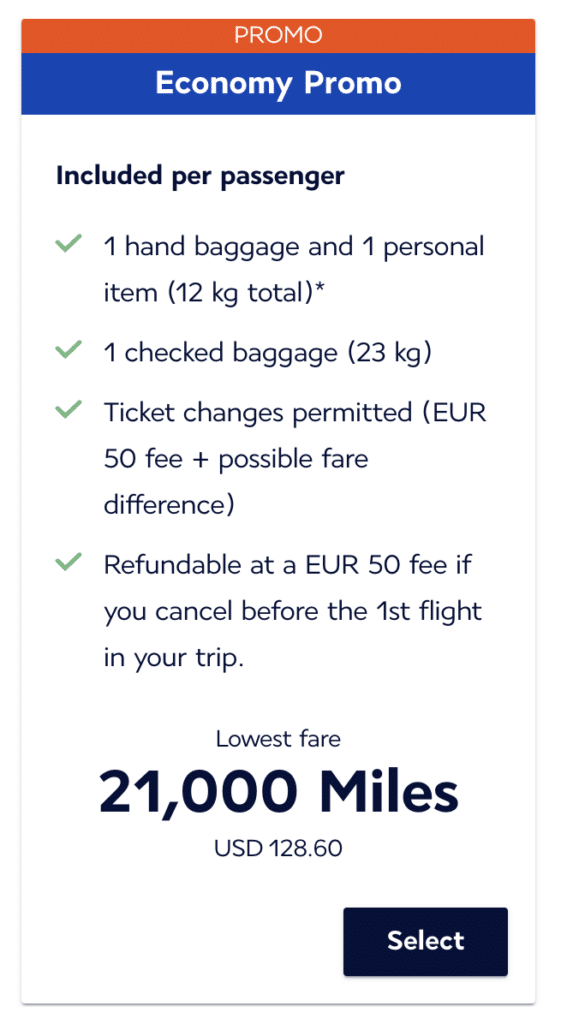 Transfer Points to Flying Blue
Once you have confirmed availability and pricing, it's time to transfer your points!
You can find step by step instructions on how to transfer points in my free Transfer Partner Guide.
Once your points have been transferred, you can move on to the next step: booking your flights with Flying Blue miles.
Book Your Flight with Flying Blue Miles
Now that you have transferred your points to Flying Blue, it's time to book your flight. You'll follow the same steps as when you searched for availability.
Be sure to pay for your taxes and fees with a card like Chase Sapphire Preferred or Capital One Venture X so you get free travel insurance protection.
Cards in This Article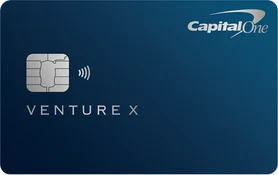 Earn 75,000 bonus miles when you spend $4,000 on purchases in the first 3 months from account opening, equal to $750 in travel
$395 annual fee
$300 annual travel credit when booking through Capital One's portal
10,000 points every year on account anniversary (worth at least $100)
Statement credit for Global Entry or TSA Precheck
Miles can be redeemed to erase any travel purchase. 75,000 miles = $750
Can be transferred to a variety of partners like Jet Blue, Wyndham, Avianca, Turkish Airways and more.
Get our downloadable checklist here so you can max your benefits