This post goes over five sweet spots for flying to Hawaii with points. A Hawaiian vacation is a popular goal for families who are saving up miles and points. And for good reason! The islands are beautiful, you don't need a passport to visit, and hotel prices can be high. Due to high demand, points redemptions to Hawaii can take more planning but are still possible — especially if you plan in advance and can be flexible.
We've been to Hawaii twice using points. Once to Oahu and once to Kauai. While we loved both trips, it will likely be a while before we return due to the distance and jet lag involved in going from Chicago.
Flights can be a major expense for families, especially as you are multiplying the number of tickets you need to buy. There are a few sweet spots when flying to Hawaii. Again — if you're in the Midwest or on the East Coast, it is going to be harder to book your flights. There is more competition for award seats on the long haul flights to Hawaii from Chicago or New York. You'll need to be flexible when looking for options.
Book on Southwest Airlines
Southwest flies nonstop routes to Hawaii from 8 airports. Here is a map that shows these routes: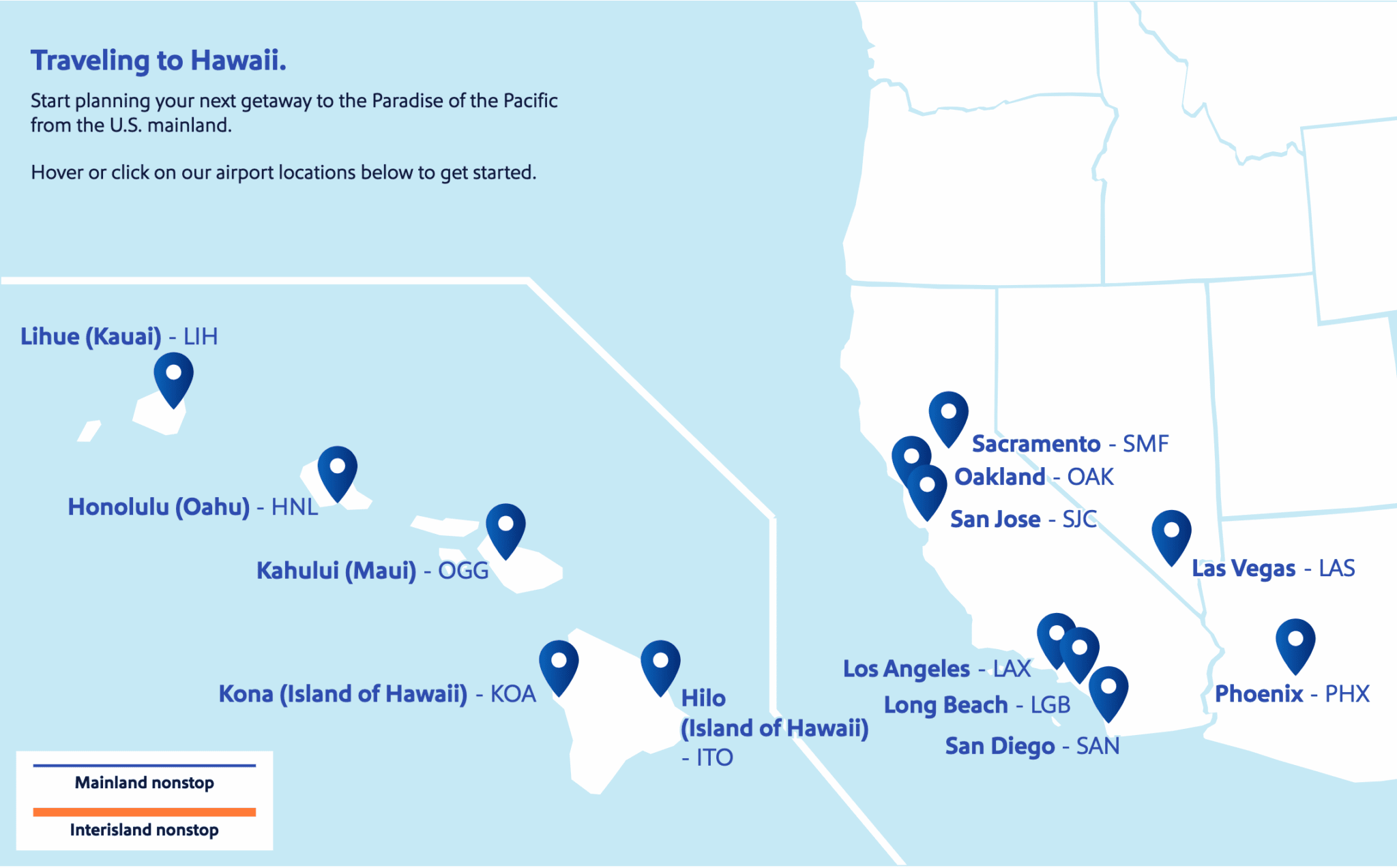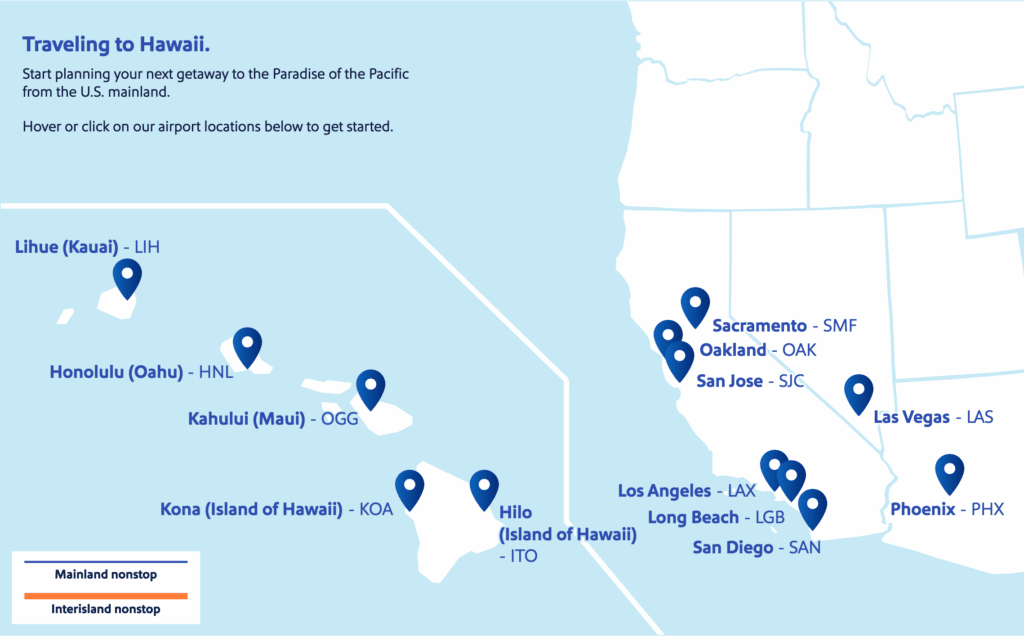 Due to the times of connecting flights, coming from the Midwest or East Coast you may have limited options. With a long travel day to consider, one option is to fly to California, spend the night at an airport hotel, and then continue on to Hawaii the next day.
We did this in reverse in 2019 — we flew from Kauai to Oakland and spent the night at an airport hotel (using points of course!). The next morning we continued on east.
Points Needed to Book:
Southwest award prices are tied directly to the cash price of the ticket. Using this strategy the number of points you need will be a moving target. But the advantage here is that if you don't have enough points to cover the ticket prices for everyone in your family, it is easy to book additional tickets for the same flight in cash.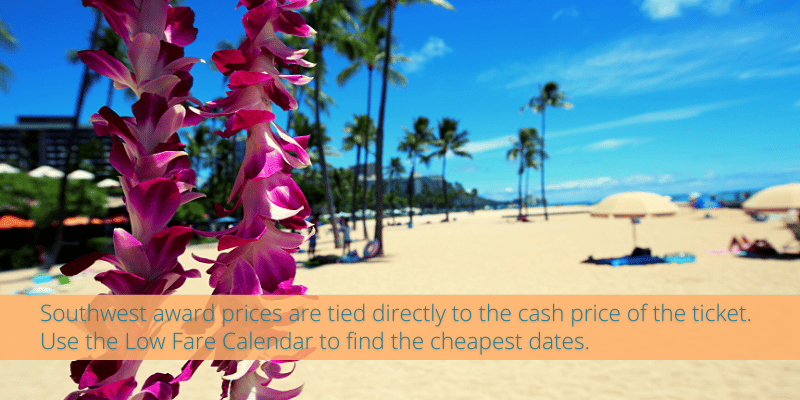 Use Southwest's Low Fare Calendar to find the cheapest dates to fly. And remember, if your flights drop in price, you'll be able to change them for no fee to the lower priced ticket!
If you earn a Companion Pass, your flights will be even cheaper since your companion will be able to fly for $5.60 each way! Earning a Companion Pass is our favorite way to keep our flight costs down.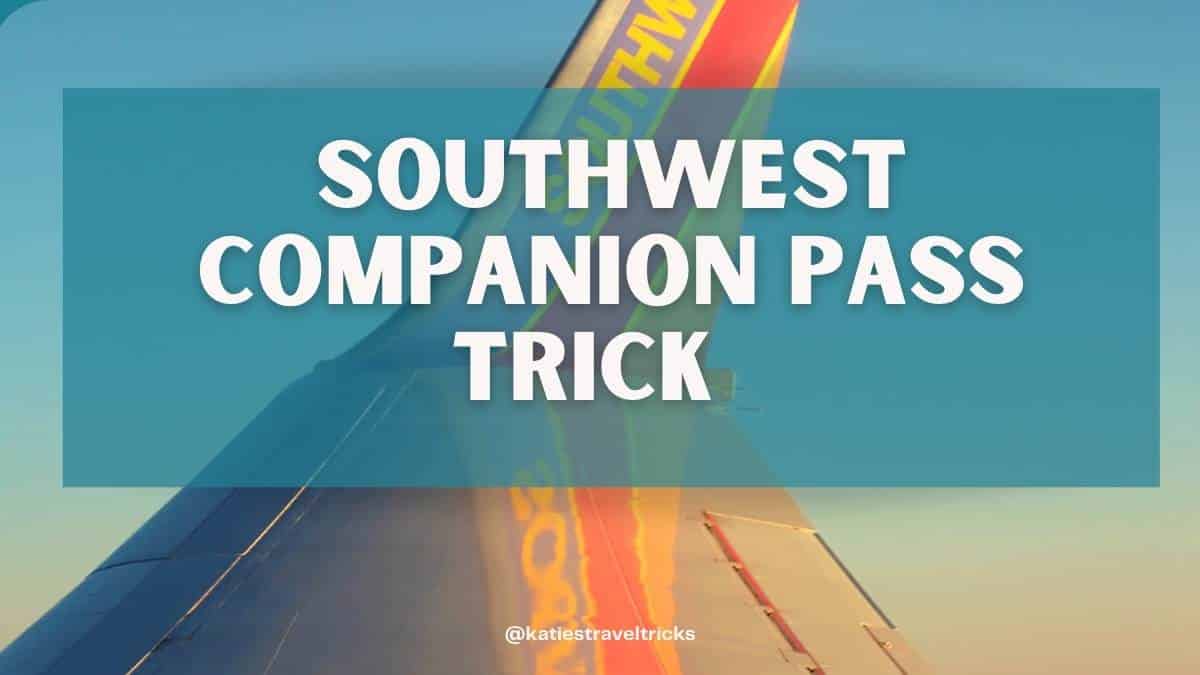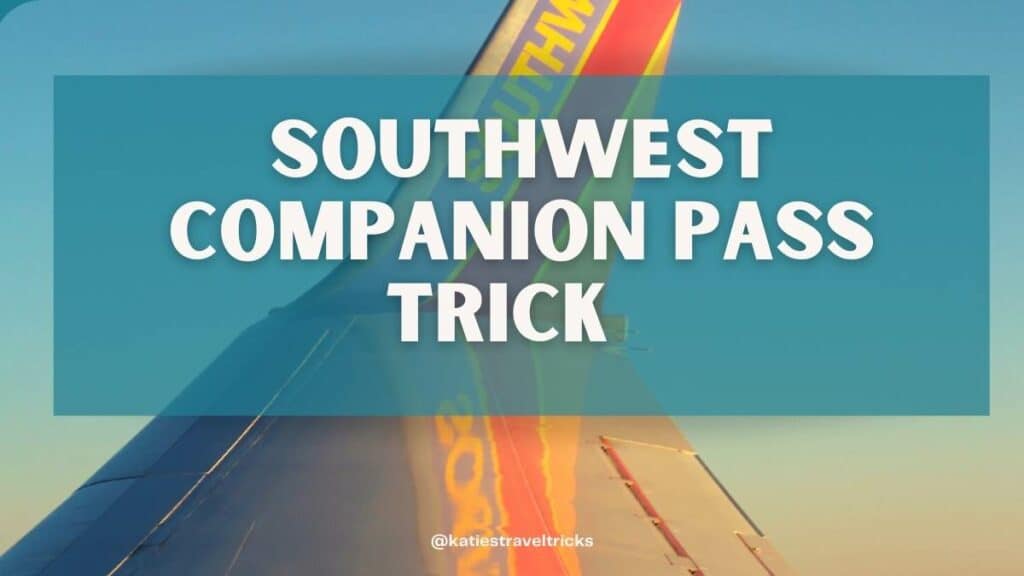 How to Earn the Points:
There are three personal cards and two business cards that earn points directly with Southwest Airlines. If you have a Chase Sapphire Preferred card (or Ultimate Rewards) you'll also be able to transfer points to Southwest from that card.
If you earned a Companion Pass, in addition to the Companion Pass you'll also have 125,000+ points to spend on flights!
Book on American or Alaska Airlines (via British Airways Avios)
This redemption allows you to leverage the OneWorld airline alliance to get a better deal on your flights. Both Alaska Airlines and American Airlines partner with British Airways through the oneworld alliance.
While American will charge 45,000 miles for a round trip MileSAAver fare to Hawaii, you might be able to book the exact same flight using British Airways Avios for as low as 26,000 Avios.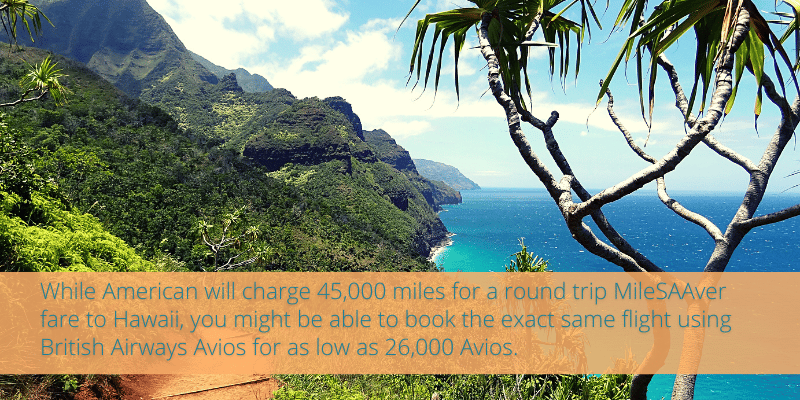 This sweet spot is most powerful for non-stop flights from the West Coast. That's because British Airways prices partner award flights (on partners like American and Alaska Airlines) by distance and by segment. That means if you are on a connecting flight (Phoenix to LAX, LAX to Honolulu) you will be charged for two segments separately. Each segment is charged based on the distance flown.
Here are the routes that fall within this sweet spot:
Anchorage (ANC) – HNL, OGG, KOA
Los Angeles (LAX) – HNL, OGG, LIH, KOA
Phoenix (PHX) – HNL, OGG, LIH, KOA
Portland (PDX) – HNL, OGG, LIH, KOA
San Diego (SAN) – HNL, OGG, LIH, KOA
San Francisco (SFO) – HNL, OGG
San Jose (SJC) – HNL, OGG, LIH, KOA
Seattle (SEA) – HNL, OGG, LIH, KOA
The best way to search for this would be to use American Airline's website to do the initial search. You will need to filter for non-stop flights. Flights that costs 22,500 points each way on American's website should also be available to book this way.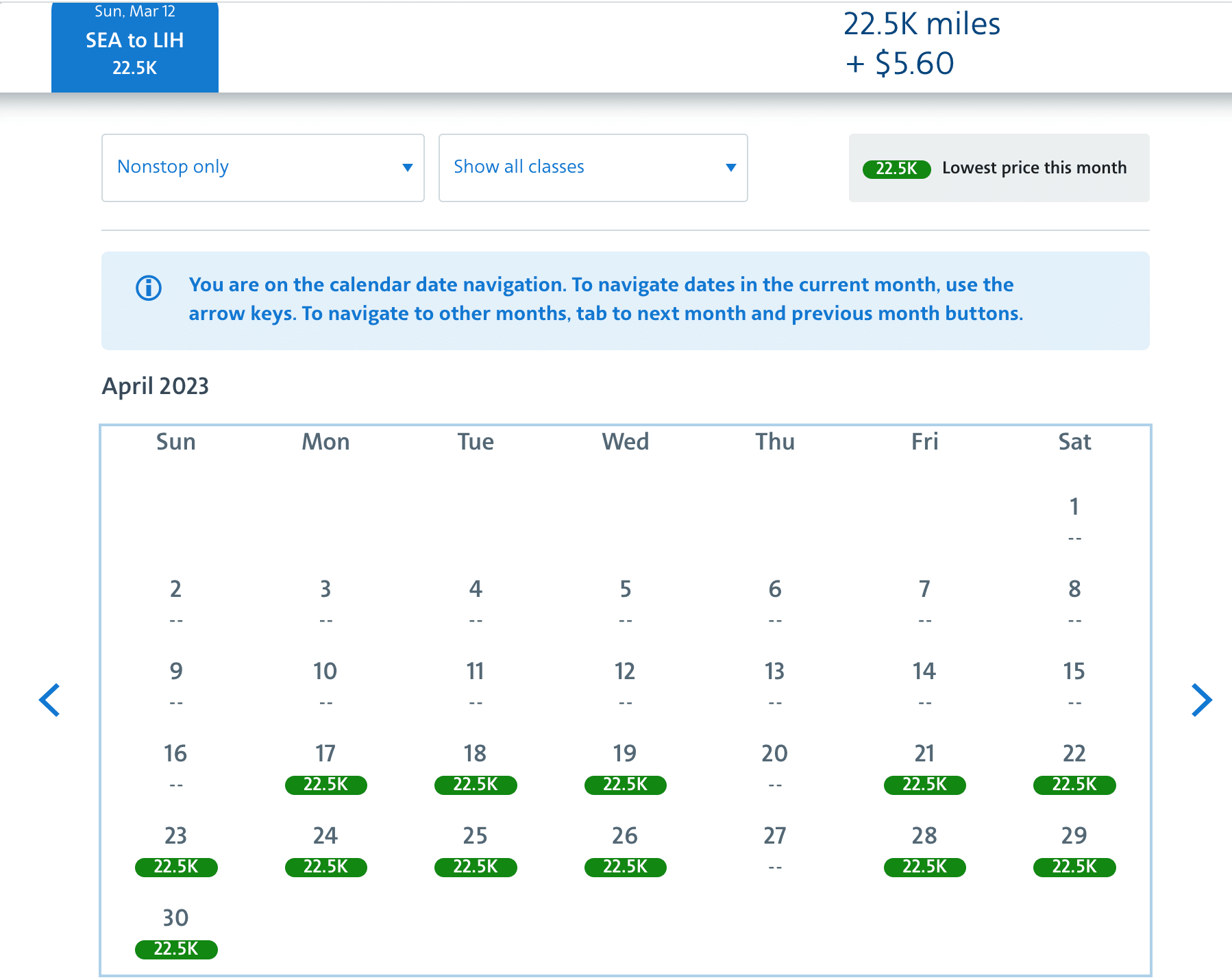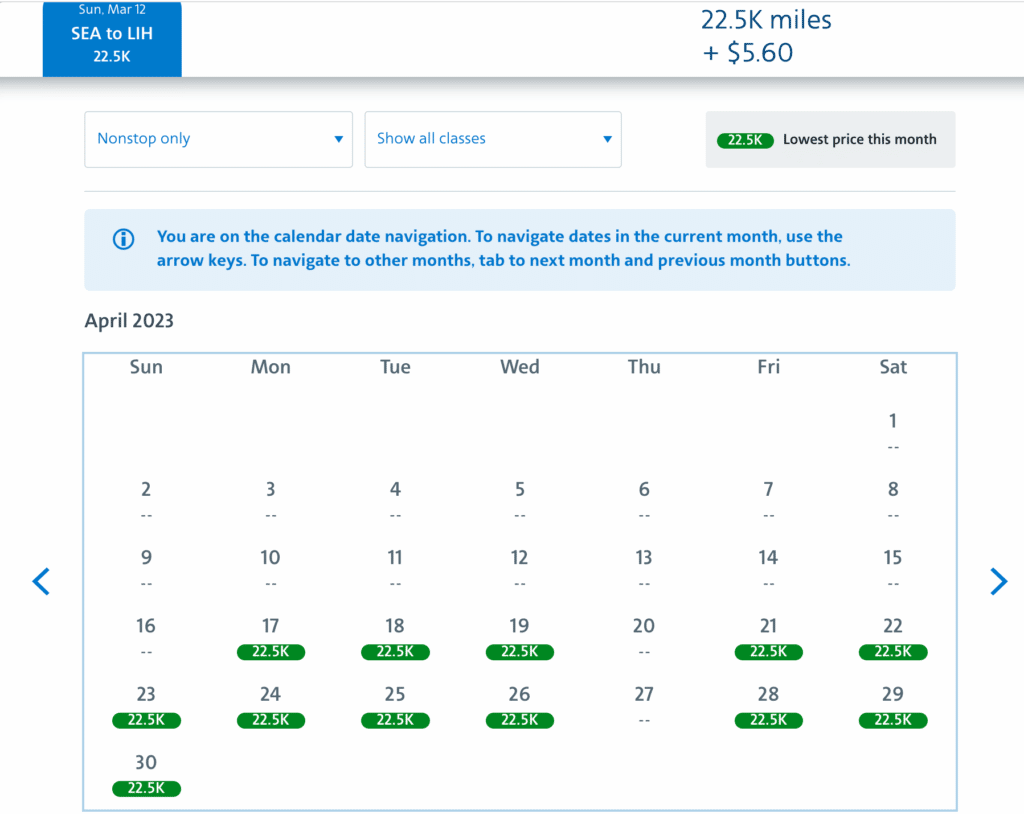 Points Needed to Book:
If you are booking one of these sweet spot routes, it will cost 13,000 Avios each way plus $5.60 in taxes. That comes to 26,000 points for a round trip ticket per person.
Remember, this is only the pricing for a non-stop flight on these routes:
Anchorage (ANC) – HNL, OGG, KOA
Los Angeles (LAX) – HNL, OGG, LIH, KOA
Phoenix (PHX) – HNL, OGG, LIH, KOA
Portland (PDX) – HNL, OGG, LIH, KOA
San Diego (SAN) – HNL, OGG, LIH, KOA
San Francisco (SFO) – HNL, OGG
San Jose (SJC) – HNL, OGG, LIH, KOA
Seattle (SEA) – HNL, OGG, LIH, KOA
Price Example on BritishAirways.com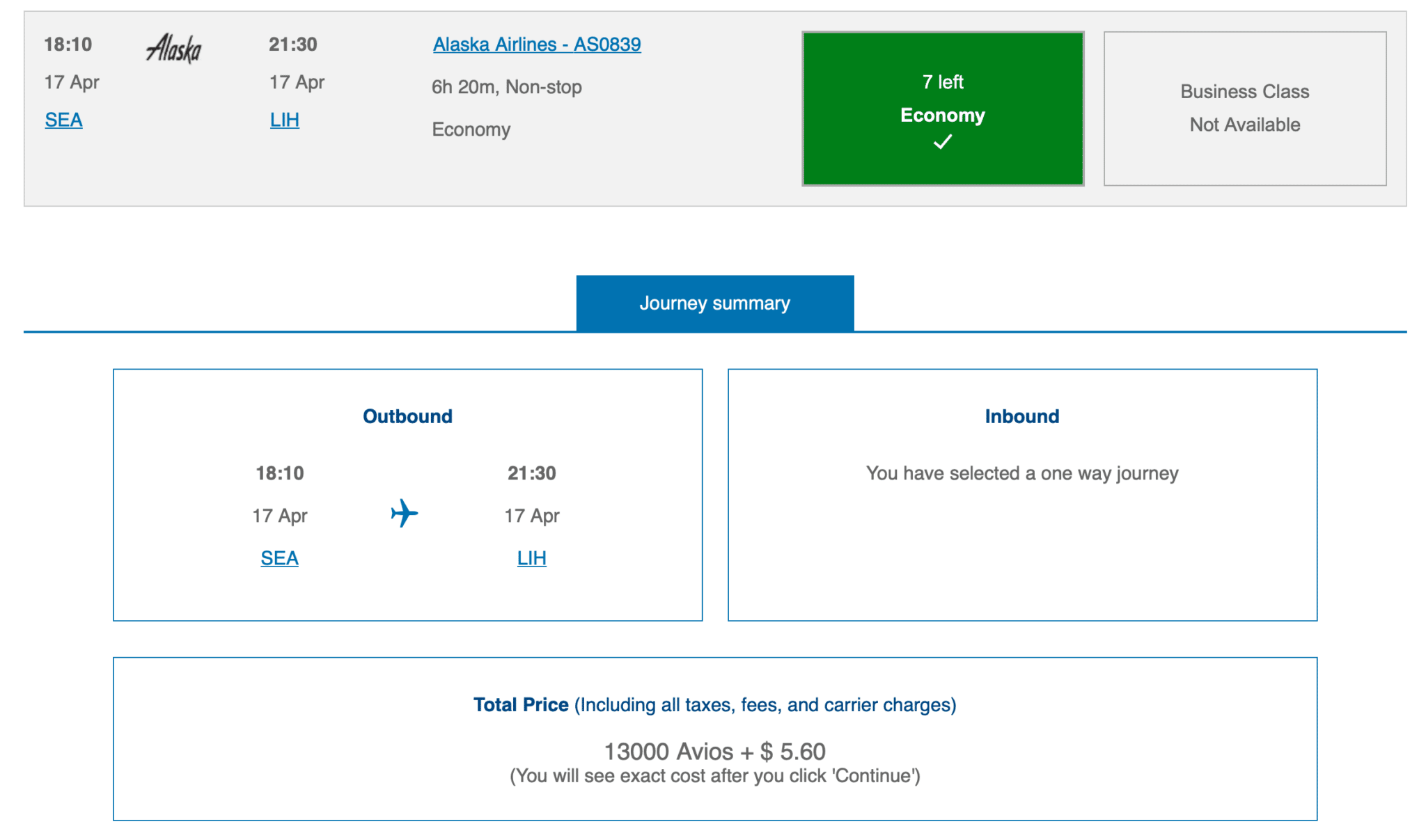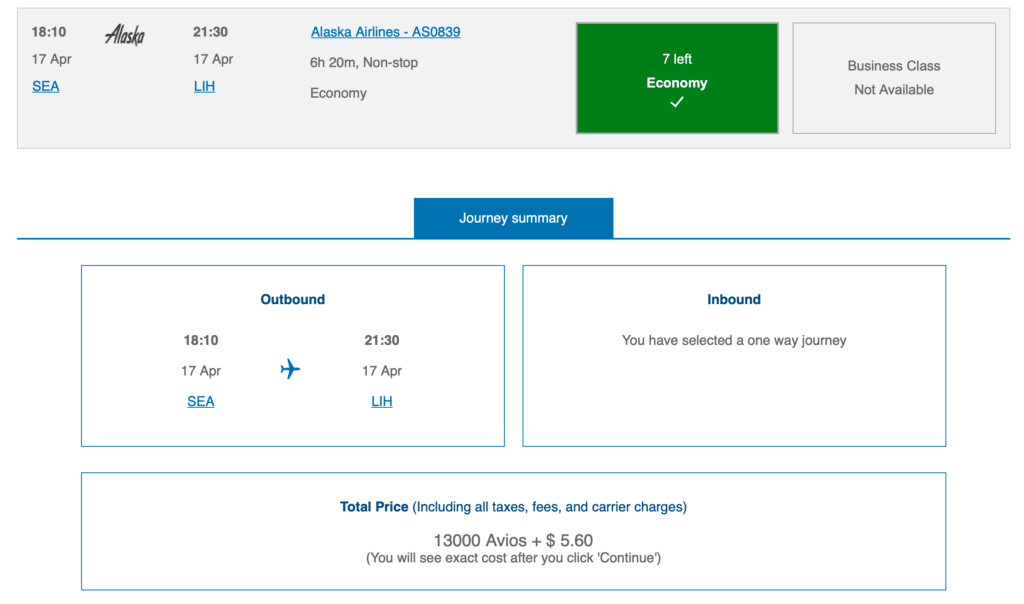 Price Example on AlaskaAir.com


Price Example on AmericanAirlines.com


How to Earn the Points:
It is easy to earn British Airways Avios. British Airways partners with other airlines in the Avios program and you can transfer Avios between accounts for no charge. Every major bank credit card points (Chase Ultimate Rewards, Citi ThankYou points, American Express Membership Rewards, Capital One Venture Miles) can transfer to Avios. Sign up below for our full transfer partner guide to see which programs transfer and how to transfer your points.
You may need to transfer your points to another Avios airline partner first and then to British Airways. Citi Thank You points, for instance, can transfer to Qatar Airways Privilege Club. Once there, you can transfer them to British Airways.
Book on United (via Turkish Airways)
This redemption allows you to leverage the Star Alliance airline partnerships to get a better deal on your flights. Turkish Airways prices all domestic routes on its partner airlines within North America the same — even flights to Hawaii.
These flights are a steal — if you can find availability. They are best for people with flexible dates and who don't mind a challenge.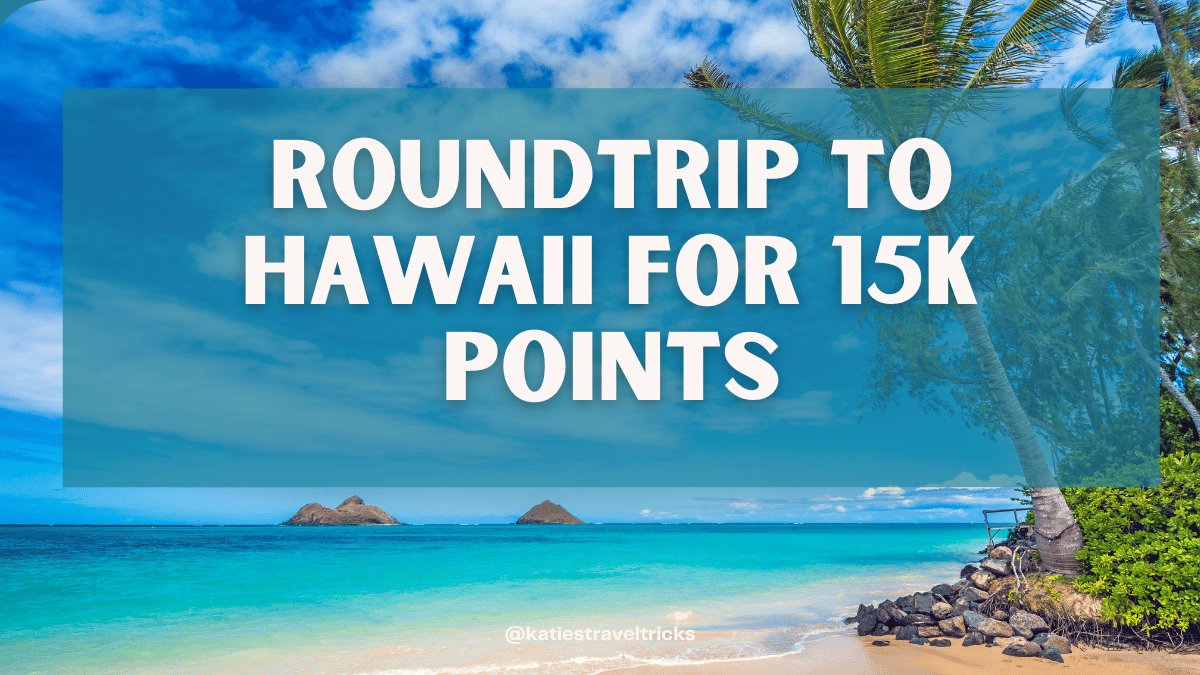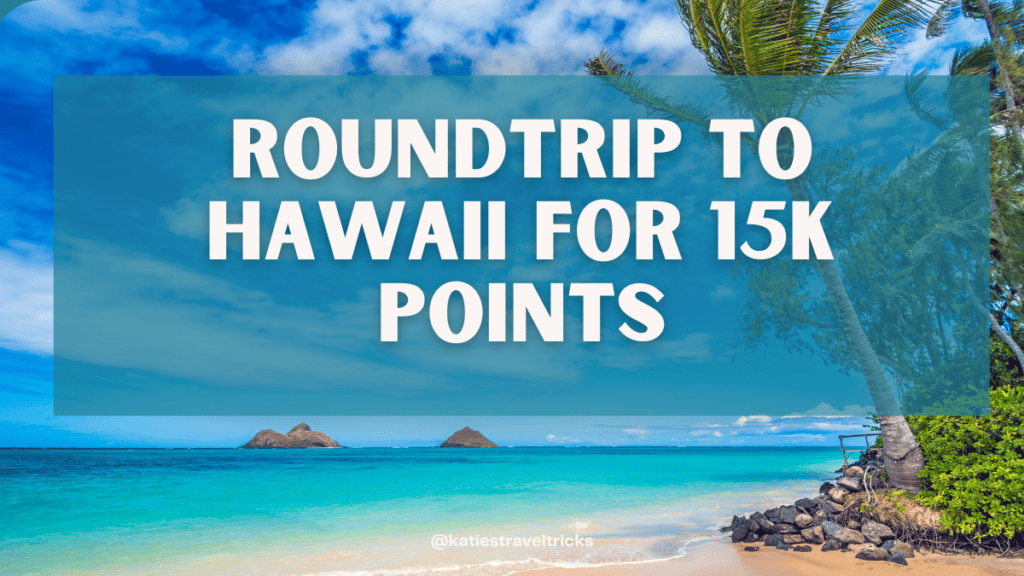 Points Needed to Book
If you can find availability, these flights will cost just 15,000 points round trip per person.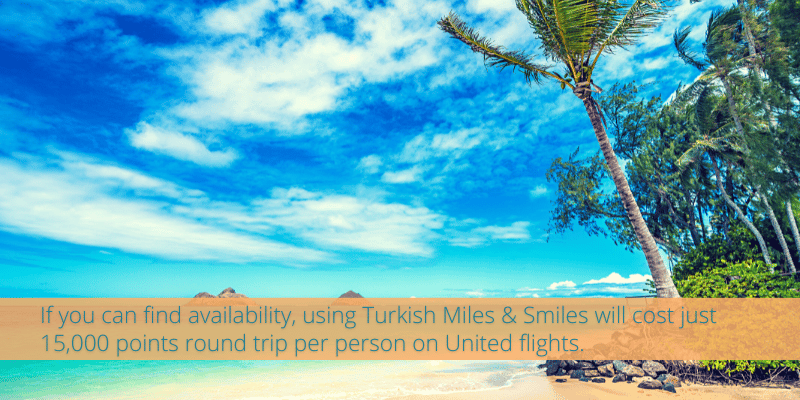 You'll need to find Saver level availability on United. We have a dedicated post with more details. Keep in mind, this is an advanced redemption.
How to Earn the Points
You can transfer points from a Citi Premier or miles from Capital One Venture or Venture X to Turkish Miles & Smiles. That means that *if* if you find availability to book, you will be able to book 5 round trip tickets to Hawaii with one bonus.
Book On Delta (Via Virgin Atlantic)
This redemption allows you to leverage the SkyTeam Alliance. You'll save points by booking through Virgin Atlantic rather than through Delta. Virgin Atlantic miles are also easier to earn since all major bank currencies (like Chase Ultimate Rewards, American Express Membership Rewards, and Citi Thank You points transfer to Virgin Atlantic.
Virgin Atlantic prices by distance. Keep in mind that not all Delta flights will be bookable with this method — Delta only releases some of their flights to partners to be bookable. For instance, while there is a nonstop flight from Atlanta to Honolulu, I could not find a single date of availability for this sweet spot across a whole year.
Best For: LAX, SLC, SEA, MSP
These flights will cost 15,000 points each way if you're going from SLC, LAX, or SEA. From MSP, it will cost 22,500 points each way.
There are also non-stop flights from ATL, JFK, and DTW to Hawaii but I could not find any availability as I was writing this post.
Tips to Find Availability
There's no super easy to way to search for this availability. You'll need to search route by route. But there is a trick to see the availability for each route for a month at a time. In this video, I walk through the steps of how to do that for Japan — you'll just substitute the airport codes for the routes you're searching.
Delta flies the following routes to Hawaii, so you can check these routes:
SEA-HNL
LAX-HNL
SLC-HNL
MSP-HNL
DTW-HNL
JFK-HNL
ATL-HNL
LAX-OGG
SEA-OGG
SLC-OGG
ALT-OGG
How to Earn These Points
The following points all transfer to Virgin Atlantic at a 1:1 ratio: Chase Ultimate Rewards, American Express Membership Rewards, and Citi ThankYou Points. Capital One miles transfer to Virgin Red, which in turn lets you transfer to Virgin Atlantic.
That means if you have any of these transferrable points, you can transfer and book this!
Some banks even run bonus promotions — currently (As of May 10, 2023), you can transfer Chase Ultimate Rewards to Virgin Atlantic and earn a 30% bonus!
Book a Cheap Cash Fare
Booking a cheap flight and using points to cover the purchase is another way to cover flights. This is best for when you find a cheap cash fare or if your trip is coming up soon and you don't have points yet.
Many banks have portals that allow you to book travel directly through them and use your points — or earn bonus points. These portals operate similar to Expedia and are powered by different search engines.
When you book through the Chase, Citi, or Capital One portals, you will be able to use your points to cover all or part of your purchase.
Rates can vary widely by bank portal and the value for your points will fluctuate based on the credit card you hold with that bank.
Points Needed To Book
The points needed to book will depend on the fare you've booked. With a Capital One Venture card, if you have 75,000 points you would be able to cover $750 of flight expenses.
If you find a cheap fare and book through the Chase travel portal with your Ultimate Rewards, points are worth a little more than just for cash back. If you have 75,000 points you could cover $1000 of travel in the Chase portal. But as a warning, sometimes the Chase prices are inflated so be sure to compare to Google Flights.
Use Points Before You Have Them
With a Venture or Venture X card, you can actually plan to use your bonus miles and book your ticket before you even have them! That's because you have 90 days to erase your travel purchase. You can see more on how this works in this video.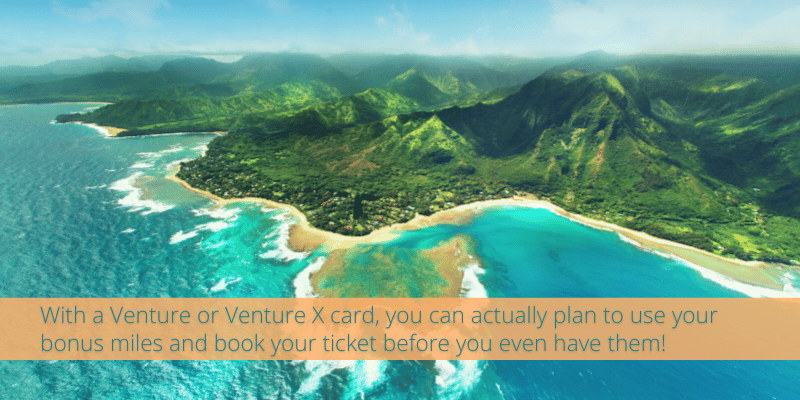 Essentially you can get the card, pay for your plane ticket that costs $750. Then that money will count towards the minimum spending you have to do. Finish your minimum spending, get your points, reimburse yourself, and you've just saved $750 on your vacation!
How to Earn the Points
Two great cards for this are the Venture and Venture X card from Capital One. I personally prefer the Venture X due to the higher level of benefits you get!
Best Family Hotel Options with Points
Don't miss our other posts on how to cover hotels or vacation rentals in Hawaii!