Southwest LUV Vouchers are one of the things that make Southwest Airlines the greatest airline. Just this year, I've acquired over $2000 worth of LUV vouchers as compensation from flight delays to use on future flights! That's a lot of free trips.
If you were impacted by Southwest's operational meltdown during the 2022 holidays, you may have received a LUV voucher from Southwest, in addition to any refunds and reimbursements. LUV vouchers have expiration dates – but you may not feel like flying Southwest anytime soon! Keep reading to learn how to turn your LUV voucher into a travel credit that won't expire.
If you didn't receive a LUV voucher after your delayed or cancelled flight, read our article on how to request delayed flight compensation.
LUV Voucher Basics
What is a LUV Voucher?
A LUV Voucher is a form of compensation that you receive from Southwest when you have an issue with your flight, luggage delays, etc. It's basically Southwest Airlines' way of saying "please come back and try us again."
LUV Vouchers are different from flight credits/travel funds. You can find out more about how these two types of compensation differ here.
Often vouchers are emailed to the email address on file for the person who booked the flights. It can be sent to an email associated with the flight confirmation number. Every once in awhile a gate agent hands them out when a flight is several hours delayed. This has only happened to us once in the past 3 years so I wouldn't count on it.
How do I get a LUV Voucher as compensation for a delayed flight?
I'm so glad you asked! I wrote comprehensive, step by step instructions to do just this! Check it out here.
How do I find my LUV Voucher balance?
The LUV Voucher you receive via email from Southwest Airlines will include the original balance of your LUV Voucher. Make sure you save that email. The voucher is not connected to your account in any way! I usually print the vouchers off and keep them somewhere safe so they can be easily found and redeemed when needed.
If you have used part of your voucher and aren't sure what the remaining balance is, go to southwest.com. Click on "flight" which will bring up a whole window of options, and then "check travel funds". On that page you will see a place to select "Southwest LUV Vouchers." You can check your balance by typing the voucher number and security code.


When does my LUV Voucher expire?
A LUV Voucher expires one year after being issued. You cannot call to extend the expiration date. Your flight must be booked AND flown by the date included on the voucher.

What can I use a LUV Voucher for?
Southwest LUV Vouchers can be used to book any fare, but they cannot officially be used to pay for the taxes or fees. For instance, if I have $100 LUV voucher and want to use it for a flight with a total of $99, I will only be able to use it for the flight itself ($79) and not the taxes and fees ($20). The taxes and fees will need to be paid with a separate payment option, like a credit card.
Keep reading to the end to learn how to get around this.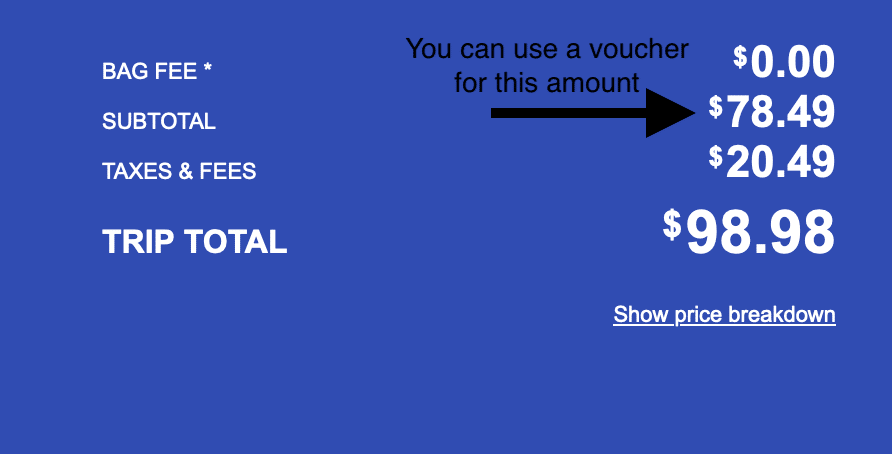 Can I transfer my LUV Voucher?
One huge perk of a LUV Voucher is that it can be used to book a flight for ANYONE. Your LUV Voucher is issued with a name on the voucher, but it is not tied to that person. So the name might be "Joe Lovetofly," but Joe can give it to his grandma and she can use it to book on the Southwest website as well. Or Joe can use it to book a flight for one of his children.
How do I book with my LUV Voucher?
It's very easy to book with your voucher. Go through the steps to purchase a flight just like normal. Once you get to the payment page find the pull down menu that looks like this:


Then you will click on the Southwest LUV Voucher tab and type in both the voucher number and the security code from your voucher email.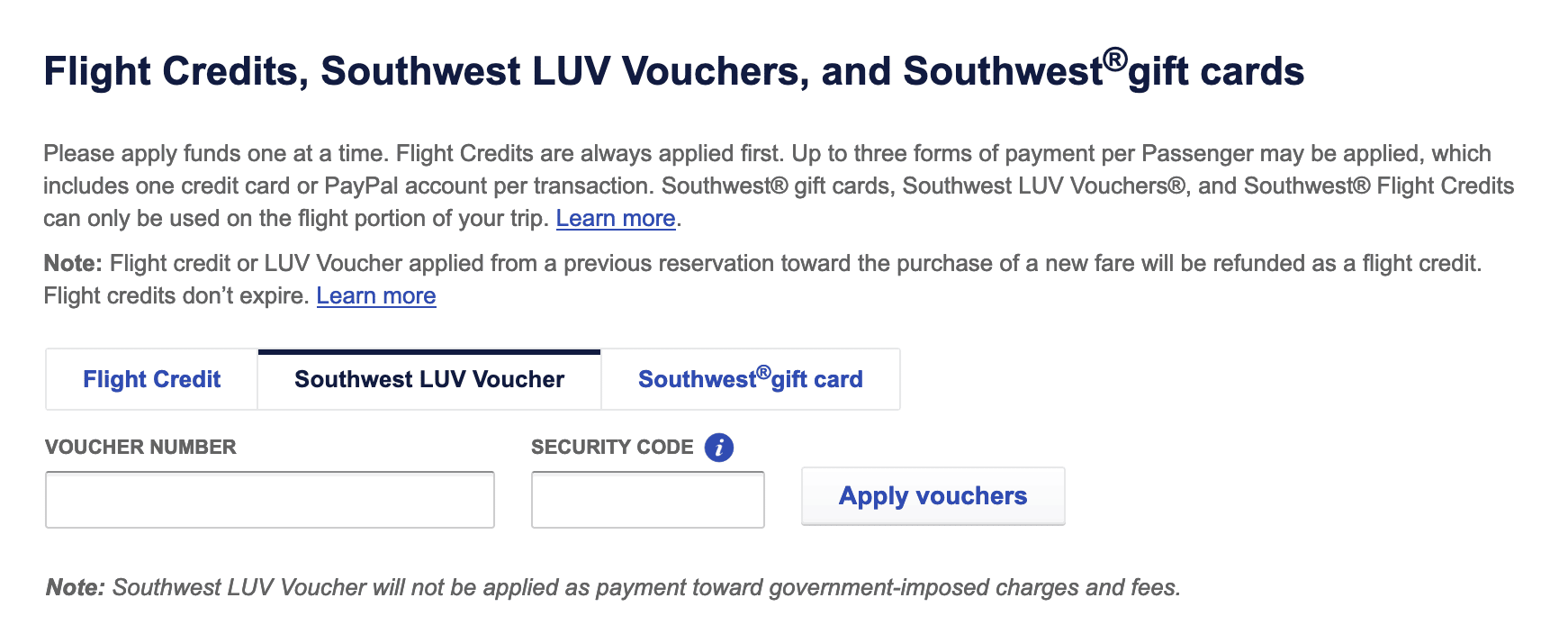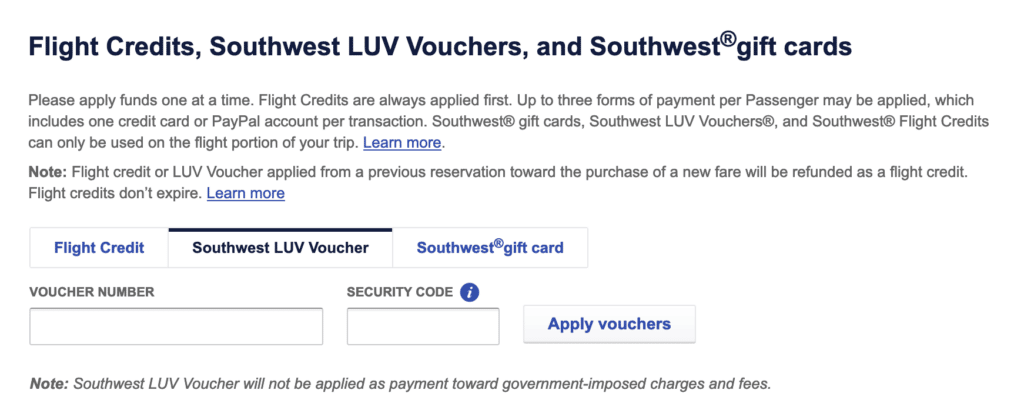 Southwest only allows three forms of payment can be used in each transaction. Vouchers cannot be used to pay taxes or fees so you will be able to use up to two vouchers and then pay the remaining balance (including taxes and fees) with a credit or debit card.
Southwest LUV Vouchers 201: Beyond the Basics
Do you understand all of the Southwest LUV Voucher basics and want to take your knowledge to the next level? Here are two "beyond basics" tips and tricks for you.
Create a transferable credit that will never expire from your LUV Voucher
Recently Southwest Airlines announced that travel credits have no expiration date. Game changer! If you are not able to use your LUV Voucher by the expiration date you can easily turn it into travel credits or travel funds. These terms are used interchangeably on the Southwest Airlines website but mean the same thing.


You can easily turn a voucher into travel funds by booking a Wanna Get Away Plus fare (not the regular Wanna Get Away fares since they aren't transferable) around the same price as the LUV Voucher and then canceling the flight.


For instance, using the pricing example above, this is how you could do it with a a $100 LUV voucher from a delayed flight.
Find a one way Wanna Get Away Plus fare for $149 and proceed to booking it.
Note the costs: $125 of it is the flight cost itself (so a voucher can be used to pay for it) and the $23.98 is for taxes and fees.
When paying for the flight, I will use $100 LUV Voucher, and then use a credit card to pay for the $23.95 taxes and fees and the $25 of the flight cost that my LUV voucher doesn't cover.
Once I book it, I just immediately go back into my account to find the flight and cancel it.
Be sure to go select "Refund to method of payment." Now additional payment amounts are refunded back to my credit card. Since it is within 24 hours, all credit card portions can be refunded this way.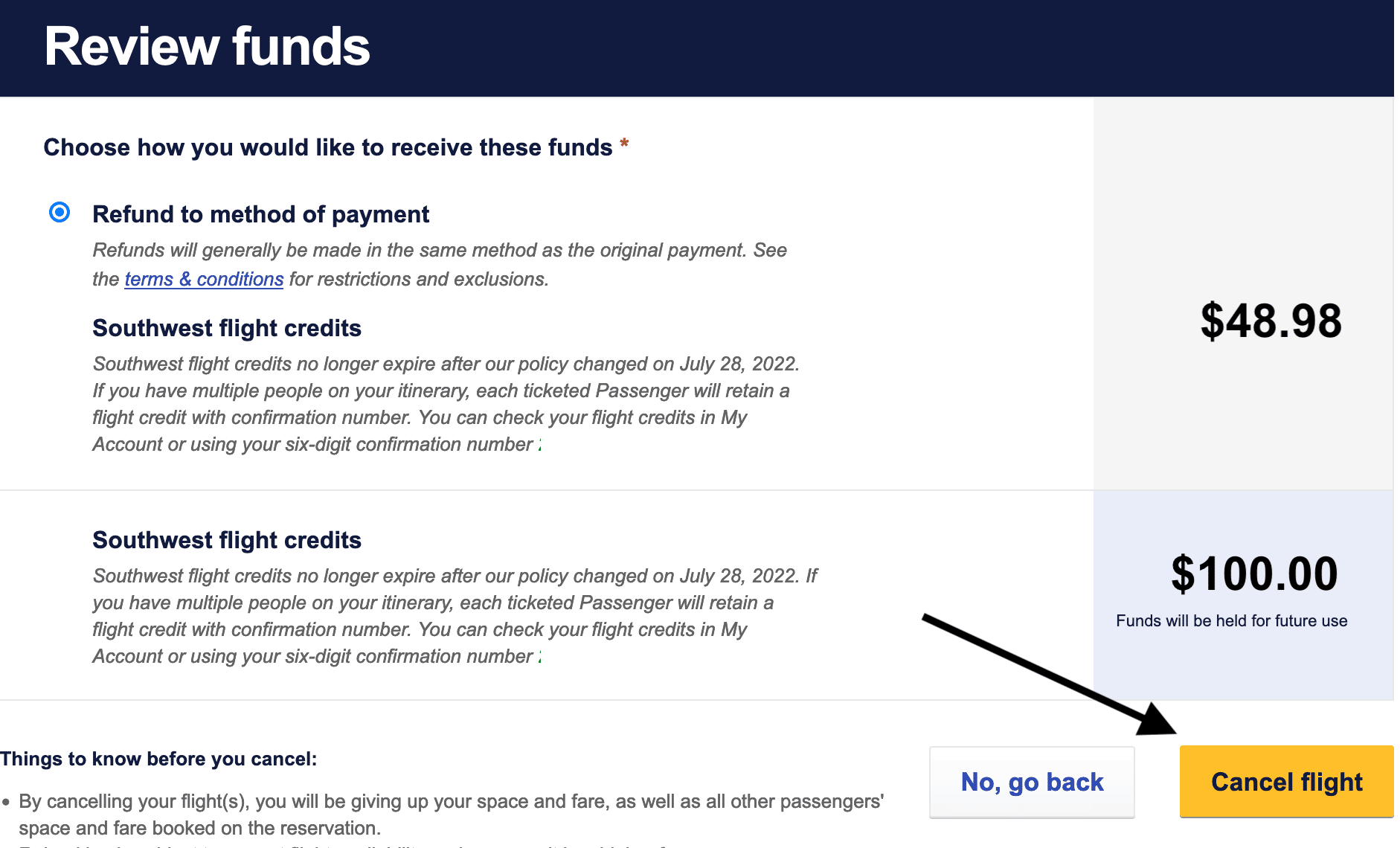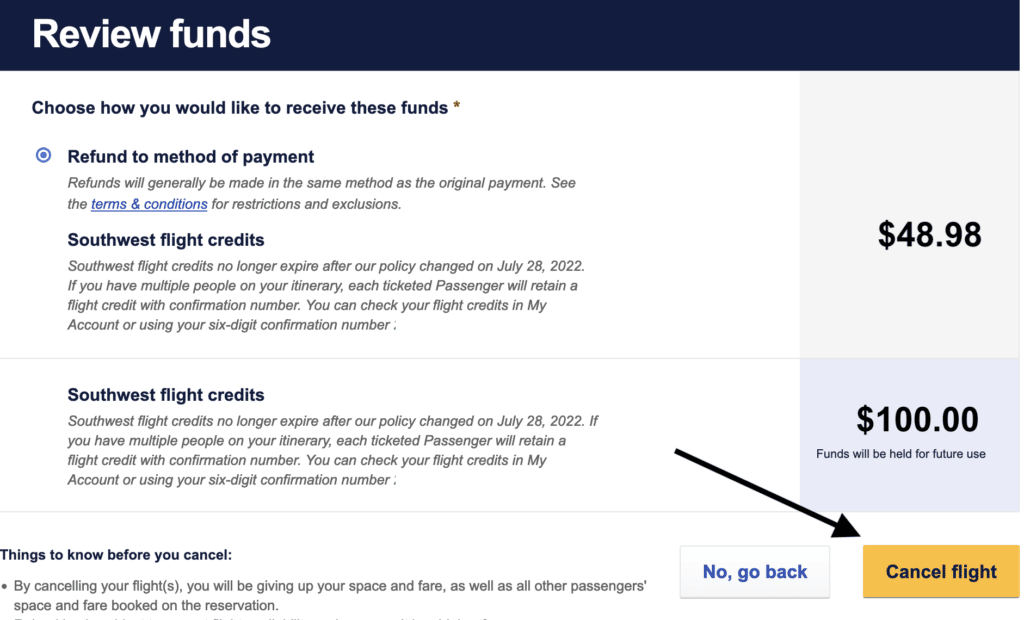 This final step creates travel funds associated with the confirmation number of the newly canceled flight. These funds will never expire and can be transferred to anyone else. I always write the confirmation number and the amount somewhere safe so that I can find it again.
If it is a travel credit for the person whose name is on the Southwest account it was booked and canceled from, the credit will automatically save in the account. If it's in a different name, you'll want to keep track of that information somewhere.
Your new flight credits will look like this in your account:


If you want to use these travel funds for a different person, you will need to transfer them to that person's name FIRST and then book their ticket.
Use a Southwest LUV Voucher to pay for taxes and fees
Another trick with LUV Vouchers is that you can turn them into credits so they can be used to pay for taxes and fees too.
You won't be able to use a LUV voucher to cover taxes and fees unless you do this first.
When you are flying internationally (to Mexico or Costa Rica for example), the taxes on the flights are a lot more than $5.60 each way! These can be closer to $70-$100 and it's nice to be able to use vouchers to pay for those.
To do this, follow the same steps as above under "Create a transferable credit that will never expire."
Look for a Wanna Get Away Plus fare around the same price as your voucher amount.
Book the flight, then cancel it.
Now you've got travel funds instead of a LUV voucher.
Since travel funds can be used to pay for your taxes and fees, you can use your travel fund number to pay for your taxes on a future reservation.