Advertiser Disclosure – Katie's Travel Tricks is part of an affiliate sales network and receives compensation for sending traffic to partner sites, such as MileValue.com. This compensation may impact how and where links appear on this site. This site does not include all financial companies or all available financial offers. Terms apply to American Express benefits and offers. Enrollment may be required for select American Express benefits and offers. Visit americanexpress.com to learn more.
ANA Round the World tickets can offer great value but can be a challenge to book. Round-the-world airline tickets used to be more commonly offered by airline loyalty programs. One program that still offers this is All Nippon Airways (ANA), a Star Alliance carrier based in Japan. In July 2022, I booked their Star Alliance round the world (RTW) award for our family of four. We paid 85,000 ANA miles + $618 in taxes and fees for each adult and 85,000 miles + $540 in taxes and fees for each child for a collection of tickets that will take us to Europe, Asia, Australia, New Zealand, Tahiti, and back home.
This trip will have a much higher daily budget than the $50 per day we gave ourselves in Fall 2019 when we spent 3 months in Southeast Asia. But just like on that trip, we are using points to make it affordable for us.
What is an ANA Round the World award?
A Round the World (RTW) award bundles together a number of one-way segments that are then charged a cheaper price than if you were to book them all individually. Generally these award tickets require you to continue your trip in one direction around the world.
Currently, the ANA loyalty program offers the best Round the World award options and value. You can see ANA's landing page for this award ticket here.
ANA has specific routing rules for booking this award listed on its website that you'll have to abide by:
-For Round the World itineraries, the required mileage is calculated according to the total basic sector mileage for the entire itinerary. (Calculations exclude ground transportation sectors.)

-Flights must be used to cross both the Atlantic and Pacific Oceans once.

-The flight direction of the itinerary must be east-to-west or west-to-east. Backtracking is not permitted.

–Up to 8 stopovers are permitted between the departure point and the final return point. (Up to 3 stopovers are permitted within Europe and up to 4 stopovers are permitted within Japan.)

-The departure date of the final international flight to return to the country of departure must be at least 10 days after the departure of the first international flight on the itinerary.
Example: When departing Japan on October 1, it will be October 1 + 10 days = October 11. So the return flight to Japan has to be after October 11.

-In addition to a maximum of 12 flight sectors, the itinerary may also include a maximum of 4 ground transport sectors (including travel between different airports in the same city).
How many points will it cost?
The cost will depend on the total mileage you cover by plane on your journey. I used Great Circle Mapper to calculate my total flight distance. It is close but not the exact tool that ANA uses. In my case, ANA calculated a slightly higher distance so I opted to drop one segment of my trip that I knew I could book cheaply with cash in order to save on miles.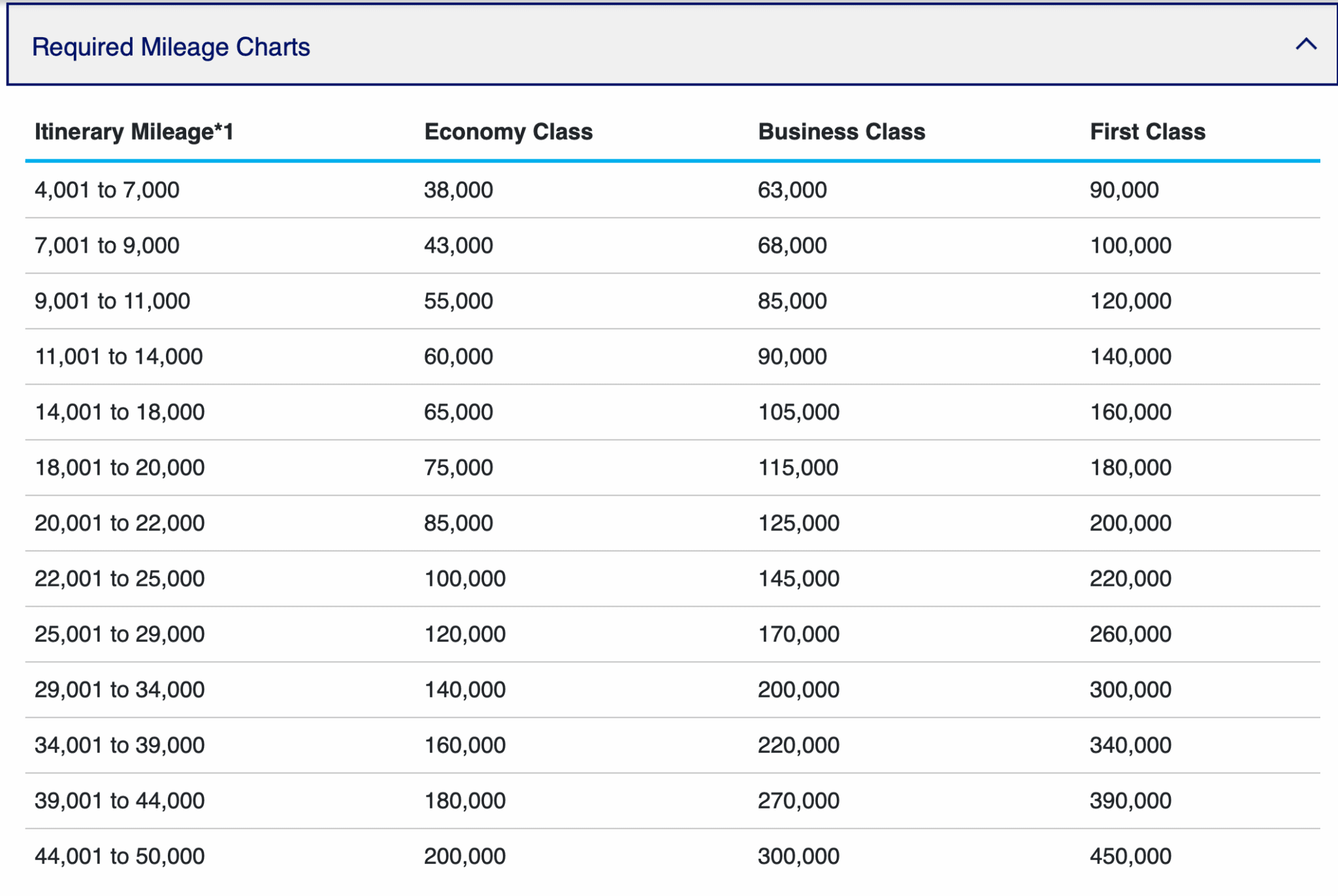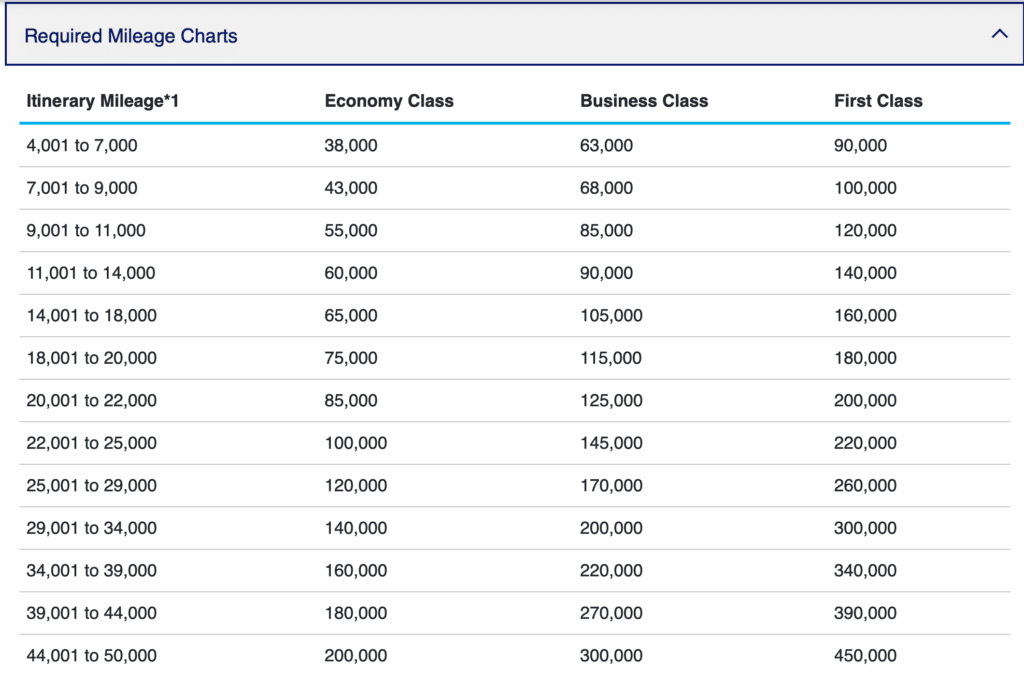 The itinerary we booked was about 21,000 miles total in flights and cost 85,000 ANA miles each. Our itinerary includes six segments. It maxed out our number of stopovers, which is eight. When you land in one city but use a ground transfer and then depart from another city, it is considered two stopovers.
For instance, we fly into Lisbon and out of Milan. Both Lisbon and Milan are considered stopovers. Similarly Brisbane and Sydney are both considered stopovers in Australia.
You can see the routing we booked and the total mileage here: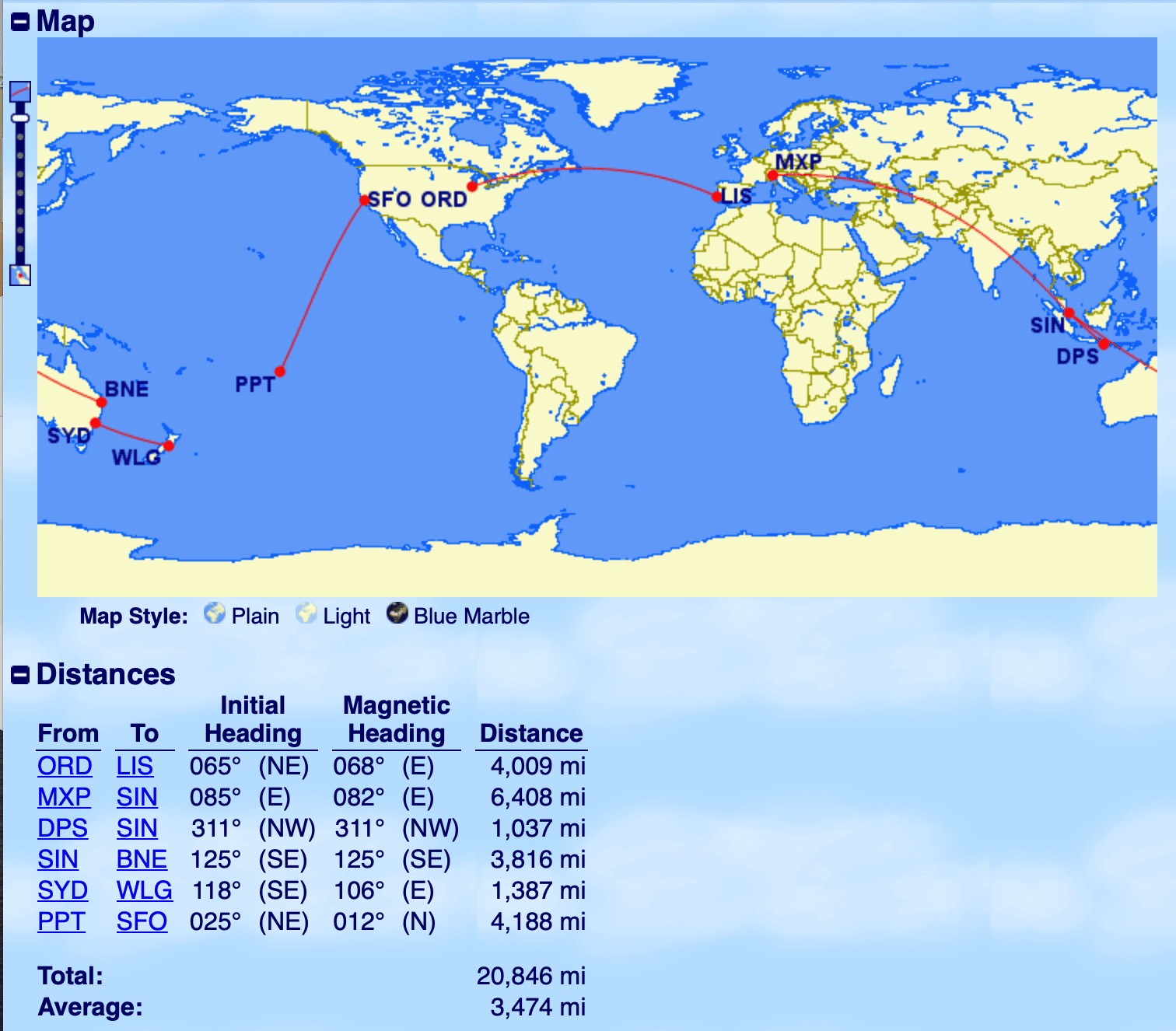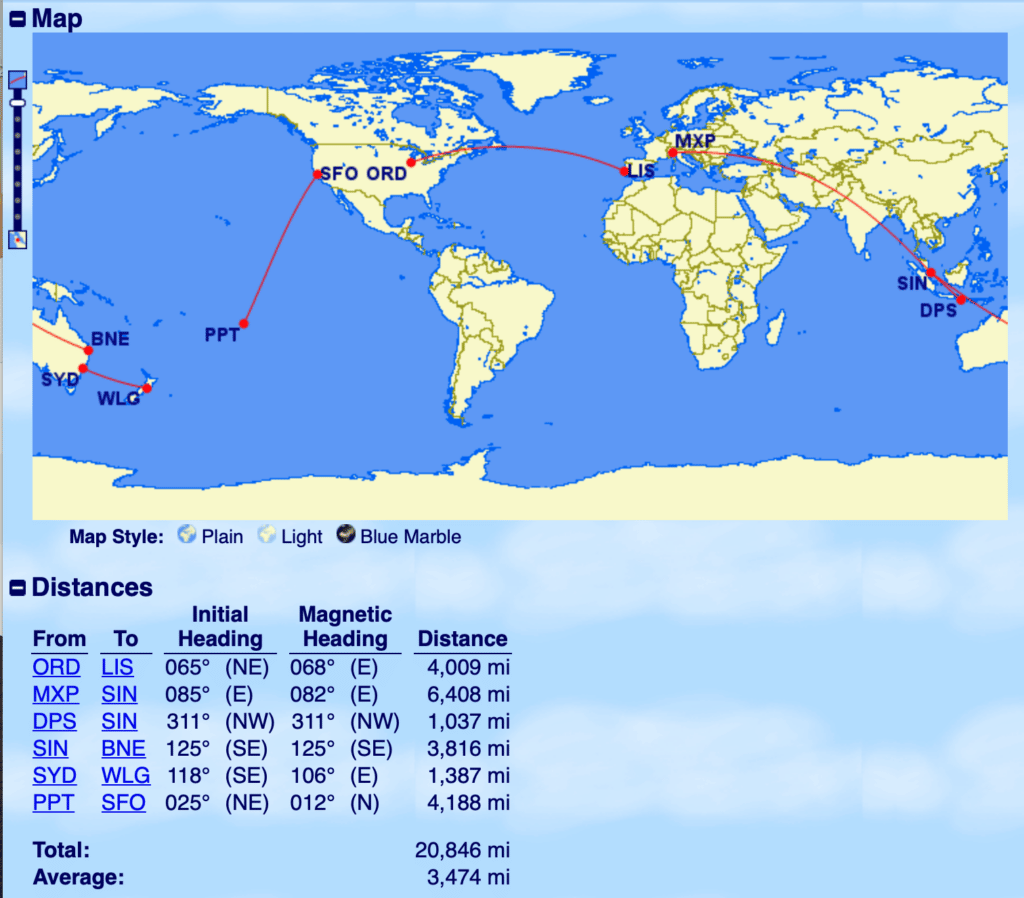 How can I earn these points?
The easiest way to earn miles for an ANA Round the World trip is earn American Express Membership Rewards points and then by transfer them to ANA. Points transfer at a 1:1 ratio.
You can also transfer Marriott points to ANA Mileage Club at a 3:1 ratio. As with all Marriott airline transfers, you'll get 5,000 bonus miles when you transfer 60,000 Marriott Bonvoy points. So if you transfer 60,000 Marriott Bonvoy points, you will have 25,000 ANA miles.
American Express has had pretty generous bonuses on its Membership Rewards earning cards lately! It often offers additional bonuses for adding authorized users or enrolling in Pay Over Time. To keep your Membership Rewards alive, you will have to maintain at least one active Membership Rewards card. All your points get grouped together once you have a few cards.
Some Sample Cards to Help You Earn The Points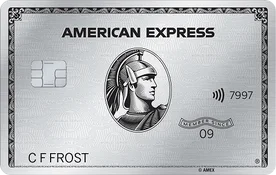 (not my referral link, this is just the best offer)
$695 annual fee (Terms Apply | Rates and Fees), enrollment required for credits
Earn 125,000 Membership Rewards® points after you spend $6,000 on purchases on your new Card in your first 6 months of Card Membership.
$200 annual airline incidental credit, enrollment required
$240 annual digital entertainment credit, enrollment required
$100 annual Saks credit, enrollment required
$200 annual Uber credit, enrollment required
Lounge access to Centurion Lounges and Priority Pass lounges and more, enrollment required
Hilton Gold Status, enrollment required
Marriott Gold Status, enrollment required
---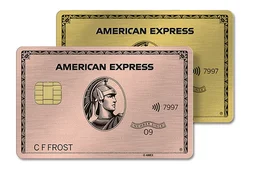 (not my referral link, this is just the best offer)
$250 annual fee (Terms Apply | Rates and Fees)
Earn 90,000 Membership Rewards® after you spend $4,000 on purchases on your new Card in your first 6 months of Card Membership.
$120 total annual Uber credits ($10 per month) and $120 total annual restaurant credits (to certain restaurants, $10 per month), enrollment required
4x earning at restaurants worldwide, including Takeout and Delivery in the U.S.
4x earning at U.S. Supermarkets, on up to $25,000 per calendar year in purchases
Planning an ANA Round the World Itinerary
Planning your itinerary and finding available seats should be done together as certain routes are harder to find available award seats on. Without delving into lots of FlyerTalk threads, your best bet is to just start searching yourself.
Generally, the earlier you book, the more options you have. We booked our tickets in July 2022 for a trip that started in November 2022. We were booking for 4 people so right away, that limited our options for available flights.
I didn't intend to book our ticket in business class so I didn't spend time and energy becoming familiar with all the best routes for business class. Booking this for a family of 4 in business class would be very challenging due to the fact that most airlines don't release 4 business class seats that are bookable with points.
Explore Your Routing Options
Theoretically you can fly on any Star Alliance flight for your ANA Round the World trip– with the caveat that it must have award availability on the dates you're looking. That's a big caveat. For instance — to book on United as part of this award, you need to specifically find a "Saver" award because those are typically the only ones United allows partner airlines to book with points.
How Will You Cross the Oceans?
The most important piece of your routing to consider first is how you want to cross the Atlantic and Pacific Oceans. Crossing both the Atlantic and Pacific Oceans is one of basic the itinerary requirements for this ticket. You don't need to cross the whole Pacific Ocean, though. In our itinerary, the segment from Tahiti to San Francisco was enough to cover this requirement. You could also fly from Hawaii to Japan and that would satisfy this as well.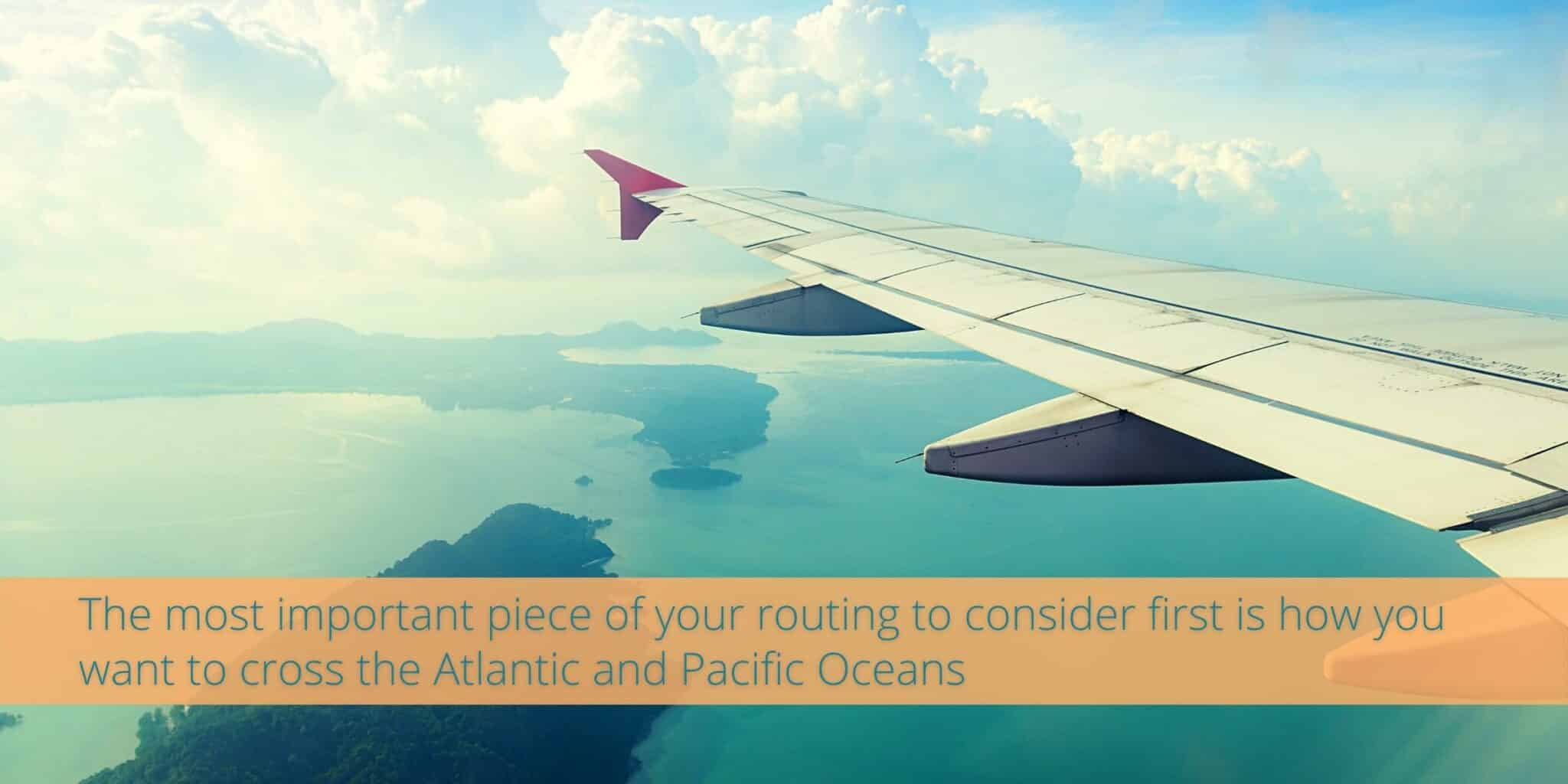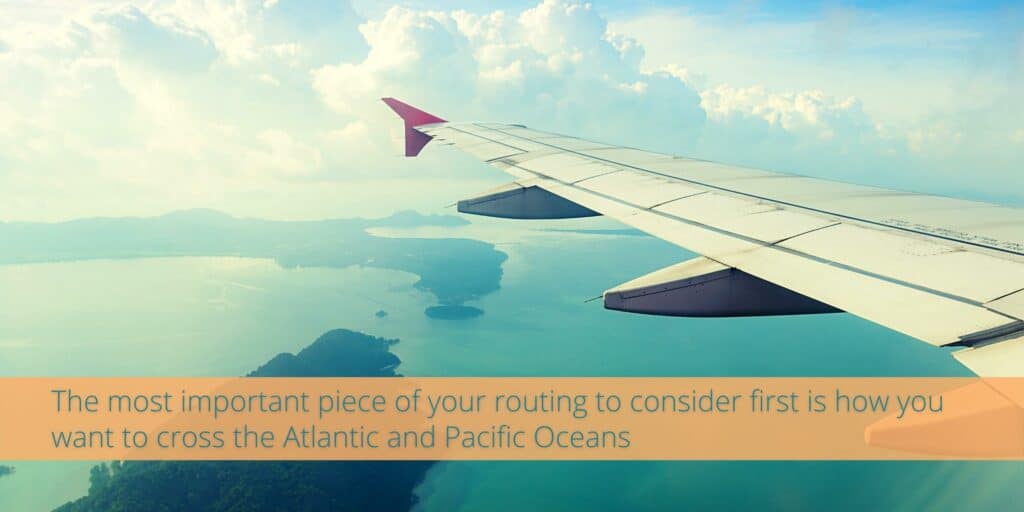 If you're planning your journey to be going east — do you plan to fly from the US to Europe? From US to the Middle East? Or South America to Europe? Will you go from Asia to the US or from Australian, New Zealand, or Tahiti?
If you're planning your journey going west — it is the same questions but in reverse. From the US will you go to Asia, Guam, Tahiti, or Australia?
Starting or ending your journey in Hawaii, for instance, may help you reduce your total mileage.
Useful Website: Flight Connections
A great site to use throughout this process is FlightConnetions.com
You can see all routes between certain airports or on certain airlines. This helps you plan out possible routes you could take. I used the free version throughout my search but you could pay for the premium version in order to be able to search by all Star Alliance Flights.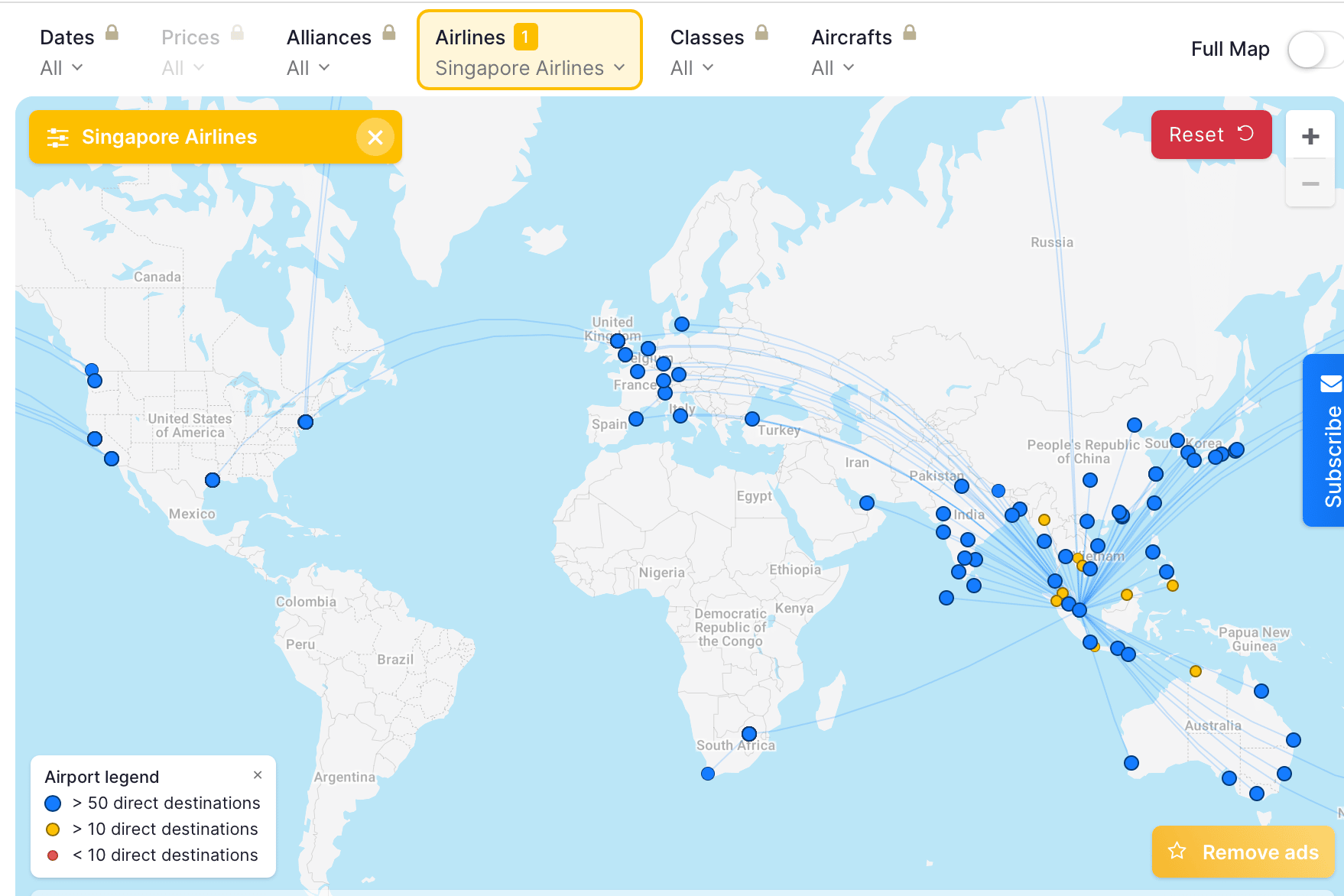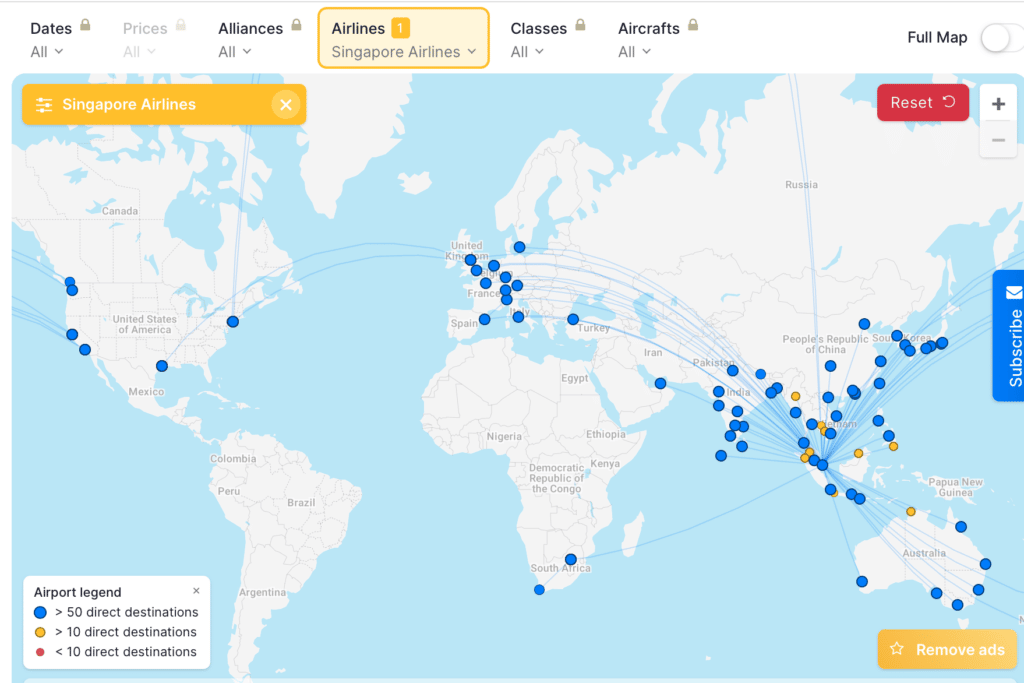 Watch Out for Fuel Surcharges
The hardest part of the search for me was to find routes that had low or no fuel surcharges that I could book. On every award ticket you will be paying taxes. Some airlines charge additional fuel surcharges. These can vary by route or by class of service.
Even after thoroughly reviewing FlyerTalk threads and other blog posts, I found that the fuel surcharges I was quoted when I went to book my tickets were much higher than expected. The first itinerary I tested had $2010 in total fees PER ticket!
Over my booking process, I talked to 4 different ANA agents and tested multiple itineraries. Some of the figures they quoted me didn't even make sense! On my final itinerary, I was charged $618 in taxes and fees for each adult. I asked to drop one more segment (between Bali and Singapore) to give us a little more flexibility and I was told my fees would increase to $800. I asked them to double check and the agent did and came back and still said it would be $720.
This same thing happened on a different itinerary I priced that routed through Egypt — I dropped a segment and the fees went up. Even more frustrating — the fees didn't seem to match the fees that I expected from ANA's website. You can't price a RTW routing fees on their website so instead I had been pricing based on round trips for each leg. Even so, my final fees seems much higher.
In the end, I can only recommend that you hold your routing lightly until you call in and get the final fee amount from ANA.
Suggestions for lower fuel surcharge routing
There are a few places that don't allow fuel surcharges — flights leaving Brazil will have none as required by law. South American airlines don't charge fuel surcharges either as far as I can tell — so routing from South America to Europe is a great option if you want to save on those cash costs.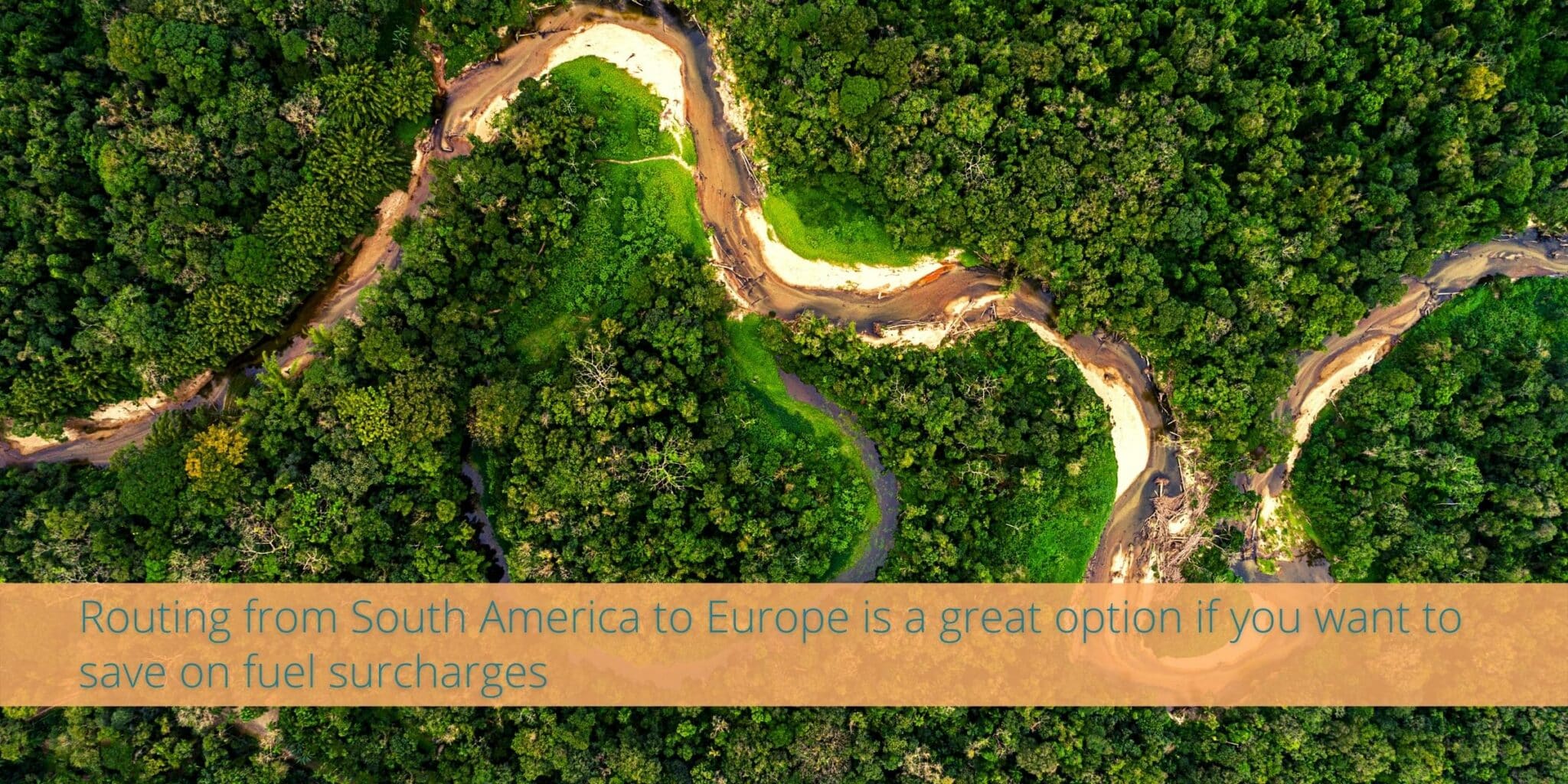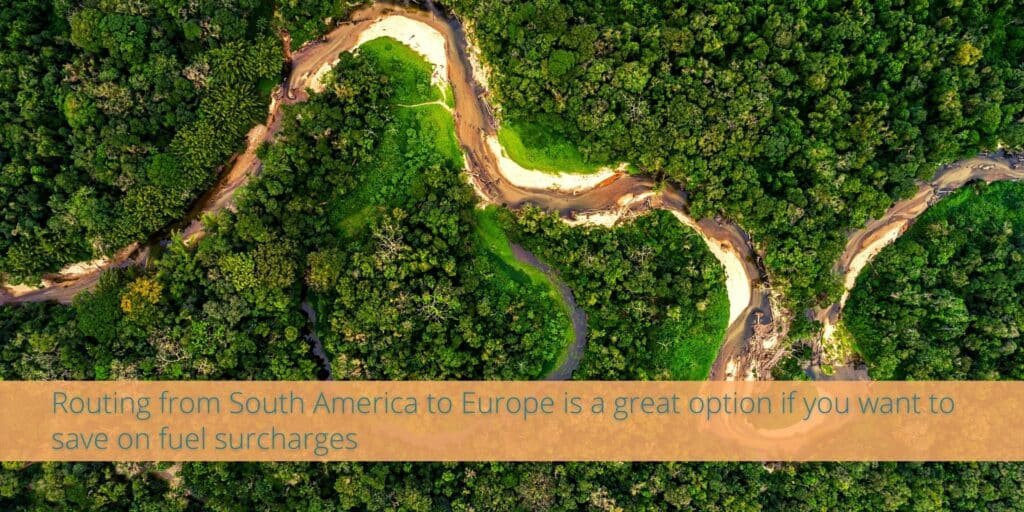 Theoretically these Star Alliance airlines are known to have no or low surcharges:
Aegean Airlines
Air Canada
Air China
Air New Zealand
Avianca
Copa Airlines
EVA Air
Singapore Airlines
Scandinavian Airlines (SAS)
TAP Air Portugal*
United Airlines*
I have starred TAP and United because I did not have the consistent experiences when I was pricing my awards and surcharges with ANA agents.
For instance — any routing that included a ORD-LIS segment in business class on TAP gave me very high surcharges. Greg from Frequent Miler reports that he was able to get an itinerary including a leg on TAP business with low or no surcharges going west — while my itinerary that included TAP going east was charged high surcharges. So it's possible that these are only charged one direction.
One itinerary I priced that was identical to my final itinerary except for the first flight started with a United segment (in economy) from ORD to LHR. On this routing, I was told my total fees would be $1010. When I changed that first segment only to ORD-LIS on TAP Air Portugal, it dropped to $620.
Based on other recent experiences I have read about, it seems like flying West (going to Asia first) will possibly result in lower surcharges. I was also charged a surcharge on my United flight from Tahiti to San Francisco. Also note that possibly United flights to Japan from the US won't incur a surcharge if you don't stop in Japan.
Other considerations
Airports that you fly out of can also affect your total fees.
Flying out of London, for instance, adds significant duties. You're best off paying cash to take a cheap flight from London and then flying from somewhere else in Europe onward.
For flights departing Europe to Asia, I found the cheapest taxes on flights departing from Italy. There is a non-stop flight to Singapore from both Rome and Milan on Singapore Airlines.
Finding Available Seats for an ANA Round the World Ticket
Finding award availability goes hand in hand with routing options. Ideally, you'll hold your routing loosely during the planning process. Flexibility is a huge asset in this process,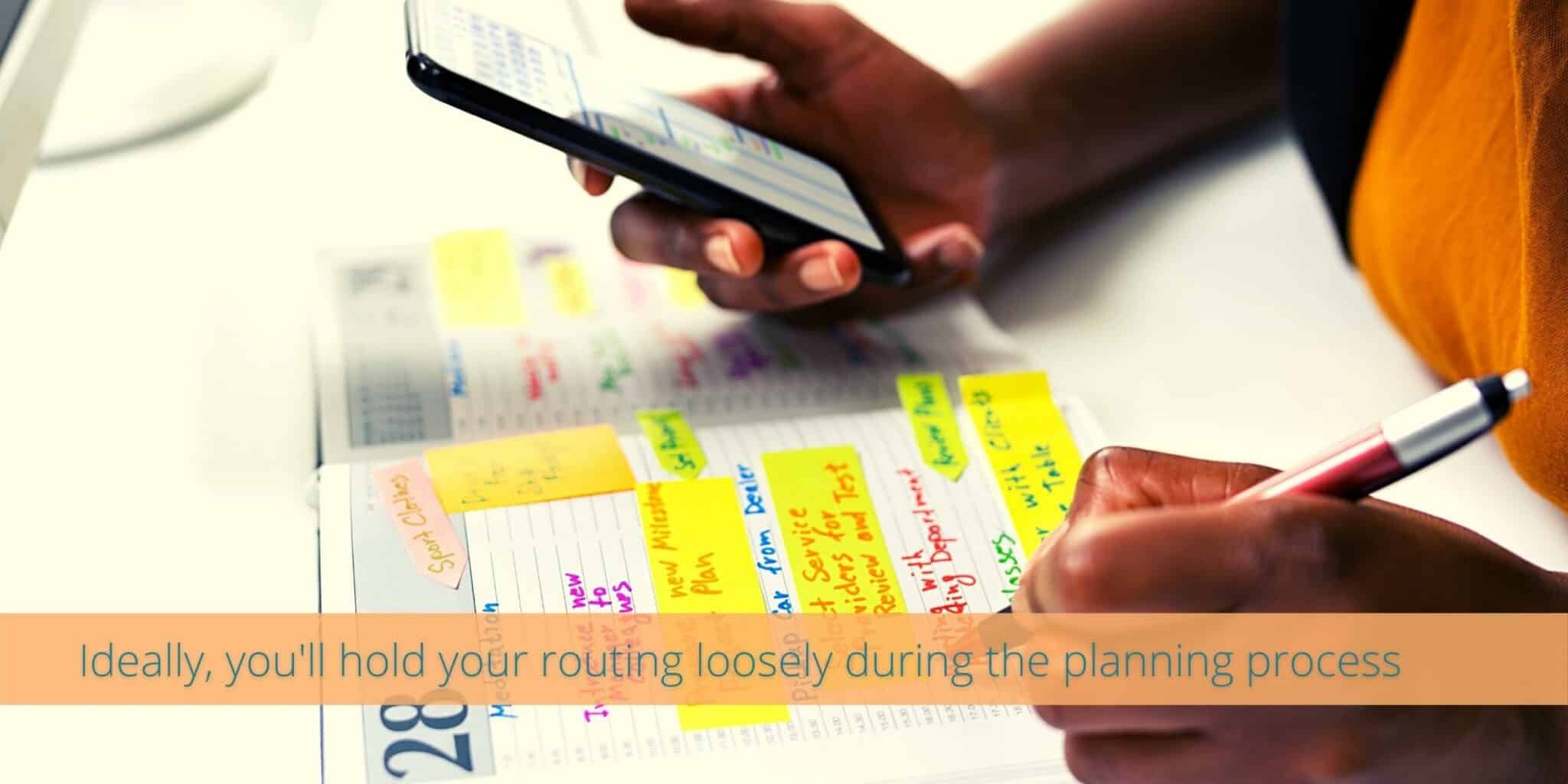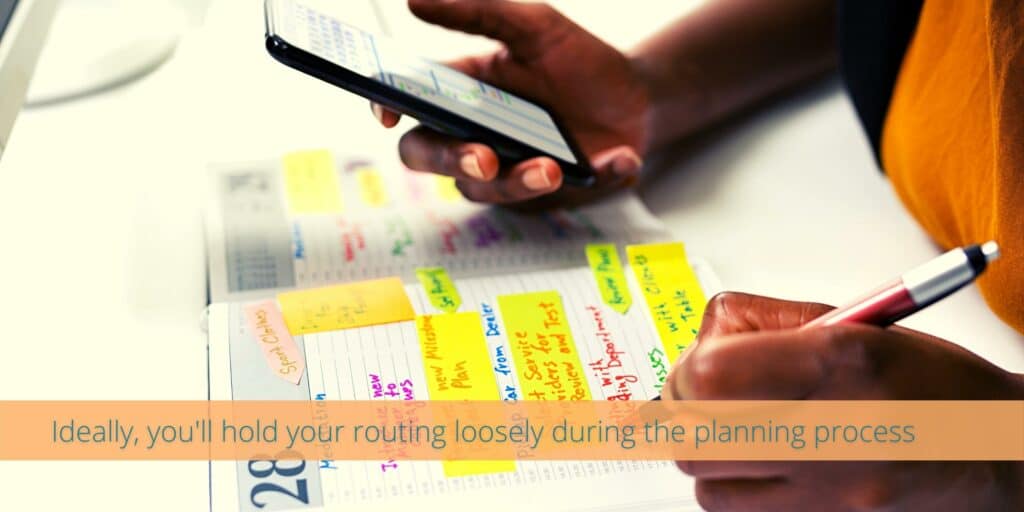 I'm not going to coach anyone on finding business class award availability because it's not how we travel so I don't spend time researching it. When I briefly searched during my process, I can tell you that I was able to find plenty of business class award space for even 4 people on TAP Portugal routes and also on Avianca and COPA.
Many routes are still limited due to the pandemic as well so availability is hard to predict.
Air New Zealand flights are notoriously hard to find — we were happy to find a segment from Sydney to Wellington! I could not find any availability from New Zealand back to the US so we opted for stopping in Tahiti. For this, we used 15,000 American miles to fly from Auckland to Tahiti. And then we will continue with our official ANA booking from Tahiti back to SFO.
Start Your Search on United.com
United is a Star Alliance Partner and a great place to start your award search because you can see 30 days of award availability at at time.
It is easiest to search for each segment on its own. To force United to show only non-stop segments, you need to do an "Advanced Search." Then you can check the box that says "non-stop only."
Keep in mind:
United flights will only be available to book via ANA if they are listed as a "Saver" award type
United's award search will return airlines and awards that may be a United partner, but not a Star Alliance partner. ANA RTW awards can only be booked on Star Alliance partners. An example of this is Virgin Australia. These flights will show up on United.com but you could not book them with an ANA ticket.
The fees United shows will not match the fees ANA will charge you.
You could also use an award booking tool like Award Logic or Point.Me but I found those to be more laborious since they only show availability one day at a time. Award Logic now offers a search where you can search 3 days at a time and that would have made it easier to search.
Confirm Availability on ANA's website
This is an optional step but should make your phone call with ANA when you book the ticket go more smoothly. Occasionally United's search functions will show award tickets that aren't available to book with ANA. Conversely, ANA agents were able to find certain routes for me to book that weren't available on United.
On ANA's website you need to create an account and login in order to search. You also need to search round trip. This makes it harder to confirm award availability because you have to find availability both ways in order for it to show up.
You will also see ANA's taxes and fees for the round trip segments. I did not find these to correspond to the final taxes and fees I was charged so I wouldn't put too much stock in it.
Check taxes and surcharges on ITA Matrix
ITA Matrix is a great tool to help estimate your taxes and fees. Again, I did not find it to be 100% accurate with what ANA later charged me for taxes. But it gave a good estimate.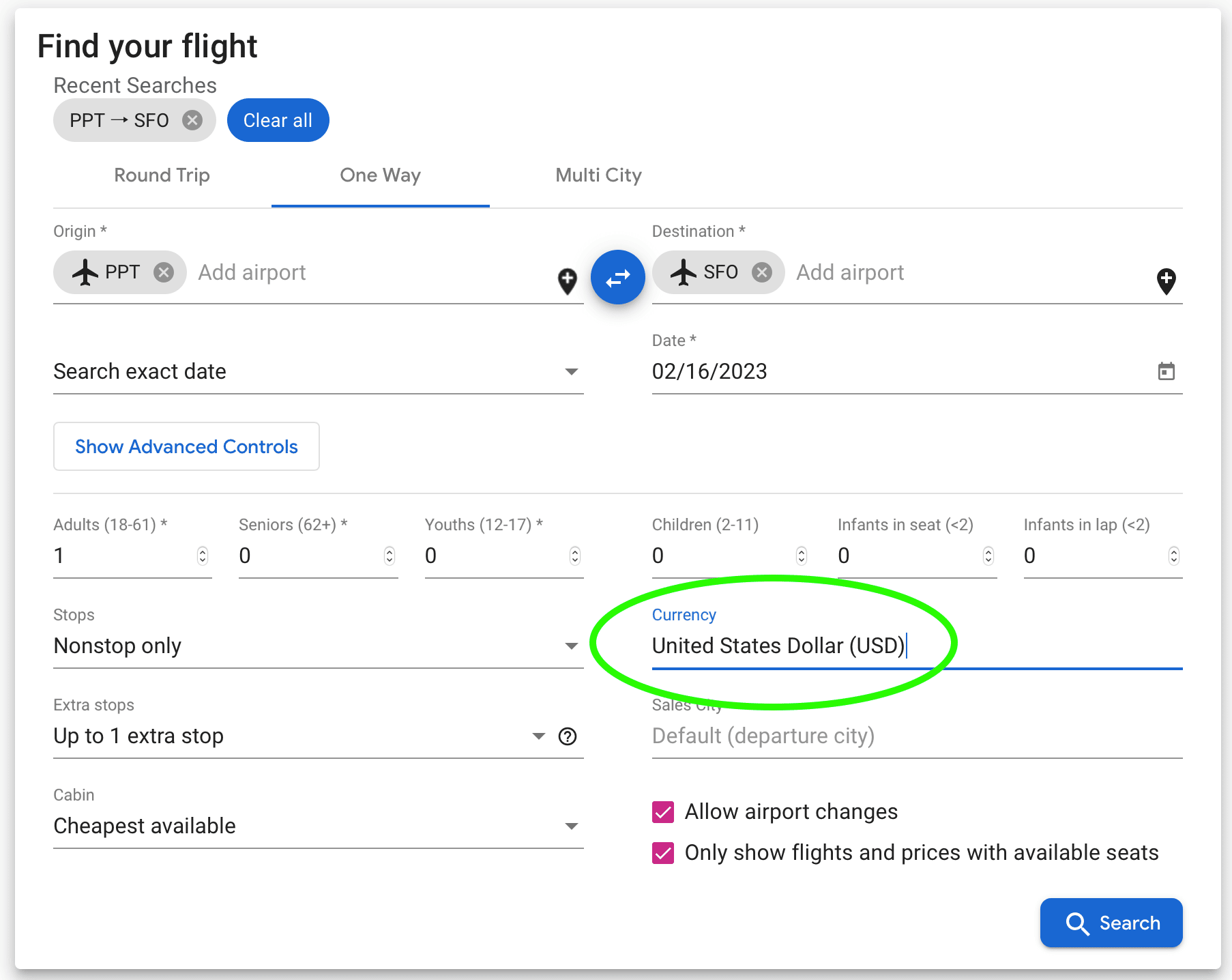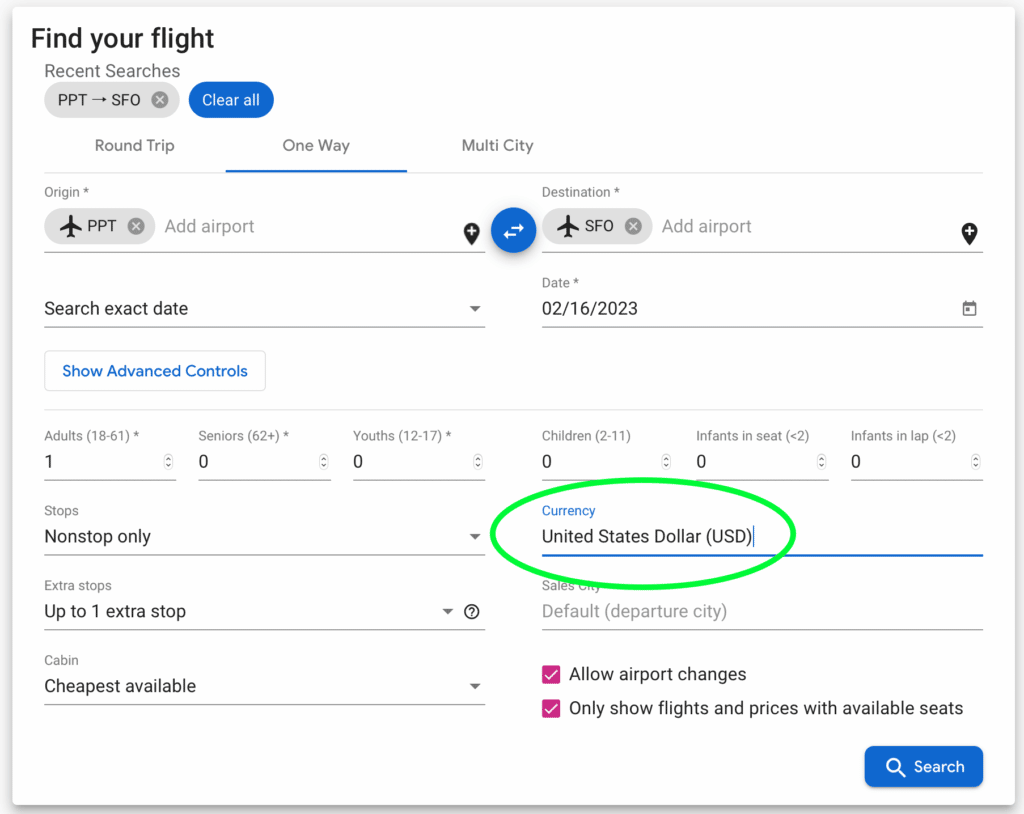 What was frustrating for me was the mismatch on YQ fees. When I searched on ITA Matrix, I expected a $71.90 YQ on this United flight from PPT-SFO. Instead when I went to ticket it, the agent told me it was $260 for YQ.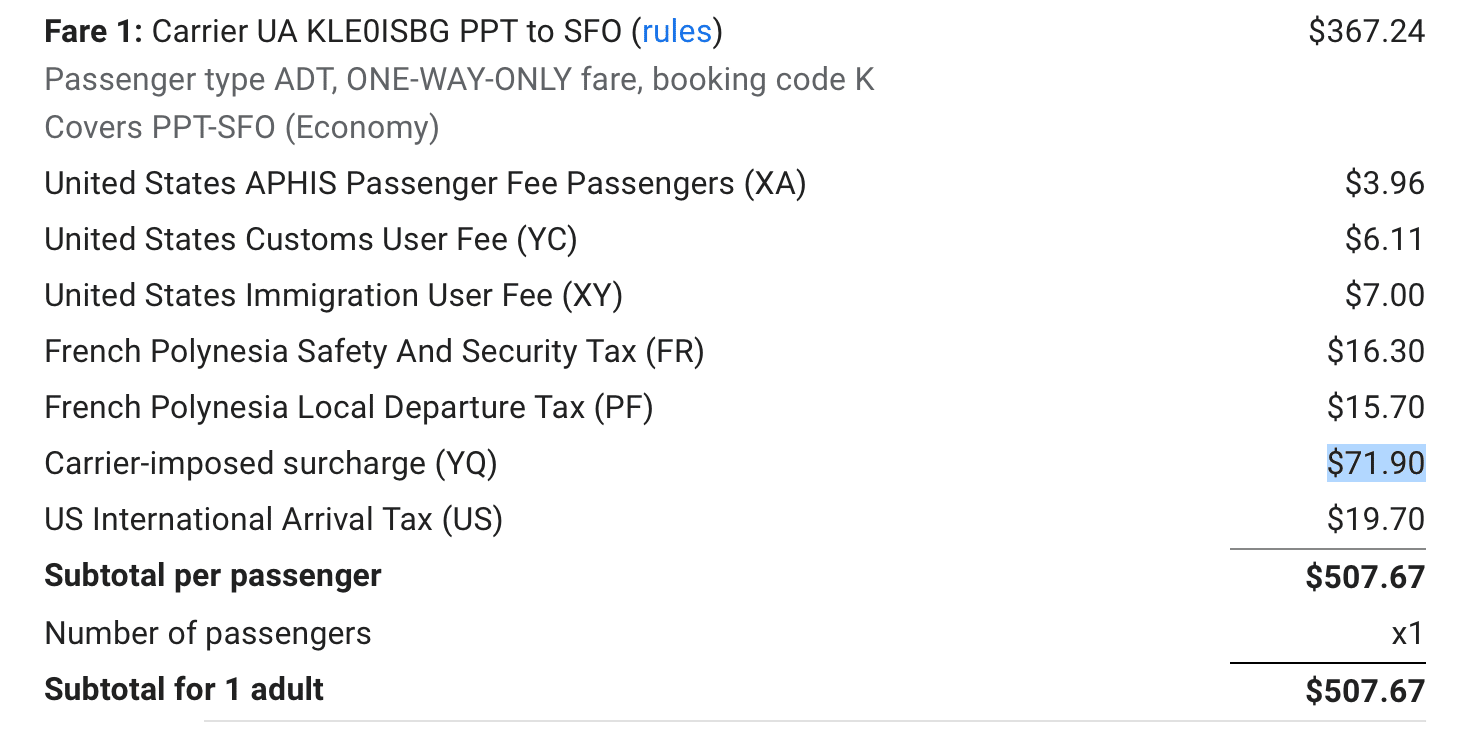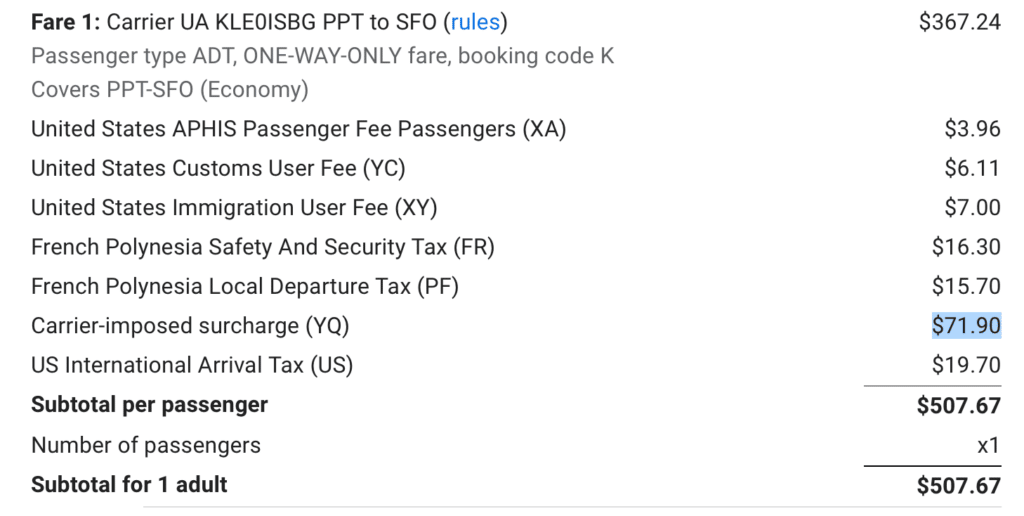 Here are the fees I expected based on my calculations from ITA Matrix. In the end, my fees were $618, which is fairly close to this.
| | |
| --- | --- |
| Routing | Taxes and fees from ITA Matrix |
| ORD-LIS | 239 |
| MXP-SIN | $43 |
| SIN-BNE | 78 |
| SYD-WLG | 100 |
| PPT-SFO | 142 |
| | |
| Total | 602 |
Booking Your ANA Round the World Award
Once you have your routing in place and award space you found, it is time to book. Even in this process, I recommend holding everything lightly. As I mentioned before — one itinerary we wanted was identical to the one we book except that the first leg was on United and the cost was going to be $400 more per person in taxes. We opted to switch to TAP Portugal instead.
Transferring Points to ANA for your Round the World ticket
You can transfer Amex points to ANA right on the Amex website. This is tricky because it takes about 3 days for the points to transfer and in the meantime, award space can disappear. Sometimes you can hold an itinerary but this varies on the airlines you are trying to book on.
In our case, we transferred too many points because we initially thought we'd book in business class but the fees came in higher than we expected.
Use Great Circle Mapper to calculate your total distance. This doesn't match ANA's calculation totally but should be close. If you are very close to a cut-off, you may want to consider which segment you might drop if you want to save miles. In our case, we dropped a SIN-DPS segment because that would be easy to book for less than $100 each and kept us under 21,000 total miles.
Add families members to your account
With ANA miles, you can only book for certain family members. This is important to note if you're trying to book a ticket for a friend or even fiancee. Here's how to add them.
According to their website:
"ANA Mileage Club members (the primary member) who reside outside Japan can register 2-8 family members (including themselves) for this service. The registered family members can be their spouse or same-sex partner, and relatives within 2 degrees of kinship."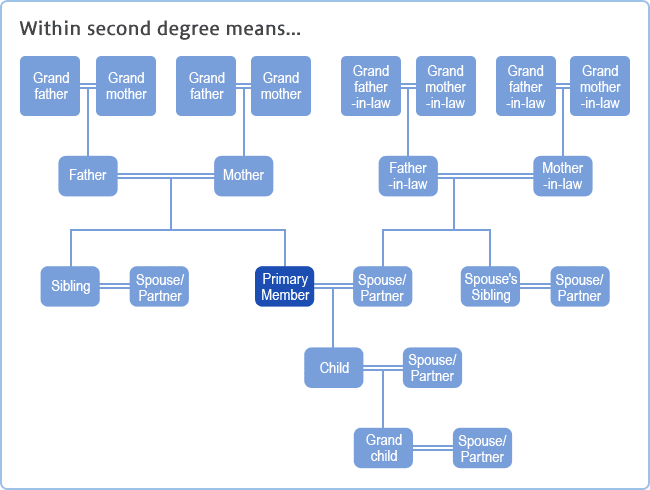 Call into the call center to book your ANA Round the World ticket
ANA's website lists this U.S. number:
1-800-235-9262
Calling at 9am EST seems to get the shortest wait times currently. You may get an ANA agent in the US or Japan. All the agents I talked to were very friendly and helpful.
I fed the agents my itineraries one segment at a time. Once they confirmed each segment, they read it back to me and sent me an email to look over the itinerary.
Wait for taxes and fee calculations
Once the agent went straight to ticketing while I was on hold and was able to come back with taxes and fees. Another time I called, the agent told me that a different agent would call me after ticketing calculated the fees. If that happens, keep your phone close by!
Issues I experienced
The biggest frustration I experienced was not finding award space but predicting the taxes and fees. I still don't know why my itineraries with a United flight to London priced $400 higher than with my TAP Portugal flight to Lisbon. In the end, I just accepted it and took what we had.
Editorial Disclosure – Opinions expressed here are author's alone, not those of any bank, credit card issuer, hotel, airline, or other entity. This content has not been reviewed, approved or otherwise endorsed by any of the entities included within the post.