Finding rooms to book on points for families can be a challenge, especially large families! Choice Privileges hotels are often overlooked as a hotel program because it has a lot of lower-end properties in the US–but it still has some family friendly gems.
The Ascend Collection is its higher end brand and for this post I scoured the Choice website and app to focus on finding the best Ascend redemption options for families. Ascend Collection hotels are often independent, historic, or boutique hotels that partner with Choice Hotels. This means this collection includes a lot of unique options — from 4 bedroom cabins in Big Bear, CA to B&B properties in Florida and historic hotels in the Northeast! I also included a few Cambria hotels if they seemed like a good option.
Most hotel chains only allow you to book a standard hotel room with points. Some offer the option to use more points to upgrade to a suite. With Choice, though, the number of points charged is the same no matter the room type. So if a property has larger suites or even 2-4 bedroom villas available to book with points, they cost the same as a 1 room hotel room! This makes these properties great options for families.
Choice also has a partnership with Bluegreen Vacations which has timeshare properties that usually include a full kitchen and separate living room, these are included in the Ascend Collection.
Scroll down to browse my map of all the Choice Privileges Hotels properties I could find that have separate bedrooms and sleep 4+.
Map of Choice Privileges Hotels with Suites by room occupancy
Click the top right corner [ ] to see a bigger view of the map. I have only included Choice Privileges Hotels that had suites with separate bedrooms that slept 4+ people.
Blue shows suites that sleep 4. Some of these are 2 bedroom suites. Green shows suites that sleep 5 (some require an additional bed). Yellow shows suites that sleep 6. Purple shows suites that sleep 8+.
Shoutout to my husband Micah who helped me scour the Choice hotels site and app to find these!
Booking Tips for Choice Privileges Hotels
100 Day Limitation
The biggest limitation of booking award nights with Choice is that you can only book award stays 100 days in advance. If you are searching past 100 days it will show the hotel as sold out if you are looking for award stay or give you an error message.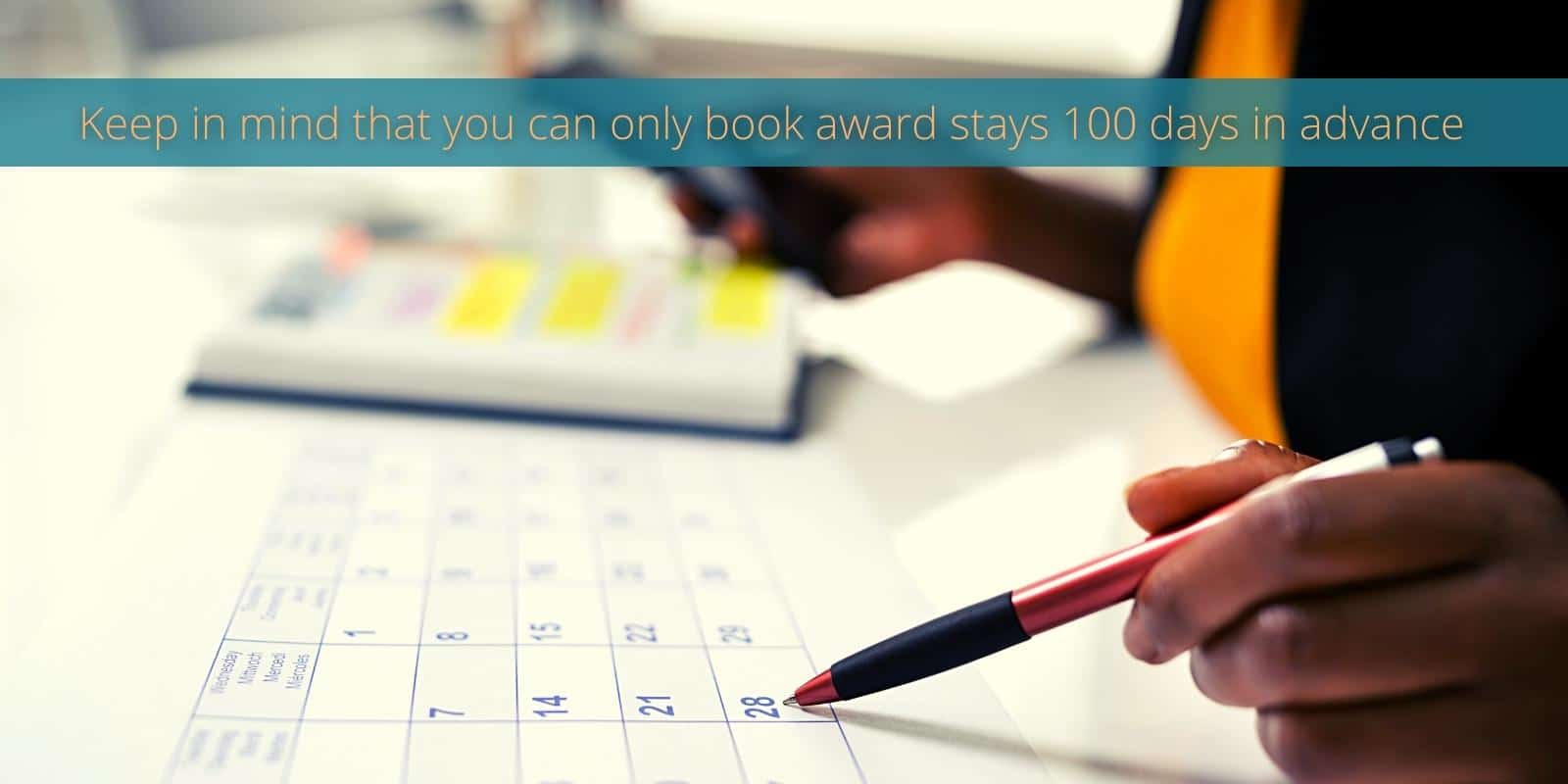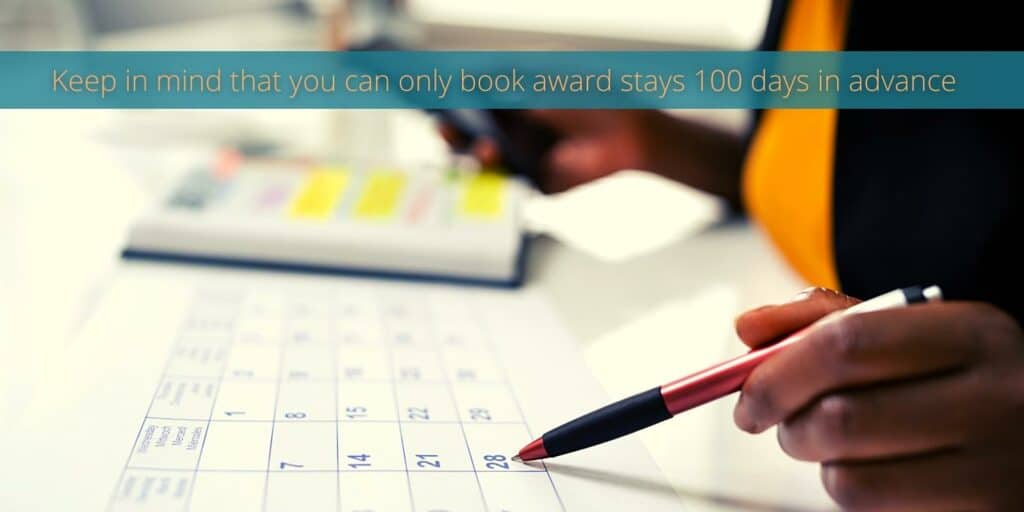 Finding Availability for Choice Privileges Hotels
The Choice website doesn't have a search tool that easily lets you search flexible dates to find award availability.
When you are looking at a specific hotel, it sometimes shows a flexible date calendar. But other times this calendar won't populate with any information.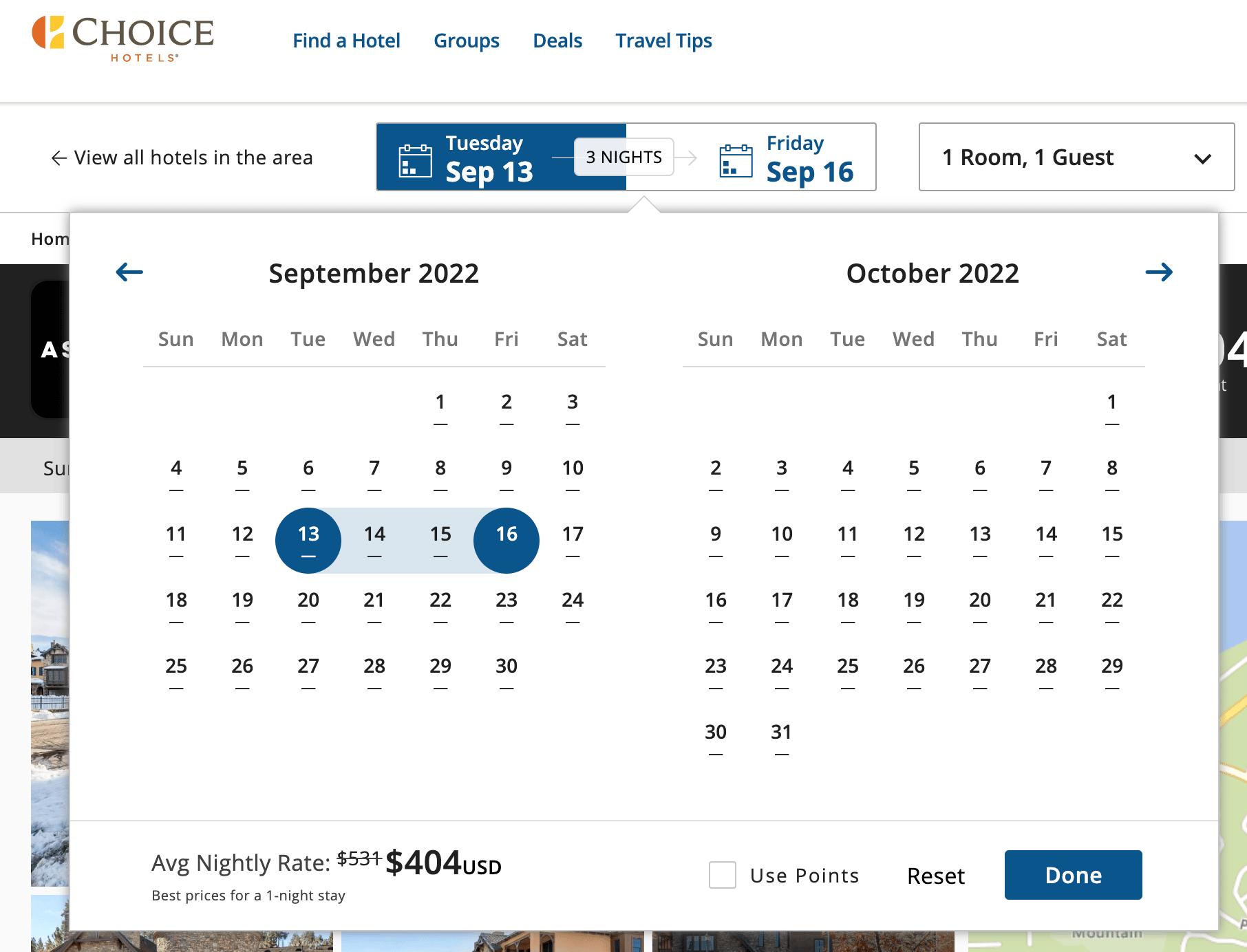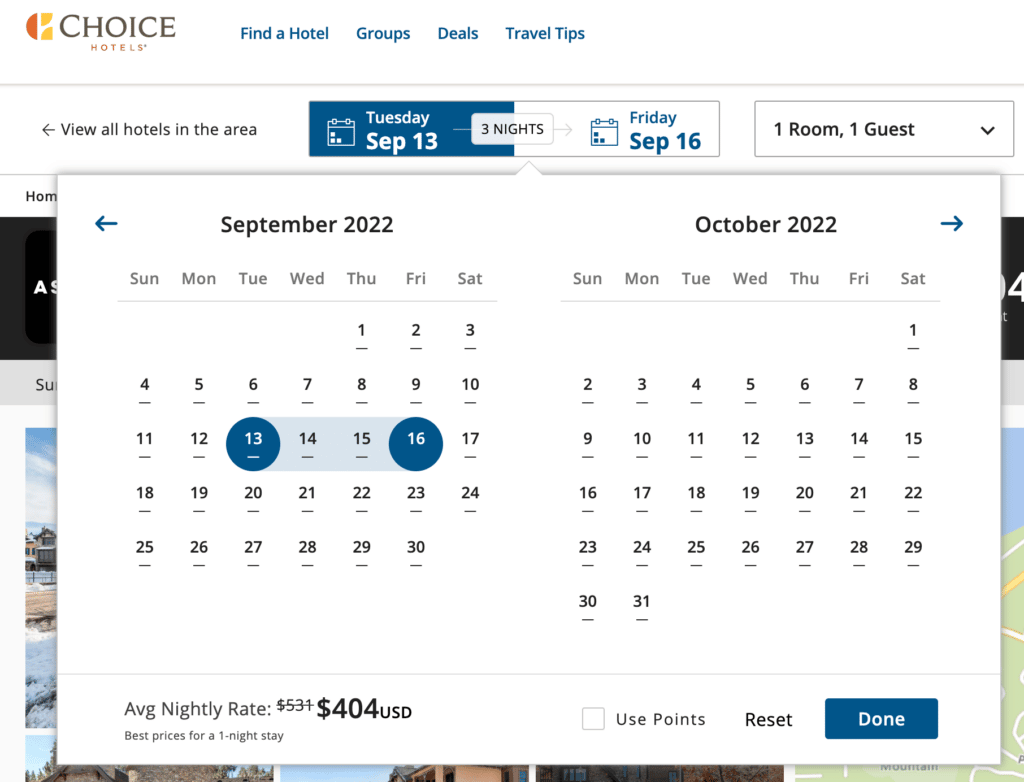 ---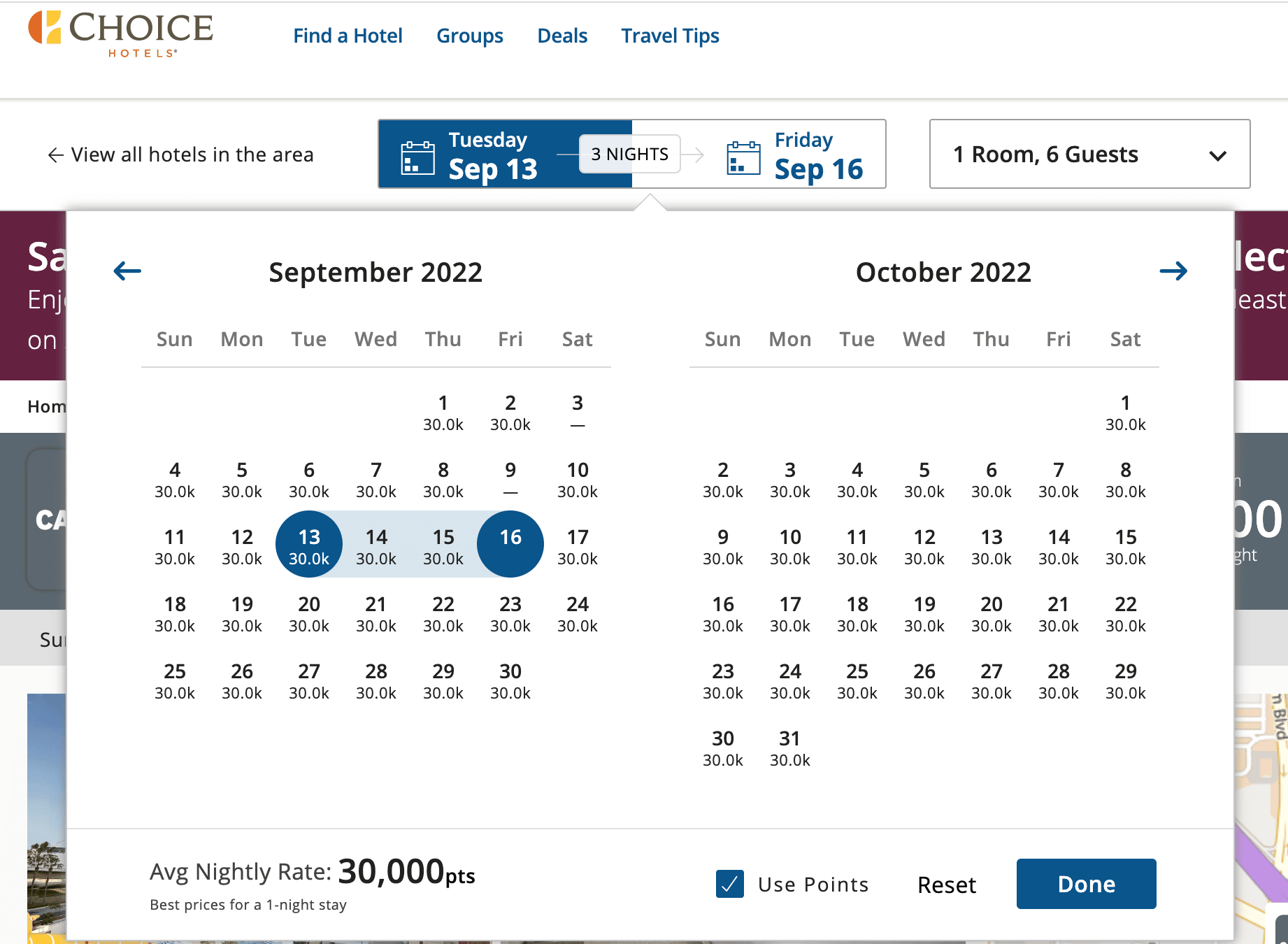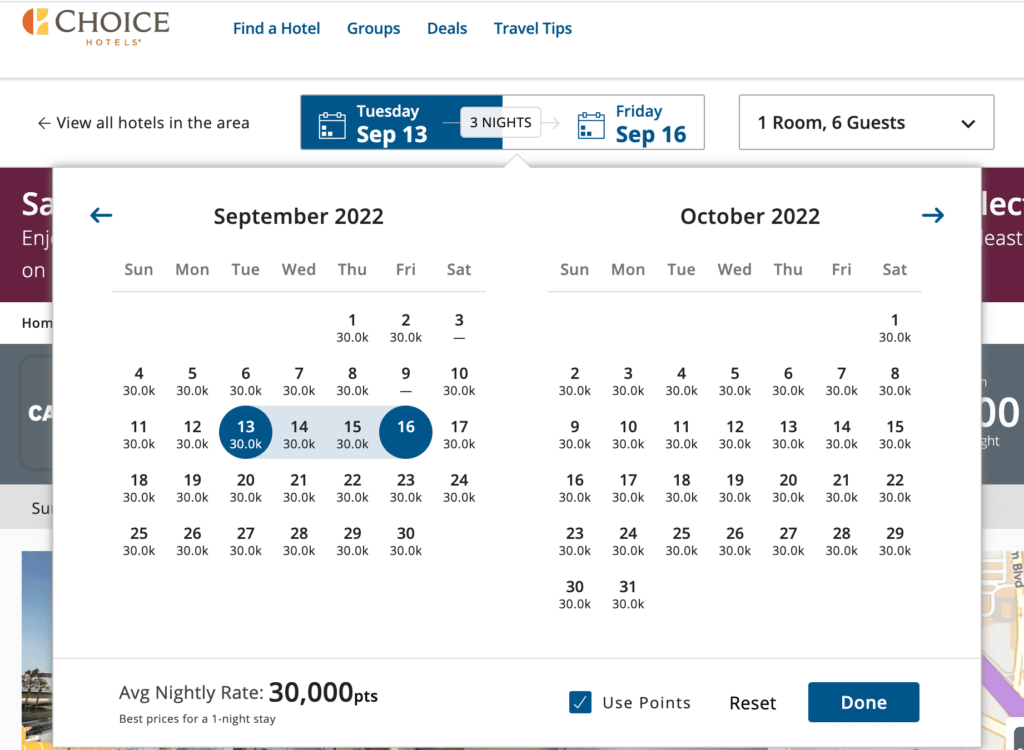 When I was searching I searched a variety of dates and included properties if I could find award stays with suites.
Tip: Play With Your Search
Some properties seem to enforce a 3-4 minimum night stay requirement, especially some of the Bluegreen Vacations properties. Others seemed to only show availability if I searched one day at a time. Some had more suites available for dates that were closer in and some had more availability for dates further out.
It may be a fair amount of trial and error to find certain suites at certain places. I suggest starting with your preferred dates. If no award availability shows, try searching each date individually. Then also try searching 3-4 nights. If you have a certain property you're interested in, I would start checking as soon as the 100 day window opens.
The Choice app has a map feature that can make it easier to search.
How to Earn Choice Privileges Points
While you can earn Choice Privileges points by staying at Choice properties, the easiest way to earn a big chunk of them for a family vacation is to open a credit card with a bonus offer!
Barclays offers a Choice-branded credit card. Citi, American Express, and Capital One also allow you to transfer their points to Choice, so there are a lot of options. The strongest option is the Citi Premier since the transfer ratio is 1:2, meaning for every 1,000 Citi Thank You points you transfer, you will get 2,000 Choice points.
Best: Transfer Citi Thank You points to Choice Privileges Hotels (1:2)
Citi added Choice as a transfer partner for Thank You points in October 2021. With the 1:2 ratio, this makes this an amazing option for families looking to book these Choice Privileges hotel rooms! The max price I found was 30,000 points per night on any of these, so you'd only have to transfer 15,000 Thank You points per night.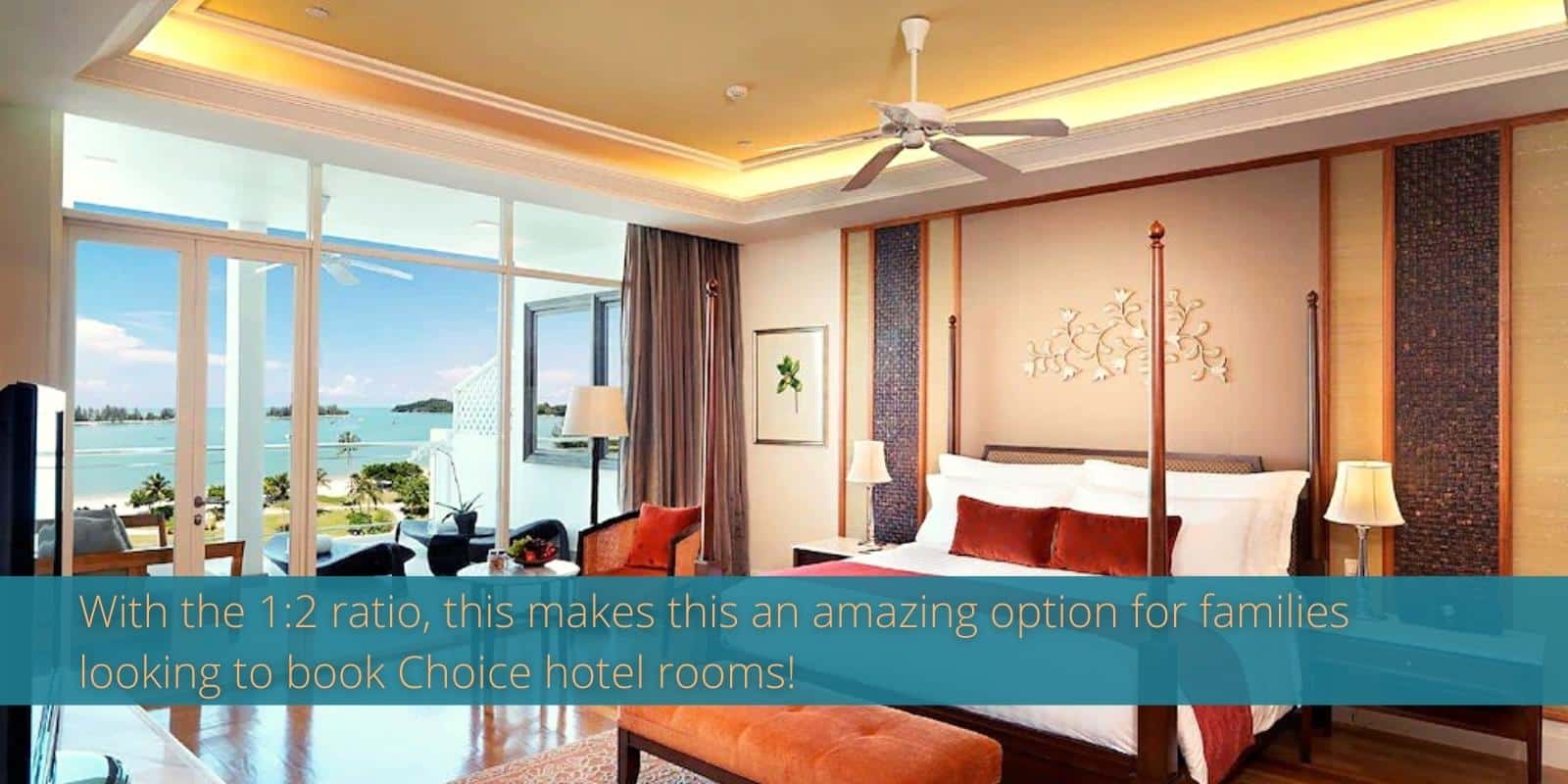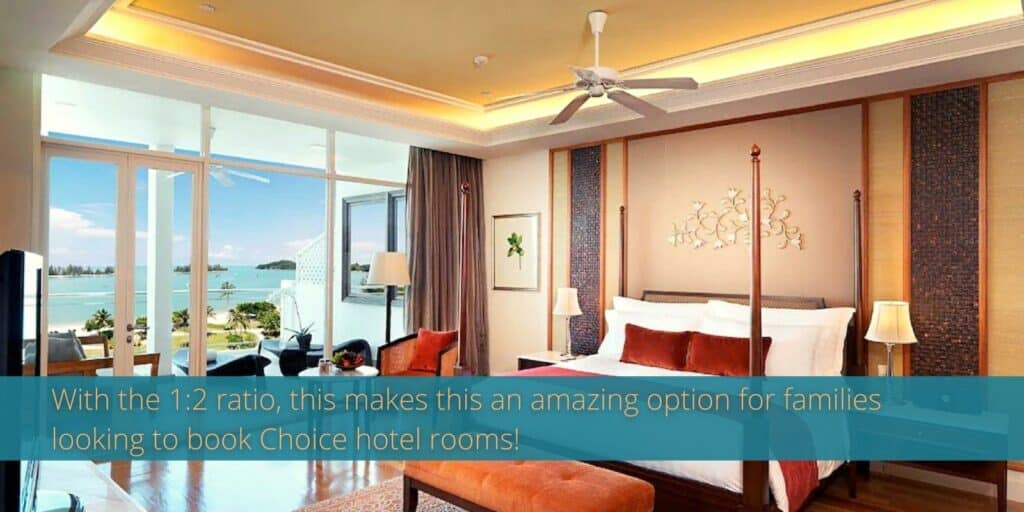 The Citi Premier generally offers 60,000 points after spending $4,000 in 3 months. This means it can be converted to 120,000 Choice Privileges points, getting you 4 nights at any of these properties! (or more, depending on prices and dates). In August 2022 it is offering 80,000 bonus points which means you can get 160,000 Choice points!
You could also get a Citi Custom Cash to keep earning more points.
---
How to transfer Thank You points to Choice Privileges:
Step 1: Sign in at Citi.com
Navigate to on the top bar to Rewards & Offers > ThankYou Rewards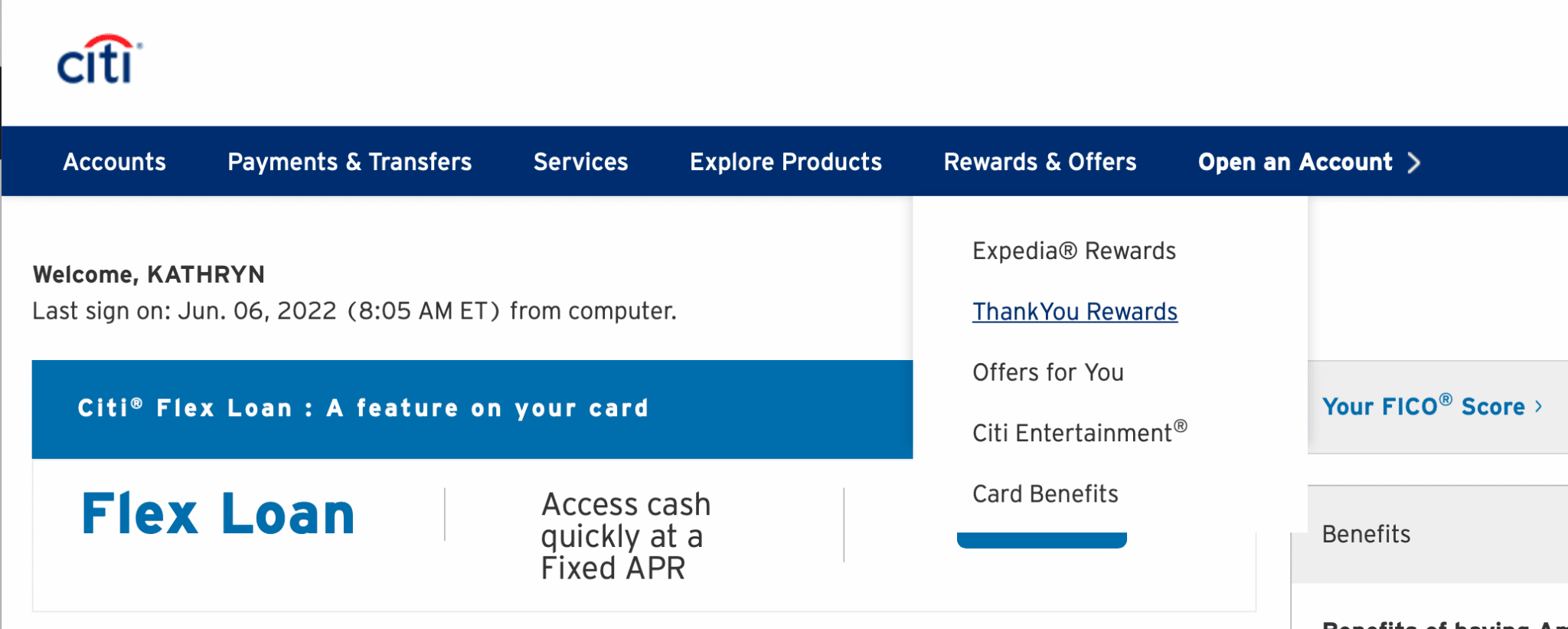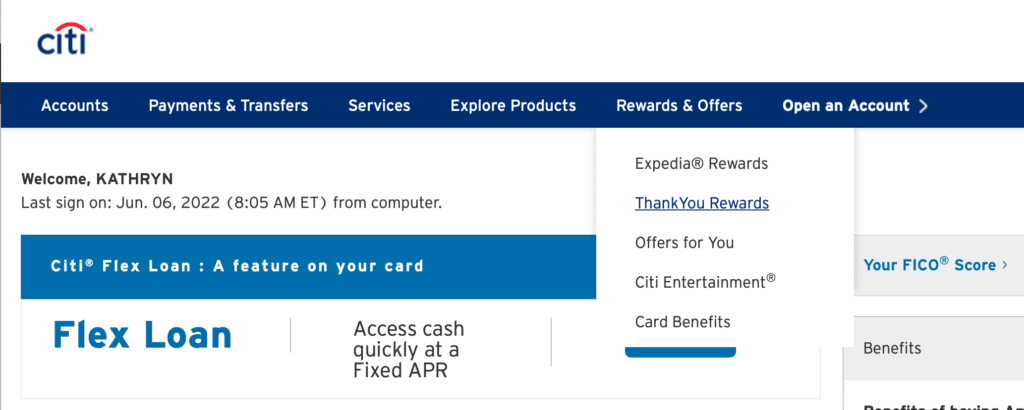 ---
Step 2: Select Travel, then Points Transfer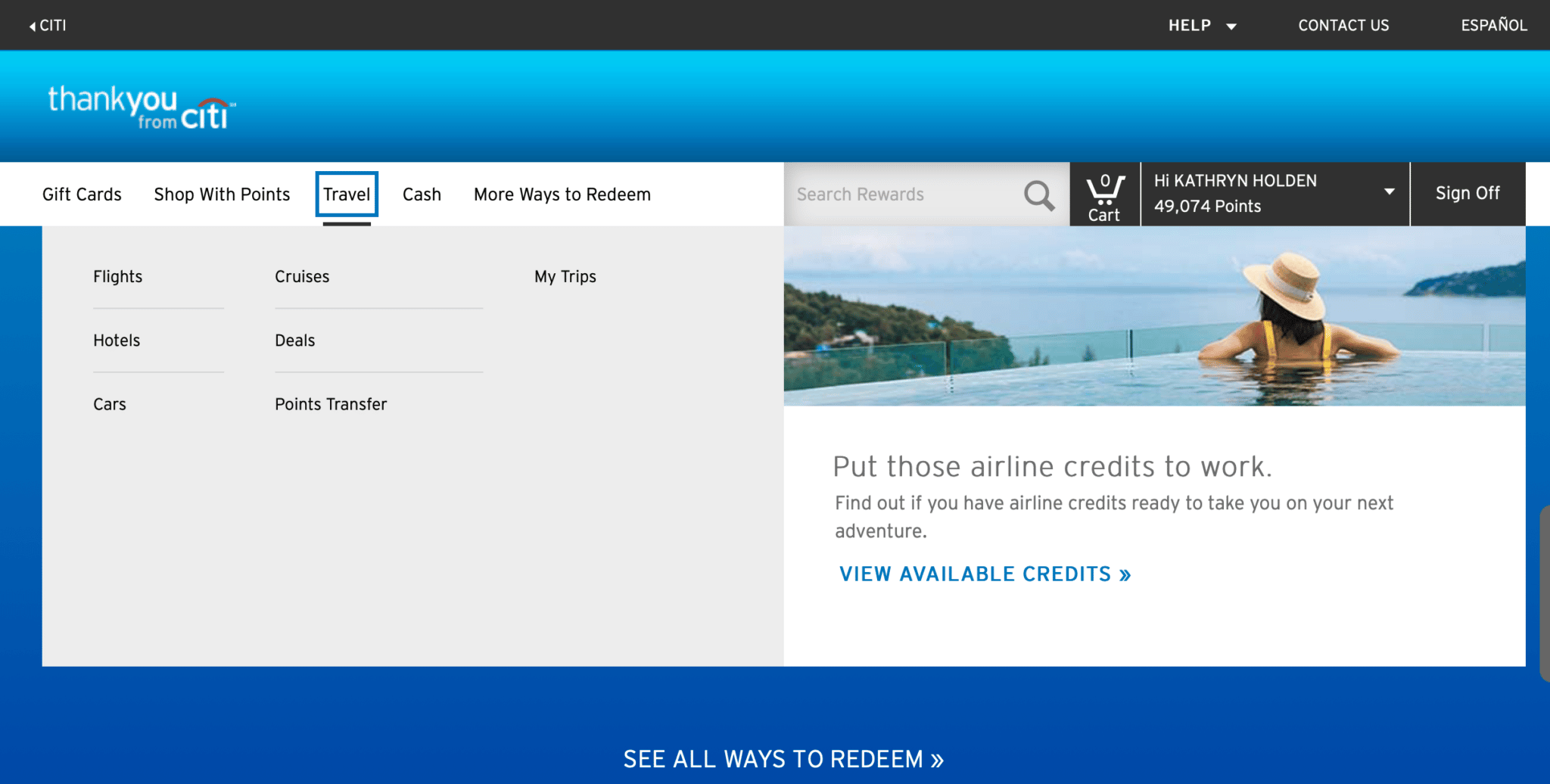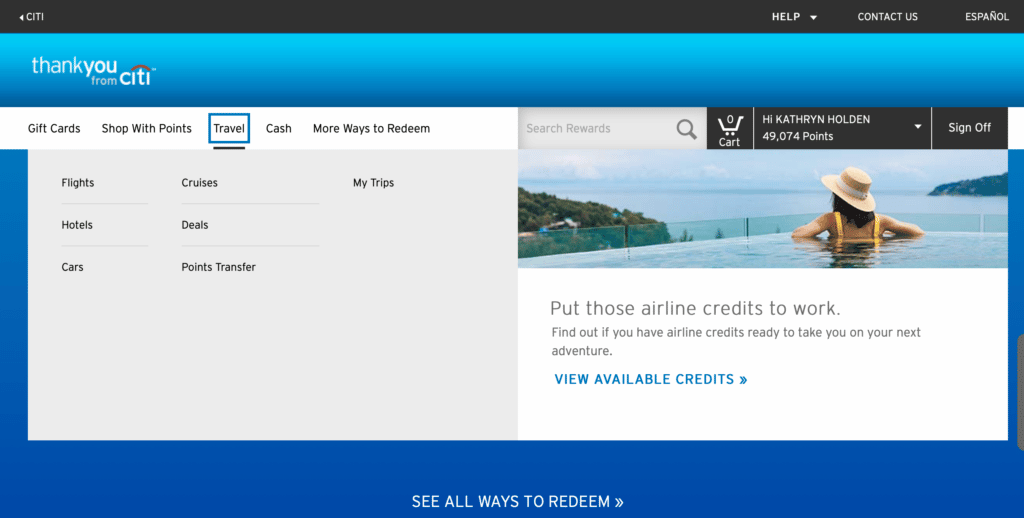 ---
Step 3: Scroll Down to Find Choice Privileges


---
Step 4: Confirm Account Details
Some people are reporting errors when trying to transfer points. If this happens to you, try transferring in 15,000 point increments.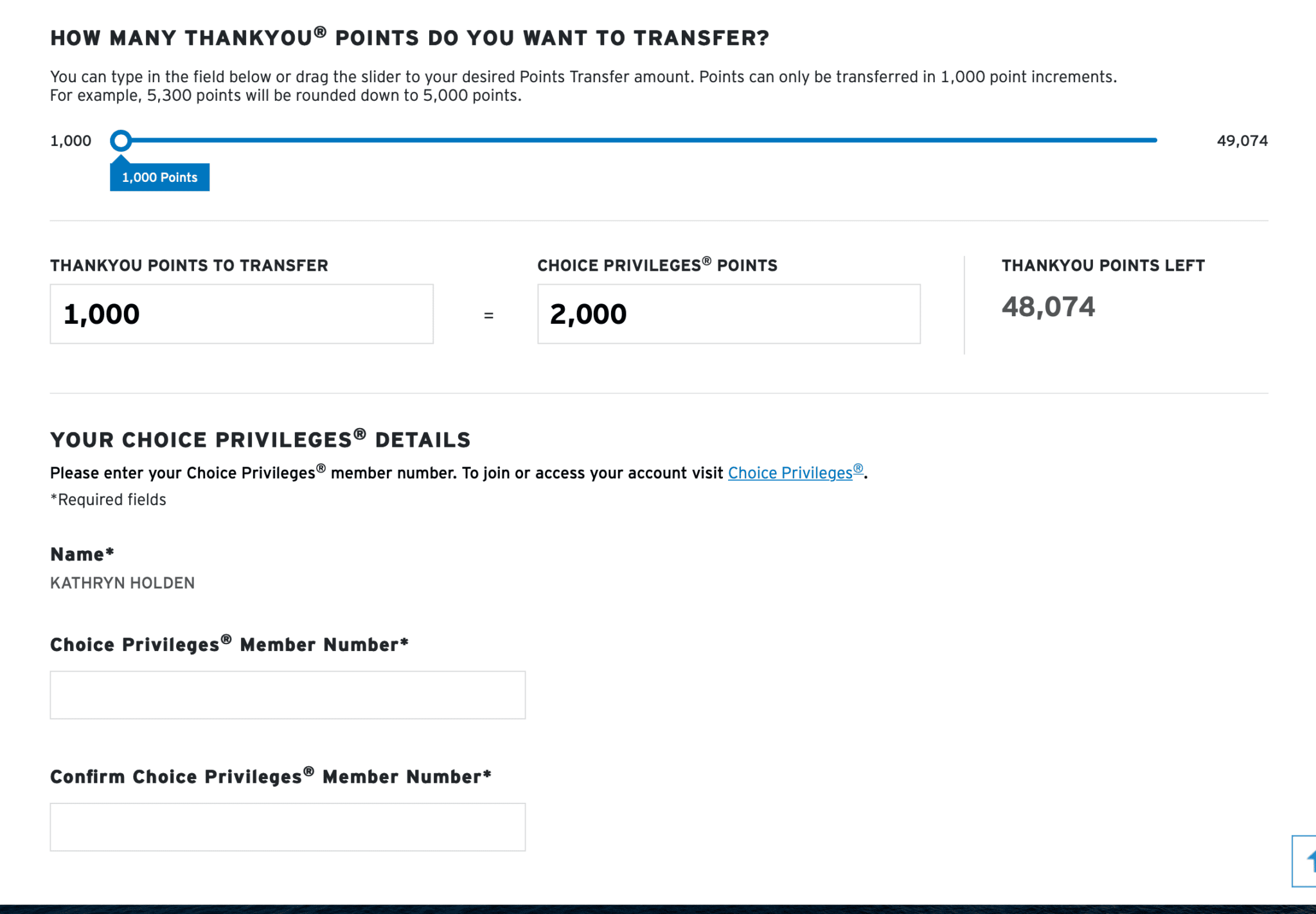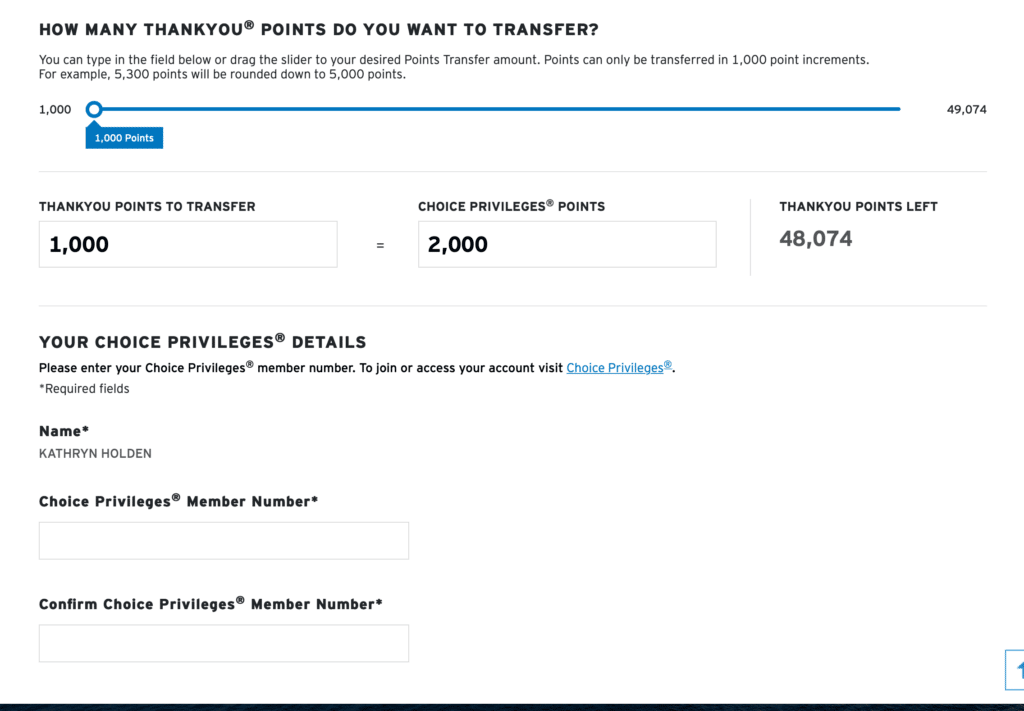 Other Transfer Options:
Transfer Capital One miles to Choice (1:1)
Capital One offers the option to transfer Capital One miles to Choice at a 1:1 ratio. A standard offer on this card is 60,000 miles after spending $3,000. For most families, using Capital One miles to transfer to Wyndham and book Vacasa rental homes might be a better option.
---
---
Transfer American Express Membership Rewards to Choice (1:1)
American Express offers a lot of cards that earn Membership Rewards which allow you to transfer to Choice. Strictly speaking, this might not be the best value you can get from your Membership Rewards points. If you are calculating your points used versus the actual cost of a redemption, business and first class flights will always come out ahead. But for families looking for larger suites, I think transferring to Choice can still make sense. We may do this with some of our Membership Rewards points.
---
---
Other Ways to Earn Choice Privileges Points
Earn with the Choice credit card from Barclay
The Choice credit card generally varies its sign up offer from 32,000 points to 64,000 points. It has no annual fee so you can plan to keep it long term. Sign up offers seem to raise in the summer. In summer and early fall of 2021, it had a 75,000 point offer. It is issued by Barclay, which generally won't approve you for more than 1 of their cards every 6 months.
Buy Choice Points
Generally I don't recommend buying points, but if you find a great redemption, sometimes it can make sense. Make sure to do the calculations to make sure you're getting a discount by buying points instead of paying cash. You can buy points on the Choice website.
Each fall, you can buy discounted Choice Points through the Daily Getaways Promotion from US Travel Association. This is generally the cheapest time each year to buy them.
Earn Bonus Points
Like many hotel programs, Choice offers you the opportunity to earn more points by making online purchases through its shopping portal or making purchases from partners.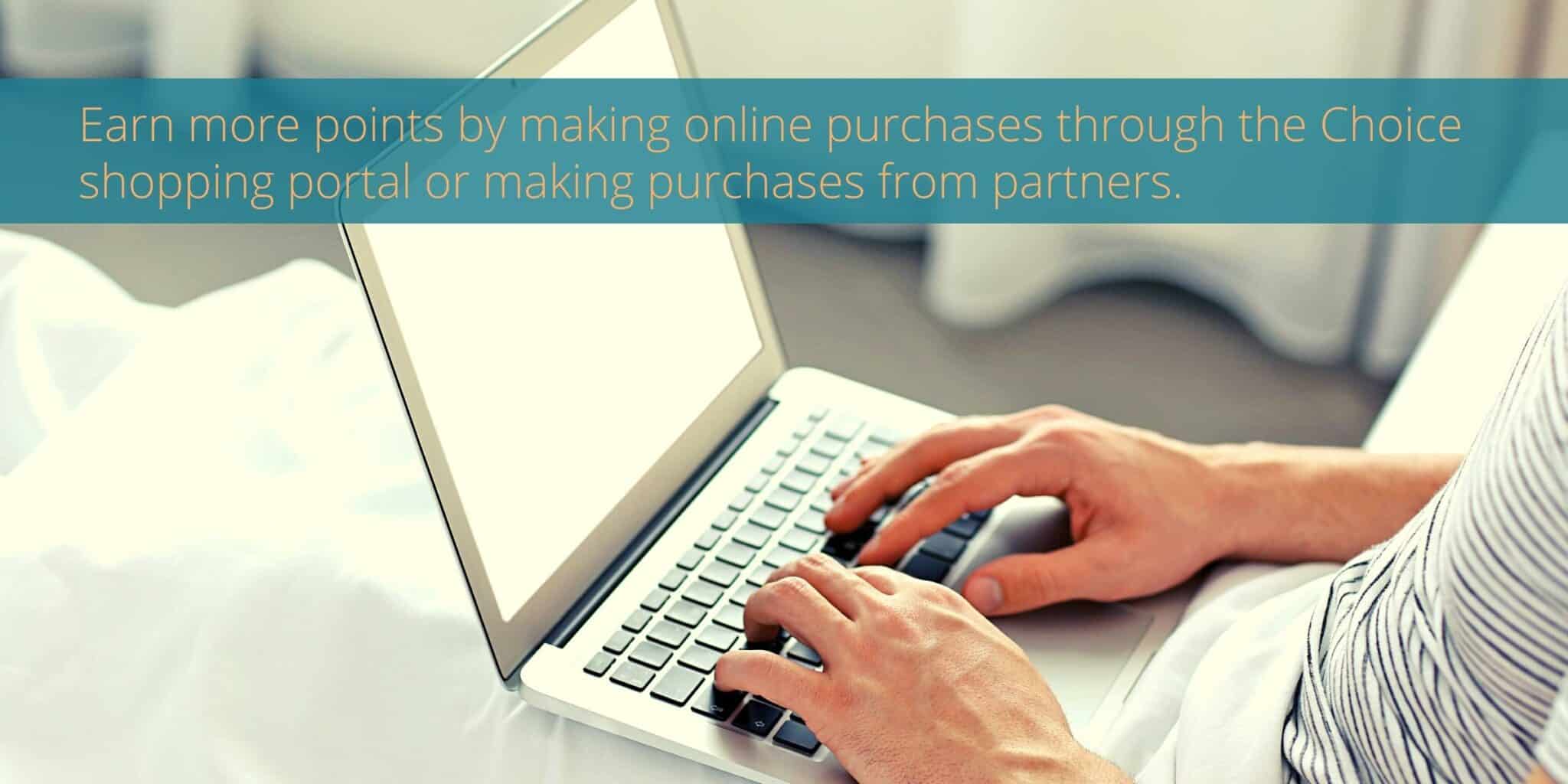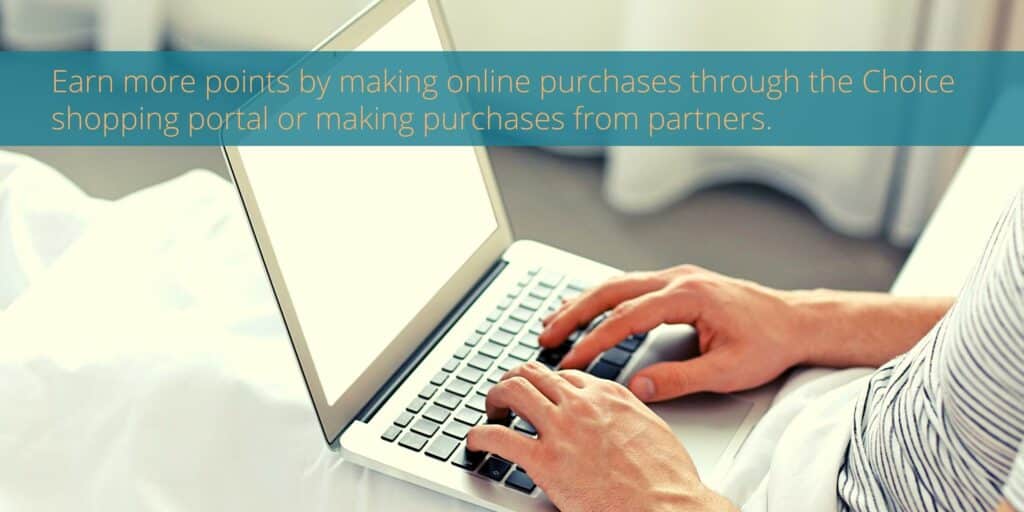 It offered 50,000 Choice points in fall 2020 for booking a $500 stay at an all-inclusive resort in Mexico — so be sure to check the Choice website for current promotions.
Choice often offers a 3-4 night stay at one of the Bluegreen Vacation properties for $199 plus a bonus of 20,000-60,000 Choice points. You will have to sit through a timeshare presentation and be prepared to say no! You can call Call 844-235-6813 to check for current offers.
Have you stayed at one of these properties or did you find one I missed? I'd love to hear about it in the comments! I will update the info under the property with reviews or tips.