Advertiser Disclosure – Katie's Travel Tricks is part of an affiliate sales network and receives compensation for sending traffic to partner sites, such as MileValue.com. This compensation may impact how and where links appear on this site. This site does not include all financial companies or all available financial offers. Terms apply to American Express benefits and offers. Enrollment may be required for select American Express benefits and offers. Visit americanexpress.com to learn more. For Capital One products listed on this page, some of the above benefits are provided by Visa® or Mastercard® and may vary by product. See the respective Guide to Benefits for details, as terms and exclusions apply
Update: this offer has now ended.
A limited time promo makes the Southwest Companion pass easy to earn with one credit card sign up bonus. Spend $4,000 within three months to earn a promotional Companion Pass that will get you BOGO travel through February 28, 2024.
What Is a Southwest Companion Pass?
A Southwest Companion Pass lets you name a person as your companion. Then they can fly with you anytime you fly and only pay about $5 in fees each way. (International Flights will have higher taxes). These BOGO flights last for as long as you hold a Southwest Companion Pass — there is no limit on number of flights!
You can also change your companion 3 times per year.
Traditionally, you need to earn 135,000 Rapid Rewards points in a calendar year to earn a Companion Pass. But for this promotion, you can earn a promotional pass with just one credit card offer.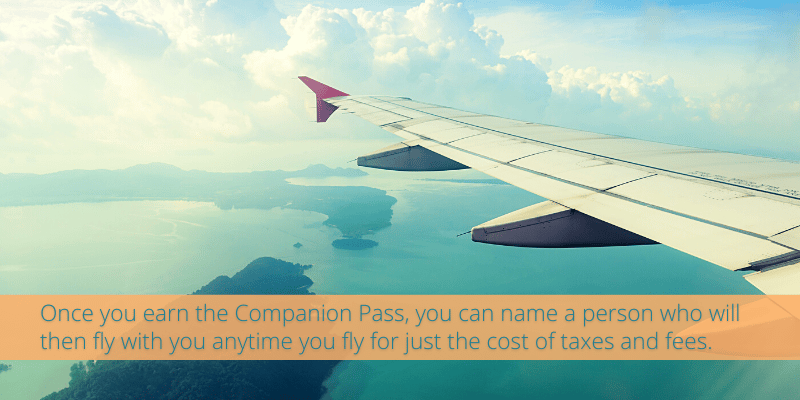 Since earning our first companion pass in 2015, we have exclusively traveled on Southwest for domestic flights. For much of that time, my husband and I EACH held a companion pass. That means both of our kids were flying domestically for $5 each!
Southwest Airlines' Companion Pass Promotion 2023
This current offer is valid through March 13, 2023.
Instead of earning 135,000 in a calendar year, you can earn a promotional pass with any of the Southwest personal credit card offers
With these offers, you will have to spend $4,000 in three months. You will then earn 30,000 bonus points as well as a promotional companion pass that is valid through February 28, 2024.
You can use that Companion Pass as many times as you want during that period. All travel has to take place before February 28, 2024.
Promo Q&As
Q: If I do this promo, will I have to wait until 2025 to get the Companion Pass again?
A: You can only get a bonus on a Southwest personal card every 24 months, so if you open a card for this promo you will not be able to open any Southwest personal card until 2025. However, you can use one of our other Companion Pass tricks (2 business cards or 1 business card with referral bonuses) to earn a Companion pass before 2025.
Q: What if I'm in the process of earning a Companion Pass?
A: It may be trickier if you need the previous 50,000 point offer to earn your Companion Pass through 2024. The end date on this promo is listed as March 13, 2023, so you can wait until then, or see if you can find a link to the old offer.
Q: Can you do this with a personal card this year and a business card next year?
A: This offer is only available for personal cards and will use up your one Southwest personal card every 24 months.
Q: How can I apply for this offer?
A: If you know someone with a Southwest card, they should be able to generate a referral link from Chase. If you don't know anyone with a referral link, we'd appreciate if you apply through one of our affiliate links found in this article.
Q: Is it better to do this offer than earn the regular Companion Pass?
A: Earning a Companion Pass using one of our tricks will get you more points and a Companion Pass for a longer period of time. But that doesn't mean this promo isn't a good offer for you!
Q: Can I use this promo + a business card to earn a Companion Pass through 2025?
A: Yes, but since you are getting less bonus points from the personal card (30k instead of 50k+), you will be about 6,000 points short after accounting for bonuses and spending. You will have until December 31, 2023 to earn those points, which you could get by spending, flying revenue flights, or referrals.
Eligibility Requirements for Rapid Rewards Credit Cards
Credit Score
To be eligible for the credit card bonuses you will have the best chance for approval if you have good or excellent credit.
Under 5/24
You also need to qualify under Chase's unofficial "5/24 rule" which means you need to have opened fewer than 5 credit cards (from any issuer) in the past 24 months.
Not a Current Cardmember of a Southwest Personal Card
You also won't be able to apply for these cards if you are a current cardmember who has a Southwest personal credit card. If you have been holding a Southwest personal card for more than 24 months, you can cancel it and reapply for this offer after waiting 14-21 days.
Have Not Earned a Bonus on a Southwest Card in 24 months
You are only allowed to earn a bonus on 1 personal Southwest card per 24 months. If you earned a bonus more than 24 months ago, you can apply.
Here are all your card options. If you're interested in applying for one of these cards, please use my affiliate links as it helps support my site and doesn't cost you anything!
Southwest Credit Card Benefits Compared
I think the Priority Card offers the best value by far, even though it has the highest annual fee. The $149 annual fee effectively drops to $74 after the $75 annual statement credit. The statement credit is extremely easy to redeem, you can even buy $75 of Southwest Giftcards on their website each year and the credit comes off on my statement automatically. You could also use it for taxes and fees or in-flight food and beverages.
The Southwest Rapid Rewards® Priority Credit Card card also offers 4 upgraded boardings (instead of the 2 early bird check ins) and more points on your card anniversary.
Other ways to earn Rapid Rewards Points
Refer a friend (or spouse) to any Southwest Credit card if you already have one
Referral bonuses are usually 20,000 points per referral. If you have any Southwest credit card, you can generate a personalized link that will allow you to refer a friend to any of the Southwest cards.
Sometimes Chase will release a lower offer through the referral page.
If you refer a friend to a Southwest credit card in December after your December statement is closed, this referral will post to your account in January and will count for your next year's companion pass earning. This is a great way to get a boost on your earning.
Earn points by clicking through the links from a wide variety of online shopping options
Note: bonuses sometimes allow you to earn as much as 3500 bonus points after spending certain amounts — but technically these bonus points won't count towards the Companion Pass. Just the base points on your portal purchases. In practice, though, sometimes these bonus points often count towards your companion pass.
Earn points per dollar you spend on Southwesthotels.com – and bonus points of up to 10,000 per night!
Southwest partners with Booking.com for this and guarantees the best rates
Register any credit or debit card to earn points when you dine at participating restaurants.
Technically only the base points you earn count towards the companion pass, not any bonus promotions — but in practice the bonus promotions seem to count as well.
Earn points for flights you take and pay cash for on Southwest
Depending on which card you have, you will earn 2x-4x points on any Southwest flight you've purchased, in additional to the points you get for your actual flight.
Hotel stays booked through Rocketmiles can earn up to 10,000 Rapid Rewards points per night
Car rentals booked through the Southwest partner site can earn points per booking
Check the Southwest site for all the current deals!
Quarterly bonus points from Chase
Every quarter, Chase targets some cardholders for bonus spend opportunities. Sometimes it is as simple as earn 5x on all spend. Or it might be spend $1,000 and earn 3000 points.
Check your cards here: https://www.chase.com/mybonus to see if they qualify every quarter!
Other Ways to Earn a Southwest Companion Pass
The traditional trick to earn a Southwest Companion Pass involves opening one business and one personal Southwest credit card. You'll earn more points and have the Companion Pass for longer if you earn it the traditional way. You can read more in my detailed guide. This promotional pass is a great option for people who don't have a side hustle or small business.
When you have earned the Companion Pass, you will receive an email from Southwest congratulating you on earning it.
How to use Southwest Companion Pass: Designating your Companion
Once you earn a Companion Pass, you will receive an email from Southwest will invite you to designate your companion. When you log into your account, you should also be prompted to designate a person.
Keep in mind, you can change your companion 3 times in a calendar year, so you do have some flexibility. But after the 3rd change, your companion will be locked onto that person.
After designating your companion, you will also receive a physical card in the mail that says "Companion Pass" with your companion's name. We have always just stuck this in a drawer and never looked at it again. We've never needed it.
How to Book with Southwest Companion Pass
If you already have a flight booked, you can now add your companion to it. You can always do this over the phone if you want to. Or generally it can be done online. Log into your account and find your booking. You should see a link to "Add Companion" to your reservation. The reservation screen is very similar to booking a regular ticket.
You always have to book your flight and then add your companion separately. You can use your Rapid Rewards points to book more than one ticket. So if you are a family of 4 with one companion pass, you can book 3 tickets together from one Rapid Rewards account and then add the companion. You and your companion will also always have separate reservation numbers so it is an extra step on check-in. You will need to check in separately.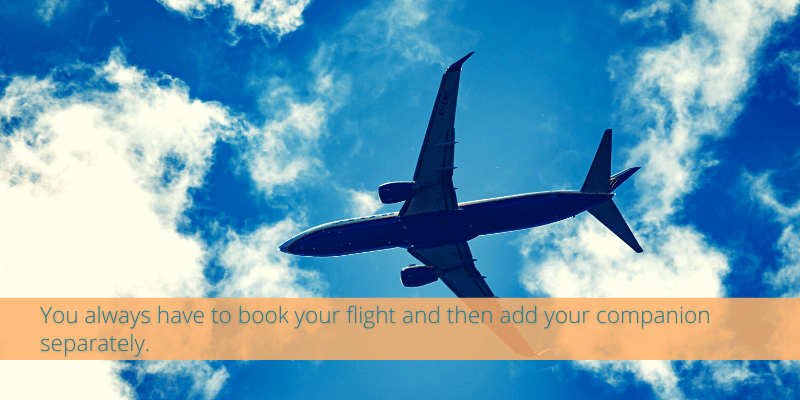 We love that Southwest doesn't charge change fees and will just deposit your miles back into your account as long as you cancel at least 10 minutes before your flight leaves!
Occasionally we have run into problems with adding a companion to our reservation. Sometimes with International itineraries you need to call in to add a companion. You will also pay additional taxes when flying internationally. Sometimes because we have 2 companion passes, we need to call in to add the 2nd companion because the screens error out and tell us we already have added a companion to the reservation. Sometimes if we want to change a reservation and have already added our companion to the reservation, we need to call in to do so. Southwest customer service is always helpful and friendly so really, don't be afraid to call and ask for help!
What other questions do you have about the Companion Pass? Do you need help with the Southwest Companion Pass Trick? I'd love to help you get some two-for-one tickets!
Editorial Disclosure – Opinions expressed here are author's alone, not those of any bank, credit card issuer, hotel, airline, or other entity. This content has not been reviewed, approved or otherwise endorsed by any of the entities included within the post.