Universal Discount Tickets, How to Save Money on Food, and More!
Planning a trip to Universal Orlando but worried about the cost? Don't worry, we've got you covered! In this post, we will share 30 ways to save money at Universal Orlando, including tips for getting discount tickets and saving on hotels, plane tickets, rental cars, and food. Universal Orlando is a fantastic destination for anyone who loves movies, theme parks, and family fun, but it can be expensive. By following our tips, you can enjoy everything the resort has to offer without breaking the bank. From using credit card points to staying at off-site hotels to taking advantage of unique promos, there are plenty of ways to save money without sacrificing fun. So, let's dive in and explore how you can make the most of your Universal Orlando vacation on a budget!
Save on Tickets
1. Buy tickets in advance
This is a must because it saves you time and money. Prices at the gate are higher and you'll have to wait in an extra line. Buy in advance!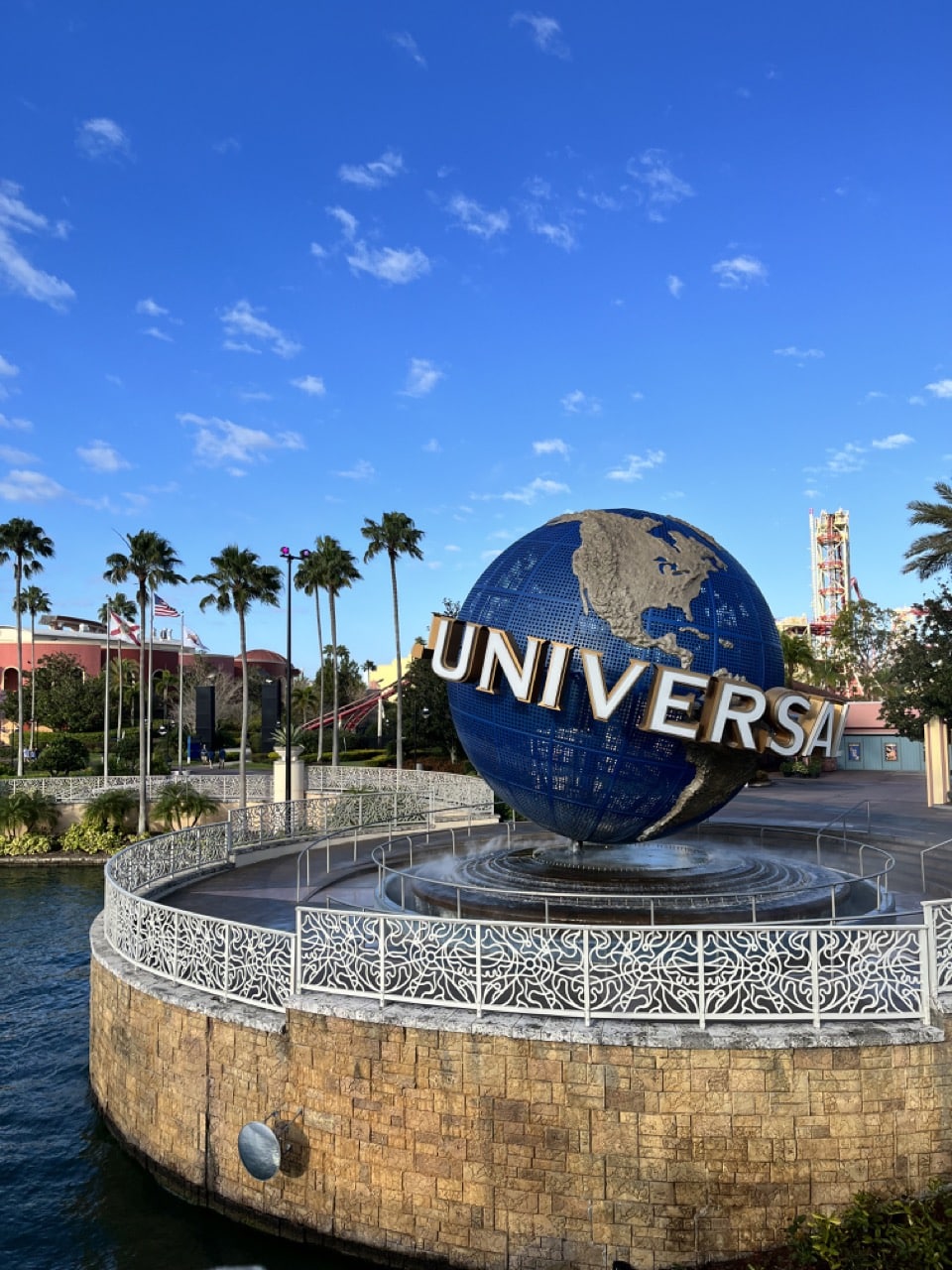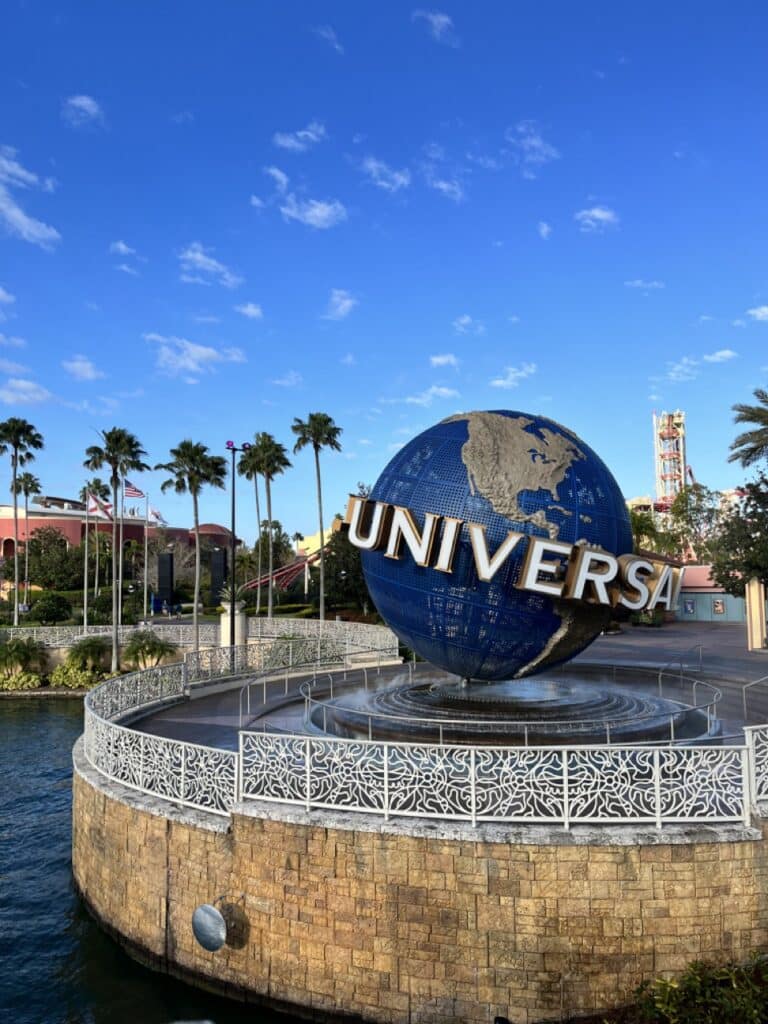 2. Look for ticket promotions
Universal offers different promotions throughout the year. We've seen offers like buy one day, get one free, buy two days get two days free, or buy three days get two free. These offers are available on the Universal website but also on third party sellers like Undercover Tourist and AAA.
3. Go with someone who is a Florida resident
Florida residents get special lower prices at Universal. While adults have to show an ID to get Florida resident pricing, kids do not. That means if you're going with a grandparent who lives in Florida, they can buy Florida resident tickets for grandkids. All adults will have to buy non-resident tickets unless they have a Florida ID.
4. Compare prices from sites like Undercover Tourist, Costco, and AAA
The dates we went, AAA was by far the cheapest tickets we could find. If you have T-mobile, you can even get a free AAA membership. If you don't, check Undercover Tourist and Costco — both were cheaper than buying direct from Universal. 
5. Use credit card points to cover your tickets
Getting a new credit card with a good sign up bonus can easily pay for a chunk of your Universal tickets. If you were to open a Capital One Venture or Venture X card, for instance, you need to spend $4,000 in 3 months to earn a bonus of 75,000 miles You'll also have an additional 8000 points from doing that spending. That will give you 84,000 miles worth $840 off your tickets. Just make sure you book through a site like Undercover Tourist so the purchase is coded as a "travel" purchase. Both of these cards will also give you a free credit for TSA Precheck — which I guarantee you want to have at the Orlando Airport.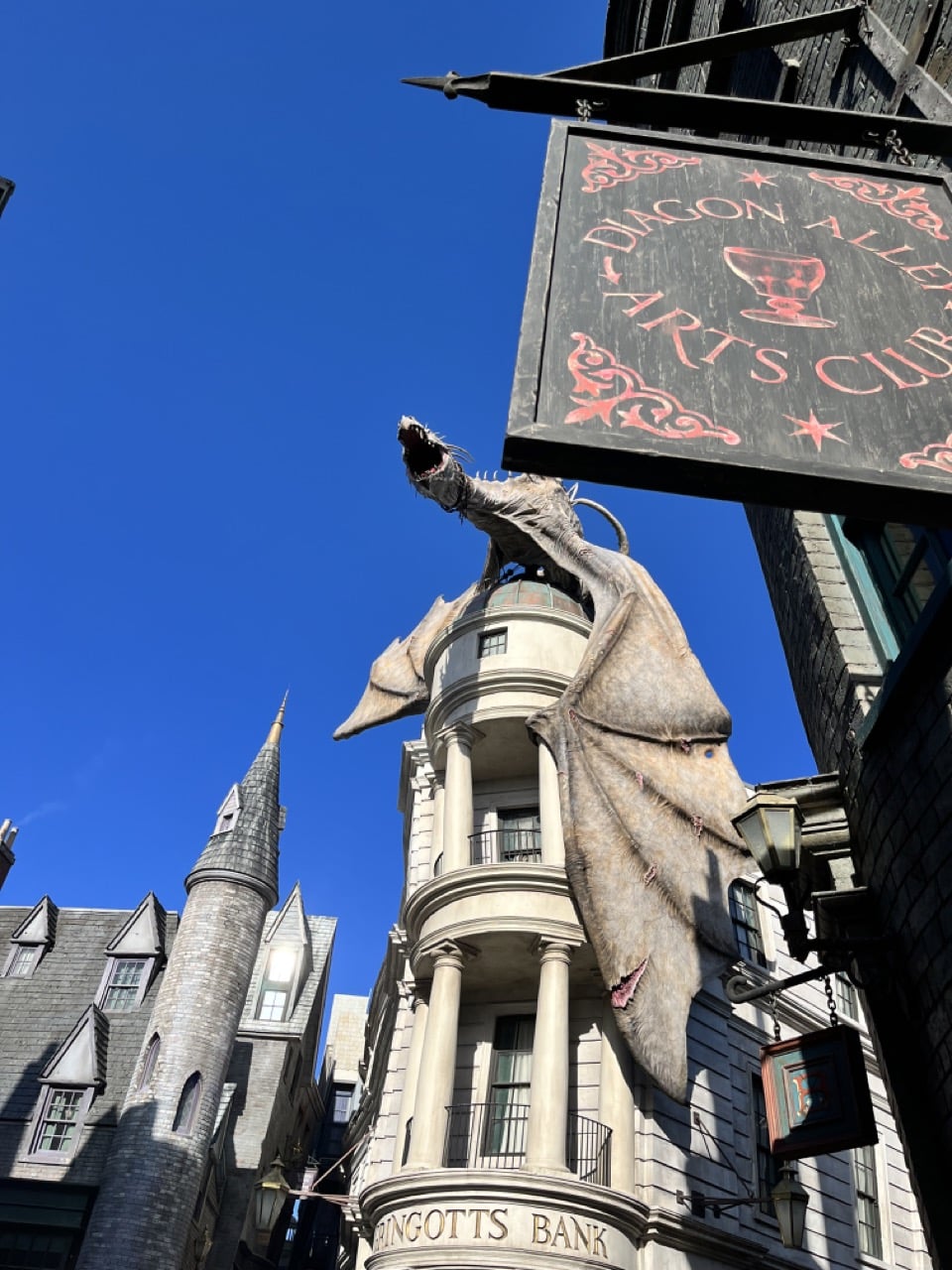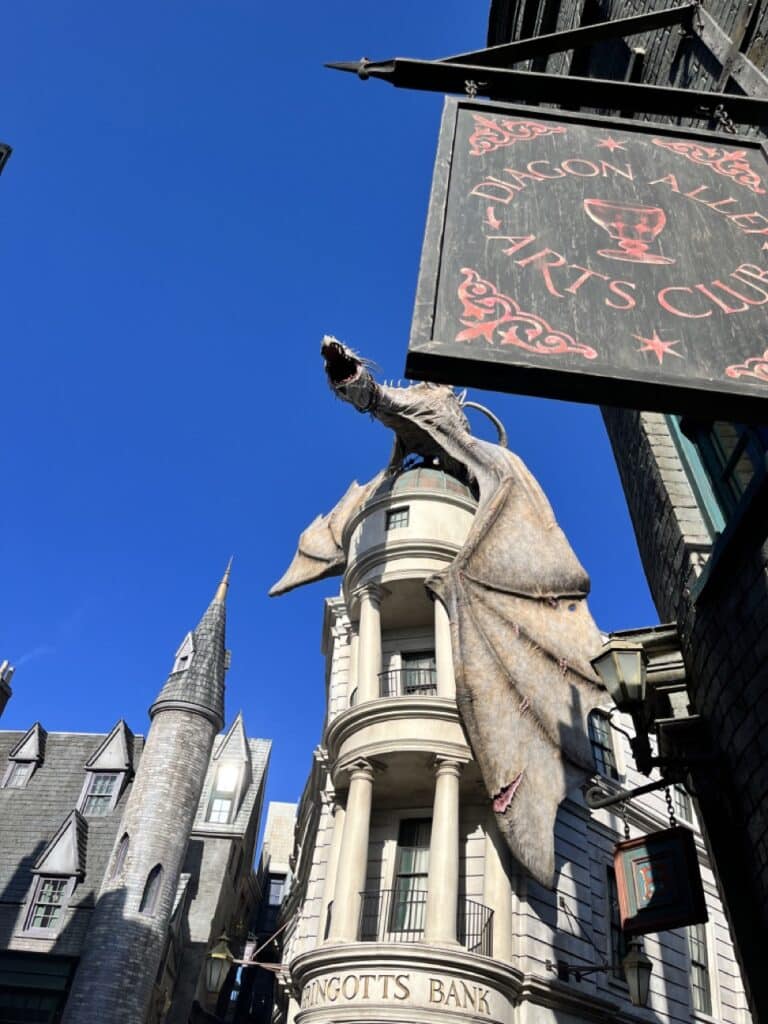 6. Consider season passes
If you're going for 4 days, you should consider season passes. We found cheaper prices for season passes on AAA than direct on Universal. This allows you to come back at a slightly higher cost and possibly enjoy a whole other vacation. Certain levels of the annual pass will also give you free parking or 10% off purchases.
7. Stay one night at an onsite hotel for two days of Express Passes
Paying for Express Passes basically never makes sense if you're a family. That's because for a family of 4, they will typically cost $300+ per day. If you stay at Loews Portofino Bay, Hard Rock Hotel Orlando, or Loews Royal Pacific Resort, you get free Express Passes for everyone in your room on the day of check in and check out. These hotels often cost $350-$400 per night but when you factor in the Express Passes included, it is a great deal. You'll also get into the park an hour early allowing you to beat the crowds even more. Read more on how to save on stays at these hotels.
Save on Hotels
8. Use credit card points
This is my favorite strategy because it is possible to zero out the hotel portion of your trip by doing this. There are a number of credit card bonus offers that will allow you to stay 4-7 nights in Orlando with points! See my post on the 16 best hotels to book on points near Universal for more details.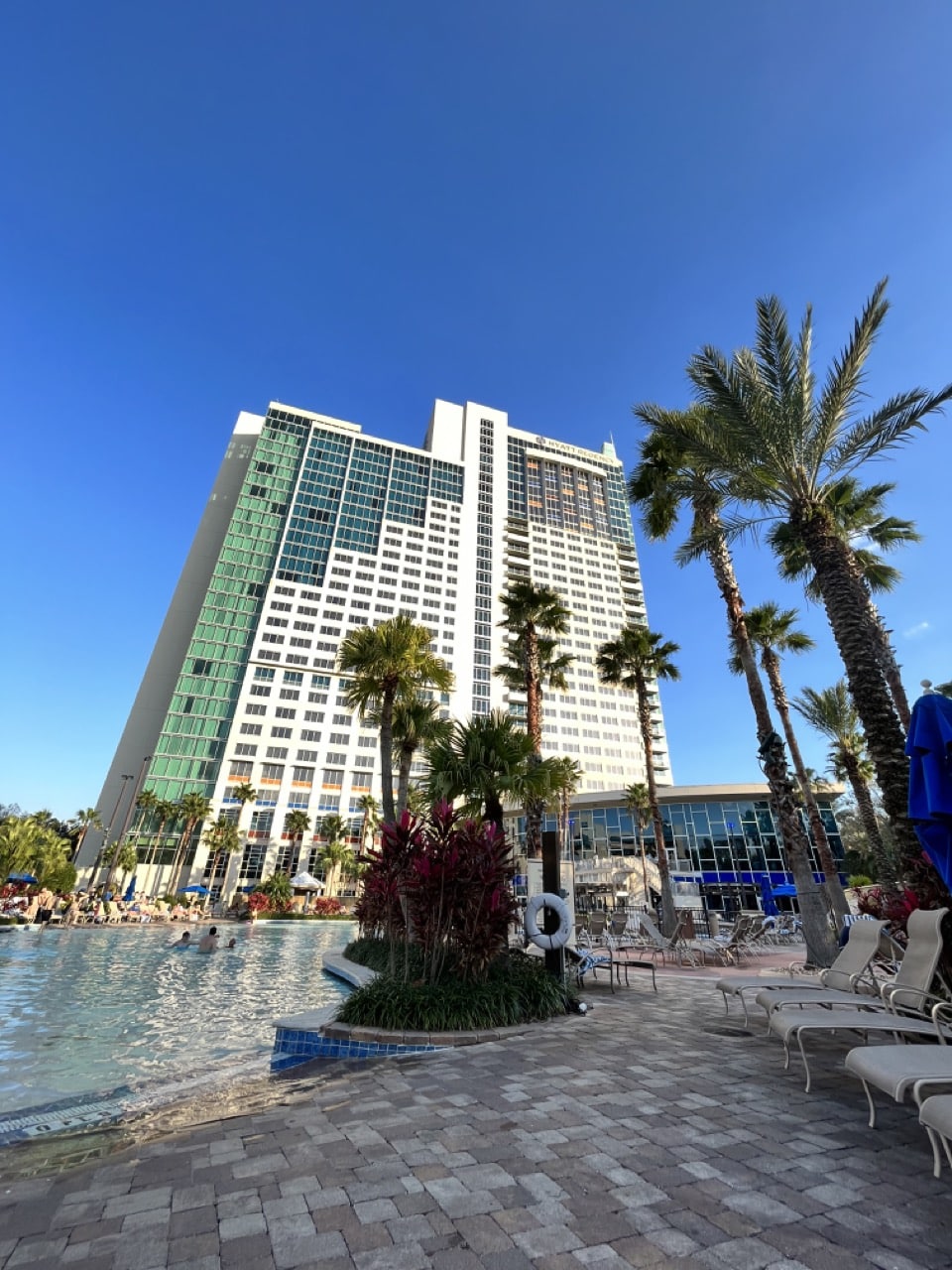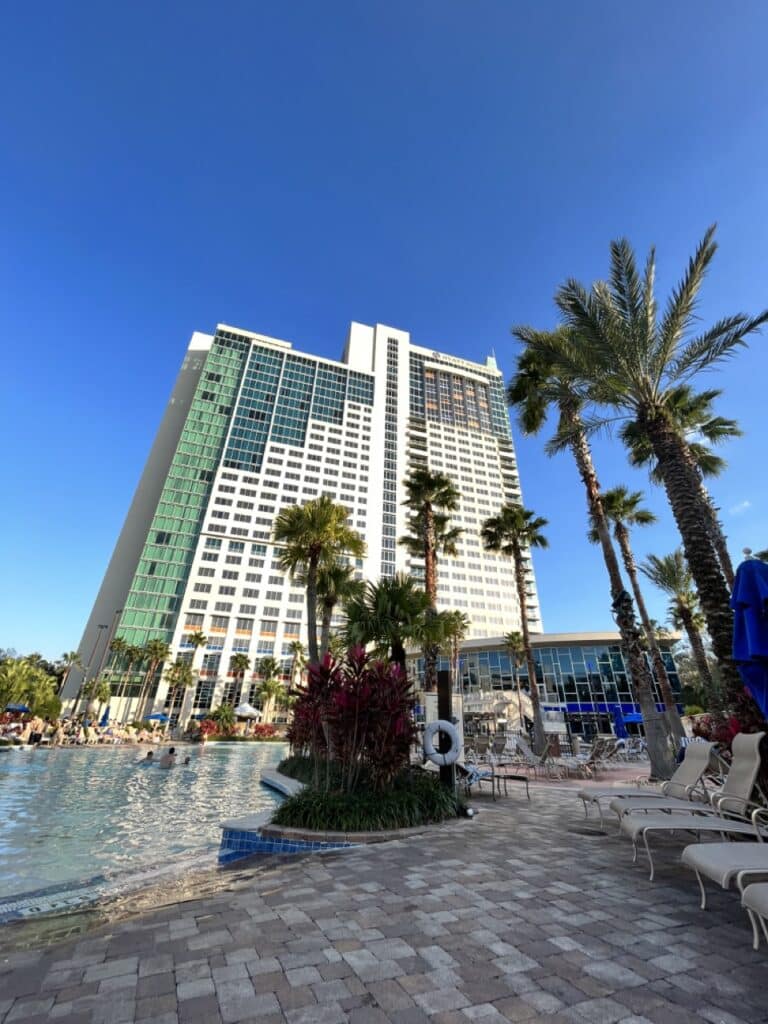 9. Book through Rocketmiles to earn points on your stay
If you can't use points to book your hotel stay, you may as well earn more from it! Check Rocketmiles for hotels. I recently saw a hotel that cost $182 but gave 11,000 Southwest Rapid Rewards for a one night stay. That's worth $165+ of flights!
10. Get a discounted room by attending a timeshare presentation
This takes fortitude because you'll have to go into the presentation 100% prepared to say no. If you can do that, you can get some great hotel deals. Check out sites like Club Wyndham, Hilton Grand Vacations, IHG Club Vacations. If you're interested in booking, call in and ask if they have any better promotions. When we booked a timeshare presentation, the longer I debated signing up, the better offer I got. A few tips for the presentation: set a timer and politely leave when your time is up and bring your kids — hard to go over the time when whining kids are there!
11. Check for package deals
Check Costco, Undercover Tourist, and AAA for package deals that include lodging and tickets.
Save on Flights
12. Use credit cards points to book flights
The kind of points that make sense for you may depend on your home airport and airline of choice. Create your own plan by taking our free travel hacking course!
13. Get BOGO tickets with a Southwest Companion Pass
This is our personal favorite strategy because we love Southwest! Check out our full write up on how to earn a Companion Pass for BOGO travel for almost two years.
14. Check Google Flights to find the cheapest dates to fly
Flexibility can help save you a lot of money when it comes to booking flights. Use flexible dates on Google flights to search a lot of airlines at once. Sometimes moving your trip by just a day or two can result in huge savings.
Save on Food
15. Book a hotel that includes free breakfast
Some of our favorite hotel chains that include free breakfast include Hyatt Place, Hyatt House, Holiday Inn Express, Residence Inn, and Embassy Suites. These often have bigger rooms that sleep up to six, too.
16. Book a hotel that has a club lounge with free dinner
We stayed at the Hyatt Regency Orlando and loved the Regency Club which meant free dinner for our family. Officially it is appetizers and dessert but it was enough for us.
17. Buy the kids meals at Universal — even for adults
Kids meals at Three Broomsticks and the Leaky Cauldron cost $7.50 and were decent sized portions. We thought it was enough for adults, too. When my husband and son ate in Jurassic Park they didn't see a Kids Menu and just asked for one. They got a burger and fries for $7.50 which were only slightly smaller than the $15 adult burger and fries.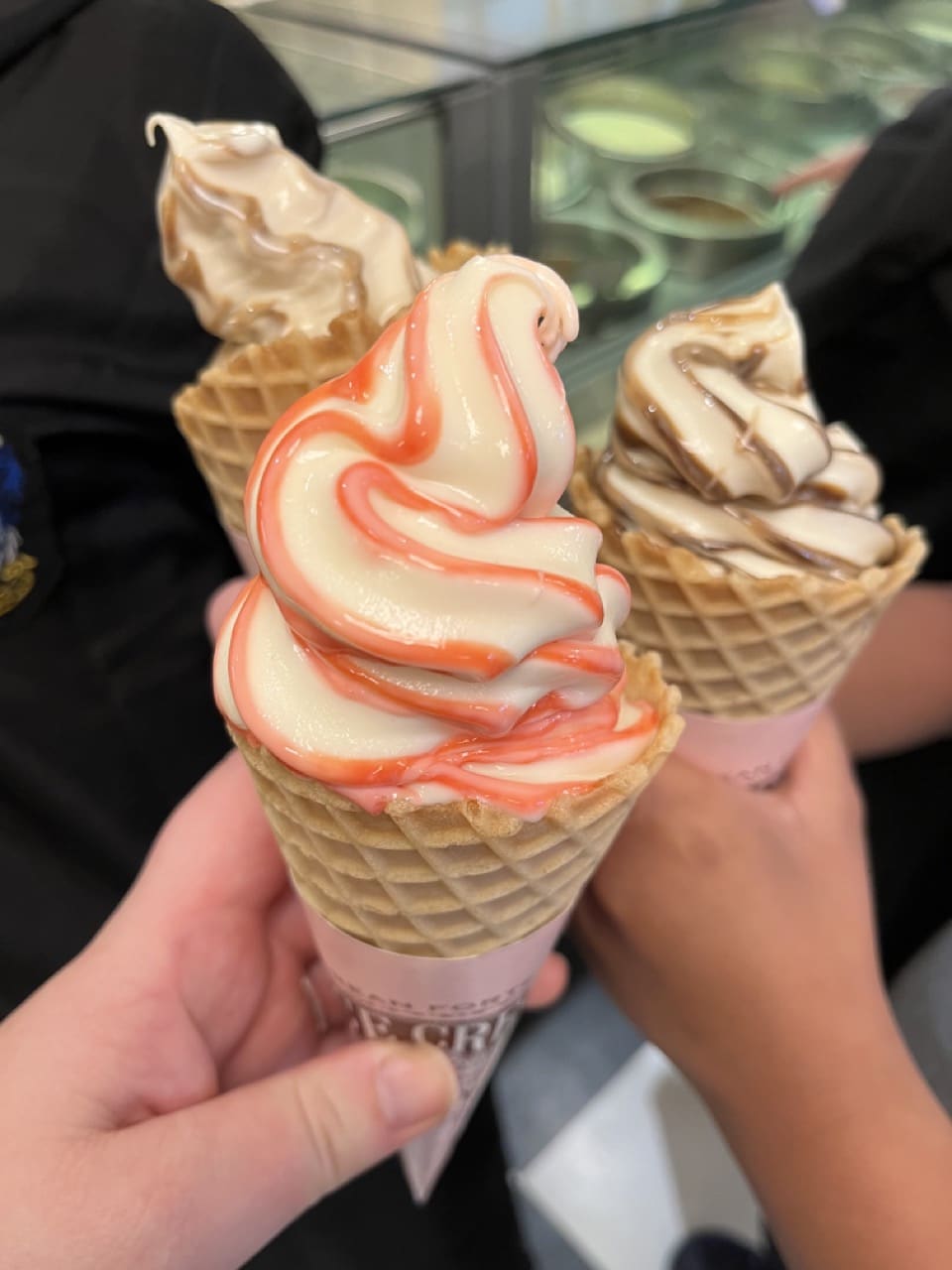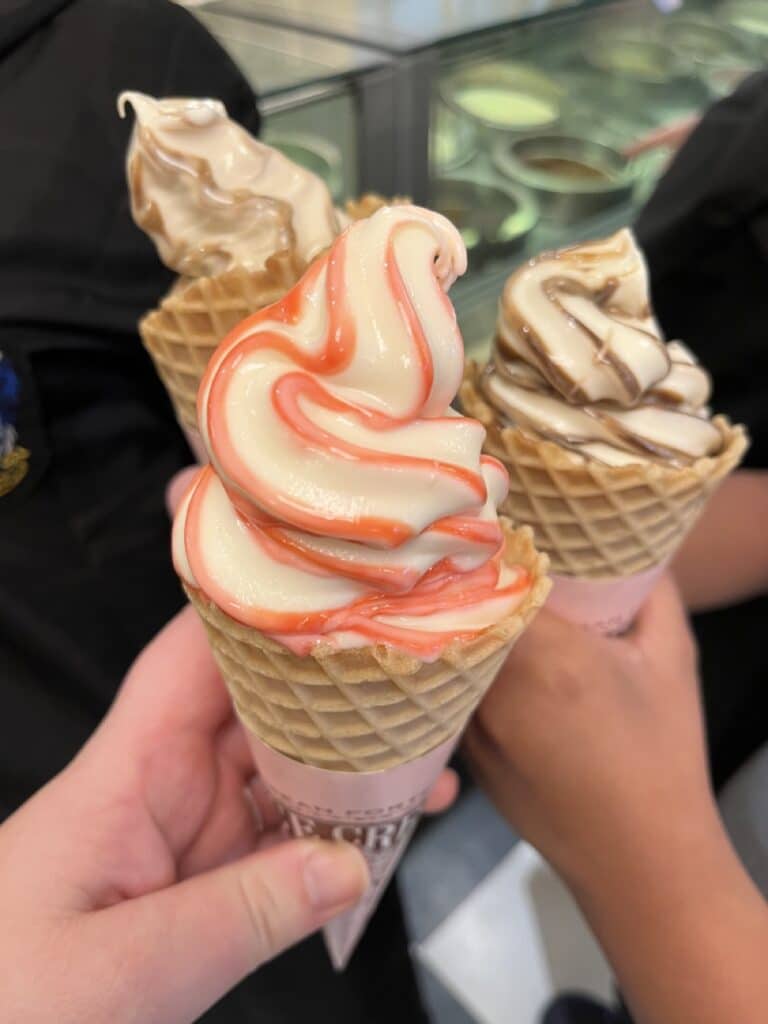 18. Get grocery delivery to your hotel
You can get delivery for sandwich items for easy lunch or microwavable dinners. Most hotels will either deliver a microwave to your room or have one available in a common area. If you have a card from Chase, you probably get a free $10 GoPuff credit on each card per month. Or if you have a Chase Sapphire Preferred, you get a $15 Instacart credit each quarter.
19. Ask for AAA discounts in the park
If you have a AAA membership, ask for a discount at restaurants throughout the park. Officially it is available at "select" restaurants. When we visited, none of the restaurants in the Harry Potter areas accepted this discount.
Save on Transportation
20. Park for free at Universal after 6pm
To maximize time at the park, you'll probably arrive early. But if you want to drive there in the evening, you can park for free after 6pm (except certain concert nights).
21. Stay at a hotel with a free Universal shuttle
Many hotels near Universal offer free shuttles to and from the parks. You may need to reserve your spot in advance.
22. Start your rental car search at AutoSlash.com
We always start the search for our rental car at autoslash.com which compares all the best prices for you — including membership sites like Costco.
23. Check the price of adding a car rental if you buy tickets through Undercover Tourist
Undercover Tourist often offers car rental discounts when you book tickets through them. The discounts are sometimes significant and sometimes not. Occasionally you can even get these discounts by simply purchasing a movie ticket through Undercover Tourist.
24. If booking Uber: link your Marriott account to earn free points
If you're paying for Uber, earn some extra points! Linking your Marriott and Uber accounts is free.
Save on Souvenirs
25. Buy robes in advance
Official robes at Universal Orlando cost over $100. Our kids were happy with these knock-offs that we bought on eBay. They even come with a Hogwarts acceptance letter and tie. And they have a wand pocket.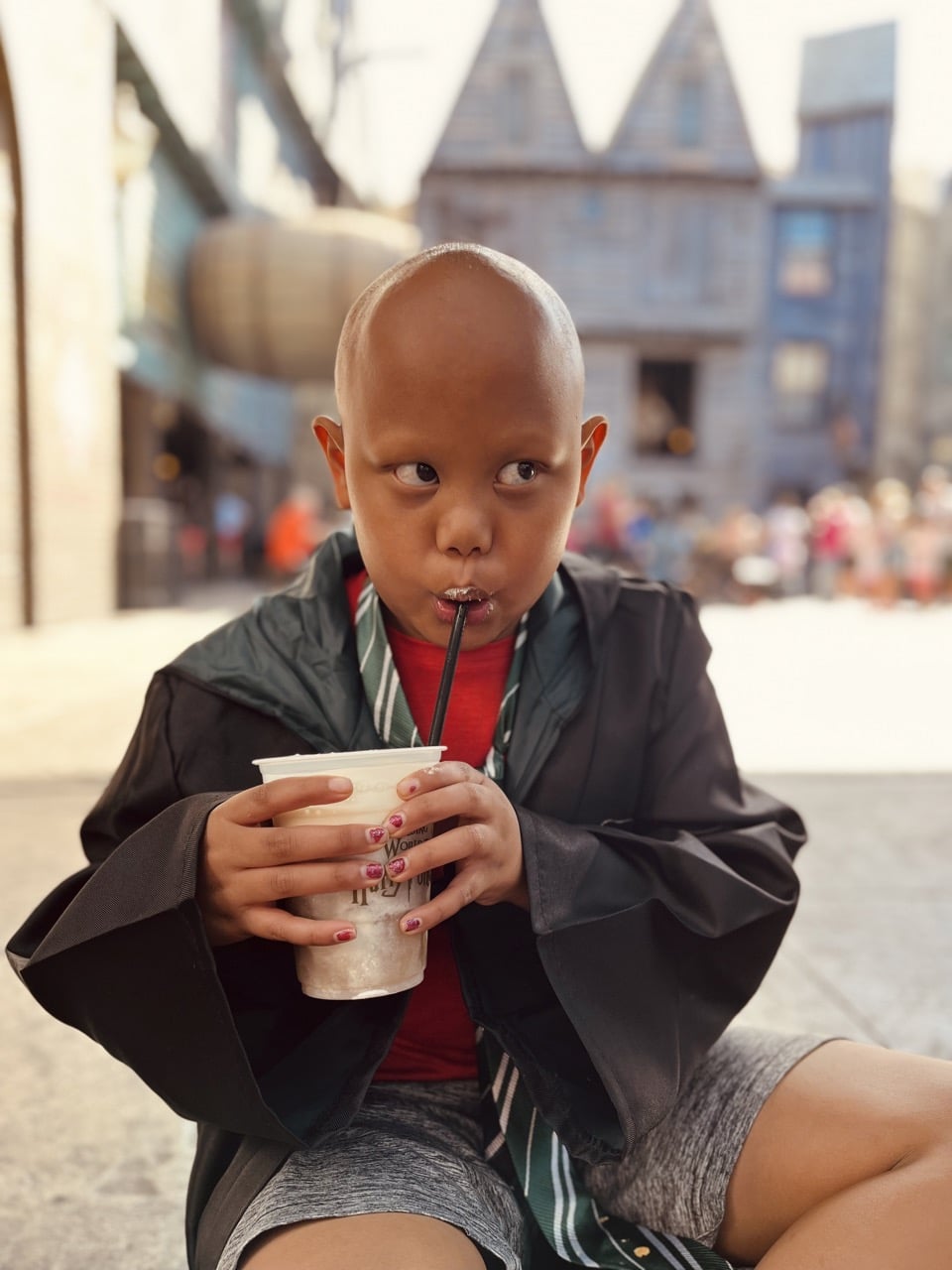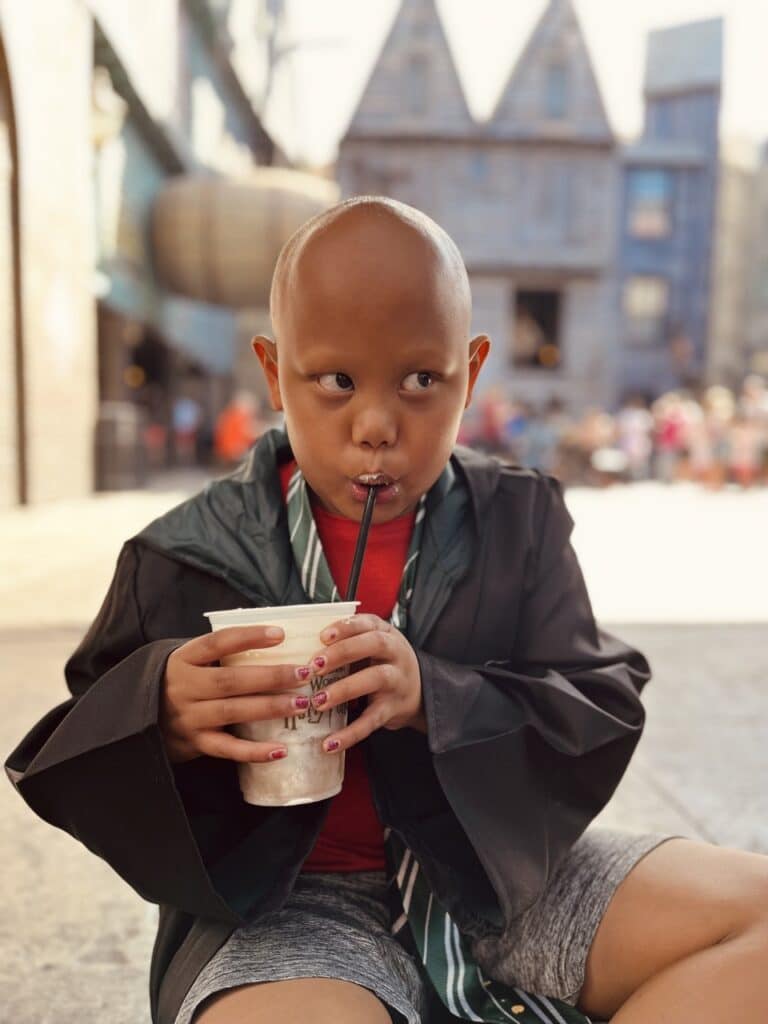 26. Buy t-shirts in advance
T-shirts at the park start at $30 and up. You can buy them in advance on Amazon or eBay.
27. Buy interactive wands used on Facebook marketplace, eBay, or OfferUp
The interactive wands at Universal have RFID chips that interact with different things throughout Diagon Alley and Hogsmede. It really brings the magic to life! If you don't want to pay full price ($63) at Universal, buy a used one. Just make sure it is an interactive wand. Even if the RFID sensor is scratched, they will repair them for free at Ollivander's Shop in Diagon Alley. You could even resell the wands after your trip if you don't want to keep them!
28. Look for promos in the park
When we visited there was a promo where you could buy a $300 merchandise card and receive a free $55 non-interactive wand. Don't want the wand? Sell it on eBay to help offset your other souvenirs!
29. Buy Souvenirs at Warner Bros Studio in England instead
A joke, yes. But it is true (at least while the dollar is strong) that souvenirs are cheaper at the Warner Bros. Studio in England. We went just a few months before we went to Universal and were surprised at the price differences!
30. Ask for discounts in the park
If you're a AAA member, you can ask for discounts at shops. We were unsuccessful, but worth asking!