Many people pay utilities, property taxes, and other bills through a check or ACH to avoid paying credit card fees. If that's you, did you know you may be able to pay these bills with no credit card fees using PayPal Bill Pay? This service is especially valuable if you are trying to hit a minimum spend, or just put more expenses on your card to earn more points towards free travel.
What is PayPal Bill Pay?
Just about everyone has heard of PayPal. PalPal has been around for almost 25 years and is pretty ubiquitous in the payment world. It facilitates the exchange of money between parties through online money transfers.
PayPal makes its money through fees, including credit card fees. Typically, PayPal charges 2.9% of the charged amount plus a fixed $0.30 fee to process credit card transfers. However, there is an exception to this fee.
PayPal Bill Pay is a bill pay service offered through the PayPal platform that allows credit card payments to many billers (including utility companies, property tax entities, HOAs, etc) without an associated fee.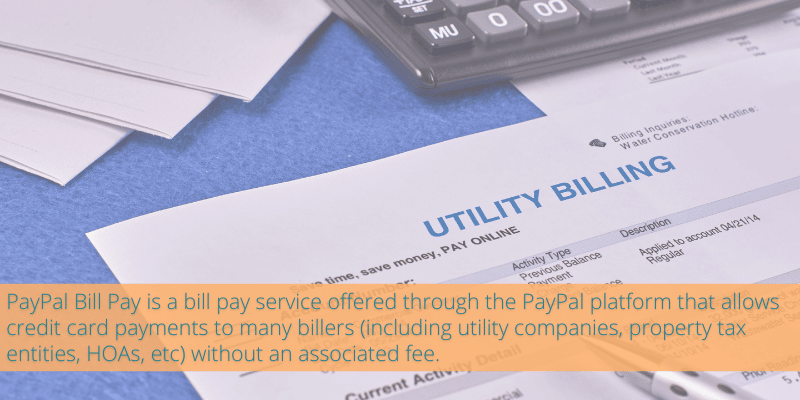 Why use PayPal BillPay?
Many biller's charge a fee for credit card payments. For example, if we pay our utilities directly, our gas company charges a flat $1.50 fee for credit card payments, our water company charges a flat $3.95 for credit card payment, and our property tax district charges 2.19% for credit card payments.
Paying fees may be worth it if you are trying to earn a sign up bonus. But for a large payment, like your property taxes, or something you want to charge monthly and earn points for, like utility bills, it's nice to have a fee-free option.
In some, but not all, cases PayPal Bill Pay gives customers a fee-free option for making these types of payments. Note that using PayPal Bill Pay is NOT the same thing as checking out through a website and using the PayPal option. In order to use PayPal Bill Pay, you must go directly through the PayPal website or app.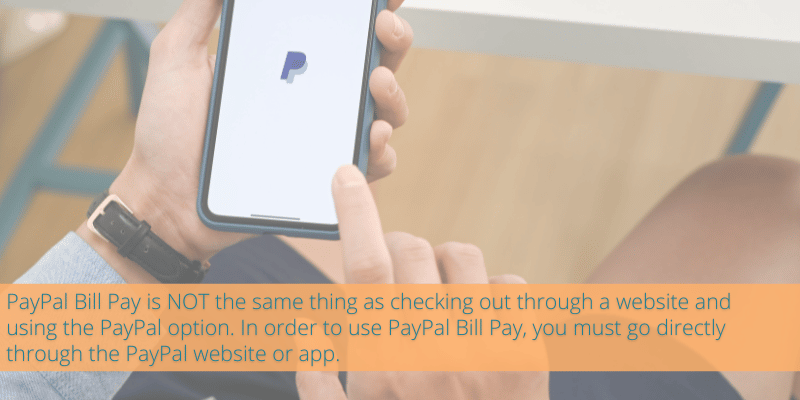 What companies allow PayPal Bill Pay payments?
There are thousands of companies on Bill Pay that make credit card payments more accessible. These include, but are not limited to, utility companies, phone companies, insurance companies, property tax entities, and HOAs.
PayPal Bill Pay also facilitates mortgage, loan, and credit card payments. However, you will not be able to pay off debt with a credit card.
How to pay bills using PayPal Bill Pay
In order to use PayPal Bill Pay you MUST find your biller in PayPal's system. If you don't find your biller, you will not be able to use Bill Pay to pay your bill.
Here's a step-by-step of how to find out if your biller is in Bill Pay and, if so, how to pay that bill fee-free!
1. Locate the "Pay bills" option
If this is your first time using Bill Pay, it's a bit buried in both the app and the website. You will probably need to click the three dots to find the "Pay bills" icon. After you've used it, it will automatically show up as an option on your dashboard.
2. Add a New Bill to PayPal Bill Pay
To add a new biller, click the "Add a New Bill" option and search by name or browse by bill category. If you are able to find the company you are looking for – yay! Proceed to the next step(s).
3. Enter and confirm your account number
Most of the time, this will be the account number on your bill. If you are paying property taxes, this may be your parcel number. If you're not sure what number to use, contact the biller to confirm.
Look up your statement balance
PayPal will not know how much you owe on your bill. You will need to check your statement to ensure that you are paying the amount owed.
5. Enter your payment amount in PayPal Bill Pay
After confirming how much you want to pay, click the "Pay" button. On the next screen, you will enter your payment amount.
6. Enter your payment details and submit payment to PayPal Bill Pay
You will have the option of paying with any of your PayPal linked accounts, or adding a new payment option. Follow the steps to add your credit card and submit your payment.
In some cases, when you get to the payment page, there will not be a credit card option. If this is the case, the biller is not currently accepting credit card payments through PayPal Bill Pay.
7. Monitor your bank and biller accounts
If the payment goes through, you will see it as pending on your credit card statement. It will show up as "PAYPAL *(BILLER NAME)". It can take several days for the payment to be reflected on your biller statement.
Tips for using PayPal Bill Pay
-Start with a small test amount ($1) the first time you set up a new bill to ensure that everything goes through correctly. After the test amount shows up in your biller account, you can go through the process again and pay the balance.
-Pay early. It can take several days for your payment to hit your biller, so I would suggest submitting your payment through PayPal at least one week before its due date.
-Zero out your PayPal balance so that PayPal does not draw this down first.
-Some people have reported PayPal reverting to stored payment methods. You may want to delete any linked bank accounts or other payment methods to ensure that the payment goes through on the correct card.
-You will not be able to set up automatic payments through PayPal Bill Pay.