Are you ready to hit the refresh button on your credit cards this spring? Whether you're looking to pay down debt, maximize rewards, or simplify your finances, it's the perfect time to give your credit cards a thorough clean-up. In this ultimate guide, we'll take you through a step-by-step process to review, optimize, and simplify your credit card portfolio. From checking your credit report to finding cards that fit your goals, you'll learn everything you need to make informed decisions about your credit cards. Plus, we've included a free checklist to keep you on track. So let's roll up our sleeves and spring clean those credit cards for greater financial freedom and peace of mind.
Free Checklist
Review your credit report
The first step in spring cleaning your credit cards is to review your credit report. Your credit report provides valuable information about your credit history, including your payment history, credit utilization, and any outstanding debts. By reviewing your credit report, you can identify any errors or inaccuracies that may be affecting your credit score.
To get your credit report, head over to AnnualCreditReport.com. This website is the only authorized source for free credit reports from the three credit bureaus: Equifax, Experian, and TransUnion. It's important to use this website because it's easy to fall for scams that offer "free" credit reports that turn out to be not free at all. When you go to AnnualCreditReport.com, you'll be asked to provide some personal information, including your name, address, and social security number. Once you've entered this information, you can request your credit report from one, two, or all three bureaus.
You should do this on a desktop computer rather than a mobile device. This is because you'll be able to print out your credit report more easily or save a digital copy for your records. Once you have your credit report, review it carefully for any errors or inaccuracies. If you find any errors, contact the credit bureau to dispute them. You can even file most disputes online now! By cleaning up your credit report, you can ensure that your credit score accurately reflects your creditworthiness and financial history.
Address any credit card debt
After reviewing your credit report, it's important to take a closer look at any outstanding credit card debt you may have. This can not only be a significant financial burden but also impacts your credit score negatively. Fortunately, there are steps you can take to address this debt and improve your overall financial health.
One option to consider is creating a debt repayment plan. This involves outlining a strategy to pay off your credit card debt over time using a consistent and manageable approach. You might prioritize paying off high-interest cards first, and then work your way through the remaining balances.
Another option is to transfer balances to cards with lower interest rates. This can help lower your monthly payments and ultimately reduce your overall debt. Keep in mind, however, that balance transfer fees may apply, and you will need to carefully consider the terms and conditions of any new cards you are considering.
Many credit card companies offer balance transfer promotions, including 0% interest for a limited time. Before jumping on a deal, however, it's important to read the fine print and understand any fees associated with the transfer. Usually those fees are about 3%. Make sure the promotional rate applies to the transferred balance, and not just new purchases. Additionally, make careful notes about when the promotional rate ends.
The Chase Freedom Flex℠ is card that currently often offers a 0% introductory APR on balance transfers for 15 months–and you can even earn $200 cash back as part of the welcome offer. Make sure to pay it off by the 15 months, though — the rates after the introductory period are currently variable from 19.74% – 28.49%. The Citi® Double Cash Card often offers 0% introductory APR for 18 months. After that, the variable APR will be 18.74% – 28.74%, based on your creditworthiness.
If you are struggling to make payments or need more significant assistance, consider reaching out to your credit card company to negotiate a lower interest rate or payment plan. Many companies are willing to work with customers experiencing financial difficulties.
By taking steps to reduce or eliminate credit card debt, you can improve your overall financial health and make it easier to manage your credit card portfolio and be able to apply for more cards that earn more points in the future.
Protect your identity
To manage your credit cards effectively, you must also take appropriate steps to protect your identity. Credit card fraud and identity theft are rampant, and you don't want to become a victim. Be sure to use strong, unique passwords, and enable two-factor authentication wherever possible.
Another crucial step to protect your identity is to monitor your credit report by setting up automatic alerts. Here's a video walking through how I set up alerts on my CreditKarma account.
By taking these steps to protect your identity, you can ensure that you're the only one who is accessing your credit report each month.
Inventory your current cards
To truly spring clean your credit cards, it's important to assess your current roster of cards. Then, take a critical eye to each one, looking for both annual fees and benefits.
Travel Freely
I think the free online app, Travel Freely (<<–that's my affiliate code for it), is the easiest way to track your credit cards. This is essentially an interactive smart spreadsheet. You input when you open a new card and it will track cards, bonus deadlines, annual fee due dates, and your 5/24 status. You can use one account to track both you and your partner's personal and business cards.
Travel Freely will send you automated reminders about bonus deadlines and when your annual fee is coming due. You'll get a reminder and some suggestions for downgrading the card in case you are no longer finding value in it.
You don't input any sensitive information into Travel Freely, just the date you signed up for a card and what the signup bonus was.
Alternative option: spreadsheet
If you want to track your cards with a spreadsheet, here is a sample credit card tracking spreadsheet you can use.
Calendar reminders
If you use a spreadsheet, you'll want to remind yourself of deadlines. After you've been approved for a card, you should figure out when you have to complete your minimum spending (let's say it is 3 months) and then put a reminder on your calendar for 2 weeks before then to make sure you've completed it.
You should also set up reminders to check to make sure you've received bonus points and to evaluate cards after 11 months.
If you use Travel Freely, you'll get those reminders automatically.
It's also important to take note of which cards you're actually using regularly. If you have a card with great rewards but find yourself never using it, it might be worth canceling to declutter your finances.
By taking inventory of your current cards, you can declutter your wallet and make room for new cards that offer better benefits. Speaking of benefits, let's move on to the next step: checking your benefits and point balances to make sure you're getting the most out of your credit cards.,
Check your point balances
As you clean out your credit cards, it's important to inventory the benefits and rewards that come with each one.
Take the time to check your point balances, ensuring that you're not missing out on any rewards you've earned. If you have a card that you haven't used in a while, it's possible that you have accrued points or rewards you don't even know about.
The more hotel and airline points you have, the harder it is to keep track of how many points you have, where they are, and when they expire. You've done all this work to accumulate points, so don't lose them because you miss an expiration date!
We recommend AwardWallet to track miles and points.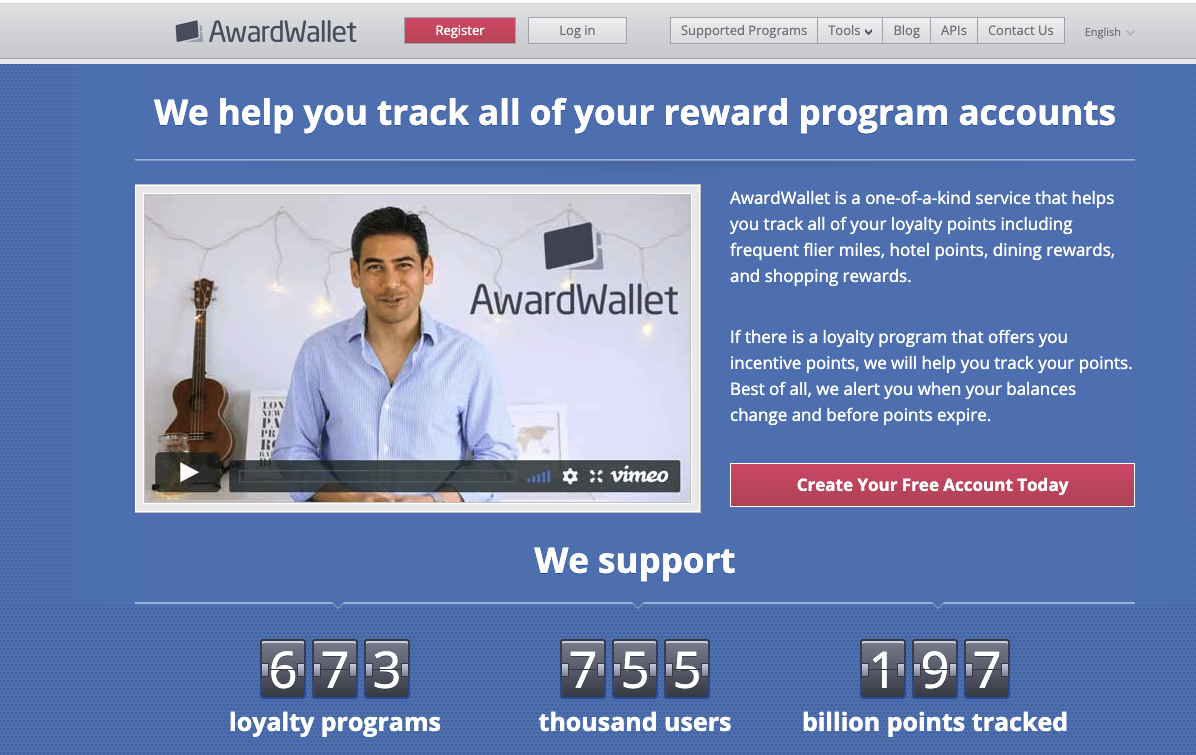 Award Wallet covers 680 loyalty programs! It can take a while to set up if you have memberships in a lot of programs but it's worth doing. There is both a free and a paid option. With this program, you can track your whole family's miles and points on Award Wallet and link your accounts. The Plus upgrade allows you to track expirations and sends alerts about points that are about to expire.
If you are concerned about security, you can choose to have the password info for all the accounts saved locally to your computer.
Additionally, make sure you know the benefits that come with each card. Some credit cards offer rental car insurance, extended warranty protection, or other valuable perks that can come in handy when you need them.
Ask for retention offers
Once you have assessed your credit cards and their applicable benefits, it's time to take it one step further by asking for retention offers. If you have been a customer with a good payment history, it's worth contacting your card issuer to see if they have any special offers available to keep you as a customer.
Retention offers can come in many forms, including waived annual fees, increased rewards, or even bonus points just for staying with the card. However, not all card issuers offer retention offers and they won't always offer them to every customer.
Not sure what to say? Follow this retention offer script below.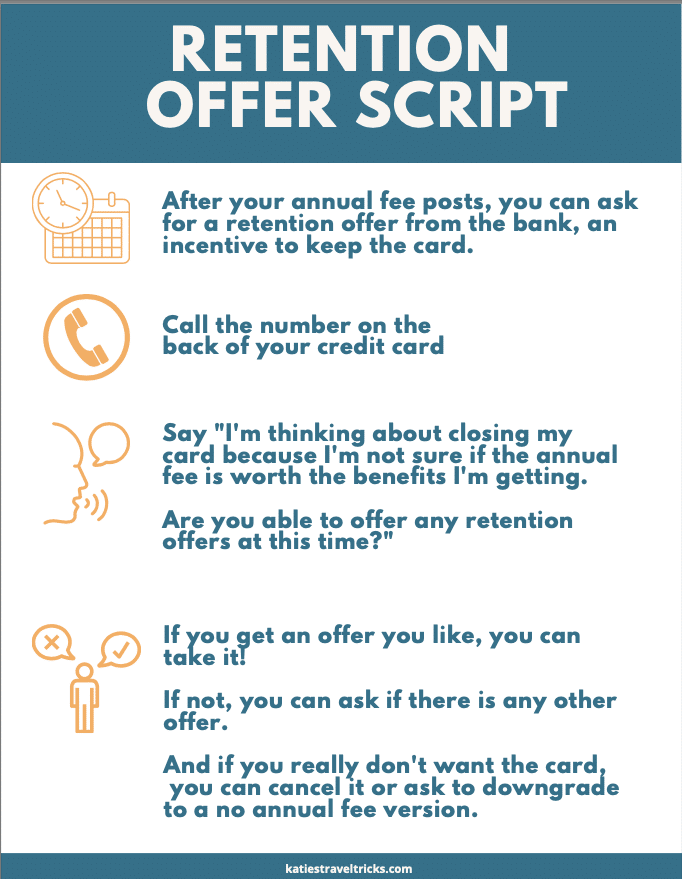 If you are not satisfied with the retention offer or if it's not available, you still have another option before cancelling the card.
Downgrade cards
If you aren't offered a retention offer that suits your needs, it may be time to consider downgrading your credit card. This will allow you to keep the account open and maintain the history, without having to pay the annual fee or deal with other unwanted charges. This is sometimes referred to as a "product change" because you are changing from one credit card product to another.
Some card issuers may offer a variety of options to choose from, while others may only allow you to downgrade to a specific card–or may not give you the option at all.
Bank guidelines for downgrade options
American Express
If you have the Platinum Card® from American Express, American Express® Gold Card, or American Express® Green Card, these are charge cards and there are not any no-fee options that you can downgrade your card to. You can downgrade a Platinum to a Gold or Green, but you will still have a fee and, potentially, lost out on other sign up bonuses.
If you do close an American Express card within 30 days you are eligible for a refund of the annual fee. If you are product changing a card, your annual fee will be prorated.
Capital One
Capital One does not issue refunds when you downgrade your card after the annual fee posts.
Capital One Venture X and Venture Rewards cards can be downgraded to the VentureOne Rewards card or Quicksilver card.
Chase
When you downgrade a Chase Sapphire Preferred® Card or Chase Sapphire Reserve® card, Chase gives a 30 day grace period in order to get your fee refunded. After that, the annual fee may be prorated.
After you downgrade a Sapphire card, you will no longer be able to transfer your Ultimate Rewards to transfer partners (unless you have a Chase Business Ink Preferred card) and your points will be less valuable when booking through the travel portal.
Chase Sapphire cards can be downgraded to Chase Freedom Flex or Chase Freedom Unlimited®.
Citi
The best option is to downgrade a Citi Premier® Card to a Citi Rewards+® Card. Citi gives 30 days after the annual fee posts to downgrade the card and be eligible for a refund of the annual fee.
Cancel cards
If you have considered all options and determined that canceling a credit card is the best course of action, keep in mind that canceling a credit card can negatively impact your credit score, especially if you have a long credit history with that card. Your credit score takes into account the average age of your credit accounts, and closing older accounts can lower that average age and potentially damage your score.
However, if you have carefully weighed the benefits and drawbacks and determined that canceling a card is best — proceed! We regularly cancel cards and still have credit scores in the 800s.
Find cards that fit your goals
Finally, we got to the fun part, picking out cards that are better aligned with your goals.
In fact, I have a whole article all about setting travel goals and finding cards to meet them. I also have simple card strategies detailed in my free online course.
I recommend everyone start with one of the cards I mention in my Best Cards to Start article. If you already have those, look through my Best Offers page to see what hot offers match your goals!
As the spring season rolls around, it's the perfect time to give your credit cards a good old-fashioned cleaning. By reviewing your credit report, addressing any debt, and considering balance transfers, you can optimize and simplify your credit card portfolio. Take inventory of your current cards, check their benefits, and don't be afraid to ask for retention offers or cancel cards that no longer serve your goals. By following these steps, you can achieve greater financial freedom and peace of mind. So what are you waiting for? It's time to take action and spring clean your credit cards today. Remember, as Warren Buffett once said, "Chains of habit are too light to be felt until they are too heavy to be broken."