Advertiser Disclosure – Katie's Travel Tricks is part of an affiliate sales network and receives compensation for sending traffic to partner sites, such as MileValue.com. This compensation may impact how and where links appear on this site. This site does not include all financial companies or all available financial offers. Terms apply to American Express benefits and offers. Enrollment may be required for select American Express benefits and offers. Visit americanexpress.com to learn more. For Capital One products listed on this page, some of the above benefits are provided by Visa® or Mastercard® and may vary by product. See the respective Guide to Benefits for details, as terms and exclusions apply
Despite Southwest Airlines' epic 2022 holiday meltdown, I still consider Southwest Airlines to be my favorite domestic airline for families. Here are 11 reasons why Southwest continues to be at the top of my list.
Family boarding
Southwest Airlines does seating differently than other airlines. Southwest has an open seating policy, which means there are no assigned seats; you pick your seat from the available seats when you board the plane.
You get a boarding position when you check in for your flight, though there are ways to ensure an earlier boarding position.
Southwest seating isn't for everyone. Some people compare the process to a cattle call. In addition, there are no first class or business class seats and there is uncertainty about where you'll be sitting and whether you will be able to sit with your group.
If you have children six and under and are flying Southwest, their boarding policy can work to your advantage. Southwest offers family boarding and families with children six and under are allowed on board between the A and B boarding groups. At this point in the boarding process, only about ⅓ of the seats are taken, leaving ample seats for families to sit together.
Southwest Airlines has recently (late 2022/early 2023) been testing family boarding procedures on select flights and routes that are even more friendly to families. These include inviting families to board during pre-boarding and expanding the age range for family boarding.
It remains to be seen if and when enhanced family boarding procedures will be implemented, but the Department of Transportation is pushing airlines towards more family friendly seating procedures to ensure children are not separated from their caregivers.
Bags fly free with Southwest Airlines
Long gone are the days when it's standard for bags to fly free on airplanes. Nowadays, most airlines charge for checked bags – and many charge for carry-on bags, especially if you purchase the lowest fare ticket.
Because of this, you may find yourself scrambling to figure out what types of bags are included in your fare class, or how much you'll have to fork over for that extra suitcase.
Unless you are traveling with a lot of things, you don't have to worry about baggage fees with Southwest. Through all the changes in the airline industry over the past two decades, Southwest has maintained the most generous baggage policy and allows passengers to take a personal item and carry-on bag on the plane and check up to two bags per person without paying any baggage fees (subject to size and weight limits).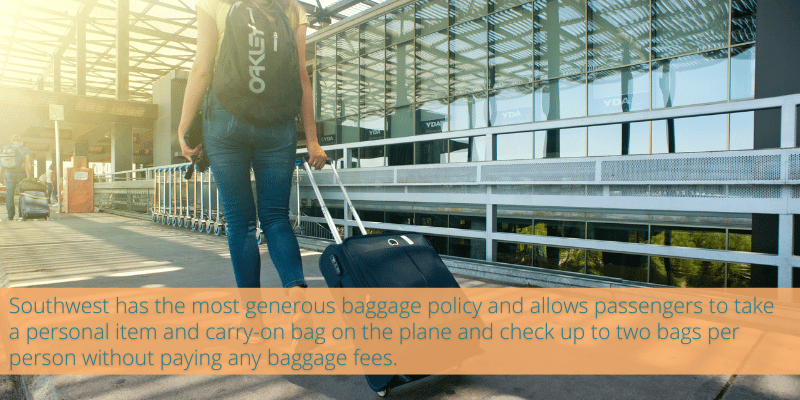 Our family typically prefers to carry-on baggage, but it was great when we flew to the Smoky Mountains last spring and needed to bring our portable crib, we were able to check it through without worrying about baggage fees.
Southwest Companion Pass
If you're flying as a family, airfare adds up quickly. Earning a Southwest Companion Pass means that you can designate one person to fly free (except for taxes and fees) when you travel together. This is a great deal, and we have a guide to earning a Southwest Companion Pass (or two) with credit card bonuses to help you save on airfare costs. If you time it right, the Companion Pass can be good for up to two years!
Some airlines charge $100+ to use a companion pass, but Southwest only charges taxes and fees. If you are flying domestically, this comes to just $5.60 per one-way trip.
You can read all about how to earn a Southwest Companion Pass and sign up to receive our free guide here.
Open award availability
A lot of airlines limit award availability by capping the number of award seats available on flights. However, with Southwest Airlines, there's no wondering and worrying about whether or not you'll be able to find award availability.
You can purchase any available flights with Rapid Rewards. Since the value of Rapid Rewards is fixed (about 1.4 cents per point), you don't have to wonder whether you are getting the best possible value from your points.
Rapid Rewards (and free flights) are easy to earn
Everytime you fly on Southwest Airlines on a "revenue" ticket (paid with dollars, gift cards, travel credits, or LUV Vouchers), you'll earn Rapid Rewards.
But, the fastest way to earn a lot of Rapid Rewards is through credit card bonuses.
Southwest has several co-branded Chase personal and business credit cards that can help you earn a lot of miles to redeem for free travel.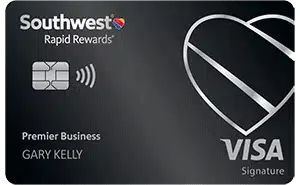 $99 annual fee
2 Early Bird Check Ins per year
Free in-flight wifi
1,500 Tier Qualifying Points for every $10,000 spent
3x earning on Southwest flights; 2x on local transit
6000 points per year on your card member anniversary
In addition to the Southwest credit cards, Southwest Airlines is a Chase Ultimate Rewards transfer partner. Ultimate Rewards are the only flexible reward currency that can be transferred to Southwest Airlines. Lucky for us, Ultimate Rewards can be earned through Chase Sapphire, Ink, and Freedom cards. Transferring Ultimate Rewards to Southwest is easy and will give you a redemption value of about 1.4 cents.
Earn 60,000 bonus points after you spend $4,000 on purchases in the first 3 months from account opening. That's $750 when you redeem through Chase Ultimate Rewards®.
$95 annual fee
Ultimate Rewards points can be transferred to a variety of partners like Southwest, Hyatt, United, and more!
You can also redeem points through the Chase Travel Portal. 60,000 points = $750 of travel
Great option for booking all-inclusive resorts or hotels in Hawaii.
$0 annual fee
Earn $750 after (75,000 points) after you spend $6,000 in 3 months
If you have a Sapphire card, you can transfer the Ink points to the Sapphire card to get all the airline and hotel transfer benefits!
Earn unlimited 1.5% Cash Back rewards on every purchase
Great customer service
We have always had positive experiences with Southwest Airlines' customer service. Southwest is not a perfect airline – as most clearly evidenced by its 2022 holiday meltdown – but, in our experience, Southwest does its best to make things right.
Notably, if you have a delayed Southwest flight, they will typically send you $100-$200 LUV vouchers if you submit a complaint about the delay. Learn how here.
Inflight amenities
A lot of airlines have gone the direction of charging for snacks on flights. Southwest continues to offer drink and snack service free of charge.
Download the Southwest Airlines app before your flight and you'll have access to free inflight entertainment, including movies and live TV.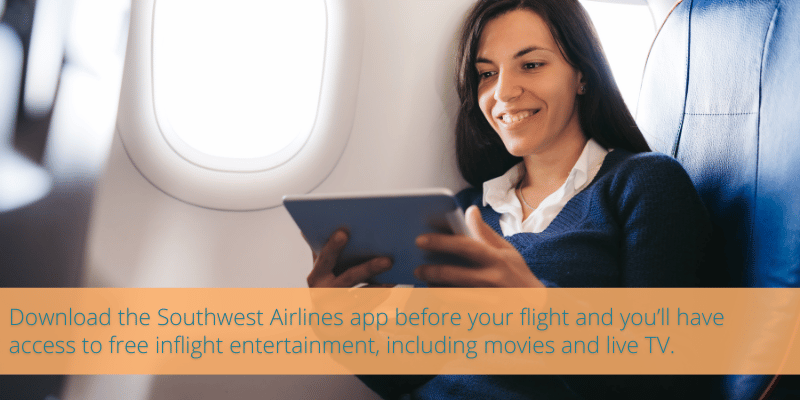 Flight change and cancellation policies
Since COVID, more airlines have instituted more flexible flight change and cancellation policies for some fare classes. Southwest has always had the most flexible flight change and cancellation policies. Even the lowest fare (Wanna Get Away) is eligible for flight credits if you change or cancel your flight.
Not only has Southwest led the way with these flexible policies, but making changes and cancellations is super easy.
In addition, you can change or cancel a flight up to 10 minutes before your scheduled departure.
If the price of your flight goes down anytime after you book, you can "change" it to the same flight. You'll receive the cost difference as a flight credit that doesn't expire, or a refund, depending on your fare type.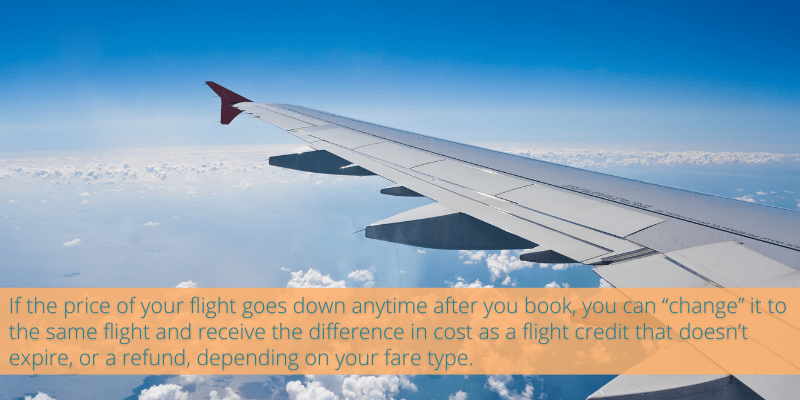 If you need to change your flight, you can easily search for other flight options and pay (or be credited/refunded) the price difference.
Not sure how to change your Southwest flight? Check out our Guide to Changing your Southwest Flight.
If Southwest changes your flight, you'll have the option to pick any other flight, with the same origin and destination airports, within 14 days of your original flight without paying any fare difference.
Flight credits never expire
As of summer 2022, Southwest flight credits never expire. If you cancel a flight, you'll receive a flight credit that you can apply towards a future flight. This credit does not expire so there's no stressing out about using it within a certain period of time.
Flight credits from Southwest's lowest fare, Wanna Get Away, are non-transferrable. These flight credits can only be used by the person they are issued to. Flight credits from Wanna Get Away+ fares are transferrable. However, you can make a non-transferrable flight credit transferable using the credit to book a Wanna Get Away+ fare and canceling the new flight; the new flight credit issued will be transferrable.
If you receive a LUV Voucher as a good will gesture from Southwest, these expire in one year. You can read all about LUV Vouchers here to learn how these can be turned into flight credit that doesn't expire.
Competitive prices
Southwest Airlines prices are competitive and they frequently offer sales and promos. They don't always offer the cheapest prices, but their prices are competitive with or better than other major U.S. carriers. This is especially true when you take into account that you get free baggage, free changes and cancellations, and can get a flight credit if you rebook if the price comes down.
Friendly staff
I've always found Southwest Airlines' ground staff and flight crew to be friendly and helpful and, sometimes, outright funny while making announcements. This positive attitude can make a big difference since traveling – especially with kids – can be really stressful!
Editorial Disclosure – Opinions expressed here are author's alone, not those of any bank, credit card issuer, hotel, airline, or other entity. This content has not been reviewed, approved or otherwise endorsed by any of the entities included within the post.