September was our first full month traveling. We spent every night except the very last night at the same hotel — Double One Villas II in Amed, Bali. For the month, we joined up with 35 other worldschooling families at a Stone Soup Pop Up Community. Because of the program costs associated with Stone Soup, we were WAY over budget — but we knew that going in. We also chose to book a villa with the group, instead of using points, which means we paid full price. At least last month we were $176 UNDER budget, so that helps. Check out our Fall Budget post if you want to see how we can afford to travel.
Amed also turned out to be expensive in ways we didn't expect. We went into the month thinking we would be able to walk between the programming sites or take a taxi. In the end there were no taxis and it was too hilly and hot for us to walk regularly — so many days we had to pay a driver to take us. It was also a more remote part of Bali, so grocery and restaurant costs were higher than expected, and much higher than they had been in our time on Java. In the end, we mostly cooked and ate at our villa to try to scale back.
It wasn't all penny pinching, though! We were right across the road from the some of the best snorkeling in Bali! We had lugged fins and masks halfway across the world precisely for this reason — so I got up almost every day to snorkel in the morning. Though the coral has some damage, the number and variety of fish was incredible. I even spotted a sea turtle, rays, and a few eels! The kids both learned to snorkel, too, and we all enjoyed our time near the beach. Micah took a scuba dive trip as well. And we took a few day trips. Locally, we went to a shipwreck that even the kids could snorkel out to. We also enjoyed weekly date nights and family pizza nights.
Best of all, we had the chance to get to know other traveling families and be inspired by their adventures around the world. In the kids program, the kids learned a little bit about Balinese history and culture, Ruby took some Balinese dance lessons (verdict: it is hard and she much prefers ballet), and they made friends.
Here are some of our favorite memories from the month's adventures. I was mostly absent on Instagram in September but am planning to post regularly in October again. Follow us on Instagram to see daily posts!
Expenses
Total trip related expenses: $1616.25
Total days traveling: 30
Average cost per day: $53.88
Stone Soup Programming Costs: $825
Average cost per day, including Stone Soup: $81.38
Most expensive day: September 30 – $138.30
Cheapest day: September 8 – $25.70
Couchsurfing nights: 0
Paid hotel nights: 29
Hotel nights covered with points: 1
Points redemptions:
Bulan Madu Villa on Gili Air, 1 night: 4,149 Chase Ultimate Rewards Points
For those wanting to see a more comprehensive list of expenses, you can check out the table below. Click on the image to see a larger version: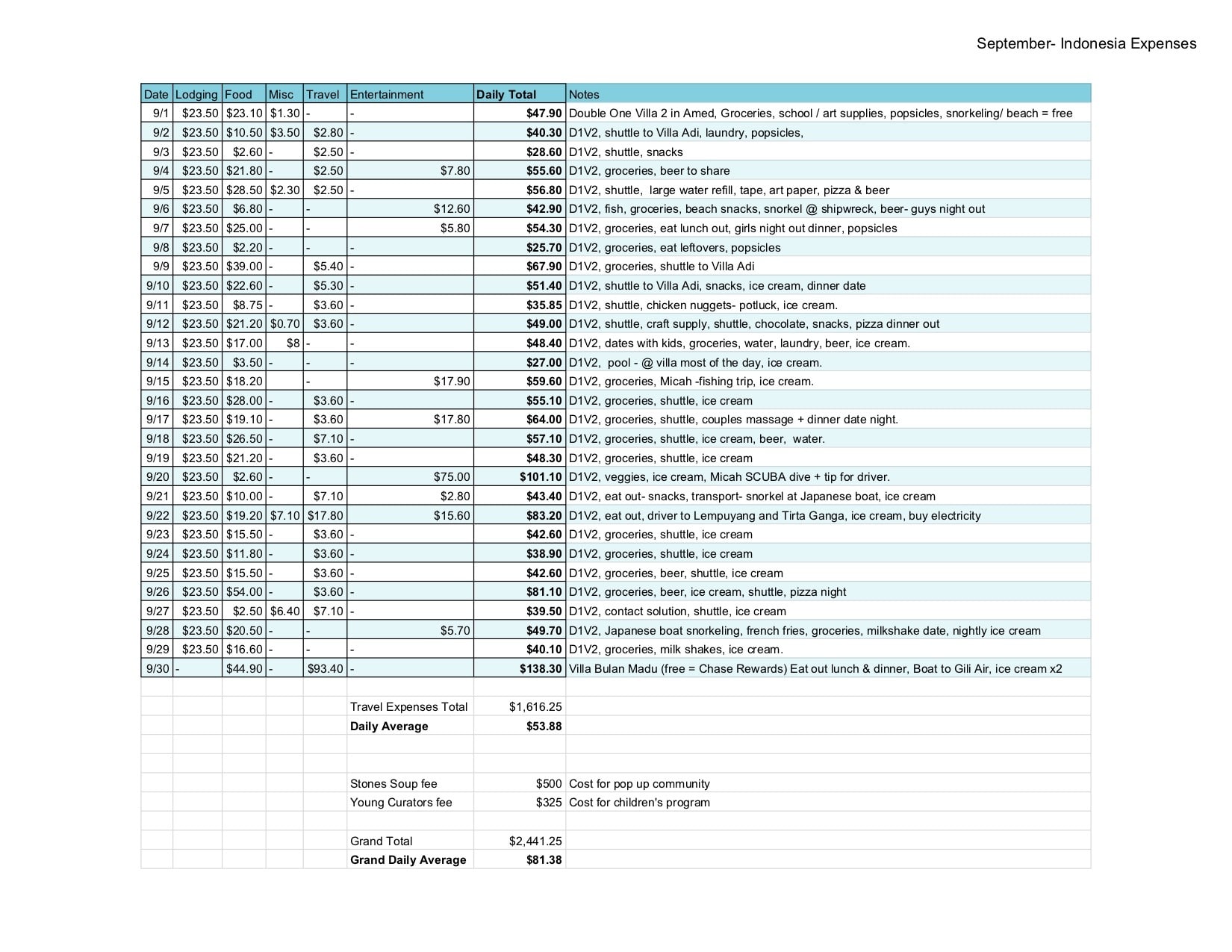 Income:
Rental Condo Net Income: $900
Airbnb Nights booked: 18
Airbnb Net Income: $720
Referral Bonuses Earned: 15,000 Chase Ultimate Rewards
Points earned: 60,000 Hawaiian Miles; 125,000 IHG Rewards points
Total Points Balance Across All Programs: 1.89 million