The Hyatt Regency Maui Resort and Spa is on our list of top hotels to stay with points in Hawaii. With a room rate that often exceeds $700 a night, this family friendly resort offers a great redemption with nights ranging from 21,000-29,000 World of Hyatt points per night.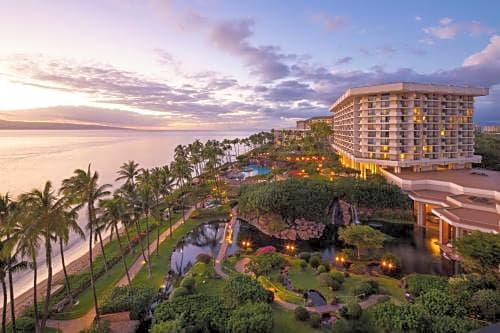 Considering that standard room rates at the Hyatt Regency Maui often exceed $700 per night, your redemption rate at this resort is likely to be more than 3 cents per point!
Are you thinking about redeeming some of your hard earned points for a stay at this beautiful resort? My family recently spent 4 nights, so here's the scoop on staying at the Hyatt Regency Resort and Spa with little ones!
Read through to the end to find out card offers that can give your family 4+ nights here on points for free!
Location
The Hyatt Regency Maui is located about 40 minutes from Kahului airport. It is on the west side of Maui, on a 3 mile stretch of beach called Ka'anapali Beach. Ka'anapali Beach is home to some of the best resorts on Maui, including the Hyatt Regency and the next door Hyatt Residency Club, the Aston, the Westin, and the Sheraton.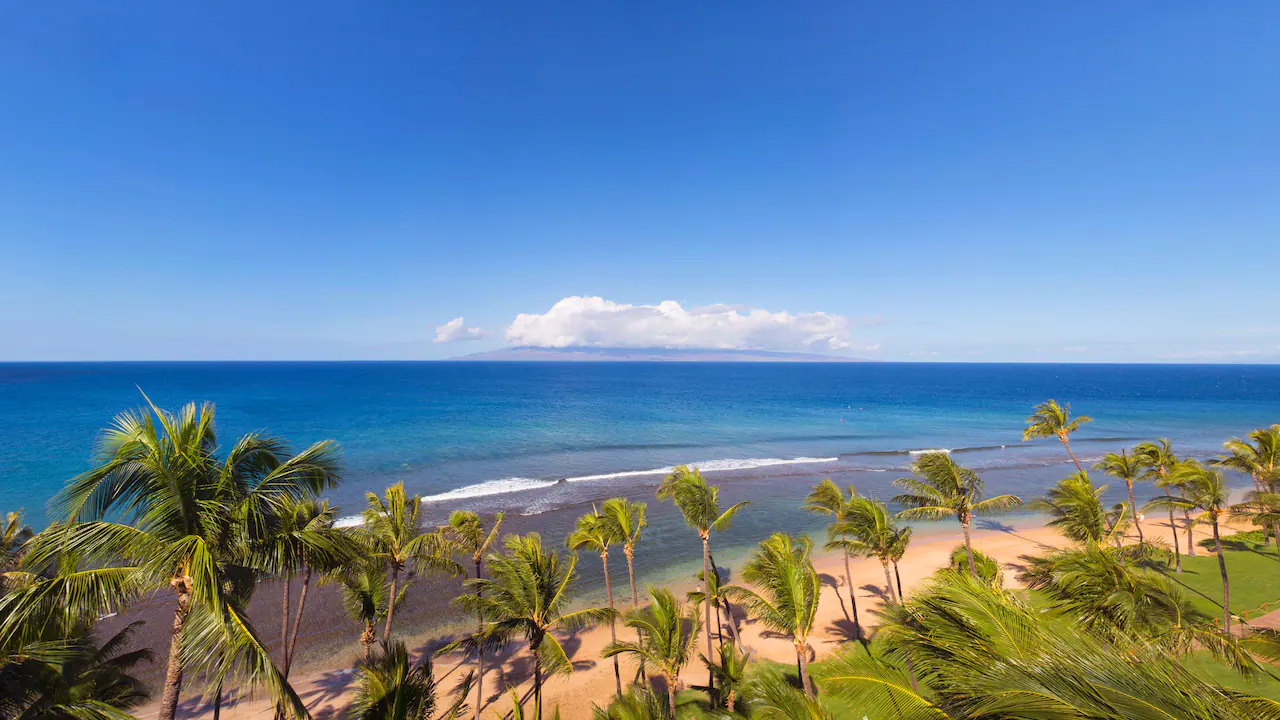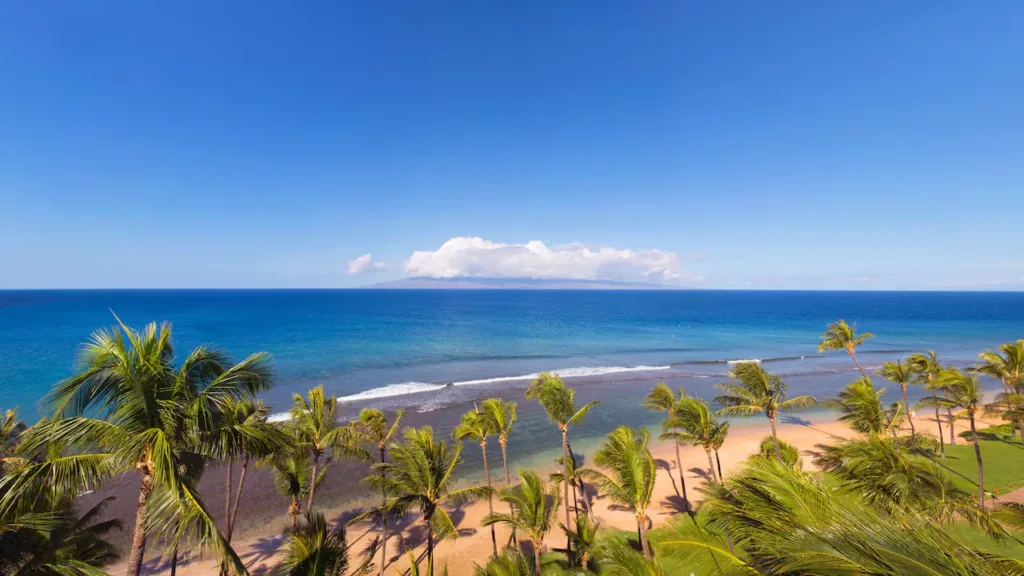 While you could take a shuttle or ride share from the airport to the resort and enjoy your stay at the Hyatt and environs, having a car gives you the flexibility to visit some of the other beautiful spots on the island and get a better feel for the Hawaiian culture.
The resorts along Ka'anapali are connected by a stroller friendly beach path. Walking down this path, you'll have the beach on one side and the resorts on the other side.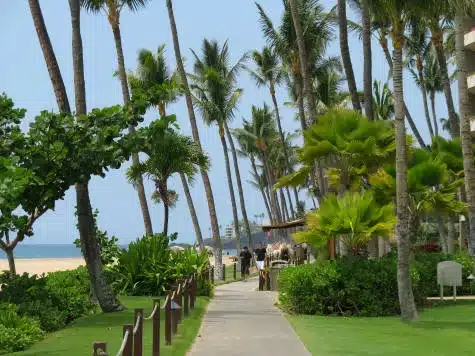 Whaler's Village, an outdoor mall with shops and restaurants is less than a mile away from the Hyatt Regency. It's walkable or you can take the free Ka'anapali trolley.
Resort Map
You can access the Hyatt Regency Maui Resort and Spa map here.
I find this map hard to read, so I've labeled the map below with the most important spots if you're traveling with kids!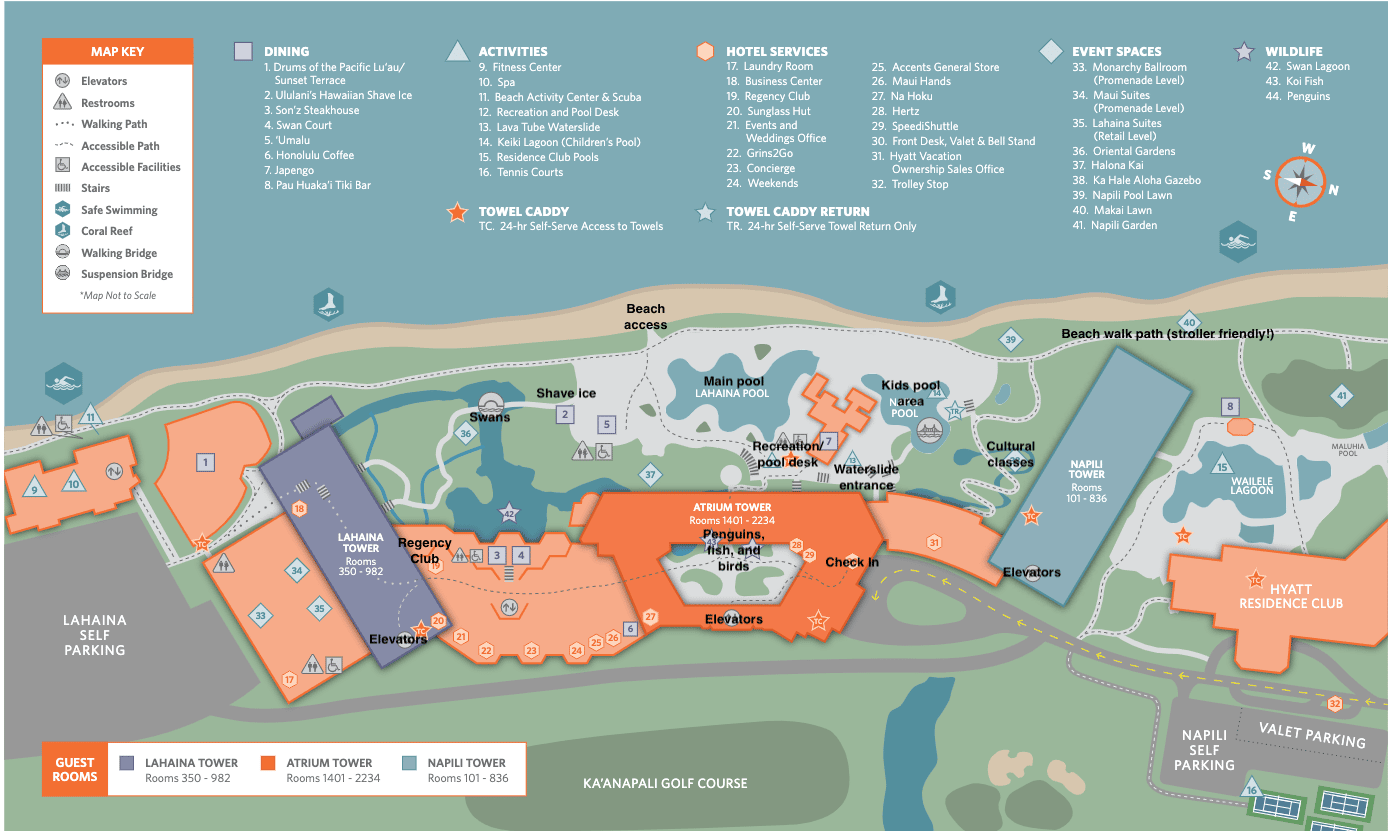 Parking
Parking at the Hyatt Regency Maui is either self or valet parking. At the time of our stay, self parking cost $25 and valet parking cost $40 per night. Parking fees are not included in the resort fee and will be due even if you make your booking with points.
We chose to self park our car during our stay. I had read reviews about the long walk to self park and the tiny parking spots. We neither found the walk too far (even our walking averse children didn't complain) nor the spots too small (we were driving a mid size SUV).
There are 2 self parking lots. One is across from the Hyatt Residency and one is by the Lahaina Tower on the south side of the resort. The one by Lahaina Tower seemed to be less full, but the best lot to use is largely determined by where your room is located.
Check In
When you arrive, there will be bell hops that with luggage carts to assist you in moving your luggage to your room. You can also transport your own belongings, but you will not have use of luggage carts.
Immediately to the right upon entering the Hyatt Regency Maui Resort and Spa you will find the front desk. I found the staff to be friendly and helpful. After you check in, you'll receive fresh leis as an island greeting.
Continuing past the front desk is the Atrium Tower, where you'll find rooms on the upper levels, and the resident birds, penguins, and fish on the lower level.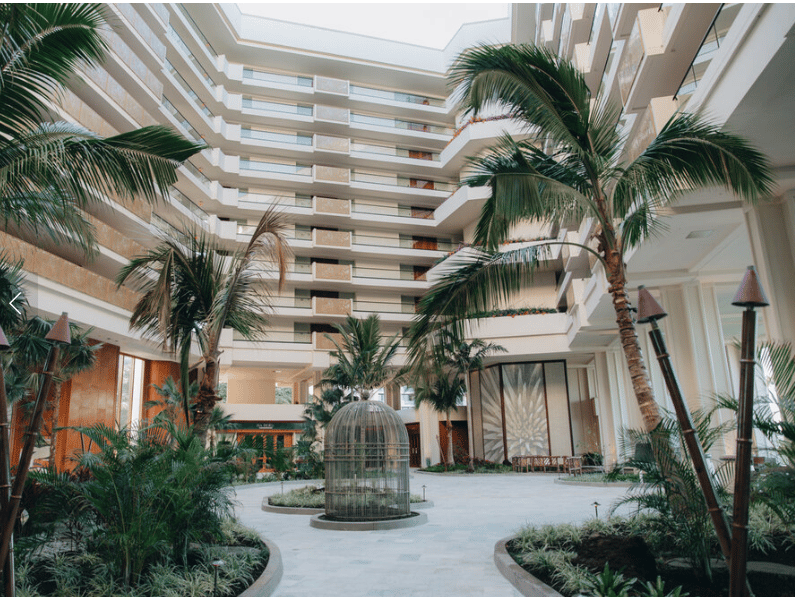 Rooms
The Hyatt Regency Maui consists of more than 800 rooms spread across three towers (Atrium, Napili, and Lahaina).
Occupancy limits on rooms and most suites are 4 people. They do offer connecting rooms but call for availability. Occupancy doesn't seem to be strictly enforced as we have heard many reports of families of 5-6 staying here without issue, but those are the official occupancy limits.
Hotel Rooms
All the hotel rooms include either one king bed or two queen beds and a lanai with a sliding glass door. Hotel rooms are located throughout the property in all three towers.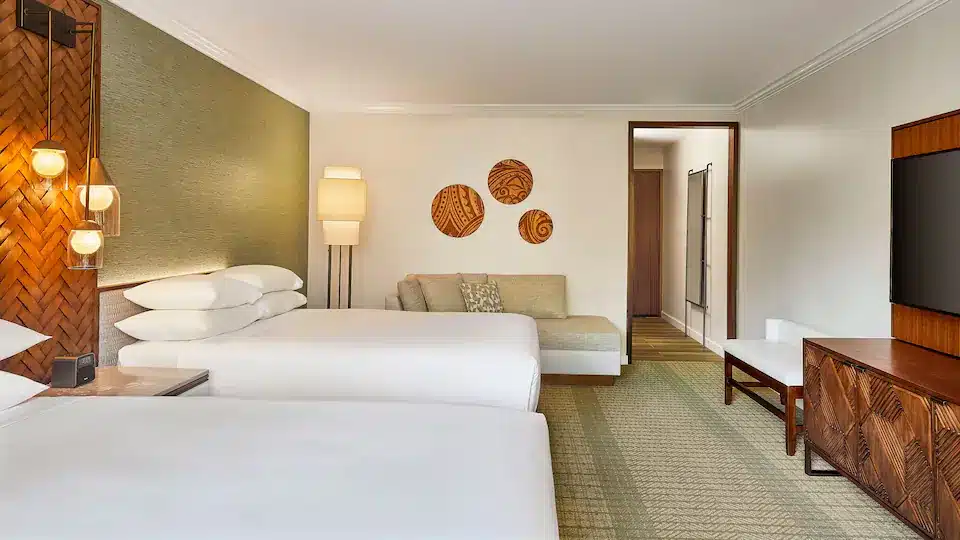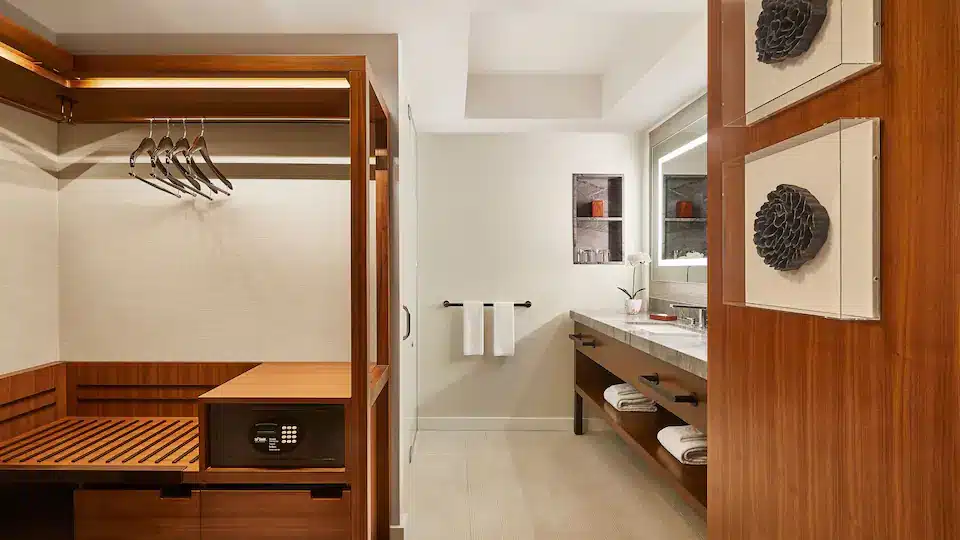 While the rooms are all the same, there are varying room types (ie different views). Rooms with nice views are not considered "standard" rooms and, if these are the only rooms remaining, there may not be availability for a booking with points.
All rooms include a lounge sofa (not a pull out sofa, but large enough for a child to sleep on), flat screen TV, coffee maker, tea kettle, minifridge, iron and ironing board, and in-room safe. A microwave is available upon request.
The rooms have been recently updated and feel quite modern, including sensor activated night lights built into the beds and a clock in the bathroom mirror.
All rooms have a balcony, and the more expensive rooms are higher up with an ocean view. We spent the first two nights in a beautiful room with an amazing view in the Atrium. We preferred the location and the open feeling of the Atrium to the Lahaina Tower, where we moved midway through our stay.
Want a room with a view like this?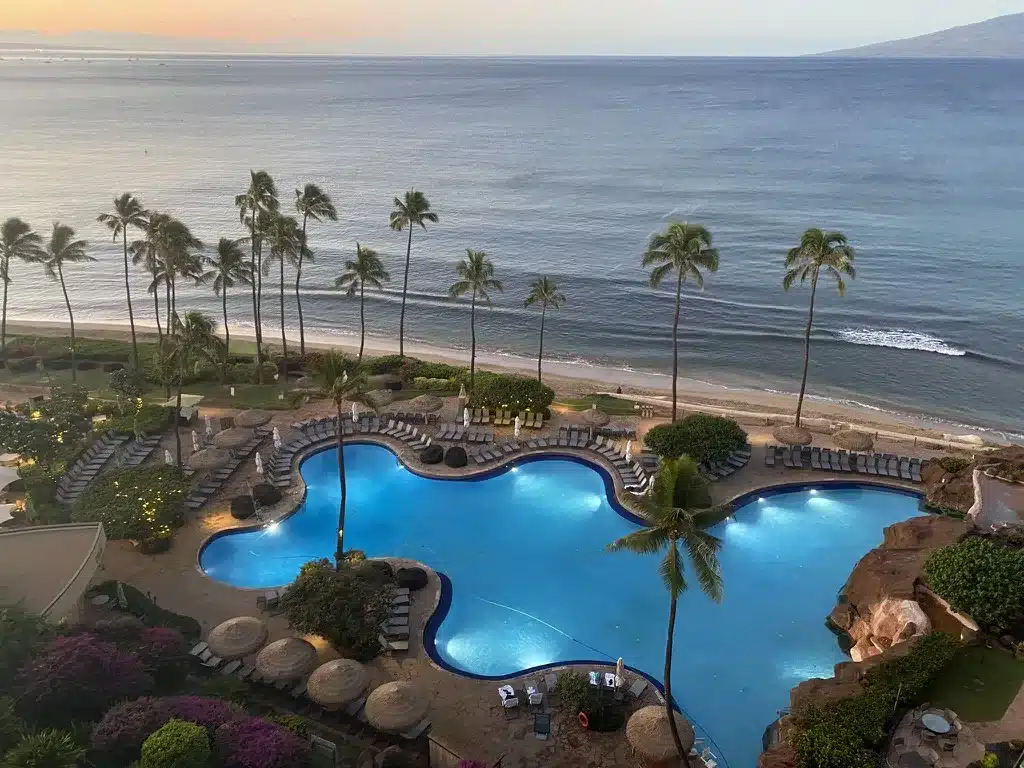 Don't forget to send an email beforehand, let the property know why you're coming and graciously request an upgrade. I wrote an email to the General Manger. I never received a response, but I did have a note with goodies in our room when we arrived!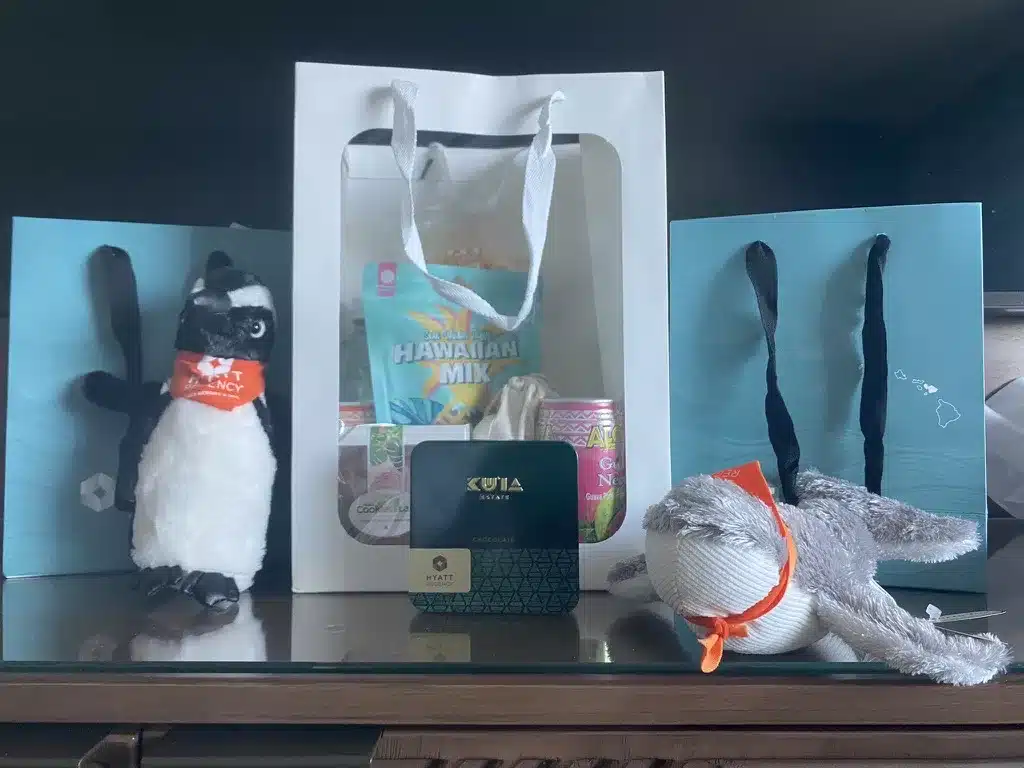 Not sure how to write a note requesting an update? Sign up below to download our tips and template e-mail.
Suites
We were staying at the Hyatt Regency Maui under a Guest of Honor booking, which meant we were eligible for free suite upgrades, as available.
When we inquired about suite availability at check in, they let us know that there would be a suite available for the second half of our stay and made arrangements for us to transfer rooms.
Except for the Palace Suite (with a price of about $3,000 per night), all suites have a maximum occupancy of 4. While you won't be able to officially accommodate more people in a suite, they do allow for more privacy with a separate bedroom and living area (with a pull out sofa bed). Suites also include a walk in shower and stand alone bathtub.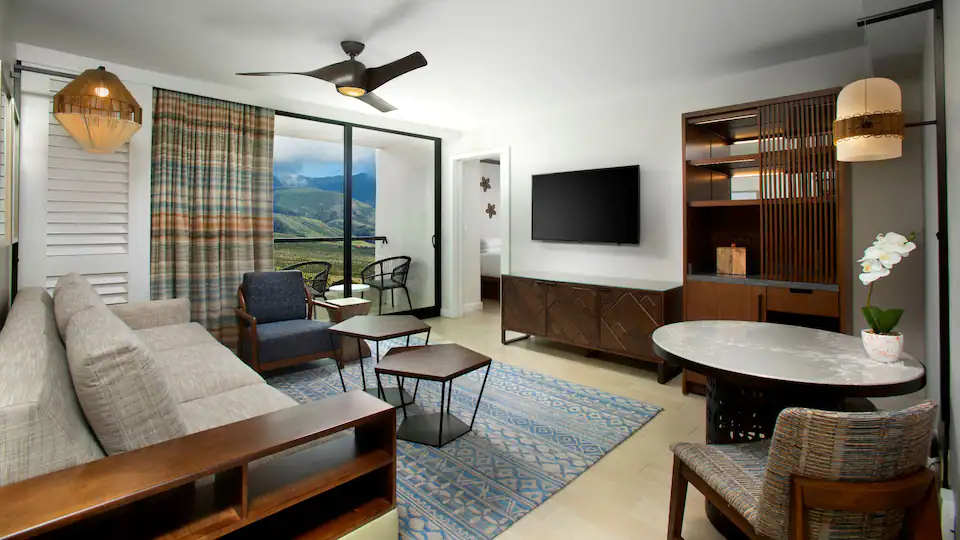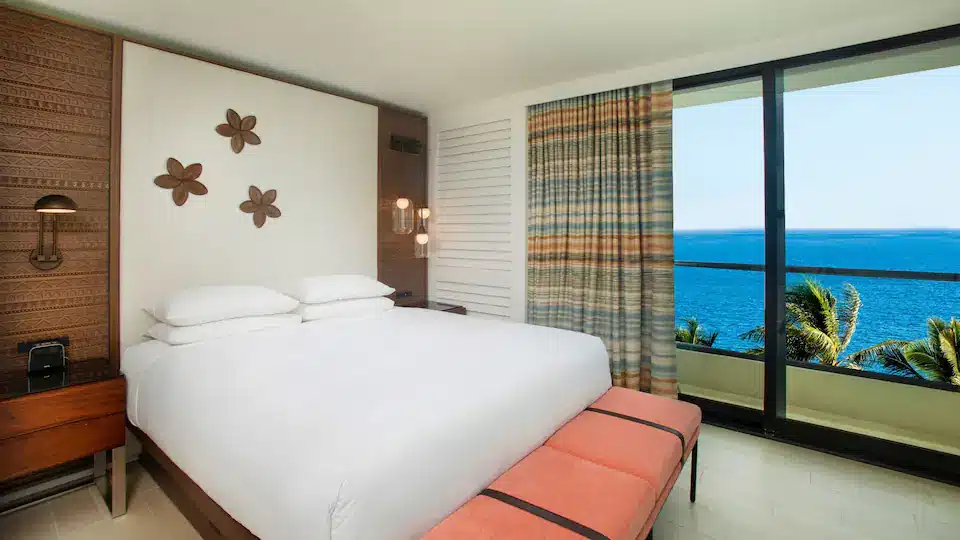 Housekeeping Credits
In each room there is a door hang tag that you can hang on the exterior of your door in the evening. This hang tag indicates if you want to decline housekeeping the next day. As an incentive for declining housekeeping, you have the option of a $10 credit towards hotel food and drinks, or 500 World of Hyatt points.
We appreciated this perk since we don't usually like having housekeeping come in every day! Be forewarned though, a $10 credit will buy you half of a drink by the pool.
Resort Fees
The daily resort fee at the Hyatt Regency Maui is $40 plus tax per day, at time of writing. However, if you book with points, the resort fee is waived!
You can read all about what the resort fee includes here.
It was fun to be greeted with a fresh lei when we arrived, and we loved that it included cultural classes like coconut weaving, lei making, and hula dancing for the kids! You can also check out foldable beach chairs and sports equipment (tennis racquets and basketballs), take a shuttle to the nearby shopping center, or take advantage of daily yoga and fitness classes.
Pools
The Hyatt Regency Maui has either one large pool, or multiple smaller pools, depending on how you look at it. There are three distinct pool areas (the main pool, the grotto, and the kids area), but they are all connected.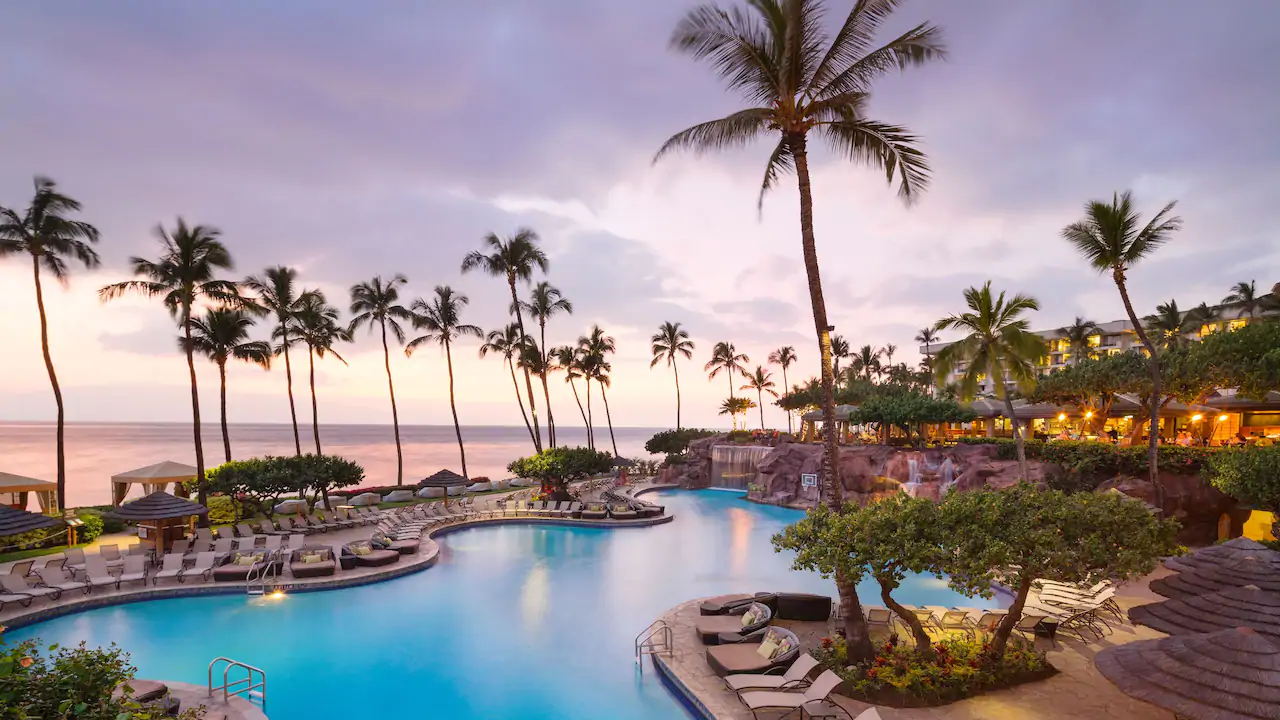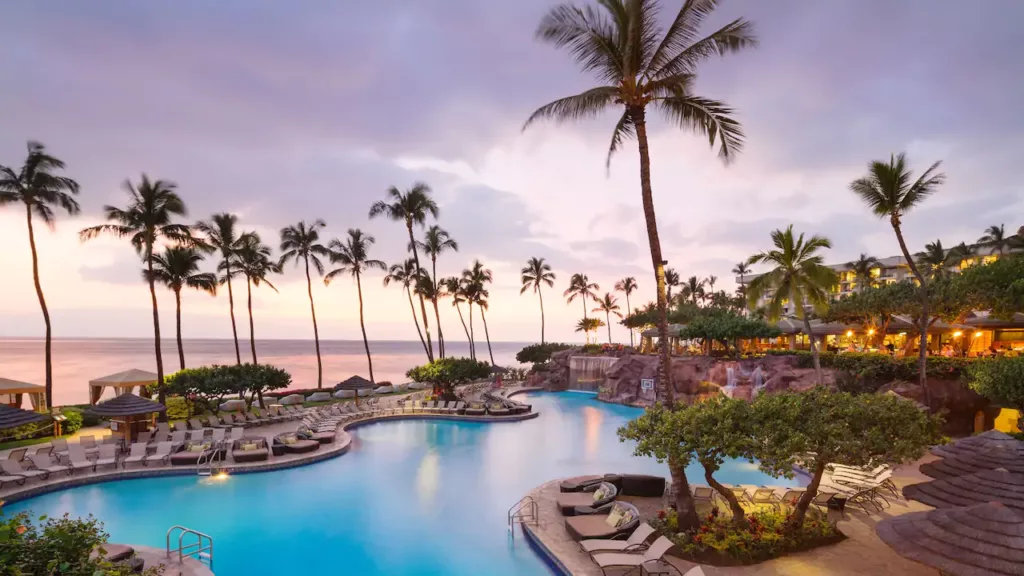 Going down the stairs from the atrium is the main pool area. Around the main pool area, you'll find the hotel's restaurants and bars.
If your kids are still on mainland time and are up at 4 am and ready to hit the pool by 7 am, you'll have no problem finding a lounge chair. However, by late morning this section of the resort is abuzz with activity.
If you take the beach walk north (to the right), you will pass the main pool and the grotto and will arrive at the kids swim area. We never had a problem finding chairs in this area, which was good because our kids kept coming back for more time on the slides and dolphins!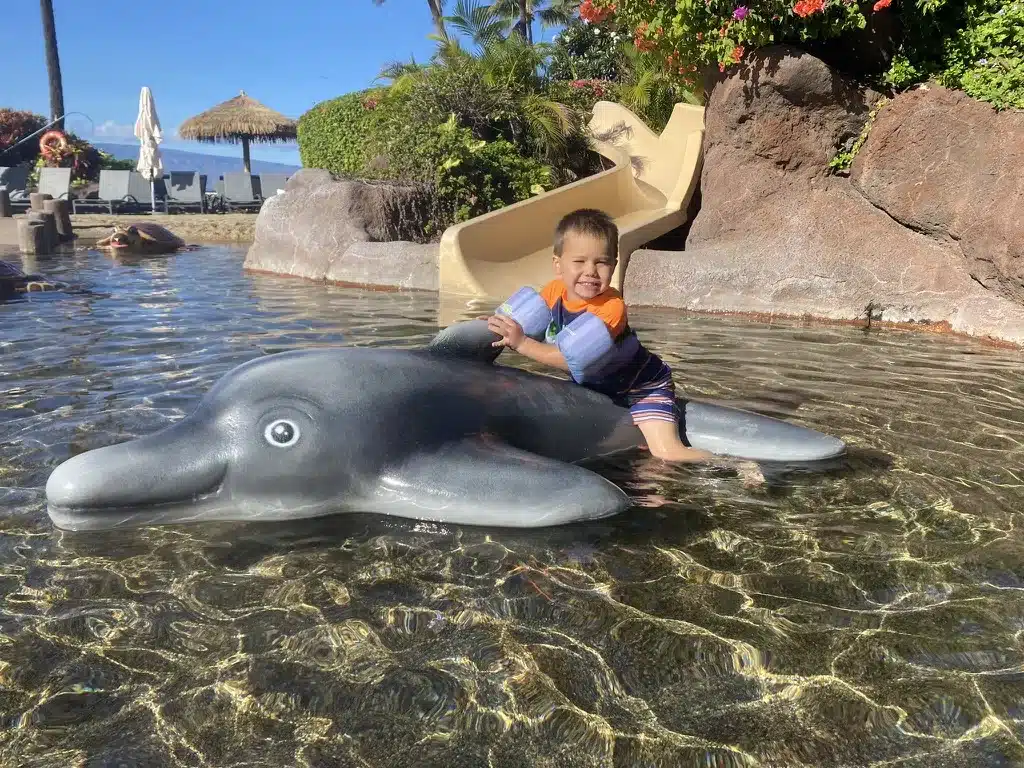 The kids area includes a large area that is 18" deep with sea turtles and dolphins to climb on and a smaller slide. This area is loosely enclosed with netting and rocks. The water features, including a splash pad and all the pool's waterfalls, turn on at 9 am.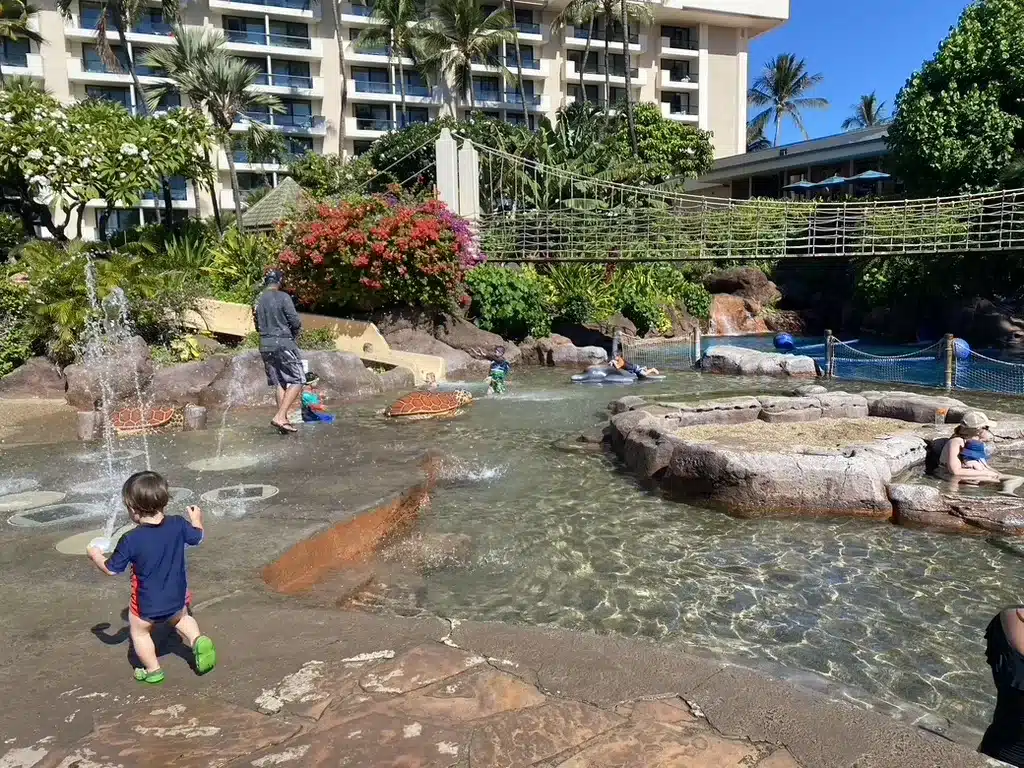 Just on the other side, the pool ranges from 4.5 to 9 feet deep and includes the long "lava tube" slide. The slide is accessible from the steps on the opposite side of the pool, and is open to those over 48 inches tall from 10 am – 5 pm.
Note that there are no lifeguards at any of the pools. There is a staff member at the top of the lava tube telling people when they can go down the slide.
If you keep going past the kids area, there is a small hot tub.
The Hyatt Regency Maui is next door to the Hyatt Residence Club. My understanding is that the pool at the Hyatt Residence Club is also available for use by guests of the Hyatt Regency, but we did not use it.
Beaches
Ka'anapali beach is a 3 mile stretch of beach, with the Hyatt Regency Maui being on the southernmost portion of the beach.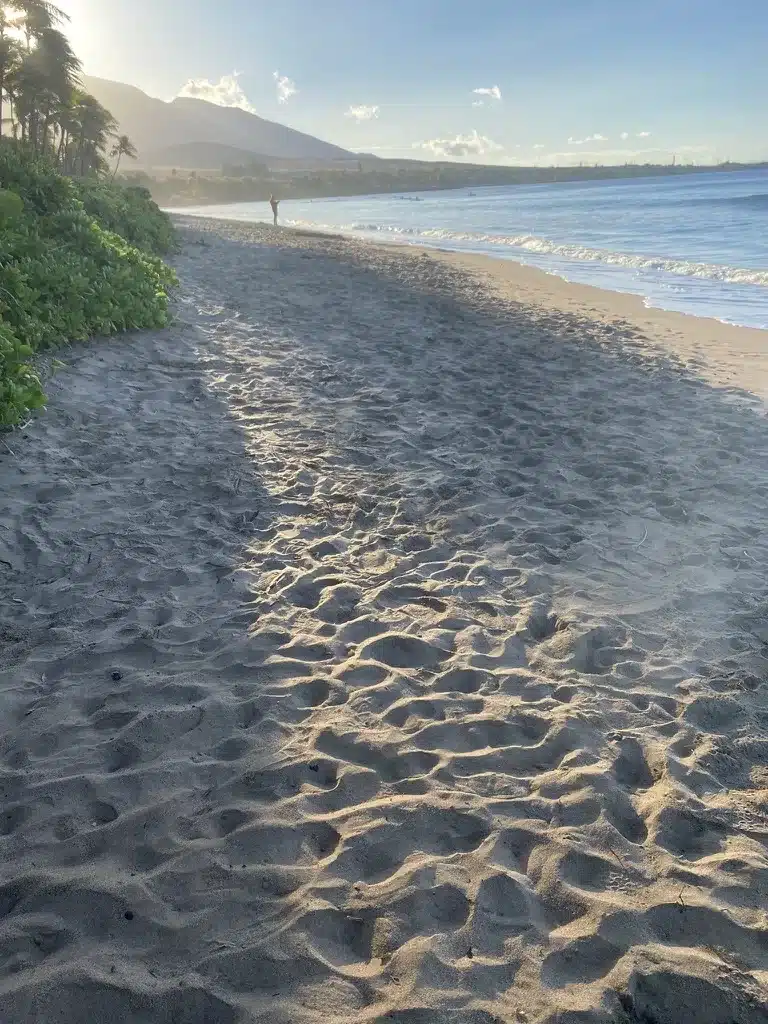 The beach is accessible at various points along the beach walk, including just beyond the main pool. The beach area in front of the resort is not large. During high tide, the water comes within feet of the hedges at some parts.
That said, the beach was more than adequate for our little ones to play in the sand and chase the ocean waves. Though the water was a bit rough for snorkeling while we were there, my kids did manage to spot a sea turtle in the water, and I saw one come up onto the beach!
For a calm beach with some coral and fish and more sea turtles, we thought Baby Beach, about 10 minutes away in Lāhainā, was perfect for little ones.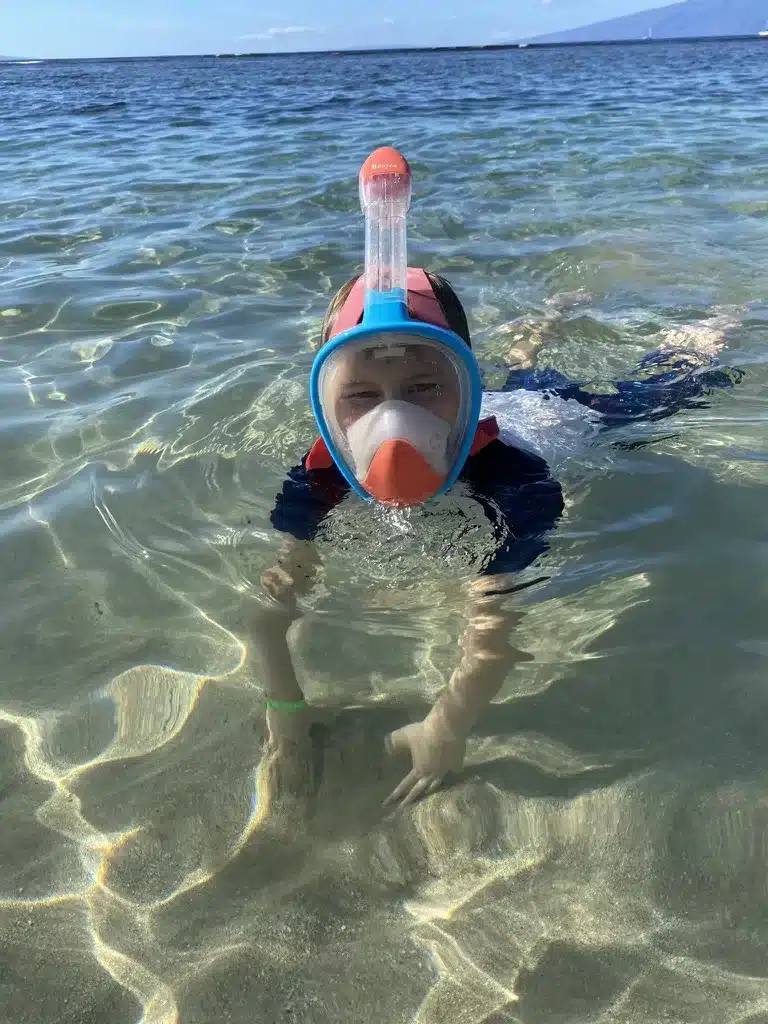 Towels
Throughout the property, there are kiosks with pool/beach towels. Scan your wristband, remove your towels, and close the door afterwards. Return your towels to any kiosk when you're done.
Apparently, the towels have RFID chips in them that link the guest with the towels removed. If the towels are not returned, they will cost you $25 at checkout.
Kid's Programs
I believe that prior to Covid-19 there was a paid drop-off kid's club option. That has not resumed and – as of November 2022 – there are no drop off kid's programs at the Hyatt Regency Maui.
However, there are kid's programs. The Hyatt Regency Maui has a schedule of daily classes for keiki (kids). These include a daily Penguin Presentation (there are 8 resident penguins in the hotel atrium!), Wildlife Tour (meet the resort's birds), and a variety of cultural classes.
See the current schedule here.
When we were in Maui, the available activities and cultural classes included in the resort fee were:
Kukui nut bracelet making
Lei making
Hula lessons
Ukulele lessons
Coconut weaving
Coconut husking
Penguin presentation
Wildlife tour
Meet a real life mermaid
We enjoyed going to several of the cultural classes (coconut weaving, coconut husking, kukui nut bracelet making, and hula lessons) during our four night stay. Some of the classes were taught by hotel staff and some were instructors that taught at several of the hotels.
Despite the hotel being busy, of the four classes we attended, we were the only guests every time!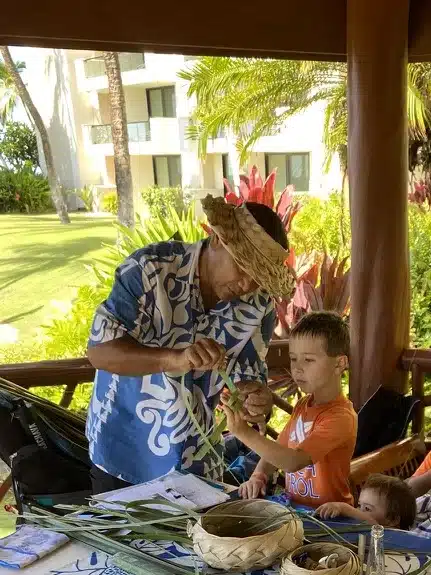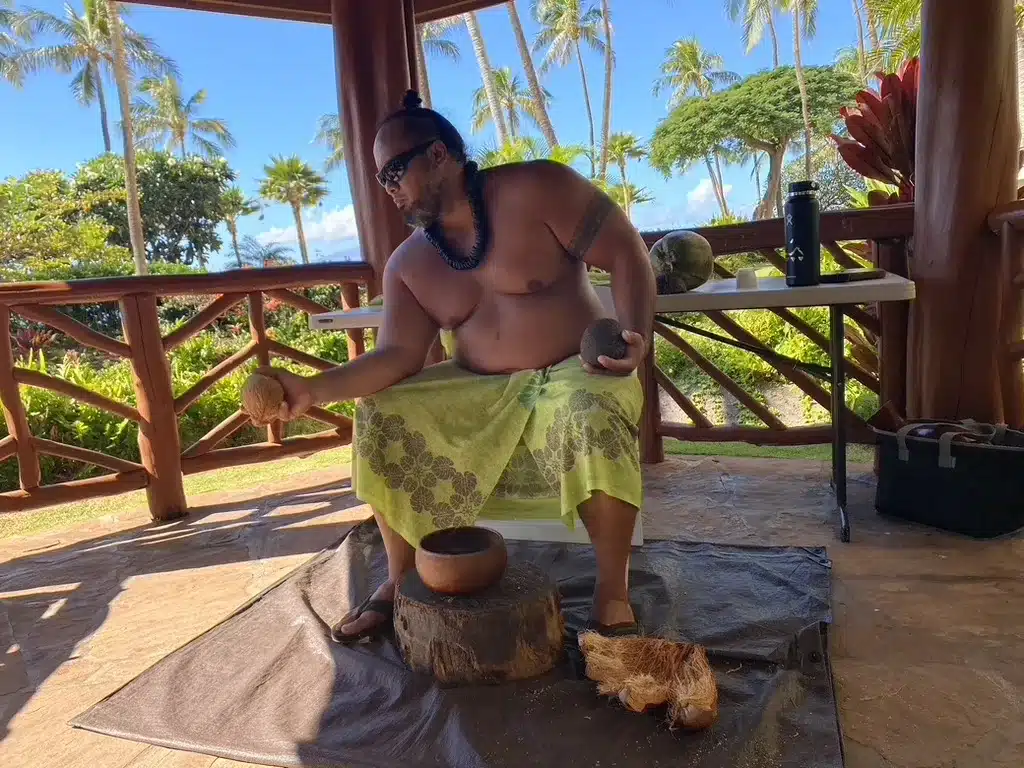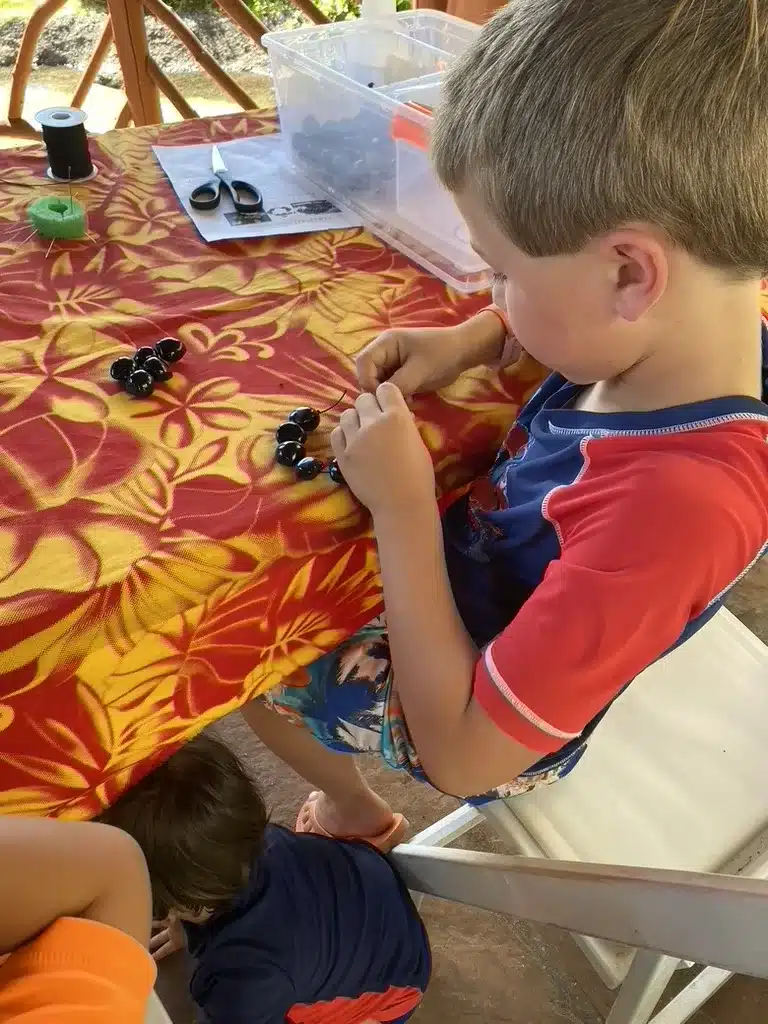 All of the instructors were very good, but we especially loved Uncle Ron, who taught coconut weaving and ukulele at the time of our visit. He had us all laughing and even gifted us with a lovely basket he had made!
Regency Club
If you are traveling to the Hyatt Regency Maui on points, the resort does have a Regency Club that is sometimes available for 8,000 additional points per night. If you have Globalist status or are a Guest of Honor, access to the Regency Club is included in your stay.
The Regency Club at the Hyatt Regency Maui is located past the shops on the ground floor of the resort, just before the Lahaina Tower. It includes a comfortable lounge area and a pleasant patio (just stay close to your food or the birds will nibble on it when you get up).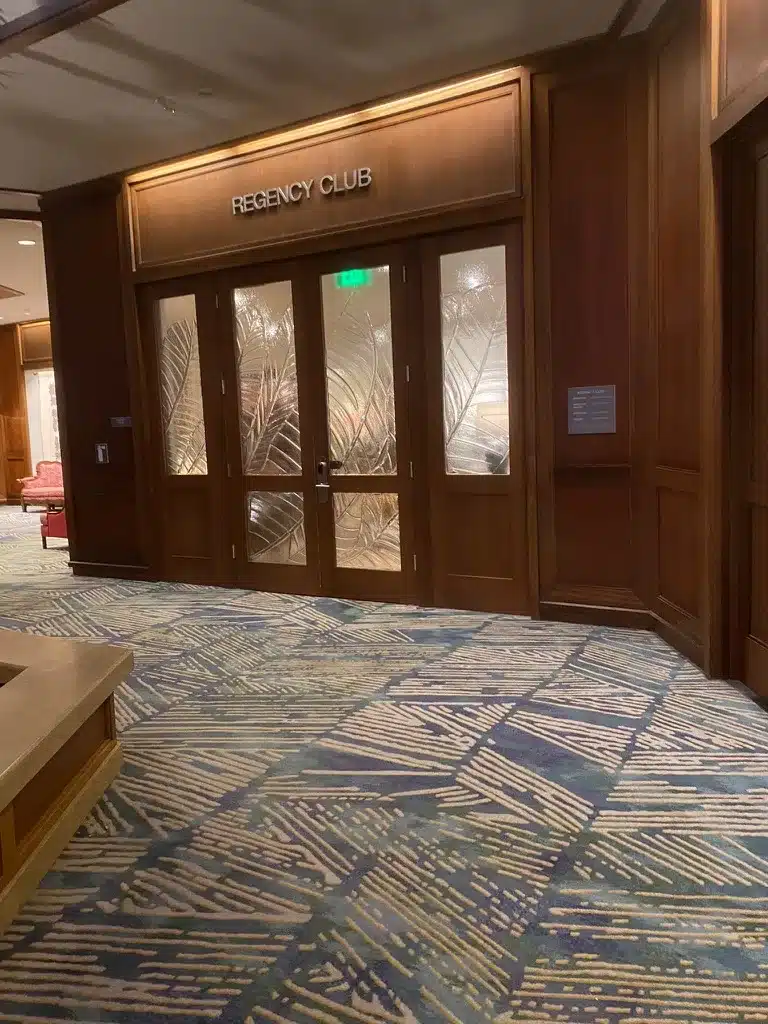 More importantly, access to the Regency Club gets you access to food throughout the day. A HUGE win when traveling with kids. Especially considering how expensive food in Hawaii is!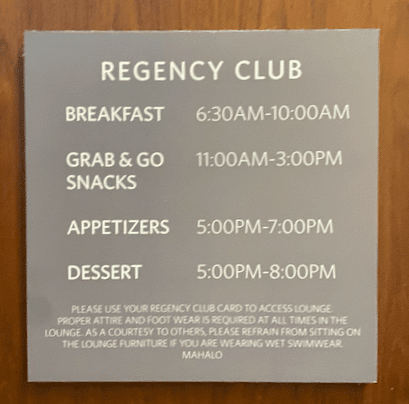 Accessing the Regency Club
You enter the Regency Club with your hotel wristband. After entering the Club and going through the lounge area, there is a sign in sheet where you write your room number and how many guests before going through the line.
At the time of writing, food at the Regency Club is not self-serve – the food is behind a glass screen and you let the staff know what you want and they serve you.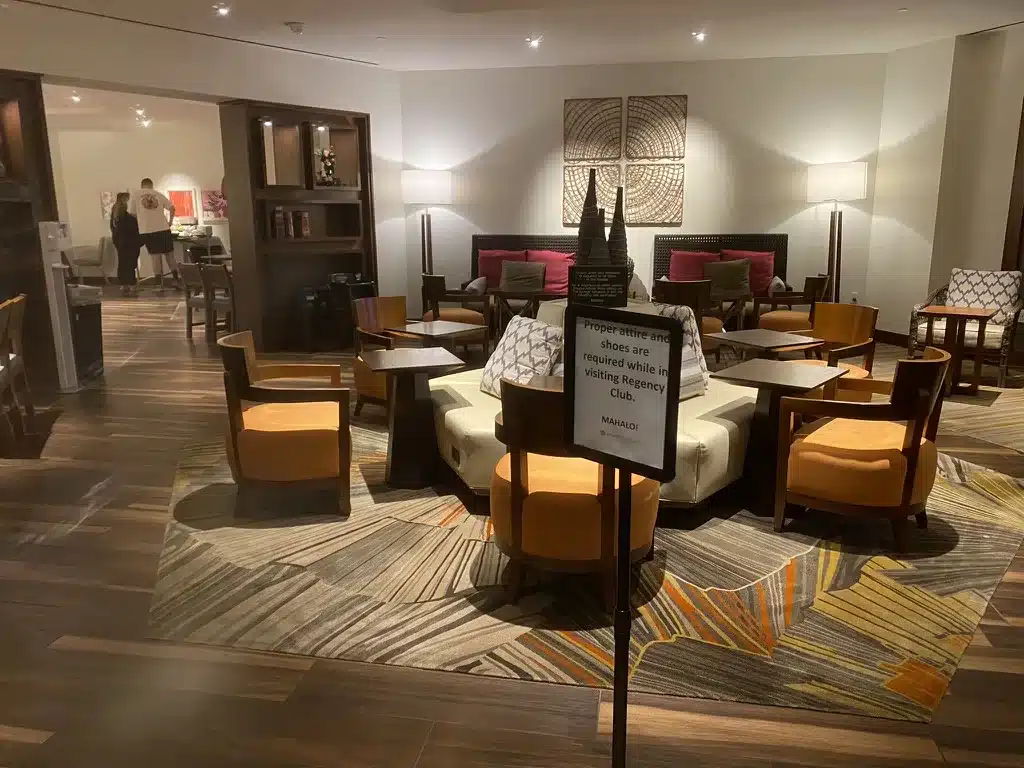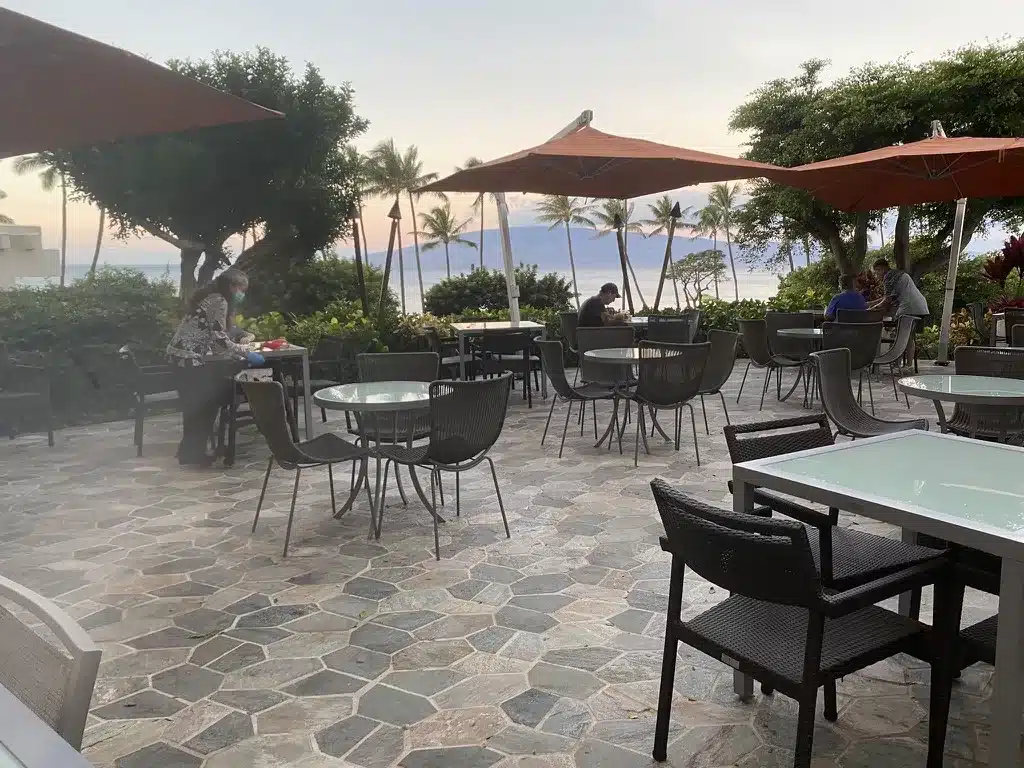 Food Options
The Regency Club provided breakfast, grab & go snacks, appetizers, and dessert. The menus changed daily, but were consistent. There was always coffee, soda, fruit juices, and milk available.
In addition to the food that was out, there were additional food and alcoholic beverages that were available for purchase.
Breakfast
I think the breakfast menu consistently had enough variety that even pickier kids could find something to fill their bellies. If your kids insist on cereal, however, they will be out of luck. There was no toast or bagels out, but I did hear people request and receive them.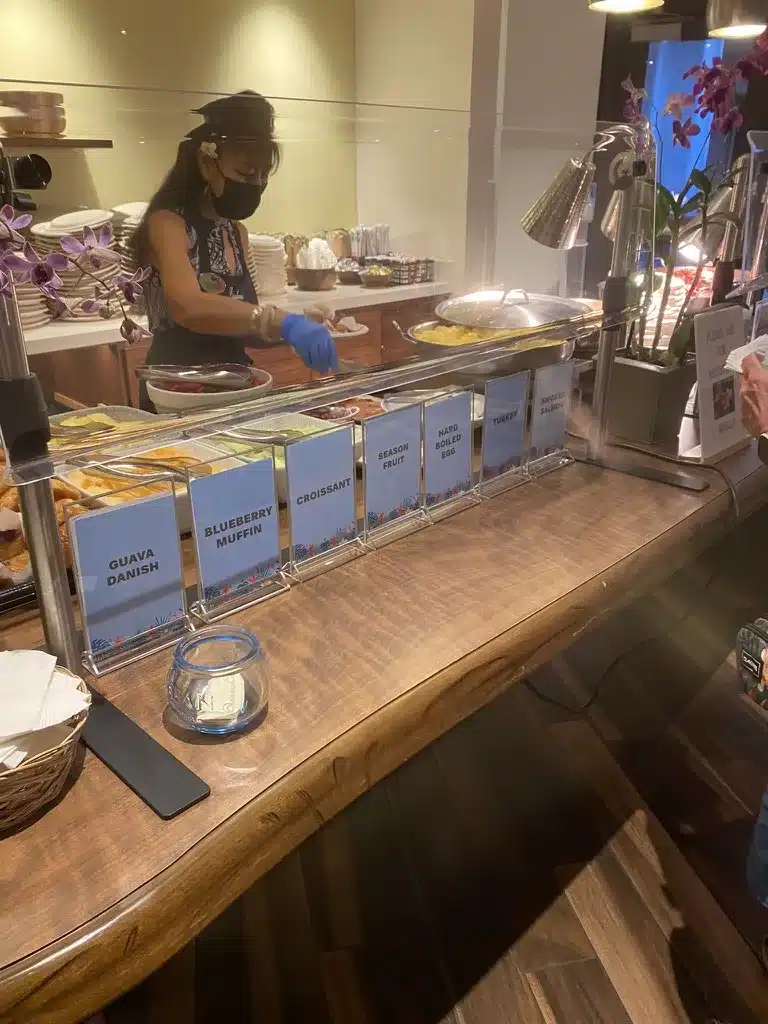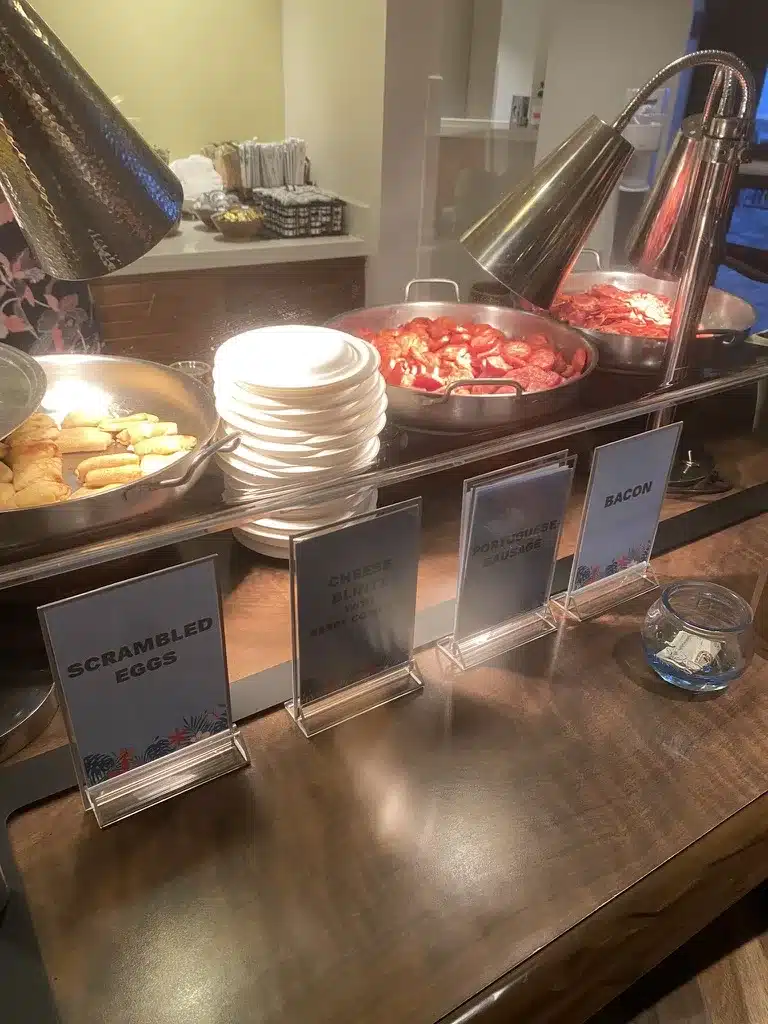 Each morning of our stay the breakfast menu included:
Danishes
Muffins
Croissants
Fresh cut fruit
Hard boiled eggs
Deli meat and smoked salmon
Scrambled eggs
Bacon
Sausage (changed daily)
1 rotating main dish (ie, cheese blintzes, ham and cheese roll, roasted potatoes, etc)
Yogurt
Grab and Go Snack
Grab and go snacks are available from 11 am – 3 pm daily. This is the lightest option of the day and the only one that we felt we needed to supplement (although I'm sure our kids would have been perfectly happy just eating snacks!).
Cookies (2 types)
Granola bars (Nature's Valley
Whole fruit (apples, oranges, bananas)
Maui potato chips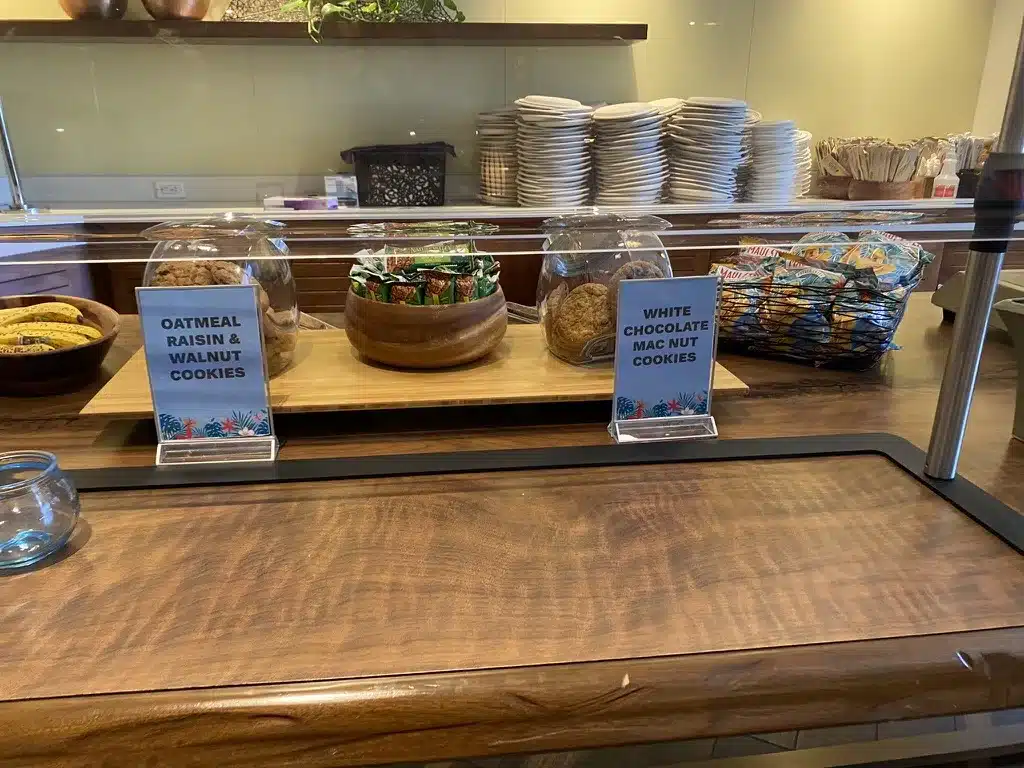 Appetizers
We were pleasantly surprised by the array of food available as "appetizers." This was enough to constitute dinner for our family.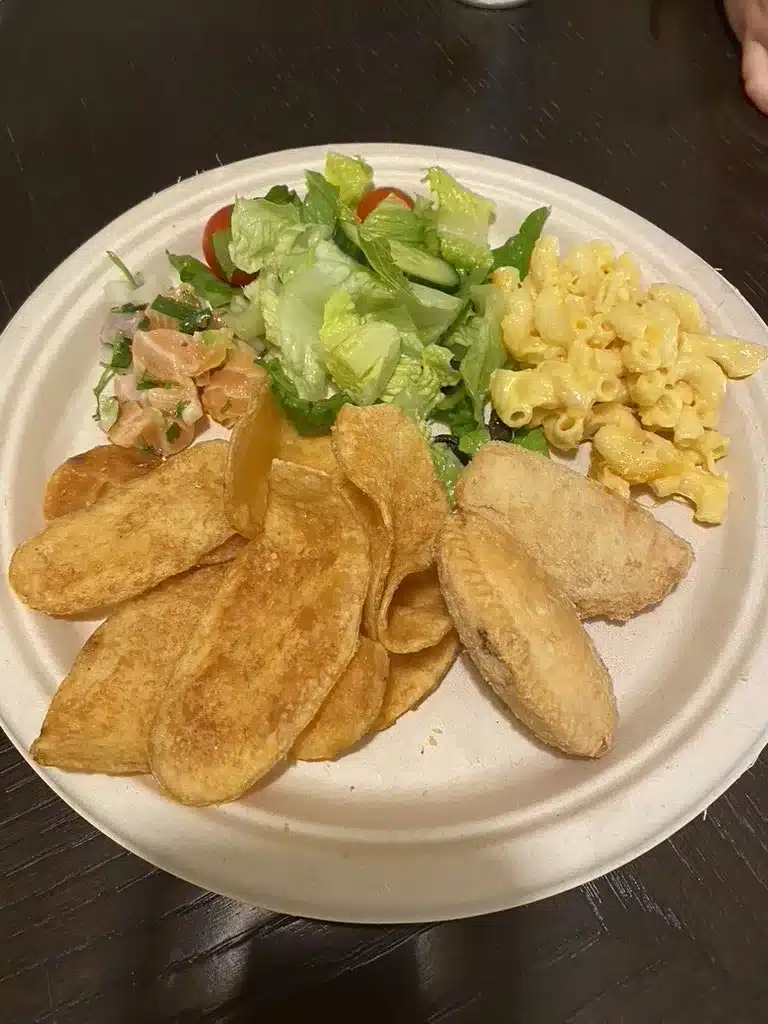 The food items changed daily but followed a consistent pattern:
Chips and dip
Salad
Seafood poke
One appetizer (egg rolls, dumplings, empanadas, etc)
One main dish (macaroni and cheese, coconut shrimp, etc)
2 desserts (fudge, cakes, haupia, malasadas, etc)
Dessert
From 7-8 pm dessert only was available.
Dining options
The Hyatt Regency Maui has room service and 5 restaurants and bars on site. You can view the menus here. There is also a lu'au on site, on the Lahaina side. Currently prices are $105 for children and $210 for adults.
In addition, there are several non-Hyatt food and beverage options on the property.
I can't speak to any of the Hyatt's restaurants since we don't enjoy spending oodles of money to eat out with small children. We made do with sandwich supplies from the grocery store and food served at the Regency Club.
We did, however, have Ululani's shave ice, which is a must!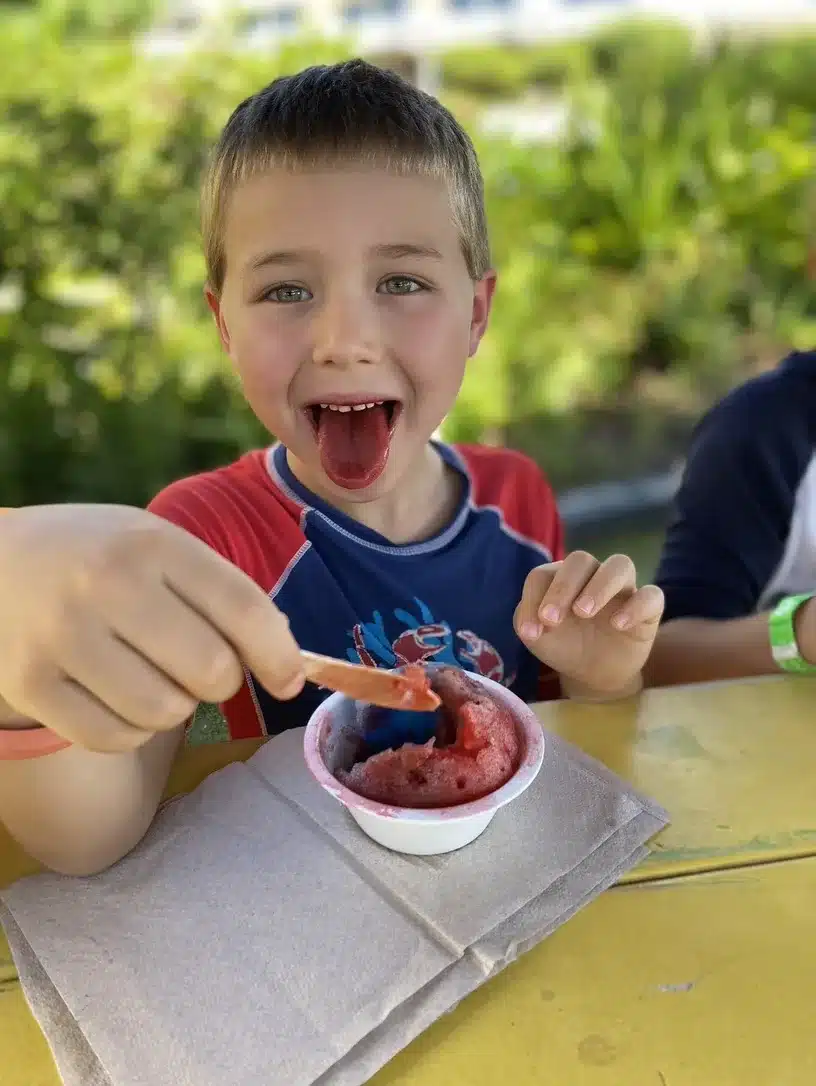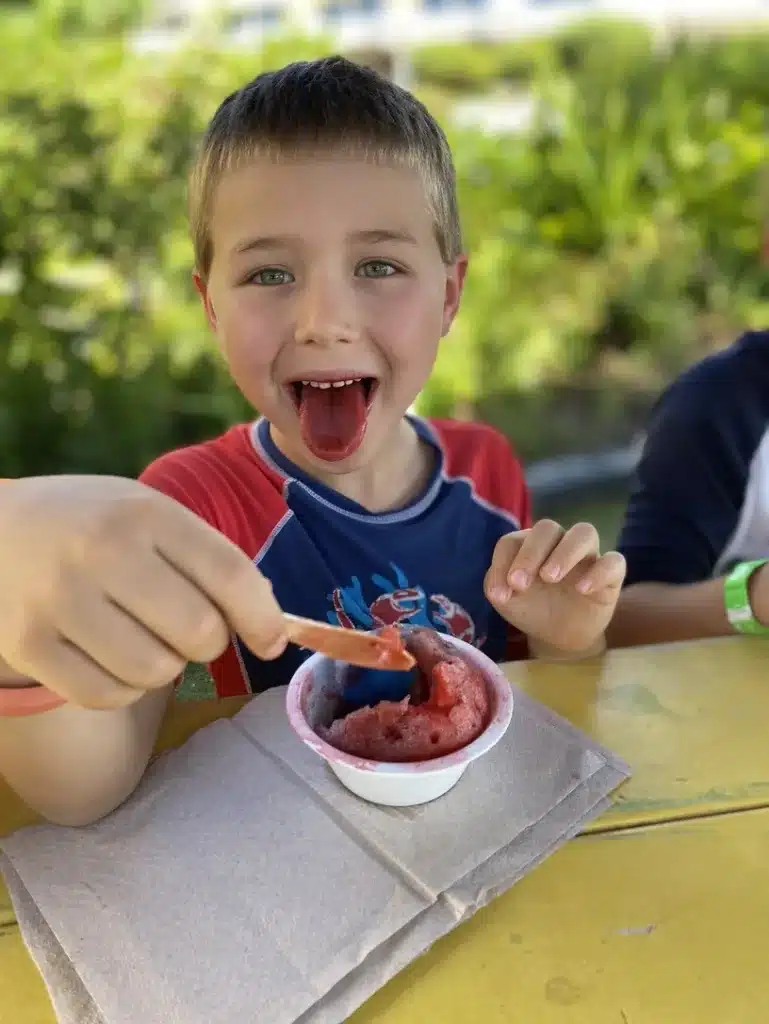 Other Amenities
Fitness
I cannot speak to the gym or fitness classes, or the tennis or basketball courts, since we didn't utilize these amenities. You can view the fitness and yoga class schedule here.
Spa
We did not utilize the spa, but here is the spa website.
Pool and Recreation Desk
If you want to sign up for any of the classes or activities, you can do that at the recreation and pool desk. Backpack beach chairs are available to checkout at no cost.
Cabanas and daybeds are available for rent here.
If you forgot your sunscreen or want to purchase any pool toys, you can also do that at the recreation desk.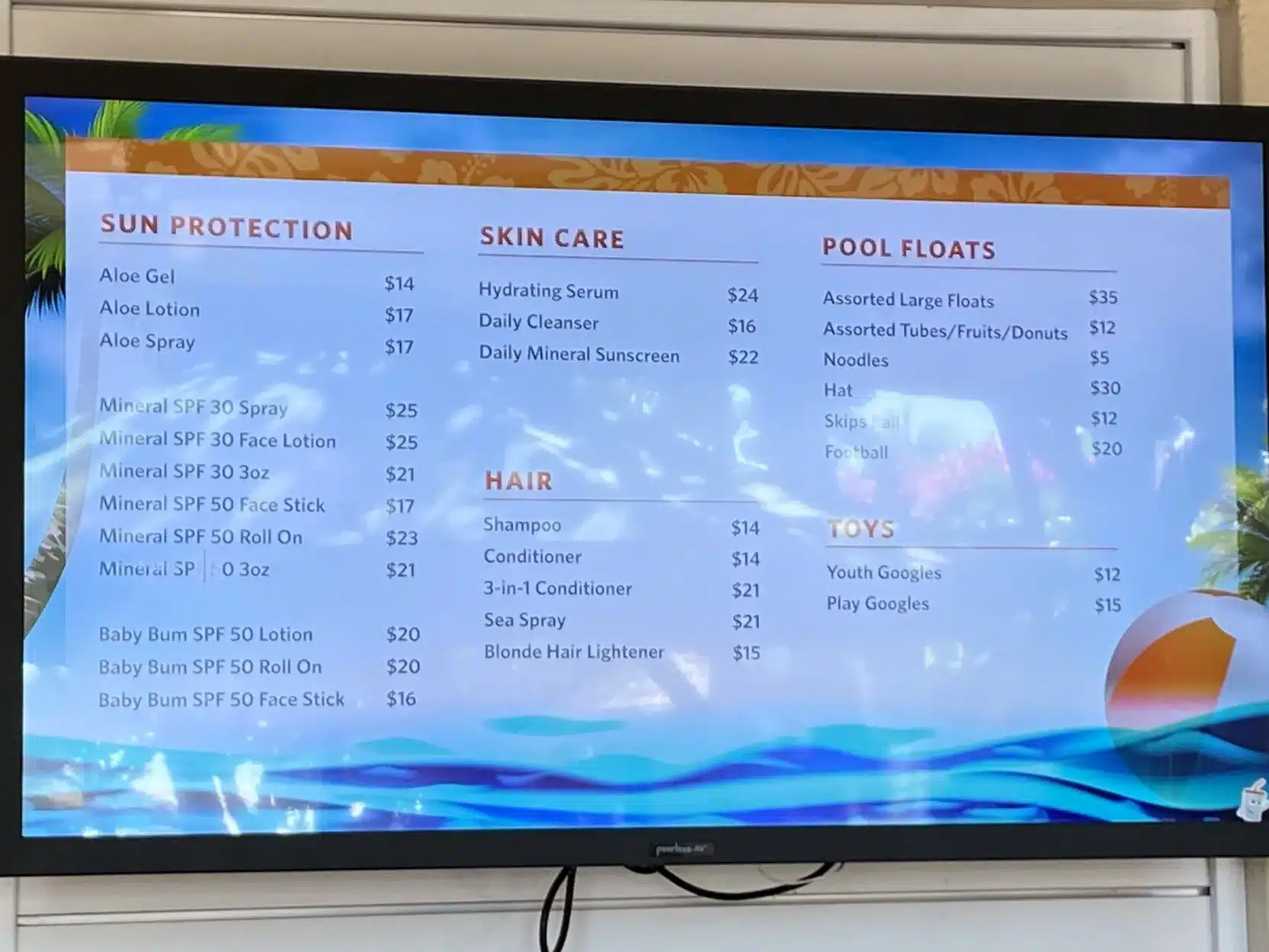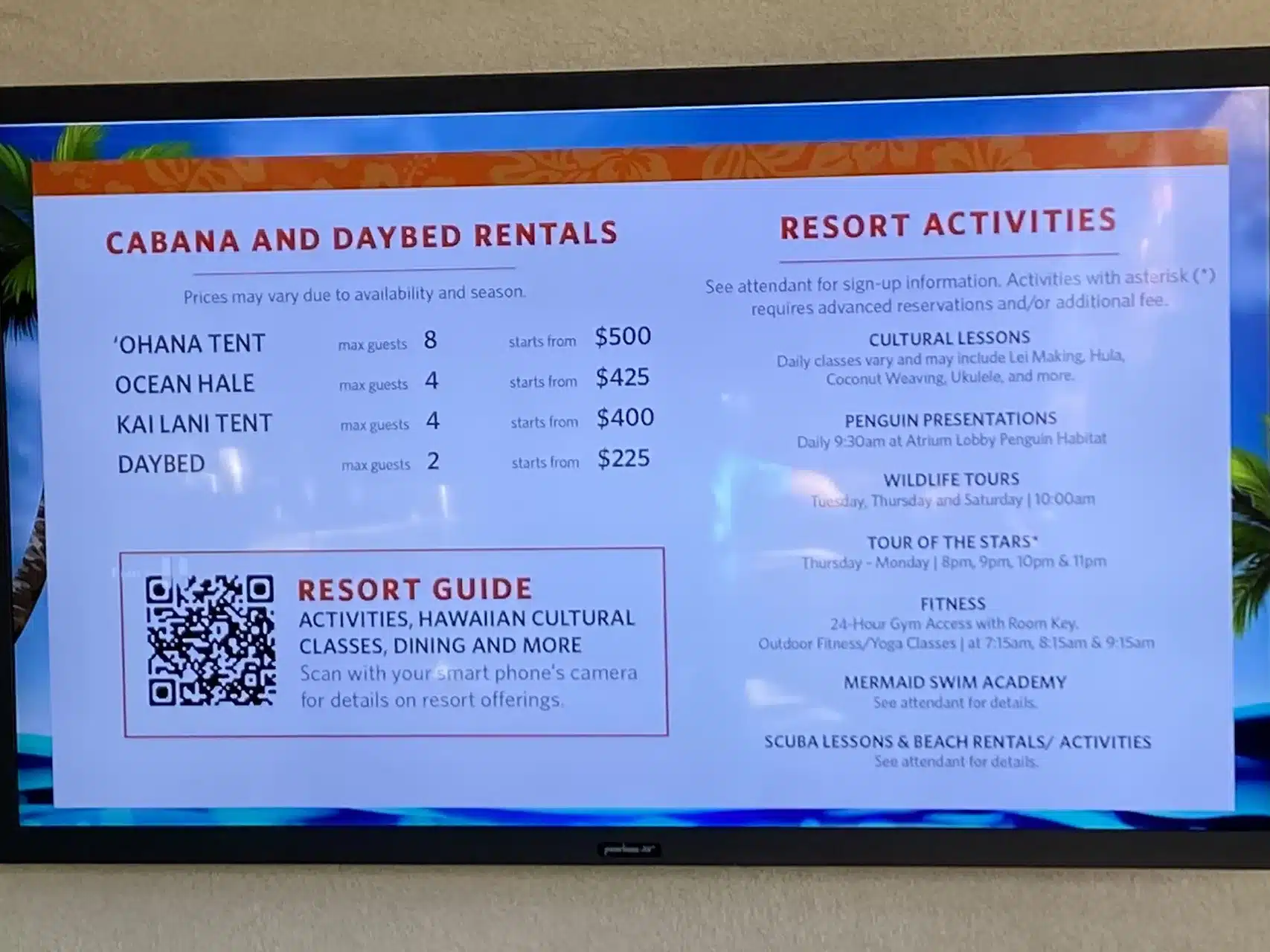 Animals
Take the wildlife tour and penguin presentation to learn more about the animals on the property, including various parakeets, swans, penguins, and koi fish. During the penguin presentation, kids also have a chance to feed the fish.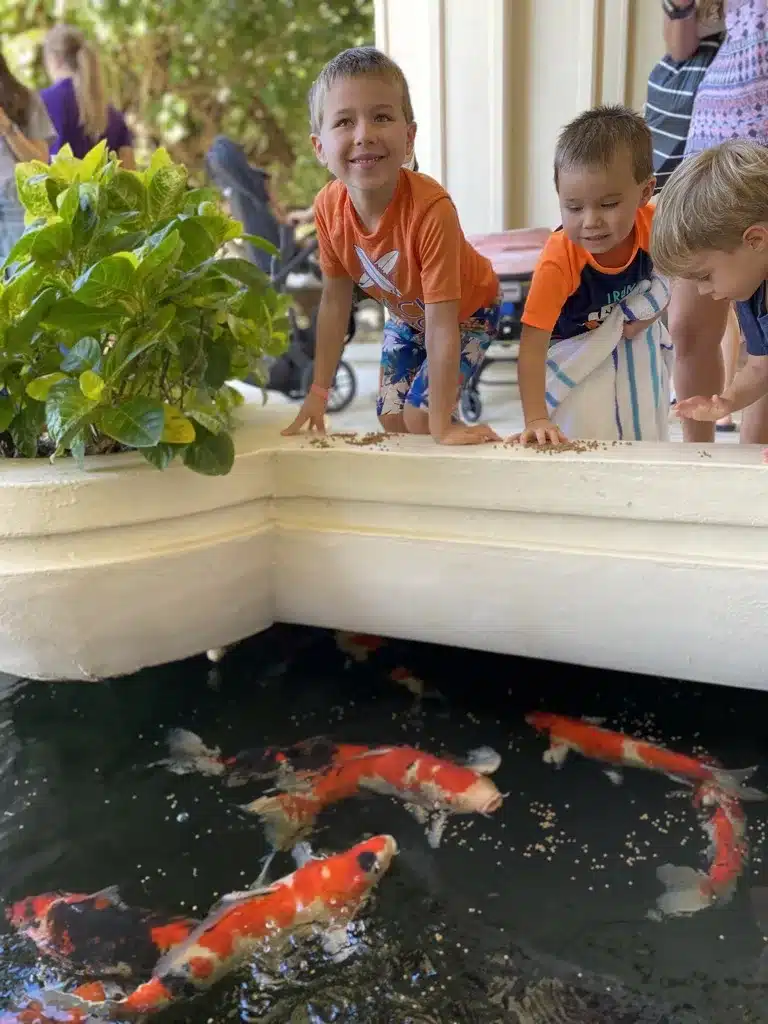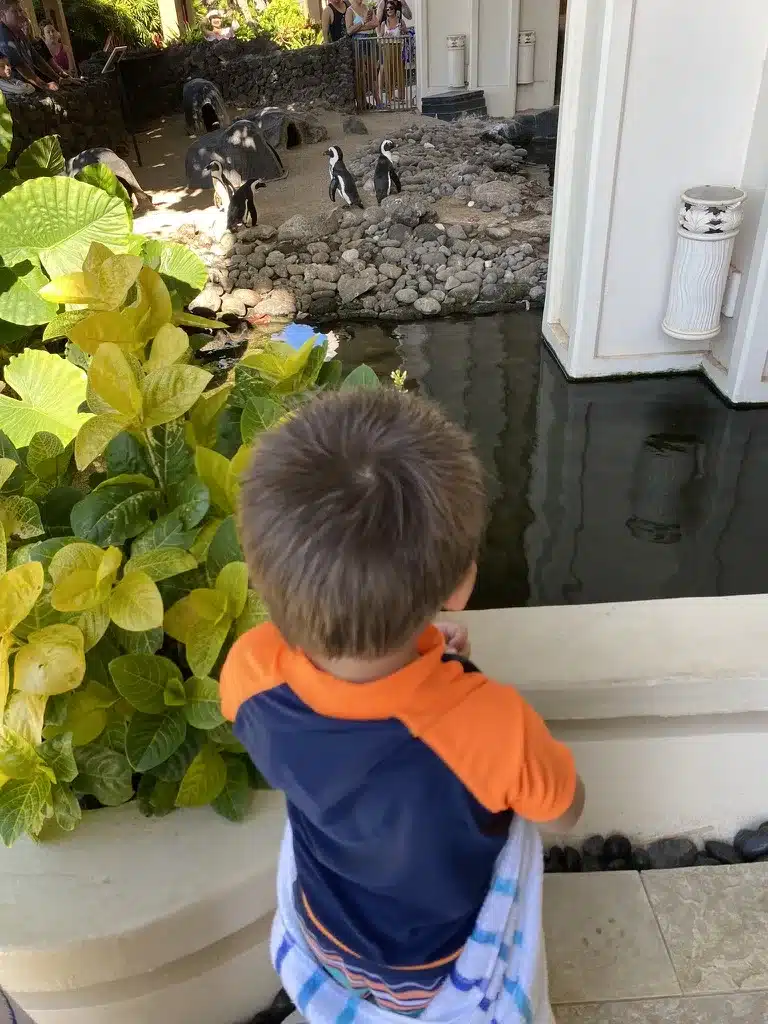 Earning Hyatt Points to Stay For Free
Of course, our favorite way to stay at a Hyatt property is by using points!
The fastest way to accrue Hyatt points is by earning Chase Ultimate Rewards and transferring them to the Hyatt. Earning enough points for a few nights at a Hyatt resort like this is as easy as opening a Chase Sapphire Preferred or Chase Sapphire Reserve card, and Chase Ink Business cards, and getting the sign up bonuses!
Read more about the Chase Sapphire Preferred and Chase Sapphire Reserve cards.
If you can meet the spending requirements, the Chase Ink Business Cash and Chase Ink Business Unlimited offer great sign up bonuses and no annual fee. Don't discount these cards just because you don't have an actual business! Even if you just have a small side hustle, you probably qualify for business cards!
Learn how to open a business card, even if you don't have a real business, below.
Note that you will need a Chase Sapphire or Chase Ink Business Preferred card in order to transfer points to the Hyatt.
$550 annual fee
Earn 60,000 bonus points after you spend $4,000 on purchases in the first 3 months from account opening.
$300 travel reimbursement. This is automatic credit for any hotel, airfare, parking, car rental, etc.
Fee reimbursement for Global Entry for 1 person (which is $100). This benefit is available once every 4 years.
Airport lounge access for primary card user and 2 guests traveling with them through Priority Pass
Premium Trip insurance: If your flight is delayed 6 hrs or more for any reason they will reimburse you up to $500 for hotels, food, etc. — as long as you pay for at least a portion of your fare with the card (like taxes).
$95 annual fee
Earn 100,000 Chase Ultimate Rewards Points after you spend $15,000 on purchases in the first 3 months from account opening
Earn 3 points per $1 on the first $150,000 spent in combined purchases on travel, shipping purchases, Internet, cable and phone services
$0 annual fee
Earn $750 (75,000 points) after you spend $6,000 in 3 months
If you have a Sapphire card, you can transfer the Ink points to the Sapphire card to get all the airline and hotel transfer benefits!
Earn 5% cash back on the first $25,000 spent in combined purchases at office supply stores and on internet, cable and phone services eacInh account anniversary year.
$0 annual fee
Earn $750 (75,000 points) after you spend $6,000 in 3 months
If you have a Sapphire card, you can transfer the Ink points to the Sapphire card to get all the airline and hotel transfer benefits!
Earn unlimited 1.5% Cash Back rewards on every purchase
You can also open a Hyatt card to get Hyatt points, but you'll get more points from a Chase Ultimate Rewards earning card.
$95 annual fee
30,000 Bonus Points after you spend $3,000 on purchases in your first 3 months from account opening
Provides 1 free night certificate every year on account anniversary (up to a category 4 hotel)
If you spend $15,000 per year on the card you will earn an additional free night certificate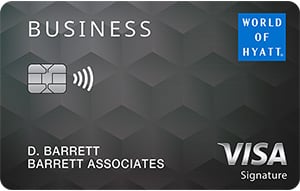 Earn 60,000 points after spending $5,000 on purchases within the first three months from account opening
$199 annual fee
Up to $100 Statement Credit
10% Redemption Bonus after you spend $50,000 in a calendar year on this card
For every $10,000 in spend on this card, you'll earn 5 elite night credits towards earning Hyatt status
2 Bonus Points per $1 spent in your top three spend categories each quarter through 12/31/23
Redeeming Hyatt Points
If you are planning to use your Hyatt points for a Hawaiian vacation, this article walks you through how to find availability and book through Hyatt.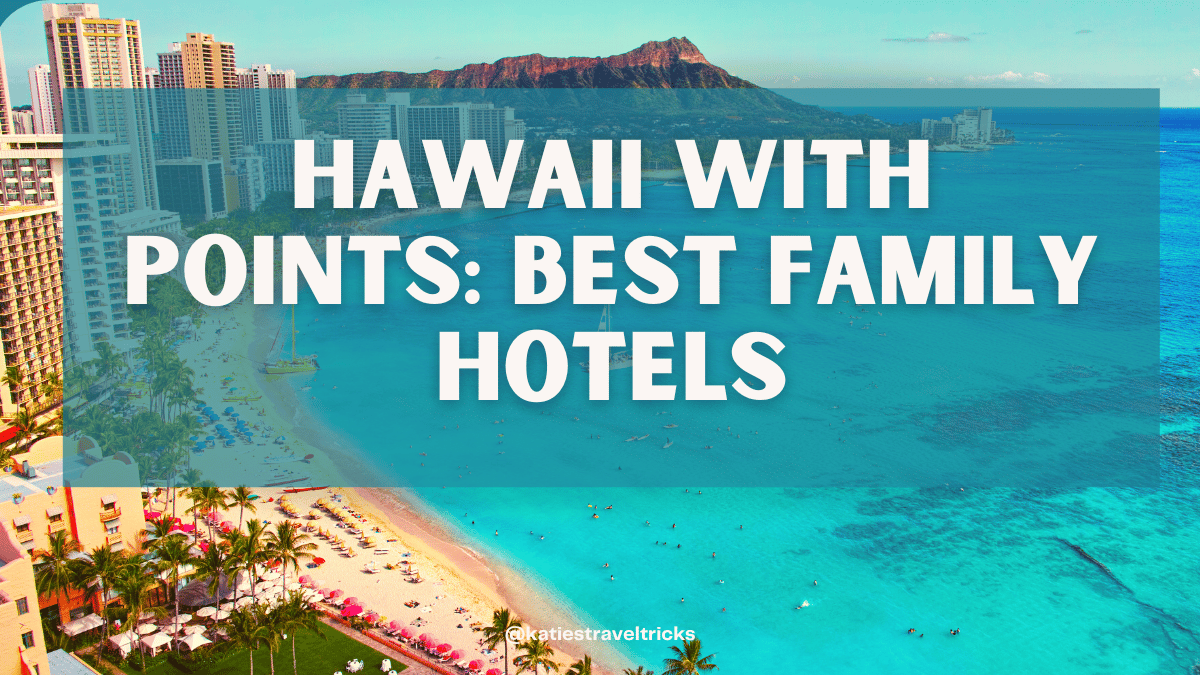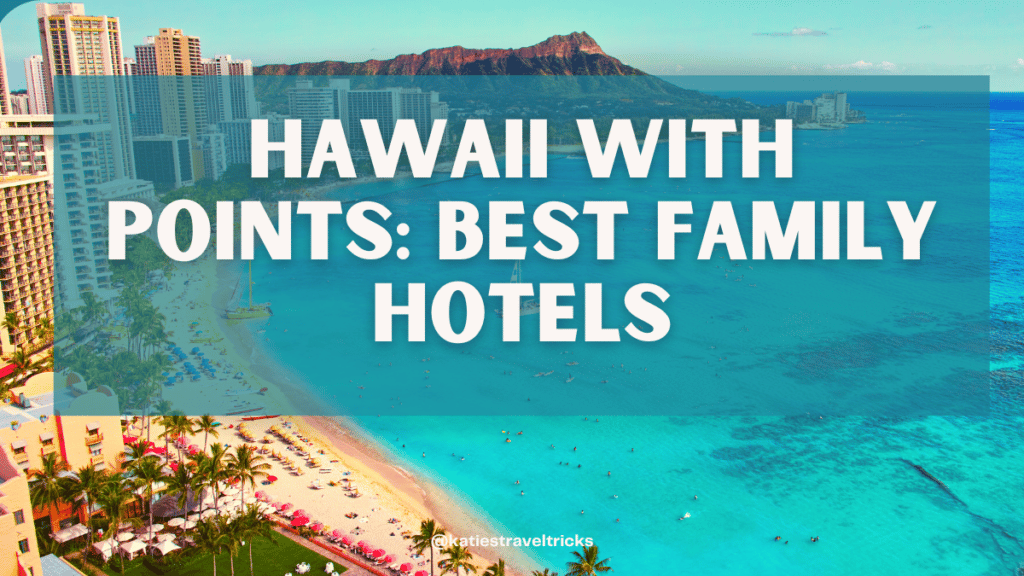 If you are using Chase Ultimate Rewards for your Hyatt stay, you'll need to transfer your points to Hyatt. Don't quite understand how transfer partners work? Sign up below to download our complete guide to transfer partners.