Affiliate Disclosure: As an Amazon Associate I earn from qualifying purchases.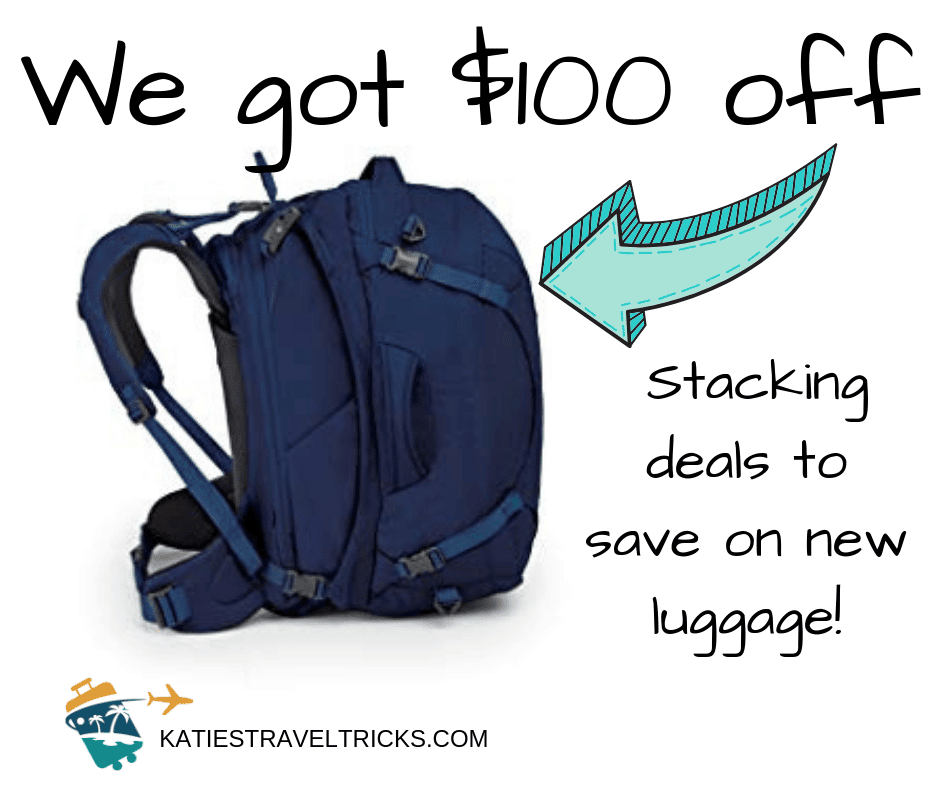 Before our trip, I started looking around for a new backpack that would offer us some versatility. We settled on the Osprey Duplex, which is carry on size and has some added features we like — the front part detaches and can be carried separately.
Full Retail Price on Amazon: $219.95
We didn't want to pay that, so I headed to ebags, where I know there's often a coupon code.
Discounted Price on eBags?(with 25% off code): $164.96
But don't stop there!
Before adding it to my cart, I headed to Cashbackmonitor.com to see which portal I wanted to click through to get some extra points.
It has taken us a while to get in the habit of clicking through portals before making online purchases, but the cash back and extra points can really add up.
Cashbackmonitor.com lets you see all your options. I don't participate in all the programs (too much to track!) but focus on Topcashback and Swagbucks.
At the time of my purchase, Topcashback was offering 12.5% back — later I made a different purchase and it was as high as 25%!
>>Sign up for Topcashback with my referral link and you'll get $10 bonus after you earn your first $10 cash back! (I'll get a bonus, too)
Additional Cash back from Topcashback: $24.74
But wait, one more deal! Ebags is often featured on Amex Offers, too. If you have any American Express credit card, you can scroll down after you've logged in to your account to see a variety of offers.
I had an offer for Spend $100 at eBags and get $20 back on my American Express Marriott Bonvoy card. So I added this offer to my card and then went to find that card. You have to pay with the specific card
Cash back from Amex Offer: $20
Now I had add my deals lined up so I'm finally ready to check out.
Head to Topcashback and click through the eBags link to get extra cash back.
Topcashback usually automatically adds a coupon code, too.
Pay with Amex card associated with the Amex Offer
In the end, we paid: $120.22 — or $100 off!
Want to try Topcashback? Sign up for Topcashback with my referral link and you'll get $10 bonus after you earn your first $10 cash back! (I'll get a bonus, too)