If you and a partner are working together to accumulate miles and points, this is often referred to as "two-player mode." If you are in two-player mode, chances are there will be times you'll want to combine miles and points with your partner.
In our household, I am player one – P1. My husband, who dutifully opens and closes cards at my prompting, is P2. If you have others you are working with (parents, adult children, etc.) to accumulate even more points, they are P3, P4, etc.
Having a P2 means that you can accrue points more than twice as fast as if you are in single player mode. This is because you are able to take advantage of referral bonuses to get even more points. More points = more free travel!
But actually redeeming your miles and points can get tricky when everyone has their own bank and loyalty program accounts. That's when combining points comes in handy.
Each bank and loyalty program has their own rules about combining points. Here are some of the reasons you may want to combine points, and some of the most common loyalty program rules.
Why combine miles and points?
Maximize redemptions
Pool points
When you combine, or pool, points from multiple accounts you end up with more points to work with and are able to be more efficient with redemptions.
With airline reservations, pooling miles may mean you're able to get an extra ticket that each person doesn't individually have enough miles for.
For example, if you need one plane ticket that costs 15,000 miles and each person has only 10,000 miles, pool the miles together and you'll have enough miles for one ticket. The same holds true if you are booking multiple tickets; combining miles may enable you to purchase an additional ticket with miles that neither partner has enough miles for individually.
Similarly, when booking award accommodations, pooling points may mean you have enough points for one more night at a hotel.
Pooling points for hotel reservations may also allow you to take advantage of a free hotel night. Marriott Bonvoy, Hilton Honors, and IHG One Rewards offer a 4th (IHG) or 5th (Marriott and Hilton) night free on award bookings (conditions apply). While one partner may not have enough points to take advantage of this offer, you may be able to after pooling your points.
Share status benefits
Combining miles and points so that the award reservation is booked by someone with a hotel or airline credit card or hotel or airline status can mean more benefits while you're traveling.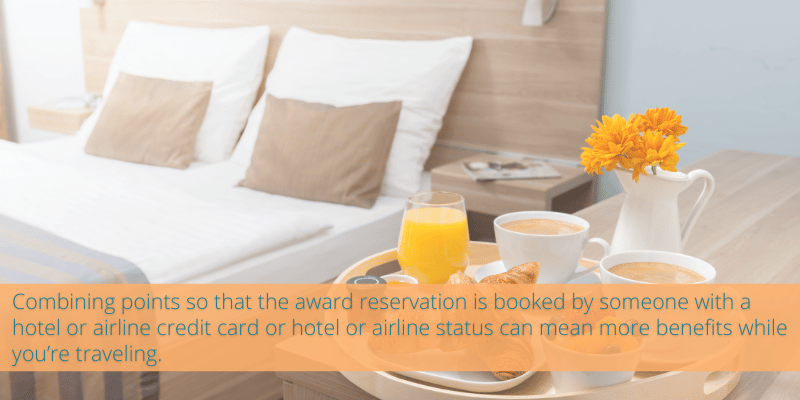 In order to take advantage of IHG's free 4th night, you need an IHG credit card. If the points can be combined into the cardmember's IHG account, you'll be able to take advantage of the free night benefit, as well as any status benefits that come with the card.
Some hotel chains will allow you to pass along your elite status perks when you book for another person. Most notably, Hyatt has the Guest of Honor program.
If a Hyatt Globalist makes an award booking for another person, their Globalist benefits – including waived parking fees, club access, and suite upgrades when available – are passed along to their Guest of Honor for that stay. This makes transferring points to a Globalist friend or family member to book your Hyatt stay quite beneficial!
Increase point value
Combining points can be strategic in order to get the most value out of the points.
The Chase Freedom, Sapphire, and Business Ink cards all earn Chase Ultimate Rewards. However, 1) not all cards allow you to transfer to transfer partners and 2) points have different values when redeemed through the travel portal or through Chase's "pay yourself back" program depending on the card you have.
The Chase Sapphire Preferred, Chase Sapphire Reserve, and Ink Business Preferred card all allow transfers to transfer partners. The Freedom cards and Ink Business Cash and Ink Business Unlimited cards do not.
Moving all your household's points to the partner with a Chase Sapphire or Ink Business Preferred card will increase the value of your points by allowing you to transfer them to transfer partners (United, Southwest, Hyatt, etc) for the best redemption value.
When making bookings through the Chase travel portal or through "Pay Yourself Back", Chase Sapphire Reserve points are worth 1.5 cents per point and Chase Sapphire Preferred and Ink Business Preferred points are worth 1.25 cents per point. If you only have a Freedom, Ink Business Cash, or Ink Business Unlimited card, points are worth only 1 cent per point.
Moving points to the partner who holds the card with the highest redemption value is a great strategy to maximize point value.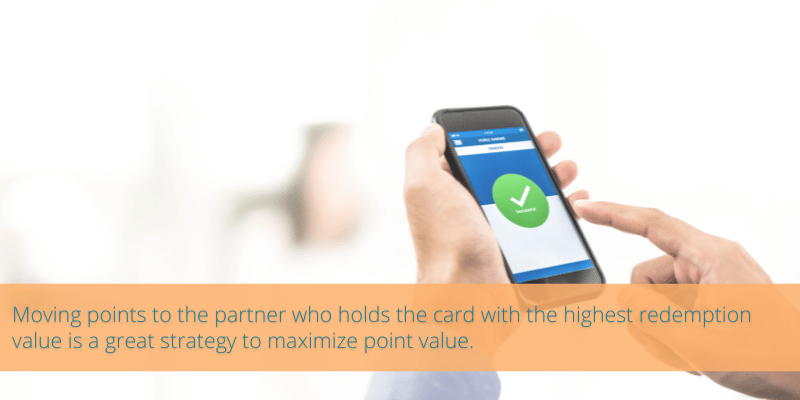 Reduce reservation complexity
Combining points enables you to move all the points needed for a booking into one account and then one person can book the airline or hotel reservations.
When booking flights, booking together ensures that everyone is on the same reservation. If you are on the same reservation, you will be more likely to be kept together for seating or in the event of any schedule changes.
For hotel reservations, making one reservation will ensure you stay in the same room for the duration of your stay and don't have to check out and check in again between reservations.
Preserve miles and points
If you are closing a flexible rewards card and don't have another card earning the same type of rewards, any points need to be liquidated or they will be lost upon account closure.
You can typically preserve your points by product changing or downgrading to a no-fee card. If you want to completely close the account though, moving rewards to another member's account means that you won't immediately lose the points or have to preemptively transfer them to a transfer partner.
Program rules
Flexible rewards points
The main flexible rewards currencies are American Express Membership Rewards, Capital One Venture Miles, Chase Ultimate Rewards, and Citi ThankYou points.
If you are working with a partner to accumulate points for a trip, make sure you know the rules of the credit card issuer and the loyalty program before you start transferring points. Each issuer has their own rules regarding transferring or combining points with another cardholder, and many airline and hotel loyalty programs charge fees to move points from one member to another.
| | | | | |
| --- | --- | --- | --- | --- |
| | Allows transfers to other cardholders? | Who can you transfer rewards to? | Allows transfers to non-cardholder loyalty accounts? | Whose loyalty accounts can you transfer rewards to? |
| American Express Membership Rewards | No | N/A | Yes | Authorized User |
| Capital One Venture Miles | Yes | Anyone | Yes | Authorized User |
| Chase Ultimate Rewards | Yes | One household member | Yes | Authorized User |
| Citi ThankYou | Yes | Anyone | No | No |
American Express
American Express does not allow you to combine your rewards with anyone else. While you can use your Membership Rewards to make reservations in another person's name, you cannot transfer your points to a partner or friend.
However, you can transfer points to an authorized user's loyalty program account. This means that you can transfer Membership Rewards directly from an American Express account into an authorized user's hotel or airline account.
Capital One
Capital One will allow you to transfer your Venture Miles to anyone else that has a Venture Miles earning card. This person doesn't have to be an authorized user or live in the same household. You don't even have to know the person you are transferring to, as long as they have a Capital One Venture or Spark card.
As with American Express, miles being transferred to a Capital One transfer partner can only be transferred into the primary cardholder's loyalty program account or the loyalty program account of an authorized user.
Chase
Chase allows Ultimate Rewards to be transferred to only one member of your household. The first time you do this, you will need to call Chase to have it set up. After that, you should be able to complete the transfer online.
As with American Express and Capital One, Ultimate Rewards can also be transferred directly to the airline or hotel loyalty account of an authorized user.
Citi
Citi ThankYou points can be transferred to anyone else with a card earning ThankYou rewards. You can do this online with the name and account number of the person you are transferring points to. However, Citi has a number of rules around these transferred points:
You can transfer up to 100,000 ThankYou points to other members per calendar year
Each member can receive at most 100,000 ThankYou points per calendar year
Shared points expire 90 days after they're received, so they'll need to be transferred out of the recipient's account within 90 days.
Unlike the other issuers listed above, Citi ThankYou points can only be transferred into the loyalty account of the primary cardholder. These points cannot be transferred into an authorized user's airline or hotel account.
Airline loyalty programs
Airlines allow you to use miles to book tickets for anyone, but it's not always free to transfer airline miles with another member.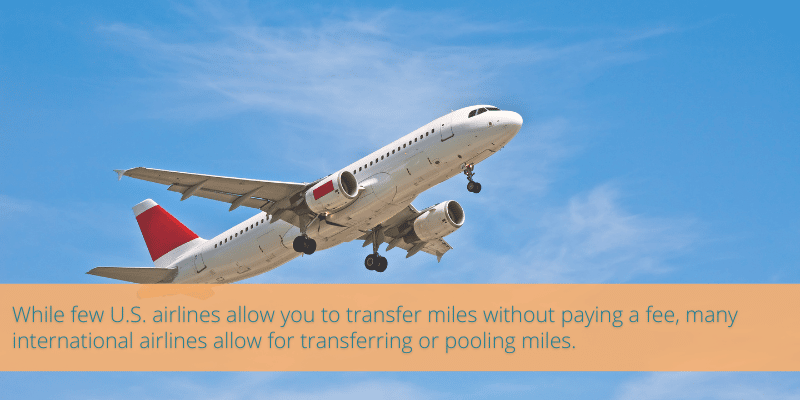 While few U.S. airlines allow you to transfer miles without paying a fee, many international airlines allow for transferring or pooling miles. Typically this is limited to family members. Search for the specific rules of the airline you want to fly to know what's permitted and any fees that may be charged.
| | | |
| --- | --- | --- |
| Airline | Free to move miles? | General Rules |
| American Airlines AAdvantage | No | $15+ processing fee + $12.50/1,000 miles |
| Air Canada Aeroplan | Yes | Up to 8 members can join and share points |
| Air France/KLM Flying Blue | Yes | Up to 2 adults and 6 children |
| Alaska Mileage Plan | No | $25 processing fee + $10/1,000 miles |
| ANA | Yes | Up to 8 family members within 2 degrees of kinshipAvailable to members living outside of Japan |
| Asiana Airlines | Yes | Up to 8 family members |
| British Airways Executive Club | Yes | Up to 6 household members |
| Delta SkyMiles | No | $30 processing fee + $0.01/mile |
| Emirates | Yes | Up to 8 family members |
| JetBlue TrueBlue | Yes | Up to 7 friends or family members |
| Lufthansa Miles & More | Yes | 2 adults and up to 5 childrenNot available to U.S. residents |
| Qatar | Yes | Up to 9 members |
| Singapore KrisFlyer | No | Parental link allows children's miles to be transferred to parental accountTransfer fee of $5 or 500 miles per 5,000 miles |
| Southwest Rapid Rewards | No | $0.01/mile |
| Turkish Miles&Smiles | Yes | Spouses and unmarried children under 25 when head member is Classic Plus, Elite or Elite Plus member |
| United MileagePlus | No | $30 processing fee + $7.50/500 miles |
| Virgin Atlantic Flying Club | Yes | Up to 9 members if you are a Virgin Atlantic Flying Club Silver or Gold member |
Hotel loyalty programs
As with airline loyalty programs, each hotel program has their own rules and caps for moving points between members. If you are transferring points into a loyalty program account, you may want to take advantage of pooling any points while they're still flexible rewards if the bank allows it.