For just 55,000 miles plus $53 and taxes and fees, you can fly round trip from Seattle to Tokyo. You'll be flying on Delta for this sweet spot — but you'll be getting this price by booking your flight through their partner, Virgin Atlantic. If you leverage some transfer bonuses — like the 30% one Chase has right now for Virgin Atlantic, you can get it for even less! If you transfer just 39,000 points to Virgin Atlantic from Chase Ultimate Rewards, you'll end up 55,000 Virgin Atlantic miles — enough for a round trip to Tokyo. Even better, I will show you a trick to find availability on these easily.
What makes this a sweet spot?
If you book directly on Delta, this flight often costs 100,000 points or more round trip. Other airlines charge 70,000 or more for a round trip from North America to Japan.
Side note: Even 70,000 points round trip is a great price. We plan to use American Airlines miles to fly from Chicago to Japan next year and will spend 70,000 points each.
Even though you would fly on Delta, you'll be booking on Virgin Atlantic, which partners with Delta through SkyTeam Alliance.
When you use Virgin Atlantic miles to book a partner flight, Virgin prices it by distance. Seattle just happens to be in the distance that puts the flight at 27,500 miles each way, making it the cheapest option for flights from North America to Tokyo.
Which airports are best?
You'll get the best pricing when you book on a nonstop Delta flight. This is because Virgin Atlantic prices by distance. Delta flies six routes from North America to Tokyo's Haneda (HND) airport.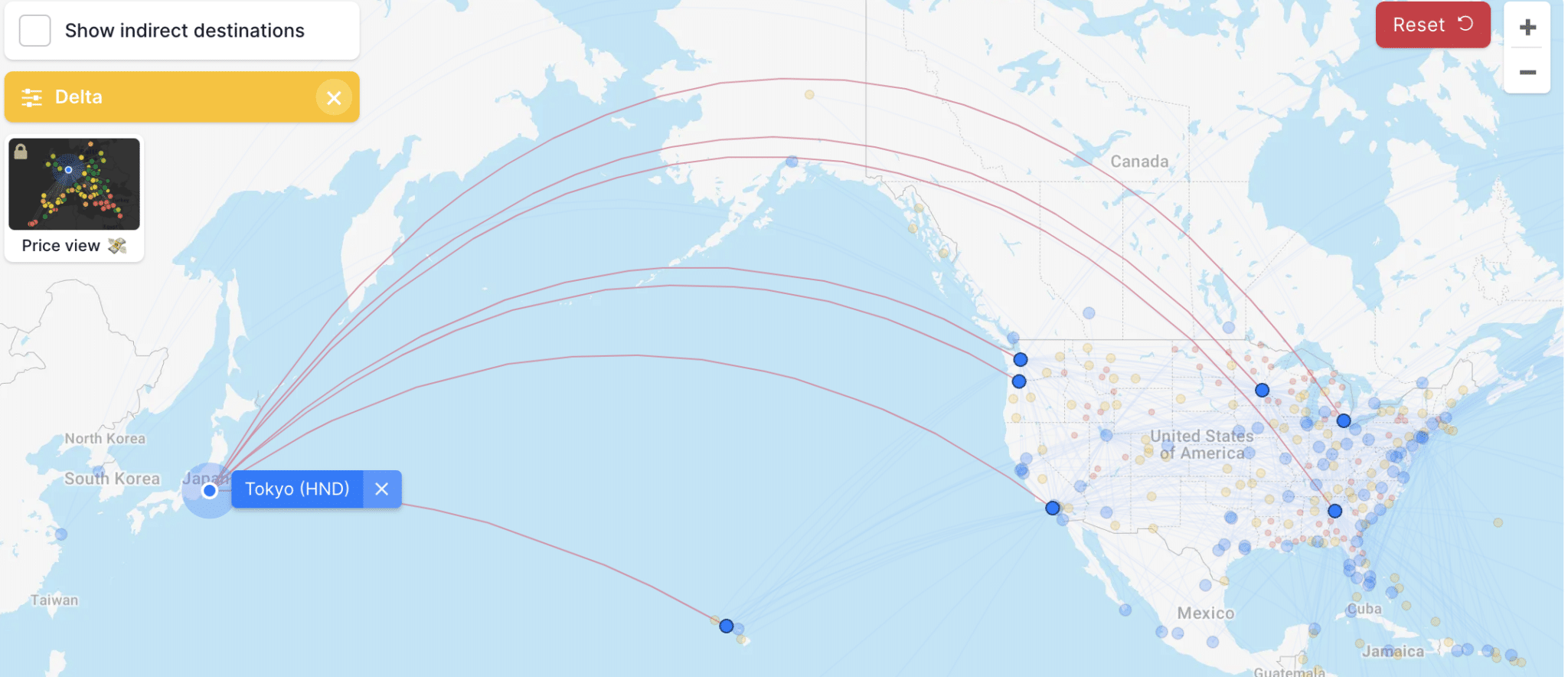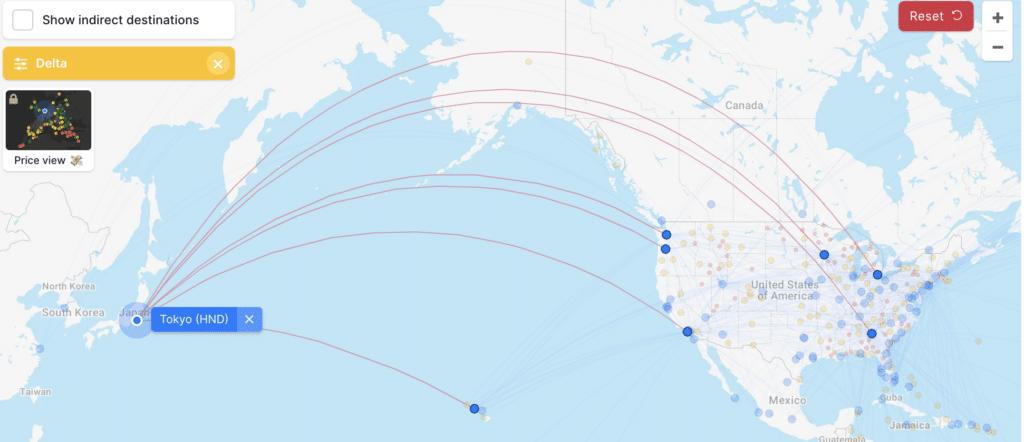 55,000 Miles Round Trip: SEA
Seattle is the shortest flight and short enough that this will cost just 27,500 miles each way. There are also flights from Portland PDX, but I did not see any availability to book via Virgin Atlantic.
70,000 Miles Round Trip: LAX, MSP
In the next distance/price band, you'll find Los Angeles and Minneapolis. These flights will cost 35,000 miles each way.
90,000 Miles Round Trip: DTW, ATL
The most expensive would be the flights from Detroit and Atlanta. Bot of these would cost 45,000 miles each way.
What if I don't live by those airports?
If you don't live in Seattle, LA, Minneapolis, Detroit, or Atlanta, you could still use this sweet spot. You can book connecting flights wholly within Virgin Atlantic if you choose to. From Chicago, for instance, I could book for 42,500 miles each way. I saw flights from Boston for 46,500 each way. Because Virgin Atlantic miles are easy to earn, this still might make sense for a lot of people!
Another option, and the one we'd do if we were going to book this, is to book a separate flight to and from Seattle — with a day in between for wiggle room. We'd book on Southwest and use our Companion Passes and then use hotel points to stay at an airport hotel. We don't like long travel days and find that an overnight layover is the easiest way to make long journeys more tolerable as a family.
Trick to find availability: Virgin Reward Seat Checker
Normally you'd have to search one week at a time to find availability for this — but there's a simple workaround to allow you to see a month at a time.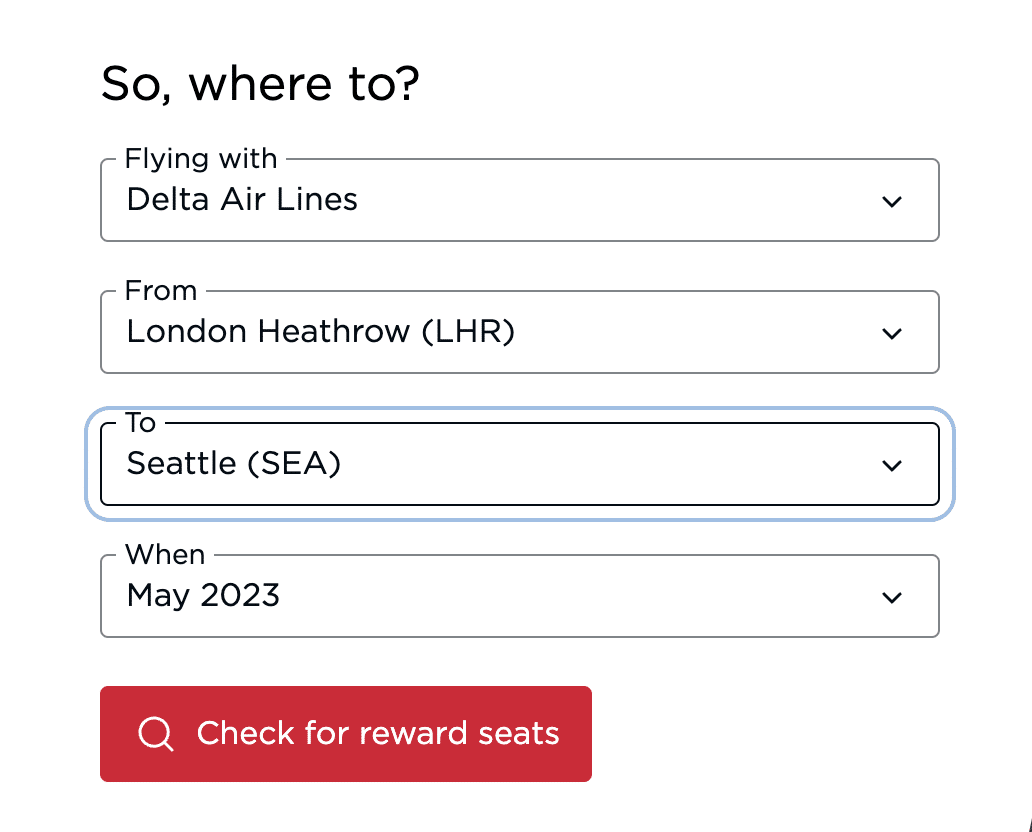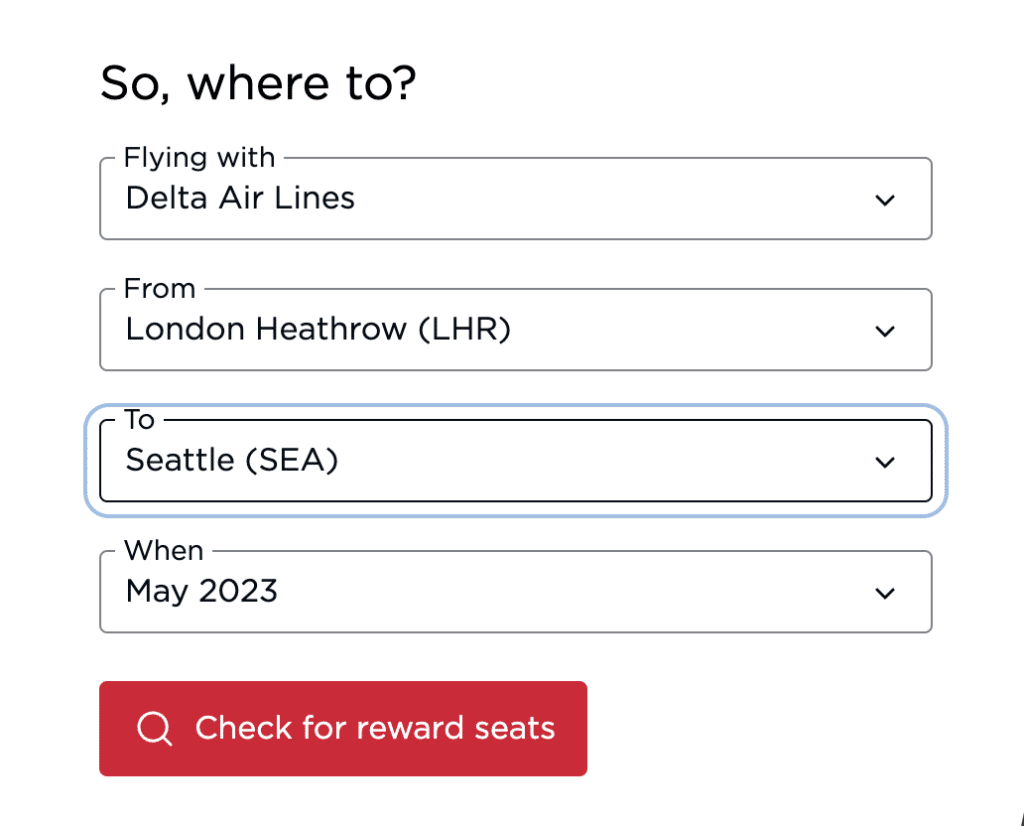 You'll be going to Virgin's Reward Seat Checker and selecting Delta airlines with any of the airports listed. Then you'll be changing the airport codes to reflect the routes you actually want to see pricing for. In the image below, you can see it says LHR and SEA for the airport codes.


We want HND and SEA instead. So if you edit this in the search bar (use all capitals!) it will give us the information we actually want.


Here's a sample search I pulled for February 2024.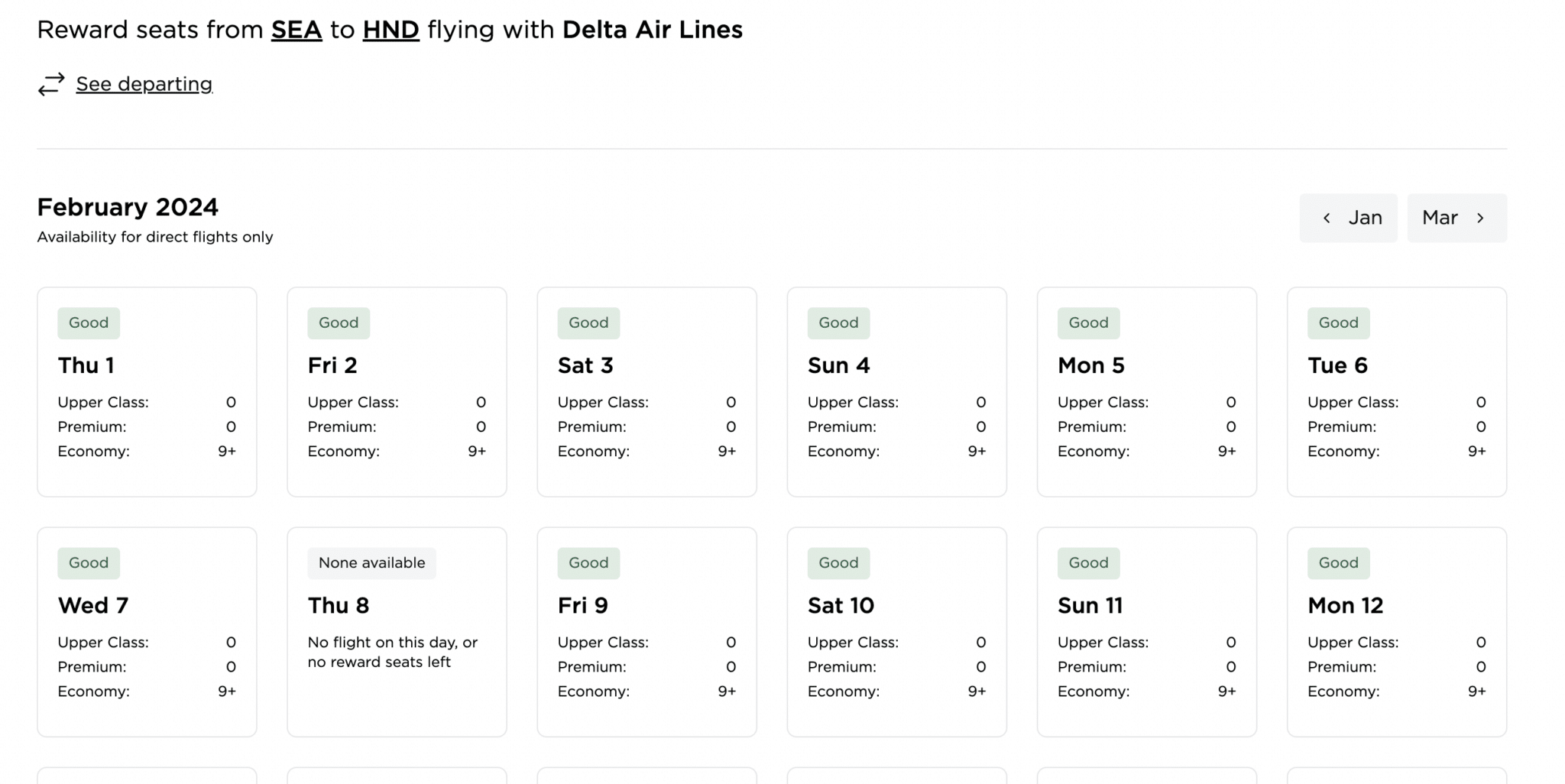 YouTube Walkthrough of Finding Availability
You can also follow along in this YouTube video of how to find availability
How to earn Virgin Atlantic miles
Transfer Points from These Banks
The following points all transfer to Virgin Atlantic at a 1:1 ratio: Chase Ultimate Rewards, American Express Membership Rewards, and Citi ThankYou Points. Capital One miles transfer to Virgin Red, which in turn lets you transfer to Virgin Atlantic.
That means if you have any of these transferrable points, you can transfer and book this!
Some banks even run bonus promotions — currently (As of May 10, 2023), you can transfer Chase Ultimate Rewards to Virgin Atlantic and earn a 30% bonus!
Open a New Credit Card
Any cards that earn those transferrable points would help you earn points for this flight. Here are a few of the top offers.
Learn More About Transferring Points
There are lots of different ways to transfer points to get more value out of your points. Sign up for my free transfer partner guide for a primer — it also includes a downloadable cheatsheet with the major programs and airlines they transfer to.
You'll also find more information in my free course at learn.katiestraveltricks.com