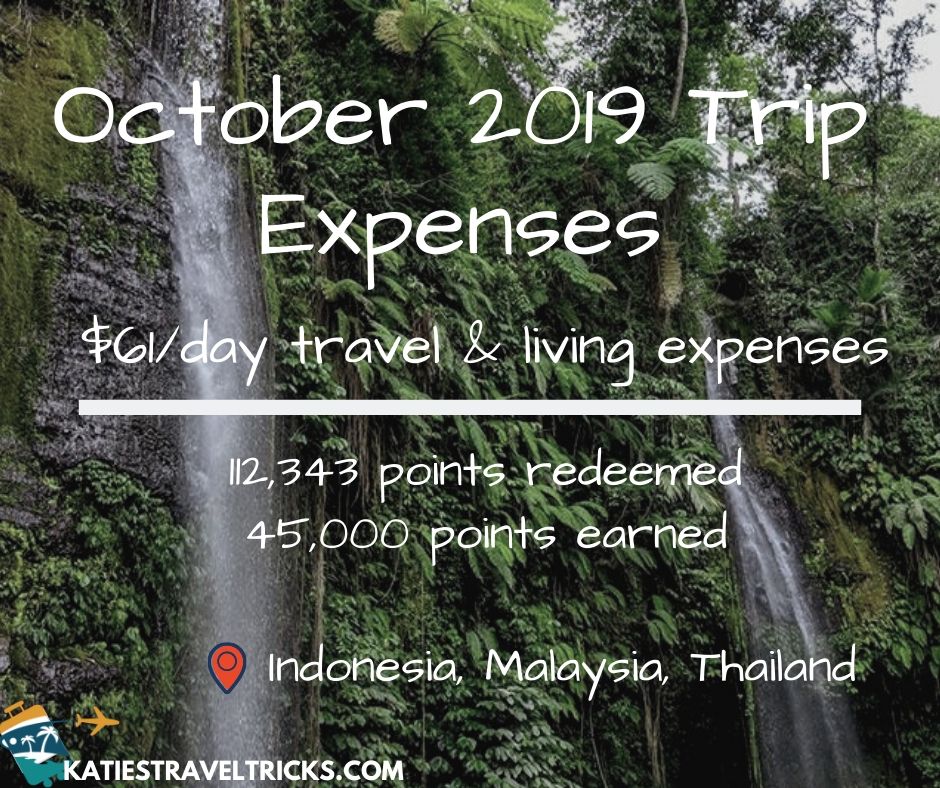 October was another full month of travel. We traveled to the Gili Islands in Indonesia for 10 nights, stayed 1 night on Lombok, Indonesia and then flew to Kuala Lumpur, Malaysia for 5 nights. Then we headed to Chiang Mai, Thailand where we will stay until November 13.
We used Chase Ultimate Rewards to stay on Gili Air for 40,000 points total. We then redeemed Marriott points for a luxury stay at the Renaissance Kuala Lumpur — where we enjoyed being upgraded to the Club Level (Club level = free breakfast and free cocktail hour including dinner)! In Chiang Mai, Micah found a great deal on an Airbnb. He stacked a 20% off deal because it was a new listing on top of a monthly discount and paid $450 for the month (and we even got an extra $21 cash back from a Chase card offer, so make that $429).
We DID pay cash for some flights for the first time in at least 10 years. The flights were less than $200 total, but it was a bit of a blow to my pride. Short flights in Asia are so inexpensive, we didn't want to use a bunch of points. We are out of Citi ThankYou points, which is the one flexible points currency that allows you to use the points directly on AirAsia, which we've been flying. Note to self: stock up on Citi ThankYou points before coming to Asia.
We had some fun splurges this month — parasailing on Gili Air, birthday celebrations, Halloween parties, visiting an indoor amusement park in Malaysia, and eating so much food. Our Airbnb in Chiang Mai turned out not to have a stove top (just a microwave) so we've enjoyed the excuse to eat out twice a day.
I also had to loosen up on my budget obsession a bit. Budgets are a helpful tool for a lot of people but they tend to turn me into a crazy person (just ask my family about how miserable it was to plan our wedding until I gave up my ideal of only spending $5000 on it).
We were fortunate to have our Airbnb do quite well this month (in fact, we earned 3 times what we budgeted for!). And I was able to advise some friends about new credit cards and strategy — and was able to earn some bonuses for referring them to credit cards. Do you need some advice? Contact me, I'm happy to help!
Check out our Fall Budget post if you want to see how we can afford to travel. Or see August or September Expense Reports.
Here are some of our favorite memories from the month's adventures. Follow us on Instagram to see daily posts!
Expenses
Total trip related expenses: $1880.80
Total days traveling: 31
Average cost per day: $60.67
Most expensive day: October 16 – $204.25
Cheapest day: October 4 – $22.60
Paid Airbnb nights: 16
Hotel nights covered with points: 15
Points redemptions:
Bulan Madu Villa on Gili Air, 9 nights: 37,343 Chase Ultimate Rewards points
Renaissance Kuala Lumpur, 5 nights: 47,500 Marriott points (on a 5 night reservation, the cheapest night is free, we had 2 nights at 12,500 and 3 nights at 10,000, so we got 10,000 off)
AirAsia flights: 27,500 Barclay Arrival+ Rewards points used (equal to $275)
Airbnb: $11 referral credit used for 1 night stay on Lombok
For those wanting to see a more comprehensive list of expenses, you can check out the table below. Click on the image to see a larger version: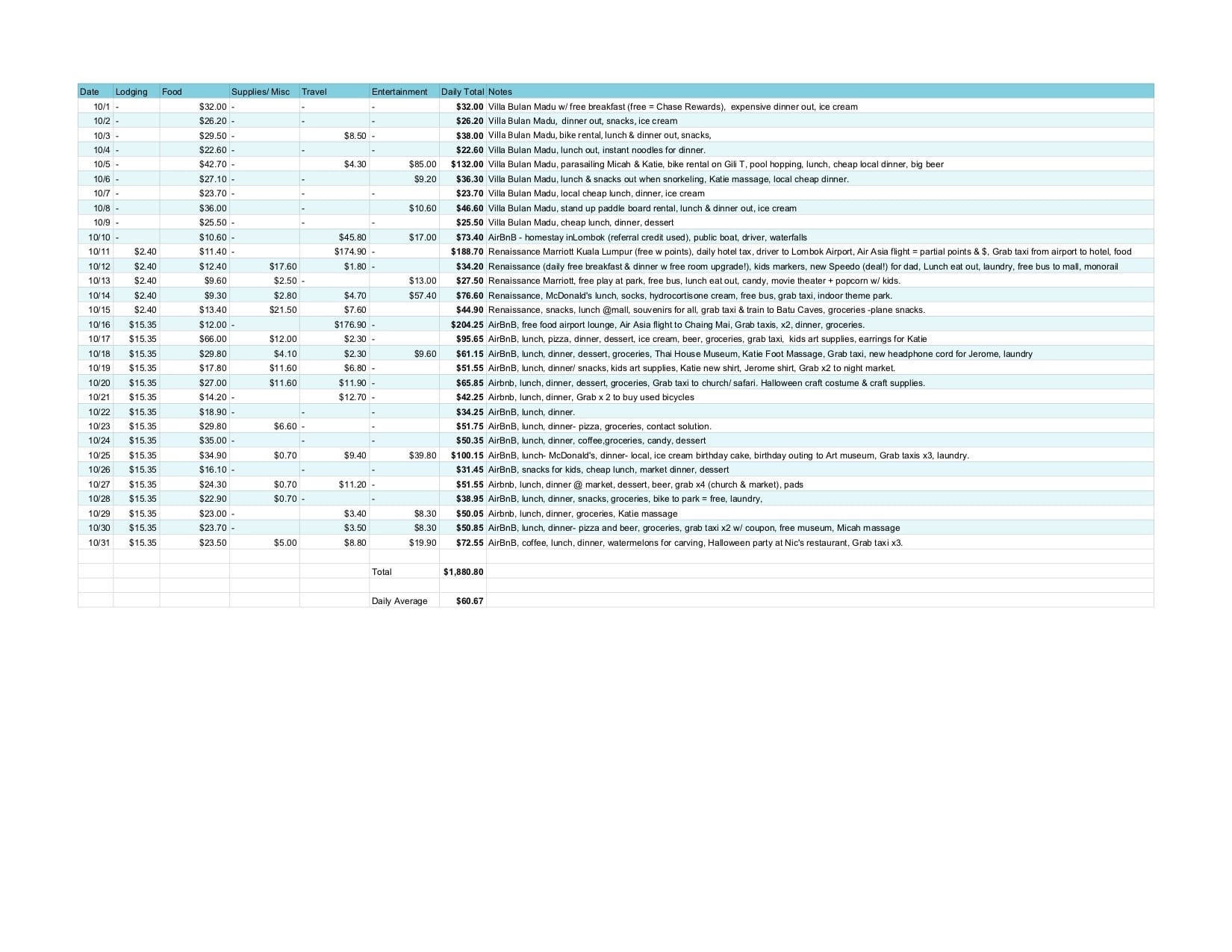 Income:
Rental Condo Net Income: $900
Airbnb Nights booked: 25
Airbnb Net Income: $1330
Referral Bonuses Earned:
15,000 Chase Ultimate Rewards points
10,000 Southwest Rapid Rewards points
20,000 Marriott Bonvoy points
Total Points Balance Across All Programs: 1.76 million