Get ready to embark on a whimsical journey aboard EVA Air's Hello Kitty plane! After a three-year hiatus, this adorable aircraft is back in action between Chicago and Taipei, offering an array of Hello Kitty-themed amenities and in-flight treats. Even if you don't want to end in Taipei, you can use this as a jumping off point to other destinations in Asia. Booking a flight on the Hello Kitty plane is surprisingly easy with credit card points–if you just know a few tricks! In this article, I'll show you how to earn points, find available seats, and and make the most of your experience onboard. So buckle up and get ready to fly with Hello Kitty!
Onboard the Hello Kitty Plane
Your Hello Kitty experience actually starts when you check in! Your boarding pass and even luggage tags are themed!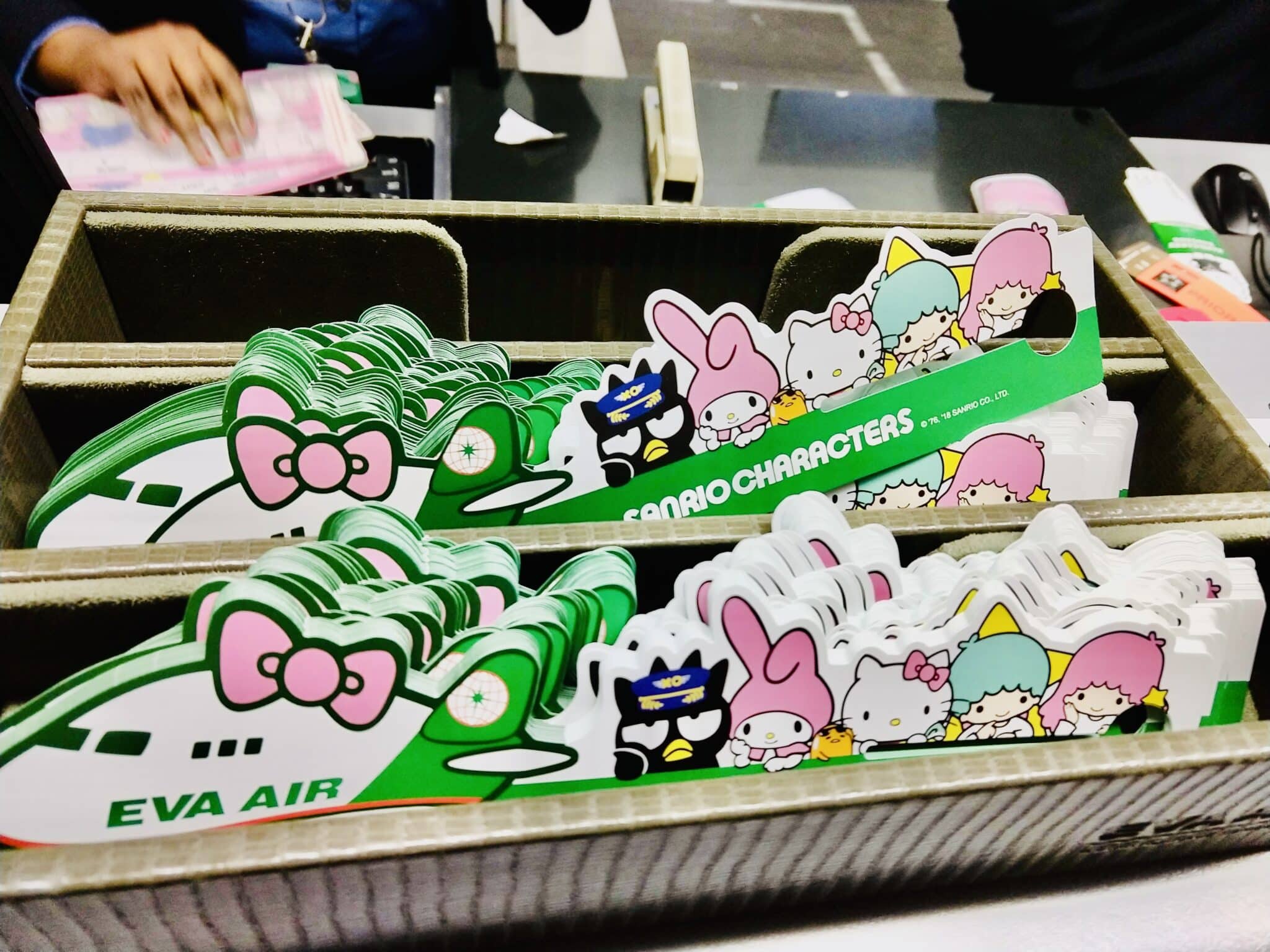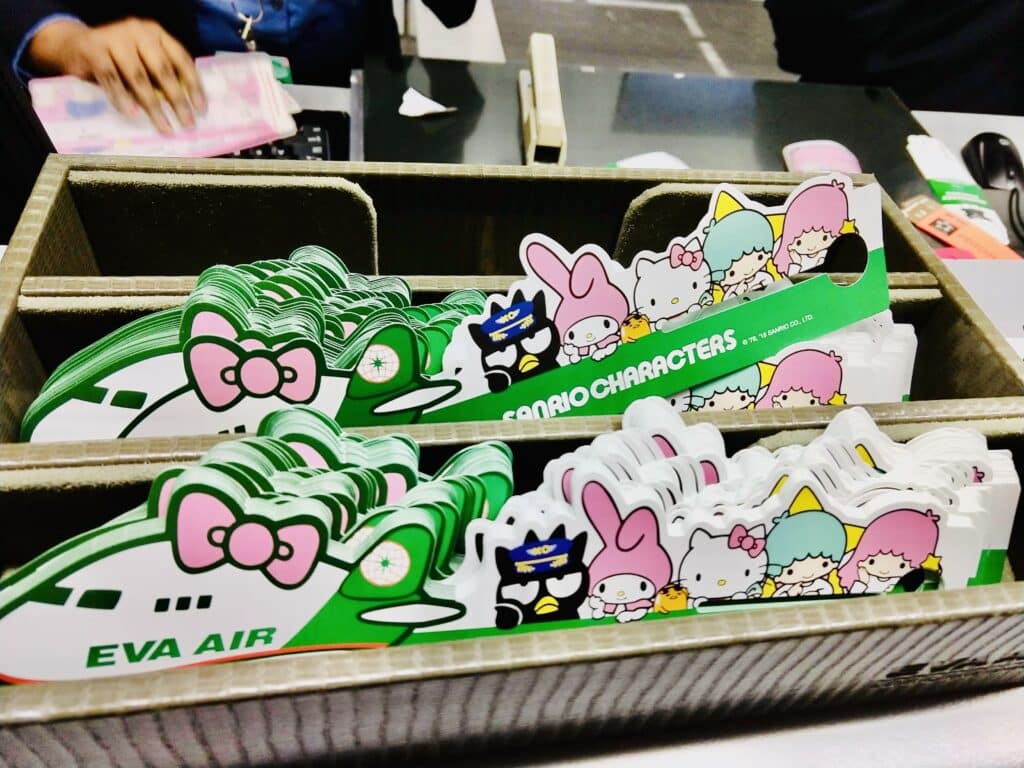 From the moment you step onboard, you'll be surrounded by the iconic character's cute and colorful designs. The cabin crew is dressed in pink Hello Kitty uniforms, and the seats, headrest covers, and even the meal trays are adorned with Hello Kitty motifs.
We took this flight back in 2019 and it was a delight! We went from Chicago to Taipei and then continued on to Manila.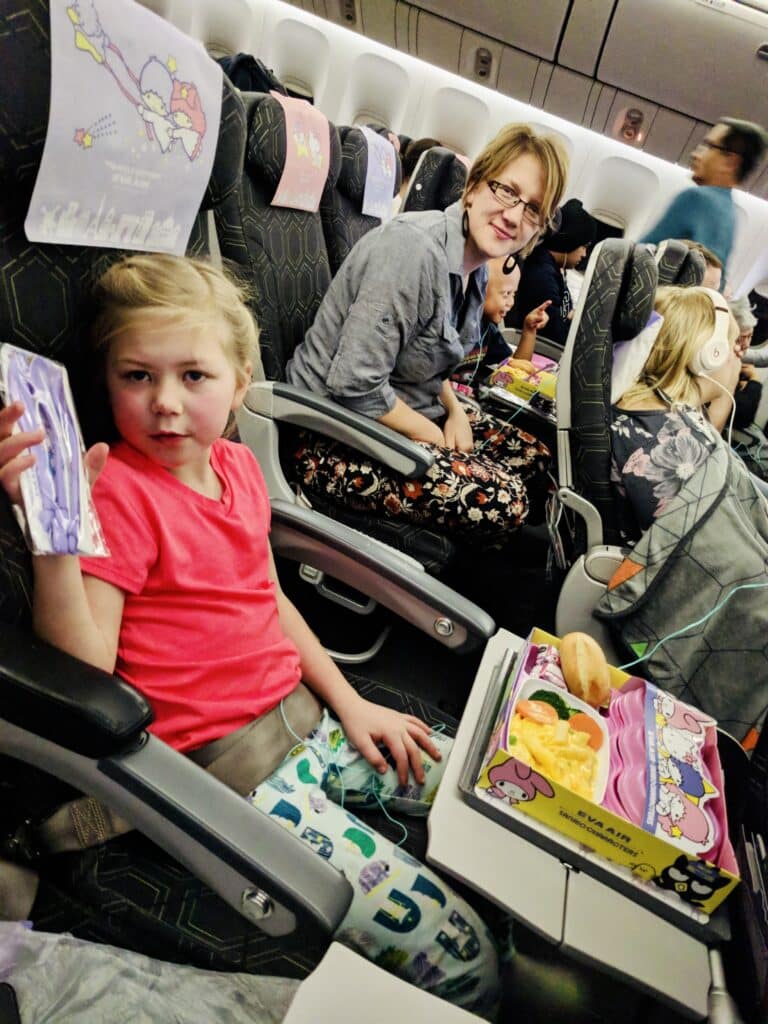 One of the must-do activities onboard is a visit to the restroom, which is fully decked out with Hello Kitty décor – even the soap and toilet paper have Hello Kitty branding! Additionally, there are Hello Kitty-themed amenities available, including toiletry kits, eye masks, and slippers.
When it comes to dining, the Hello Kitty plane is super fun. The airline serves a variety of Hello Kitty-shaped treats, such as sandwiches, pastries, and even a Hello Kitty-shaped bento box.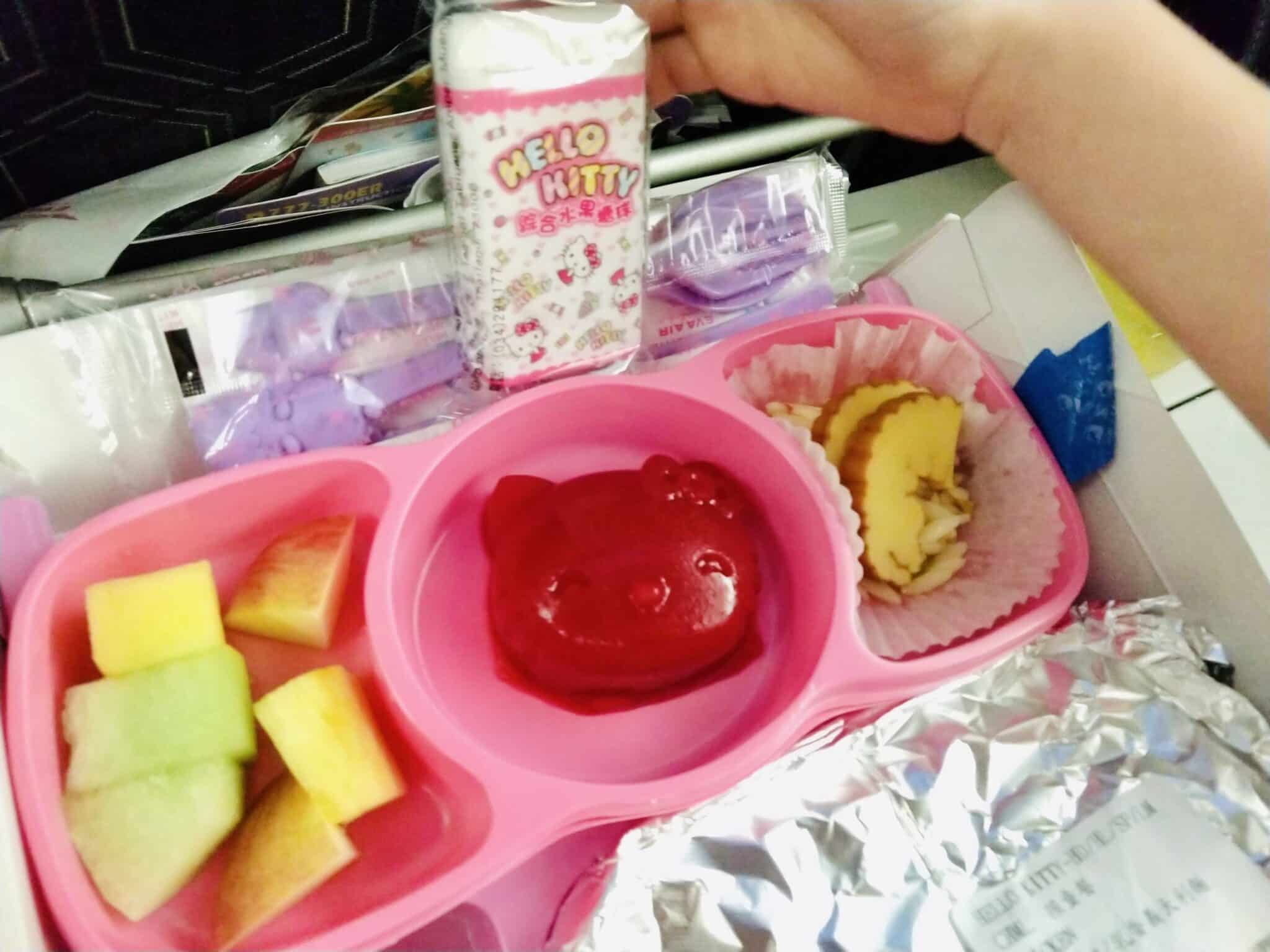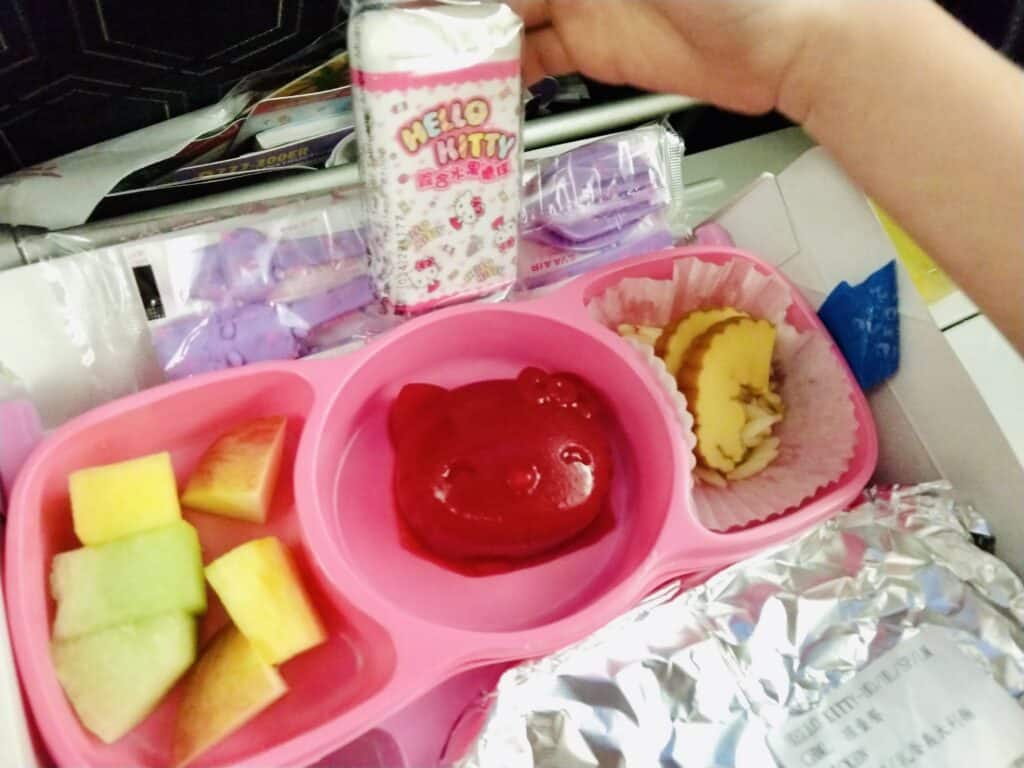 Overall, flying on EVA Air's Hello Kitty plane is an experience like no other. Whether you're a die-hard Hello Kitty fan or just looking for a unique travel experience, the cuteness and attention to detail onboard is sure to leave a lasting impression.
How To Fly The Hello Kitty Plane
If you're looking to book a flight on EVA Air's Hello Kitty plane, you need to get the on the right route. The routes for the Hello Kitty jets vary, but they fly to a few different destinations in Asia and to/from Chicago in the United States.
EVA Air's website is kept up to date on the schedules. Currently, you can fly Taipei to Chicago on Monday, Wednesday, and Friday. You can fly Chicago to Taipei on Tuesday, Thursday, and Saturday.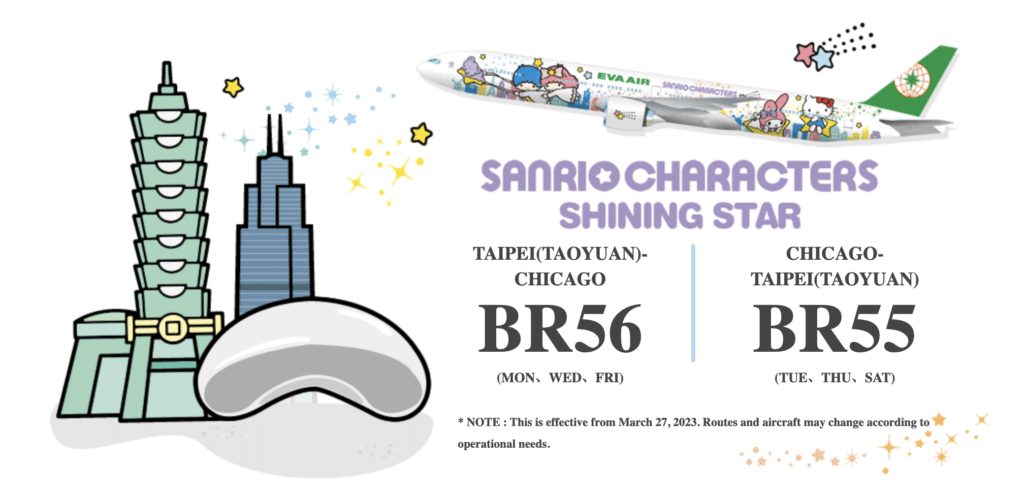 As of April 2022, you can also fly a Hello Kitty plane from Taipei to Bali and Taipei to Sapporo. So even if you fly to Taiwan on another plane, you could still catch the cuteness for a shorter ride.
How the Star Alliance Helps You Book The Hello Kitty Plane
The Star Alliance is a network of 26 airlines including EVA Air, which allows you to redeem points across multiple airlines for flights. This is valuable because it gives you more options for booking with points and the ability to take advantage of partner airlines.
To book a Hello Kitty flight with points, you can use United MileagePlus or other Star Alliance partner airline programs. The booking process is similar for most airlines. Keep in mind that availability can be limited, and prices will vary by airline. EVA Air releases a certain number of award seats to be bookable by partners — so it's best to book as early as possible.
How to Find Available Seats
Even if you plan to use a different Star Alliance partner to book this flight with miles, I suggest you start your search on United.com. That's because United has a 30 day calendar view that makes it really easy to find available seats on the Hello Kitty plane. The available seats on United.com should be the same ones you could book on any Star Alliance partners like Air Canada or Avianca Lifemiles.
Economy seats are very easy to find on this route but business class availability is very limited to non-existent.
You don't need to login to book. Just go to United.com and select the "Book" tab. I like to search one way at a time. Check off the boxes for "Book with miles" and "Flexible dates." Enter ORD and TPE for "From" and "To." Enter the number of travelers and click "Find flights."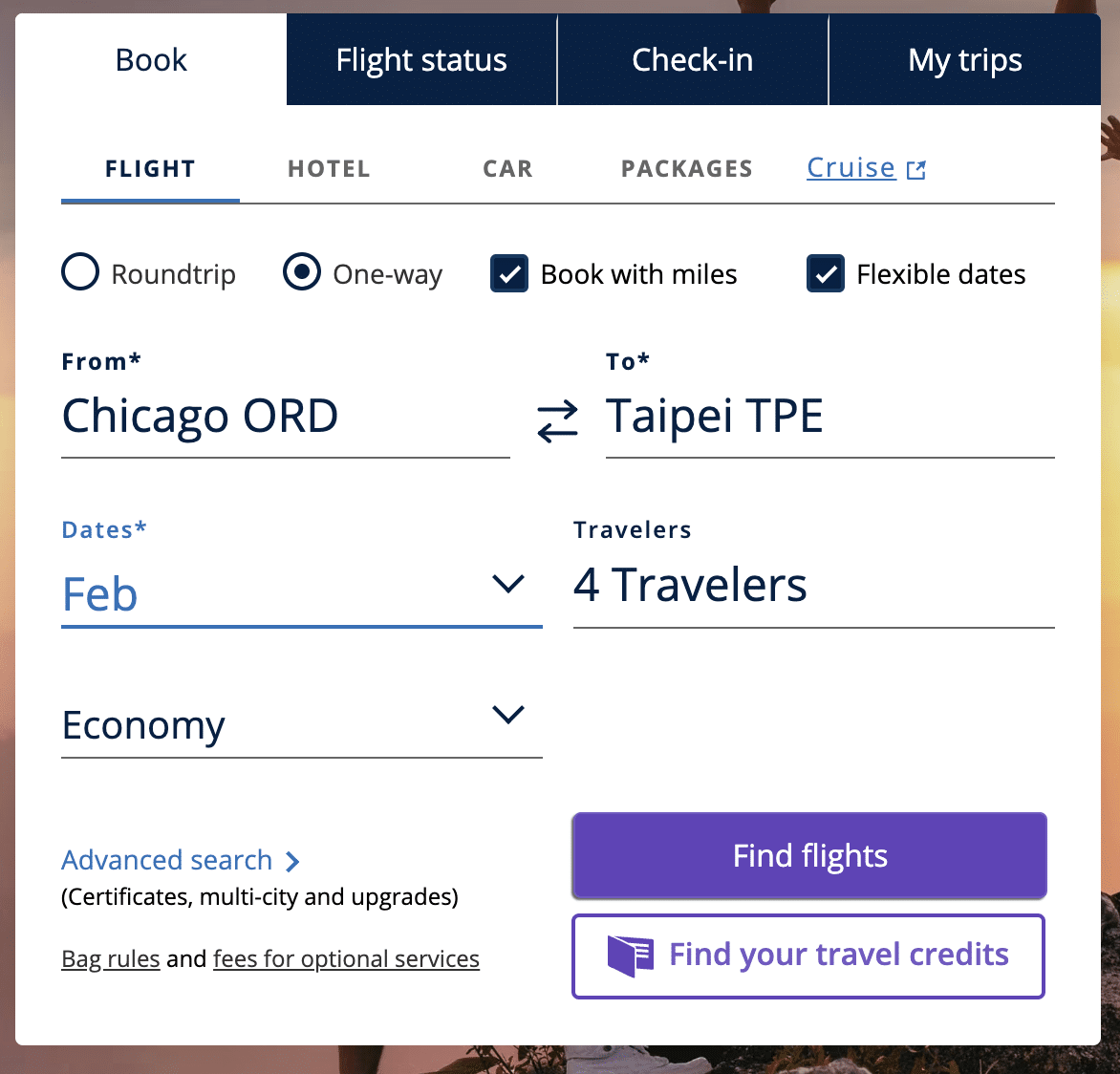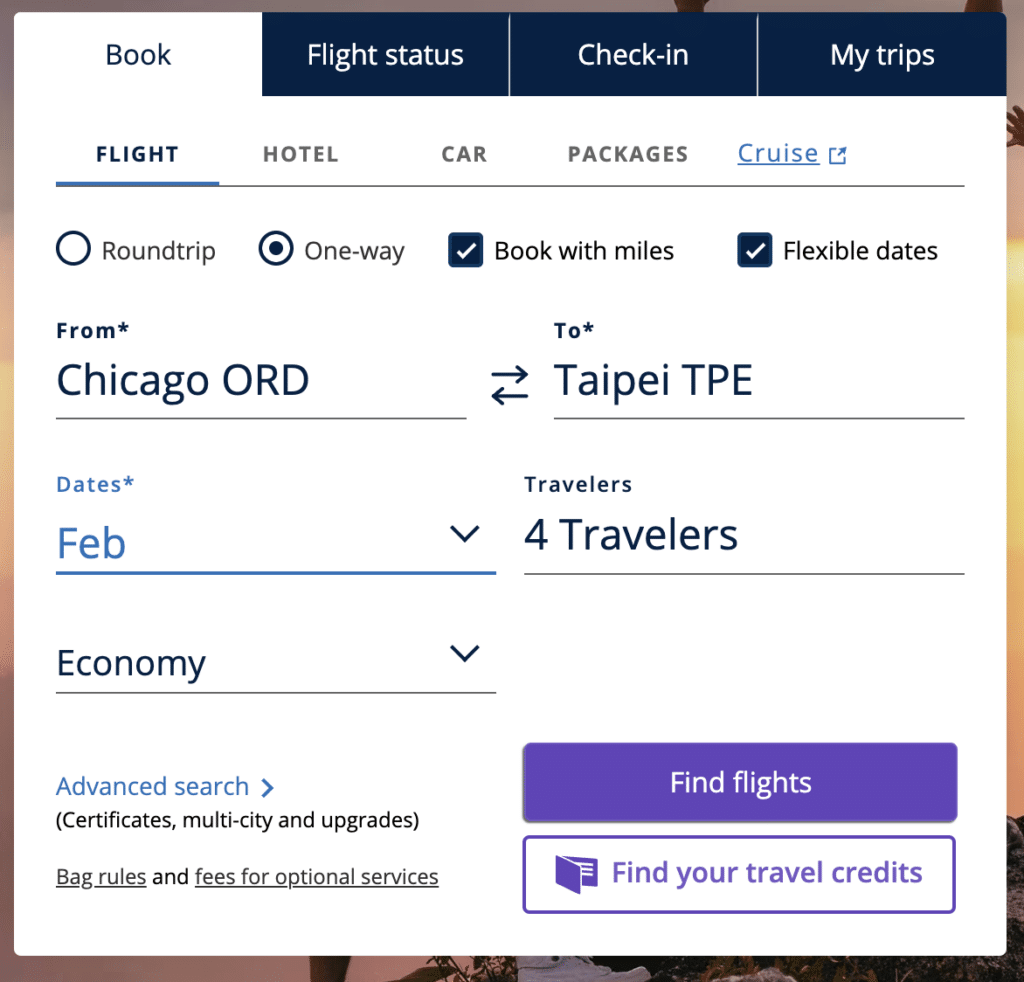 This should show you a 30 day view. From here you'll want to filter just to Nonstop routes to make sure you're just seeing the EVA Air flights. The price will be 38,500 points + taxes.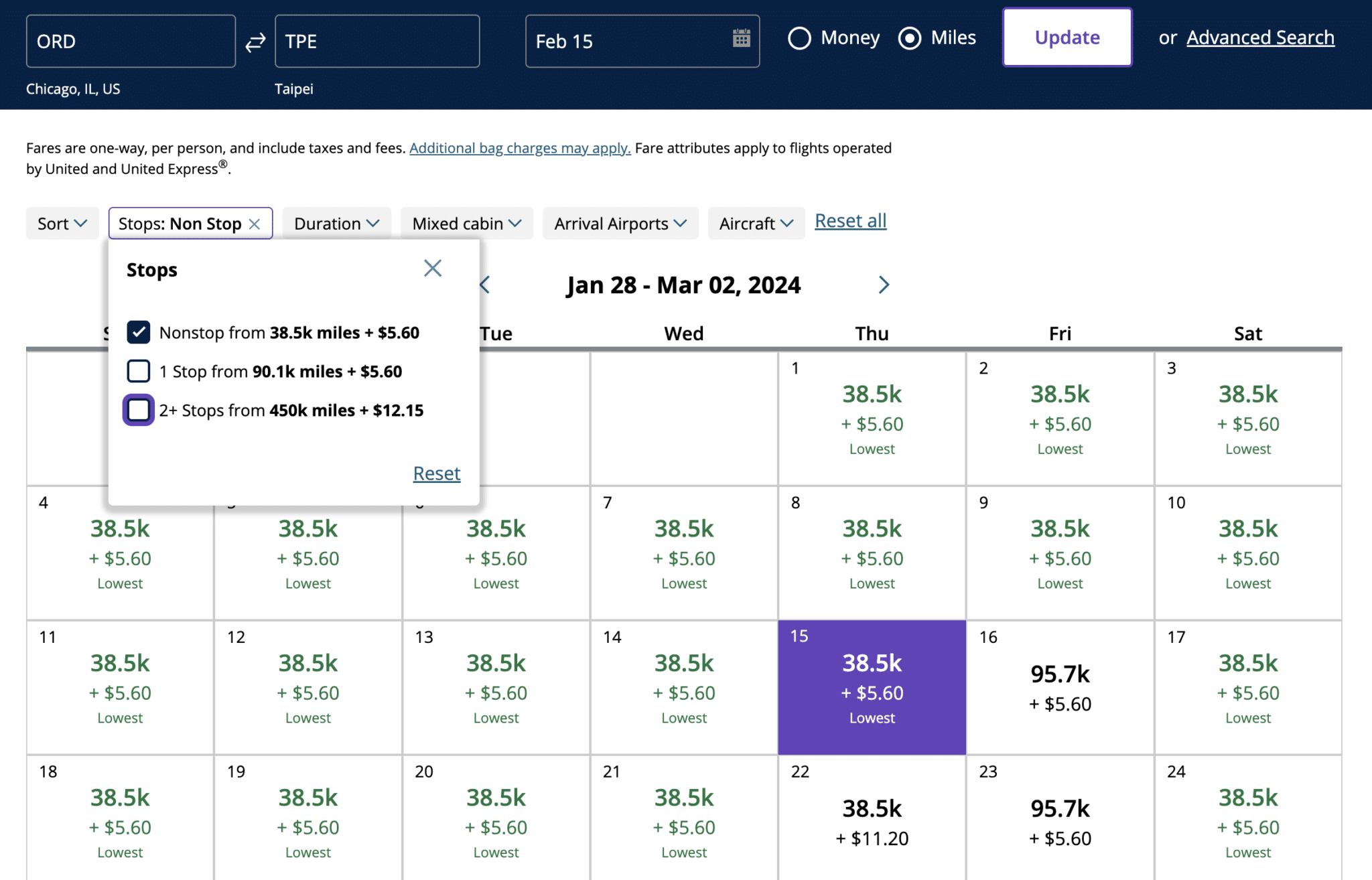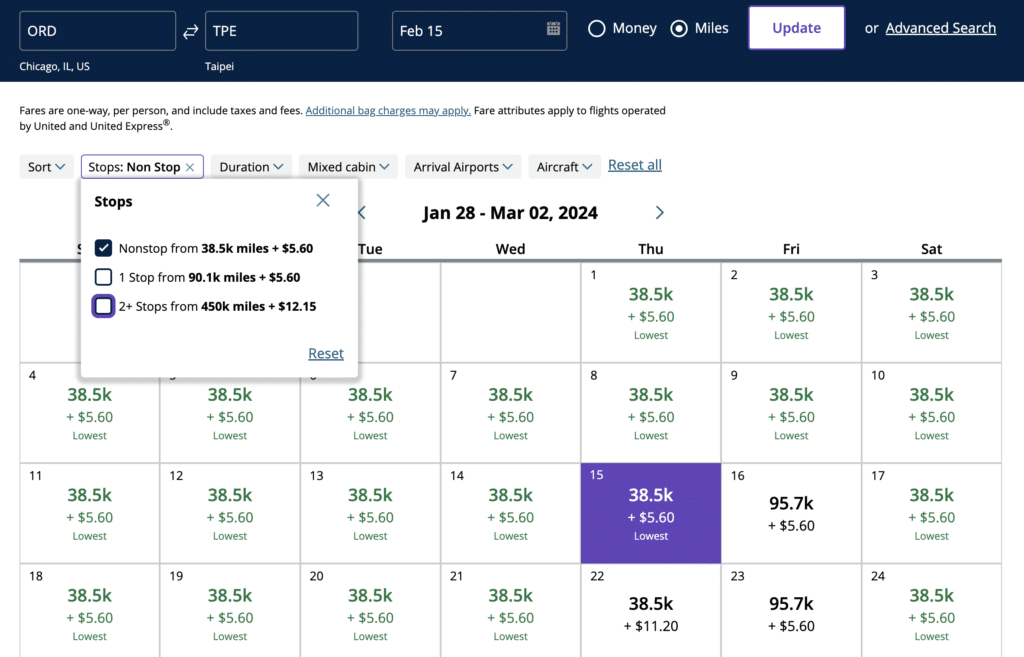 Make sure you select flights on the right dates for the Hello Kitty flight! You can double check on the EVA Air Hello Kitty site. For example, I selected the route for Saturday, February 17 on the United website.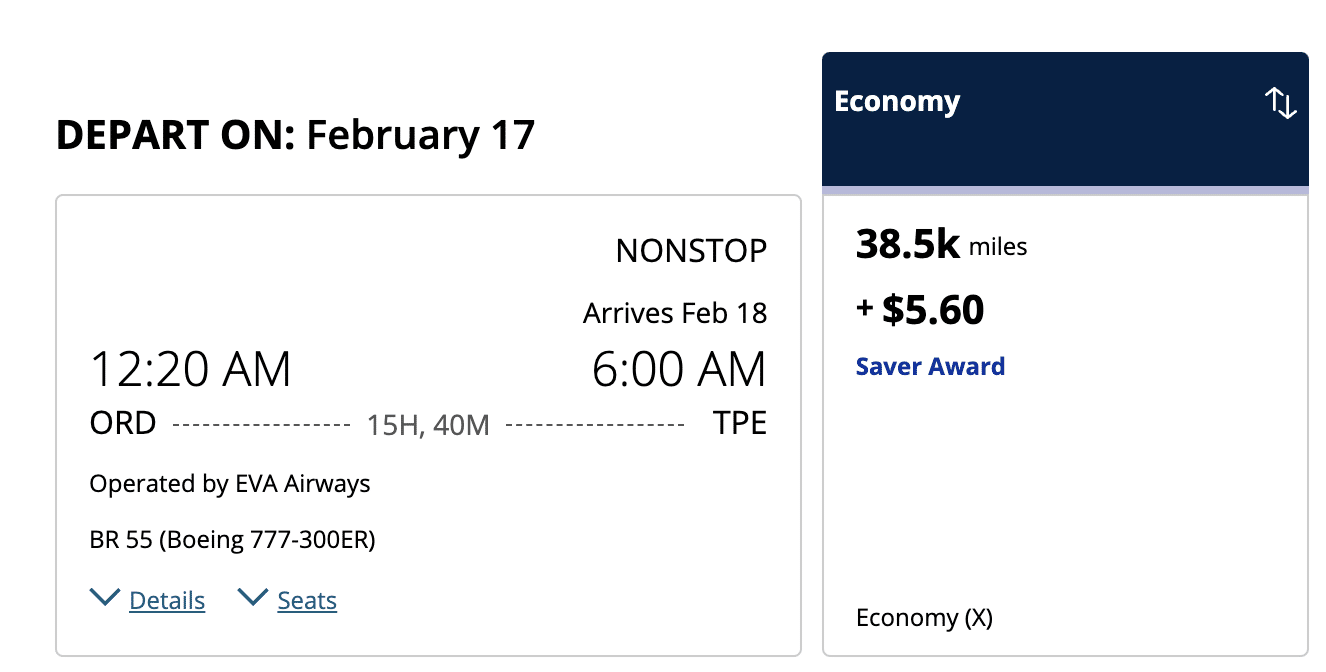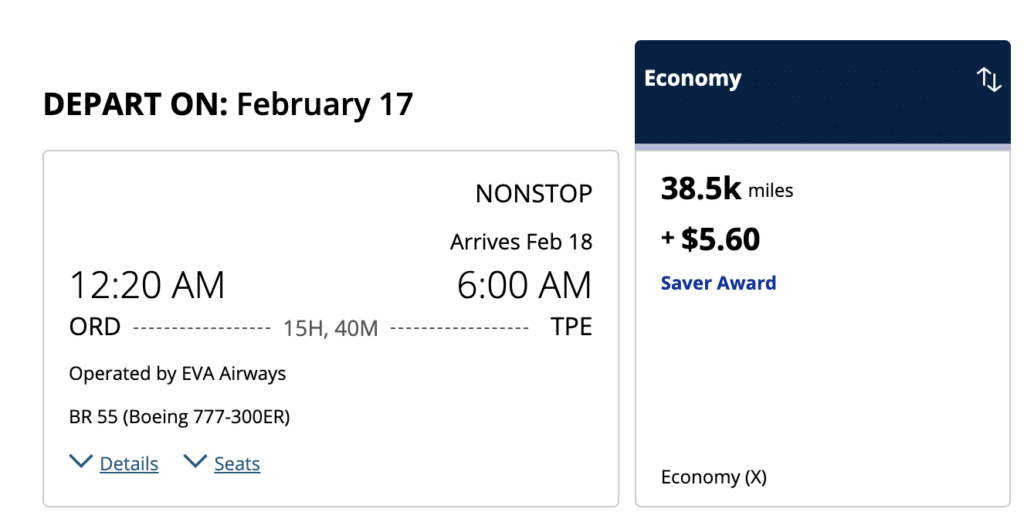 Then I can go to the Hello Kitty Flight site and confirm that I got my dates right! The bow means it should be the Hello Kitty flight.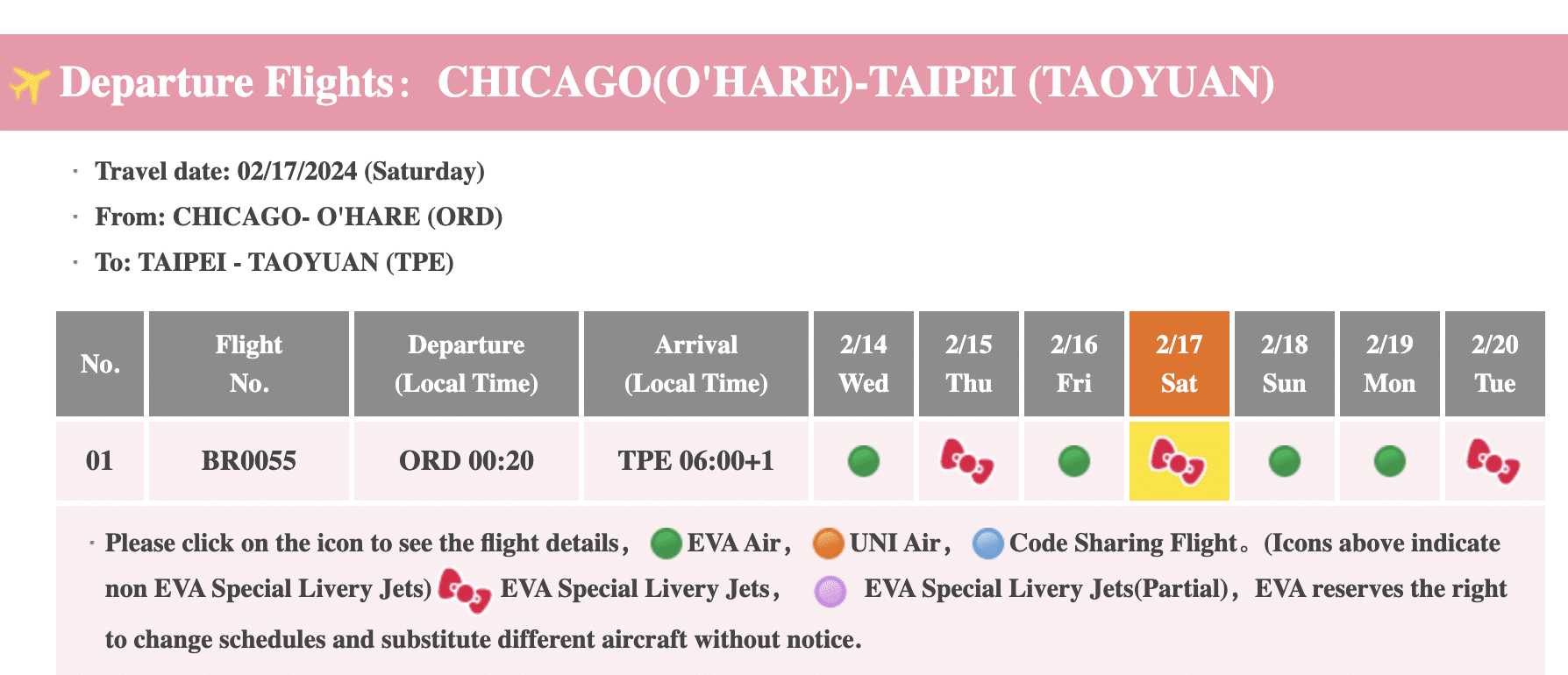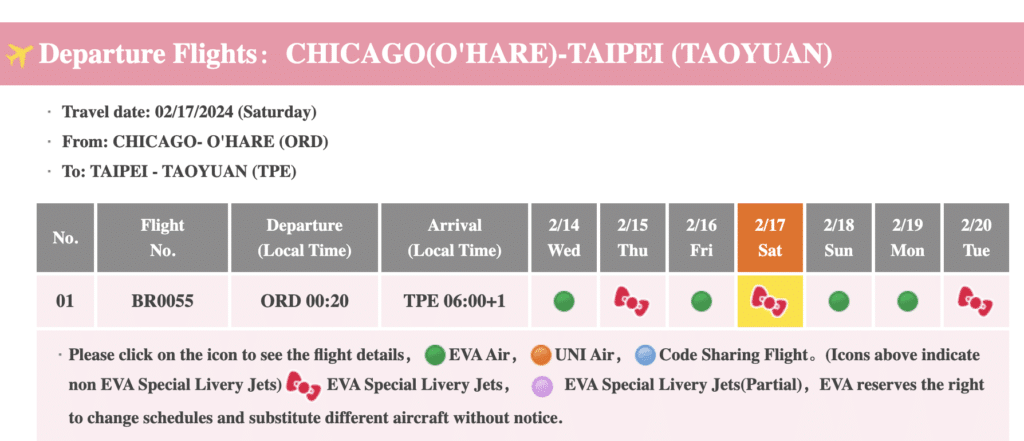 Earning United Miles to Book The Hello Kitty Flight
In economy, this flight will cost 38,500 points each way. Taxes will vary depending on the direction of travel. From Chicago to Taipei it will be $5.60. If you fly from Taipei to Chicago it will cost $33.75.
Once you've found your desired flight, select it and follow the prompts to complete your booking.
The easiest way to earn lots of United miles would be to open a United branded credit card or to open a card that earns Chase Ultimate Rewards. Chase Ultimate Rewards transfer to United at a 1:1 ratio. There are plenty of personal and business card options to rack up points this way! See card options here.
Book the Hello Kitty Flight with Air Canada Aeroplan
As a Star Alliance partner airline, Air Canada also allows you to redeem points for flights on EVA Air. Booking this route with Aeroplan costs more per ticket at 50,000 points each way. It will also have higher taxes at about $56 USD.


Though the cost is higher, it can be easier to earn Aeroplan points. That's because you can transfer American Express Membership Rewards, Capital One Venture Miles AND Chase Ultimate Rewards all to Air Canada Aeroplan. All of these will transfer at a 1:1 ratio. But! Sometimes they also include a transfer bonus of 10-30%.
Check out my Best Offers page for great options to earn all of these transferable points.
How to Book with Avianca Lifemiles
A third option to consider is using Avianca. With Avianca, you would actually search and book at Lifemiles.com . Personally I find the interface harder to use than United or Air Canada.
Citi Thank You Points transfer to Avianca, as well as American Express Membership Rewards and Capital One Venture Miles. And just like with Air Canada, it is somewhat common to see transfer bonuses of 10-30%.
See best options for earning these transferable points on my Best Offers page.
Taxes for the Chicago to Taipei route will come to $26.70.


Transferring Points to Book
With a little planning and savvy credit card use, you can earn enough rewards to fly on EVA Air's Hello Kitty plane without breaking the bank.
To book your flight on EVA Air's Hello Kitty plane with points, you'll probably need to transfer your credit card rewards to a travel rewards program like United, Air Canada, or Avianca. The process for transferring points varies depending on the credit card and rewards program, but it typically involves logging into your credit card account and selecting the option to transfer your points to your chosen travel rewards program.
Before you make the transfer, be sure to compare the redemption rates for flights on EVA Air with the cost of booking directly with the airline or through a third-party site. If the redemption rate is less than 1.5 cent per point, it may be more cost-effective to pay cash for the flight instead.
Once you've determined that transferring your points is the best option, follow the instructions provided by your credit card issuer to complete the transfer. I also have step by step instructions in my comprehensive Transfer Partner Guide. It's important to note that transfers may take several days to process, so plan accordingly.
Remember: transfers are not reversible! Once you transfer your points to United, you can't go back to convert them to Ultimate Rewards again.