Collecting miles and points through credit cards allows us to travel not only for a low cost, but also more frequently and more comfortably than we'd otherwise be able to afford.
The first time we got a card with a $450 annual fee was before traveling to the Philippines to adopt our son — we were most interested in the benefit that allows you to access lounges in airports that usually include free food and drinks. You check out my comprehensive post on all the credit cards that offer lounge access here.
The lounges (even the dated ones) really were as wonderful as I imagined. In the midst of a busy (overpriced) airport, they provide a quieter space, free Wifi, and free food and drinks. We are by nature cheapskates.? We have been known to refuse to buy water for our daughter (despite much begging) at the Cancun airport because we were going to board the plane in 30 minutes. So a lounge for us feels like an oasis where we can relax. And our kids can drink as much water as they want.
Here are a few premium cards we currently hold or have held. They may not be worth holding long term for some families, as the first year the benefits are definitely the best. If you will be traveling internationally, though, we find it WELL worth it.
Chase Sapphire Reserve
$550 annual fee
Earn 60,000 bonus points after you spend $4,000 on purchases in the first 3 months from account opening.
$300 travel reimbursement. This is automatic credit for any hotel, airfare, parking, car rental, etc.
Fee reimbursement for Global Entry for 1 person (which is $100). This benefit is available once every 4 years.
Airport lounge access for primary card user and 2 guests traveling with them through Priority Pass
Premium Trip insurance: If your flight is delayed 6 hrs or more for any reason they will reimburse you up to $500 for hotels, food, etc. — as long as you pay for at least a portion of your fare with the card (like taxes).
The Chase Sapphire Preferred card can be a better place to start for many people as the sign up bonuses are typically higher than on the Reserve.You can't be approved for both the Preferred and Reserve card but if you hold one for a year, you can request to product change (upgrade or downgrade to the other one).
Citi Prestige Card
This is similar to the Sapphire Reserve with a few different benefits. This card is currently unavailable for new applications or product changes.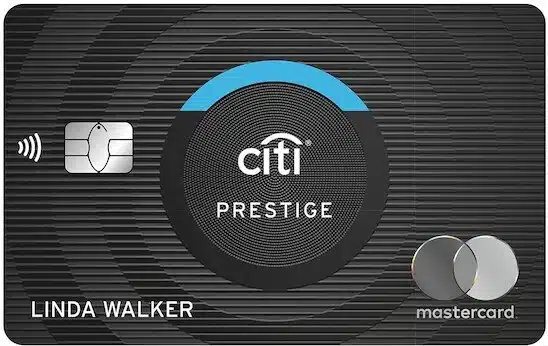 $495 annual fee
$250 travel reimbursement per calendar year. Because of the way this benefit is written, you can actually get this benefit 2x while paying the annual fee once. It resets after your December statement ends. You can also be reimbursed for buying egift cards for airlines on this.
Global entry reimbursement for 1 person
Priority Pass entry for primary user and guests traveling with them
For a more comprehensive post, check out my post on all the cards that offer lounge access.