I grew up in a travel loving family. I traveled every opportunity I had. I was wanderlust.
And then came my first baby. The thought of flying with a baby, hauling car seats on planes, and figuring out where the baby would sleep cured me of my wanderlust (for a few years, at least).
While traveling with kids is not always fun, having lounge access for our whole family (thanks to our Capital One Venture X) and compact booster seats for our older kids has taken a lot of the hassle out of family travel.
Mifold Booster Seat
We love the compact, foldable mifold car seats for taking with us when we travel or even to send with our kids when they are riding in a friend's car. They are inexpensive (retail price for the mifold Comfort is $39.99), easy to use, and save us from lugging larger seats or the cost of renting them at our destination.
Who can use mifold booster seats?
We have mifold Comfort booster seats for our oldest kids. The mifold Comfort, mifold Original, and mifold Sport booster seats are the most compact mifold models. They are designed for kids four and older, 40-100 pounds, and 40-57 (Original) or 40-59 (Comfort) inches tall. The mifold Comfort, mifold Original, and mifold Sport models all fold in half to easily fit in a backpack or bag. Folded up, the mifold Comfort seat is about 9.5" x 5" x 2.5".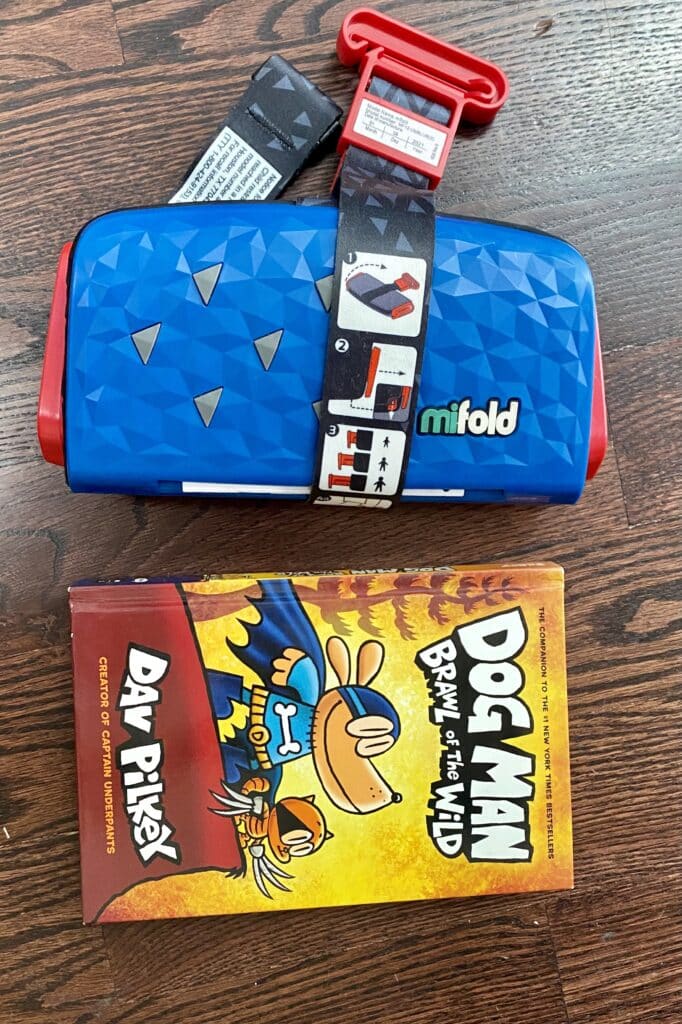 My kids toss their mifold car seats into their backpacks when we travel and still have room for all the other stuff. When we are ready to use the seat, the kids unfold and install them themselves.
Mifold safety
You may look at the mifold and wonder "are those even legal?"
Yes. Mifold car seats (note: these are not approved for airplane use) are designed to be so thin because they work differently from traditional booster seats. Traditional booster seats boost the child up so that the seat belt lies across the chest and pelvis instead of the belly and neck. The mifold booster seats keep your child safe and secure by pulling the seatbelt down to fit the child.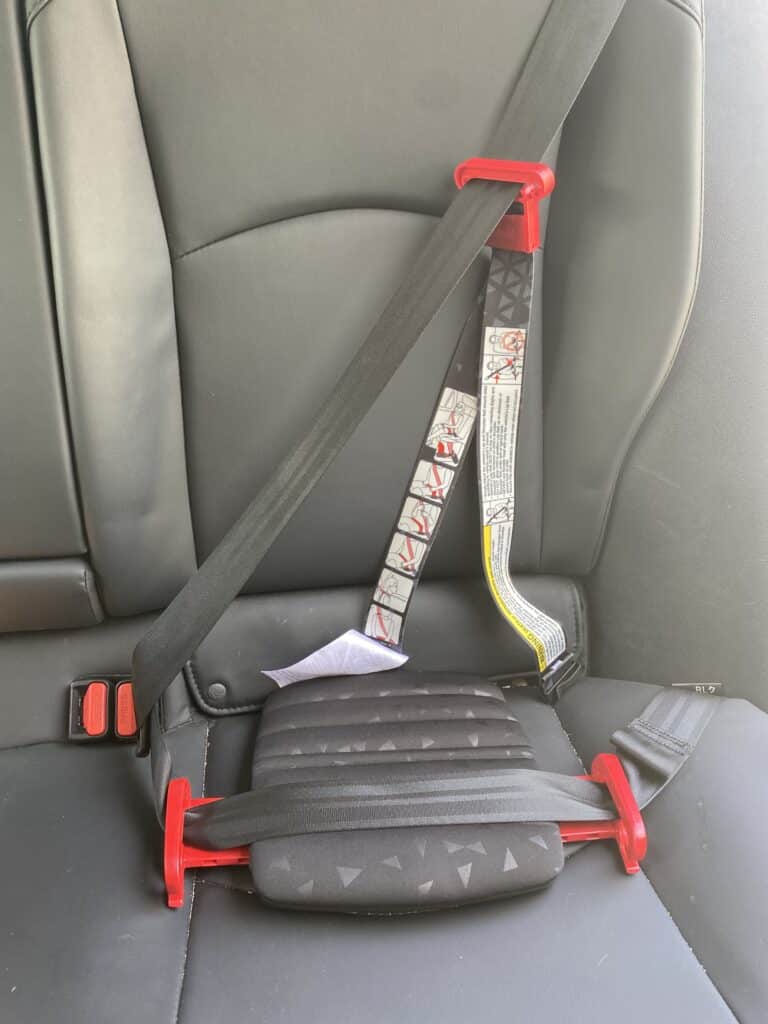 The mifold Comfort has a more padded seat than the mifold Original, but the real selling point for me is the regulatory approval. The mifold Comfort "Meets or exceeds NHTSA standard FMVSS 213 in the USA and is regulated for use in every country except Australia and Taiwan." This is a key difference from the mifold Original, which is only regulated for use in the U.S.
Europe has stricter car seats laws than the U.S., and it gave me peace of mind knowing that our mifold booster seats could be used when we traveled to Spain last spring. With their compact size, you can easily fit three in a row in a smaller car if needed.
Mifold Hifold Booster Seat
The mifold hifold fit-and-fold booster is an alternative to the mifold Comfort and mifold Original booster seats. Retail price is $149.99.
Who can use the mifold hifold?
Like the more compact seats, the mifold hifold is designed for children four years and older, 40-100 pounds, and 40-59 inches tall. It is regulated for use globally, except for Australia.
While the age and size limits for the mifold and mifold hifold seats are the same, the mifold hifold allows you to adjust for the seat width, body, head, and height. Mifold says there are 243 individual settings. I think this seat is a better option for kids who cannot sit up properly in a backless booster seat.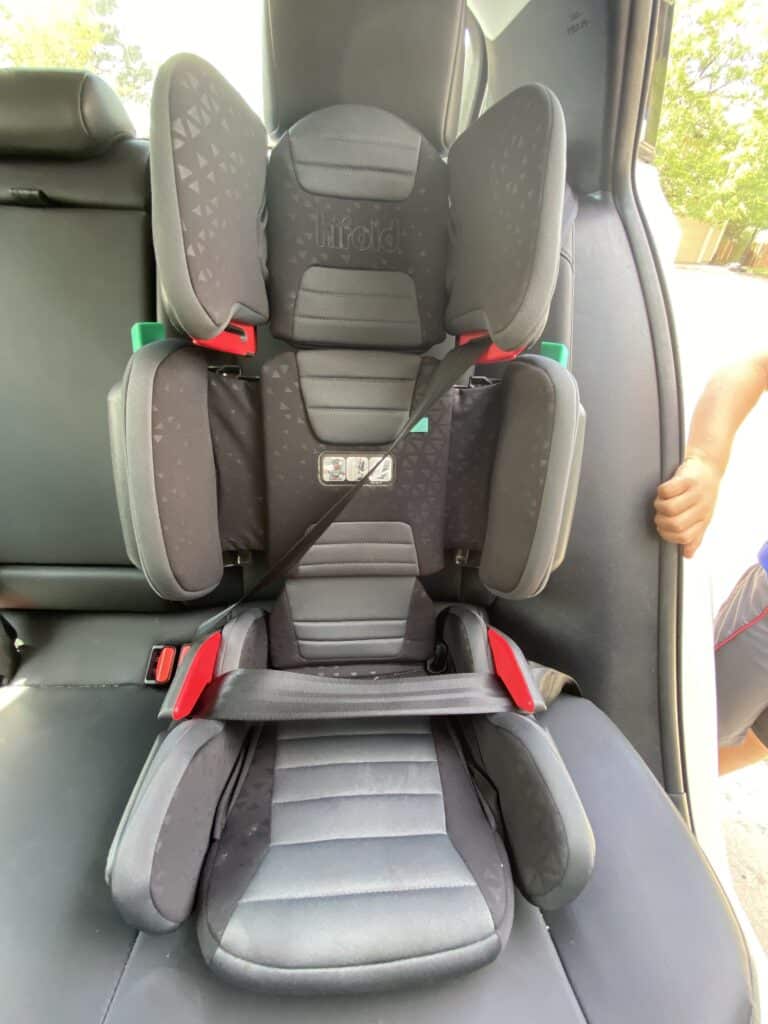 How to collapse the mifold hifold
The mifold hifold booster seat folds down for easy transport in six quick steps:
Fold sides into their narrowest settings,
Fold in the seatback sides,
Fold the seatback down,
Fold down the headrest,
Fold the headrest sides into center, and
Buckle the strap.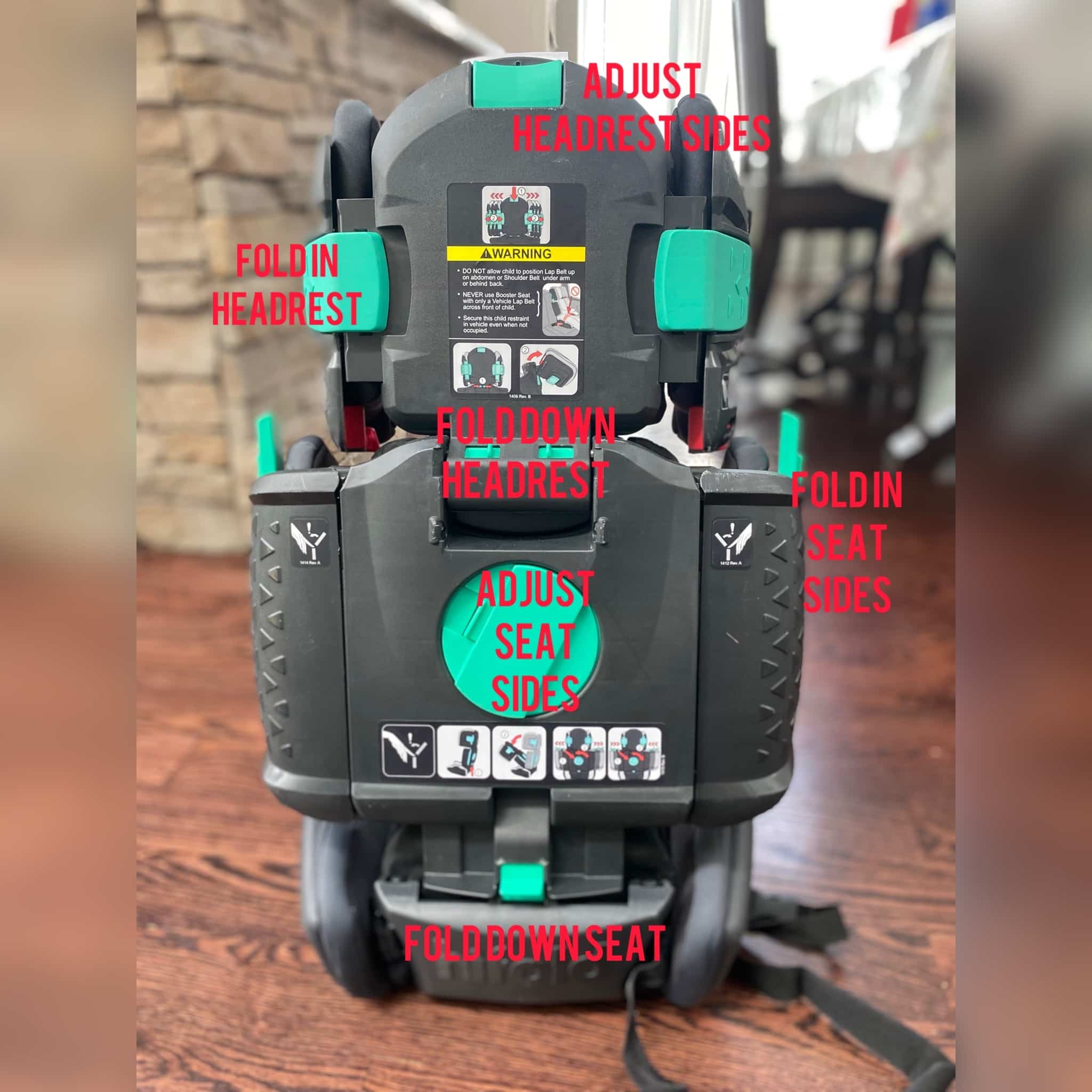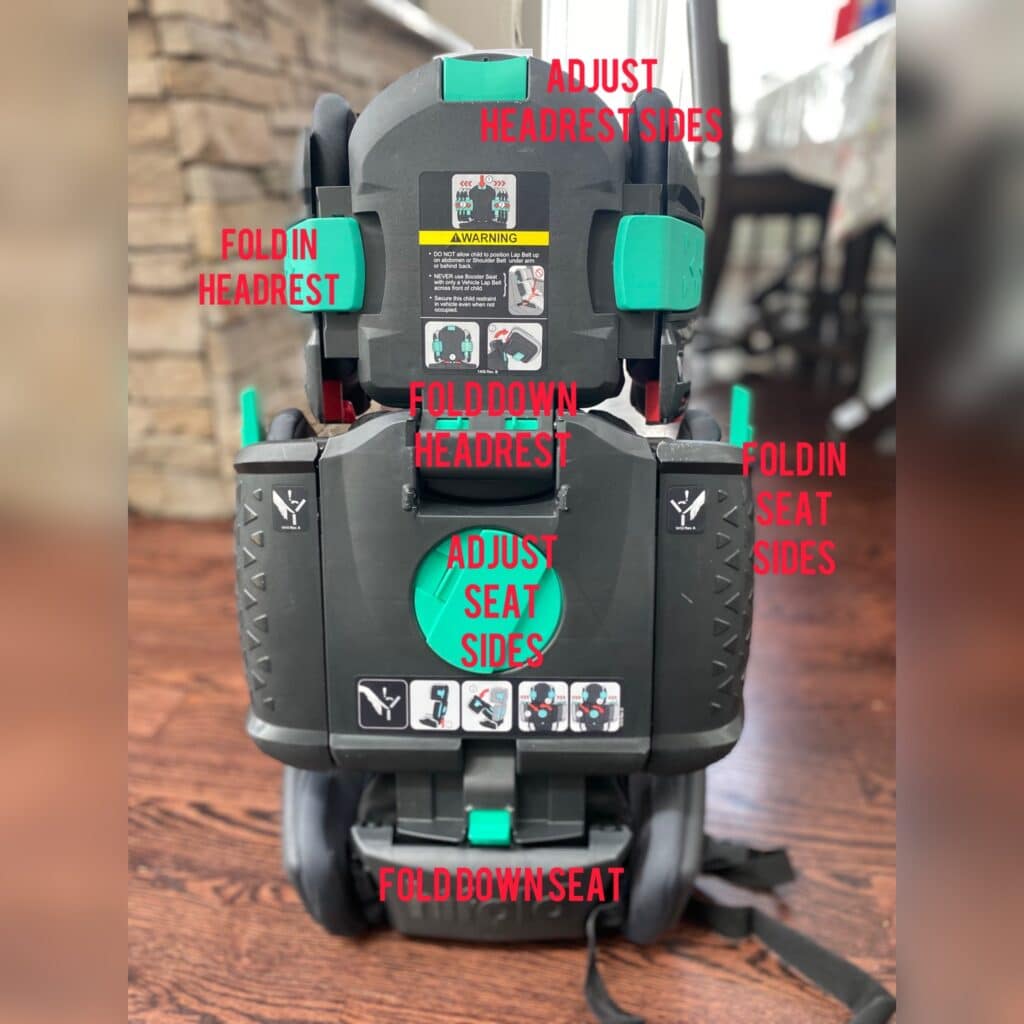 Traveling with the mifold hifold
Weighing in at about 10 pounds, your child probably won't be carrying the mifold hifold through the airport herself. Even for me, the mifold hifold booster seat feels a bit heavy to carry for a long time, but it beats carrying a humongous toddler car seat. It does have a carrying strap to make it easier on mom or dad.
The mifold hifold is not approved for use on airplanes, but you don't have to worry about checking it in as it will fit under the airplane seat or in the overhead compartment.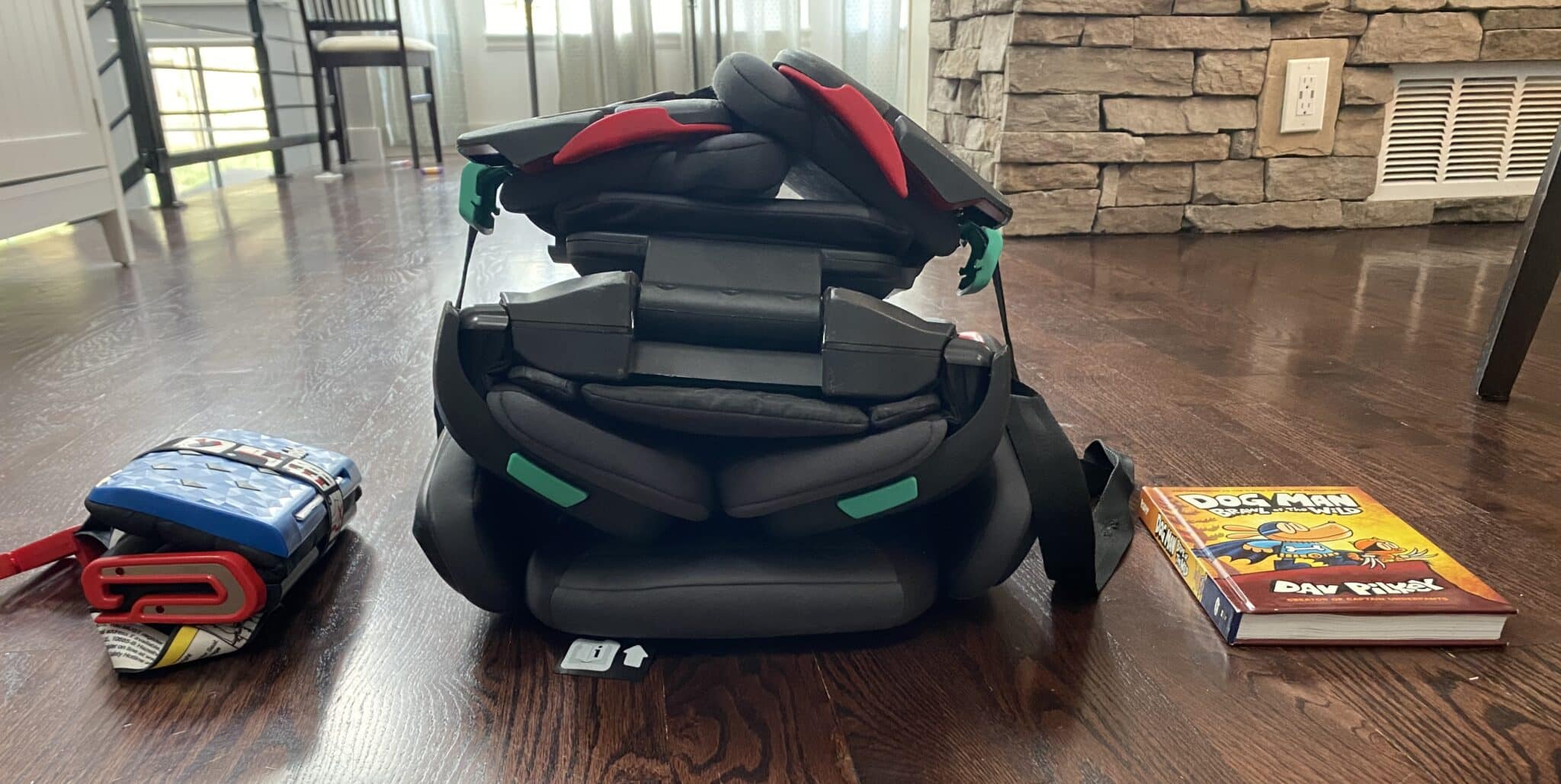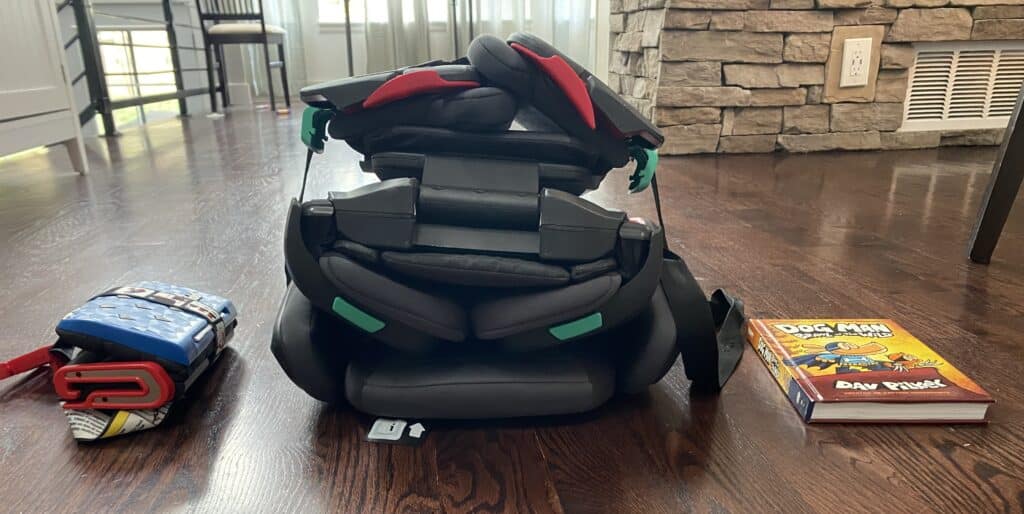 We have so far taken our mifold hifold on Southwest Airlines and on RyanAir in Europe with no problems. Do your research on your airline's baggage policy though and be aware that some airlines may consider the mifold an additional carry-on.
This was actually a source of stress for me when we were flying RyanAir, which is a budget airline that will charge you for printing your boarding pass at the airport. I was concerned we would be hit with big charges for an extra carry one, and I had prepared my spiel about how car seats travel free. However, we had no problems slinging it over our shoulder and carrying it on.
Unfortunately, the mifold hifold is frequently out of stock online, but you can set up alerts with Bed, Bath, and Beyond to be notified when it's available.
For more great travel gear to pack with kids, check out our favorite travel items.
Disclosure: Some of the links above are affiliate links. This means that, at zero cost to you, I will earn an affiliate commission if you click through the link and finalize a purchase. As an Amazon Associate I earn from qualifying purchases.