Via Bilt Rewards' monthly Rent Day Promotion, there is a new public promotion that gives the option to fast track to Hyatt Globalist status. You must register between March 28 and April 1 to activate this promo. If you stay 20 nights during the promo period (April 17-July 16), you will earn Globalist status through February 2025.
My Take On this Promo
Usually it takes 60 nights to earn Globalist status which is the highest level status for Hyatt. We earned Hyatt Globalist status for the first time in 2021 (via a promo). That year we only needed 30 nights to earn it. Last year in 2022 we earned it again but had to have 60 total nights. I was honestly on the fence about whether I'd try to earn it again this year. But this promo makes it feasible for us so we'll probably use this promo and stack with the Bonus Journeys promo to earn it again.
This promo only gives Globalist benefits without the Milestone Rewards (which are pretty valuable and include confirmed suite upgrades). You can read more about Milestone Rewards here.
Globalist Status: What Is it?
Globalist status is the highest level Hyatt status. It comes with a number of perks.
Earning Globalist the Normal Way
Usually you earn Globalist status by having 60 elite night credits. Elite night credits is a confusing terminology at first. It's essentially a way that Hyatt tallies your loyalty.
You get one elite night "credit" for every night you stay in a Hyatt hotel (assuming you booked direct via Hyatt). If you booked with points, it still counts.
There are also ways to get elite night credits without actually staying at Hyatt hotels. If you hold a Hyatt credit card, you will be awards 5 elite night credits at the beginning of every year. This gets you a little bit closer to Globalist. With the personal World of Hyatt card, you also get 2 elite night credits for every $5,000 you spend. So extra spending gets you a little closer, too. If you have a business card, you earn 5 elite night credits for every $10,000 you spend.
For this fast track promotion — none of those other ways of earning elite night credits matter. This promotion is about nights you actually stayed.
My Favorite Globalist Benefits
Some are valuable to us and others aren't. You can find a full listing of the benefits here.
| Benefit | Details |
| --- | --- |
| Free Breakfast | Complimentary full breakfast daily for each registered guest (up to 2 adults and 2 children). Tip is included. Value varies on from hotel to hotel. But we've had some great breakfasts! |
| Club Lounge Access | When staying at a participating hotel or resort that has a Club lounge, Globalists will receive access to the Club lounge (this can mean free appetizers) |
| Free Parking on Award Stays | Free parking when you stay on a Free Night Award (points or certificates). Free parking benefit is valid at Hyatt hotels or resorts that offer parking, provided that parking charges at such hotel or resort can be billed to the guest room/folio. We love this benefit in cities! |
| Guest of Honor stays | A Globalist can gift an award stay to someone else (using their points to book) and that person receives all the Globalist benefits like free breakfast and free parking! This is perhaps our favorite perk. |
| Room Upgrades at Check In | Globalists will receive the best room available at the time of check-in at Hyatt hotels and resorts, (up to Standard Suites). Though these aren't guaranteed, we have good luck with getting upgrades. |
How To Register
Download the Bilt Rewards App
Download the Bilt Rewards app. The app is free to download.
Sign Up for A Bilt Rewards Account >>NOT A CREDIT CARD
When you sign up for an account, it will try to convince you to ALSO sign up for a Bilt credit card. While you may want to consider a Bilt card at some point (particularly if you pay high rent), this card will count towards 5/24 and has no sign up bonus so most people will not want it.
You do not need the credit card to register for this promotion.
Find the Rent Day Promotions
This is usually on the first screen you see when you sign into the app. Click on Link or Enroll. If you don't already have a World Of Hyatt account, I recommend you sign up directly on the Hyatt website before you link with your Bilt account.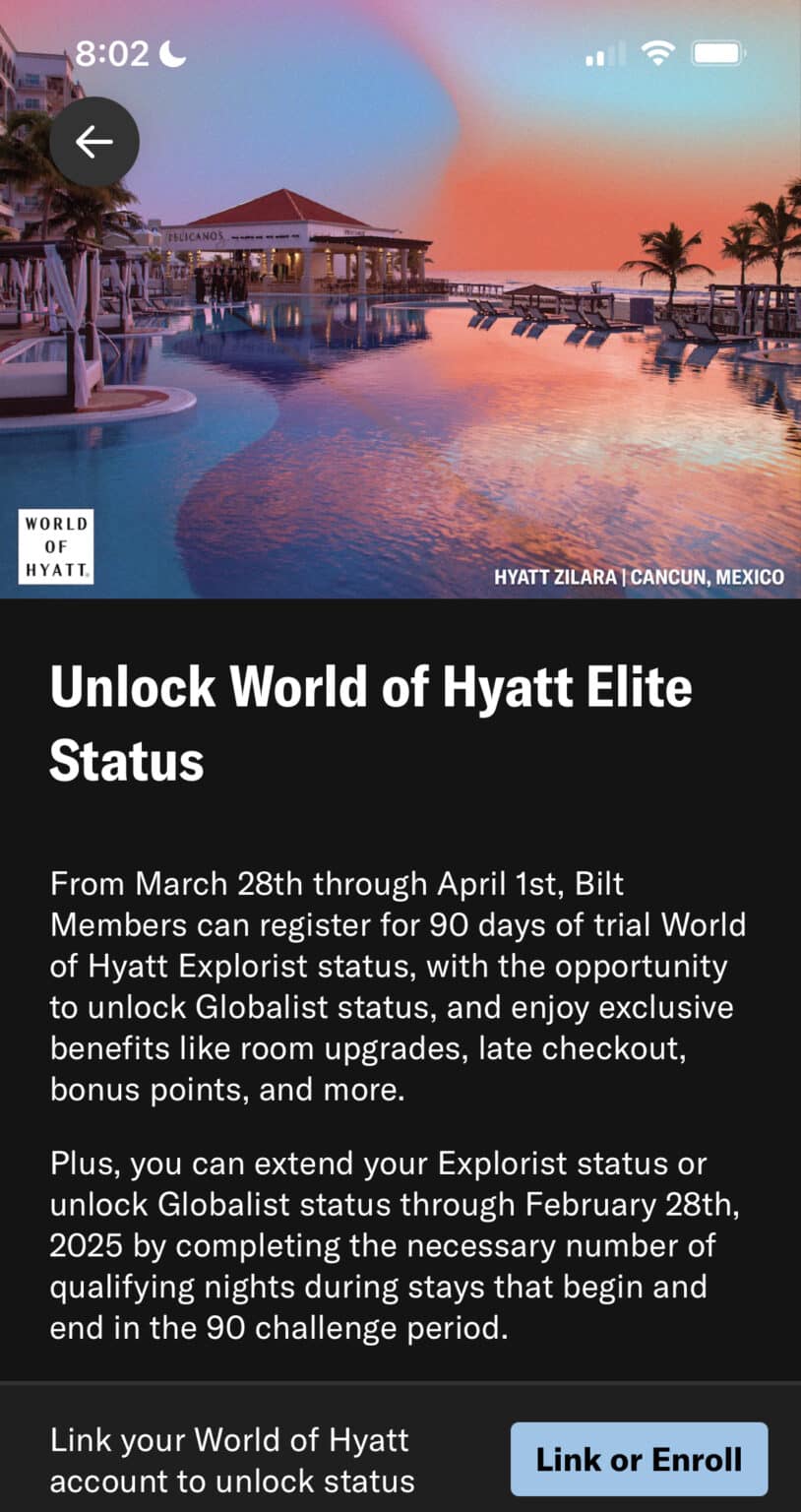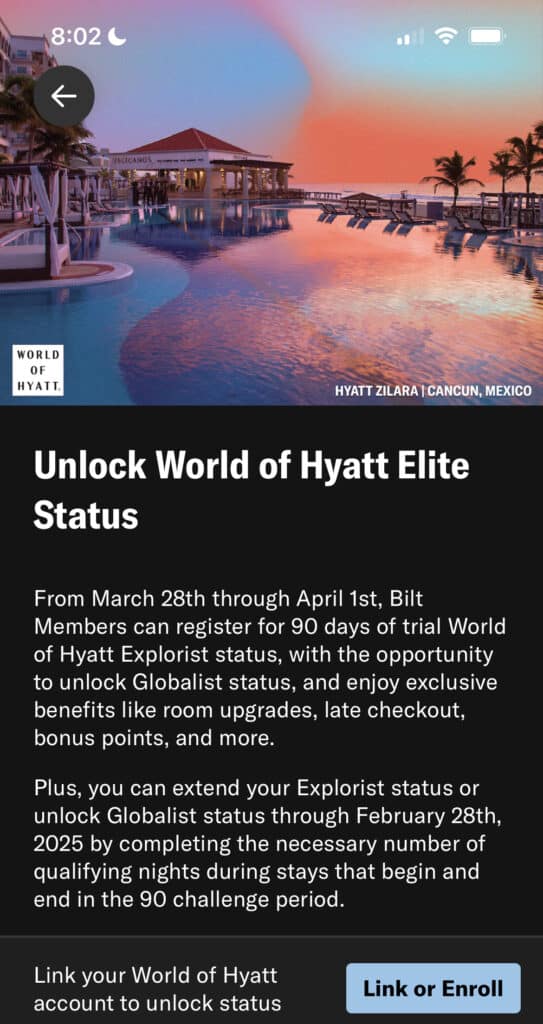 Enter your World of Hyatt number and name to link your accounts
You will also receive 100 points for linking your accounts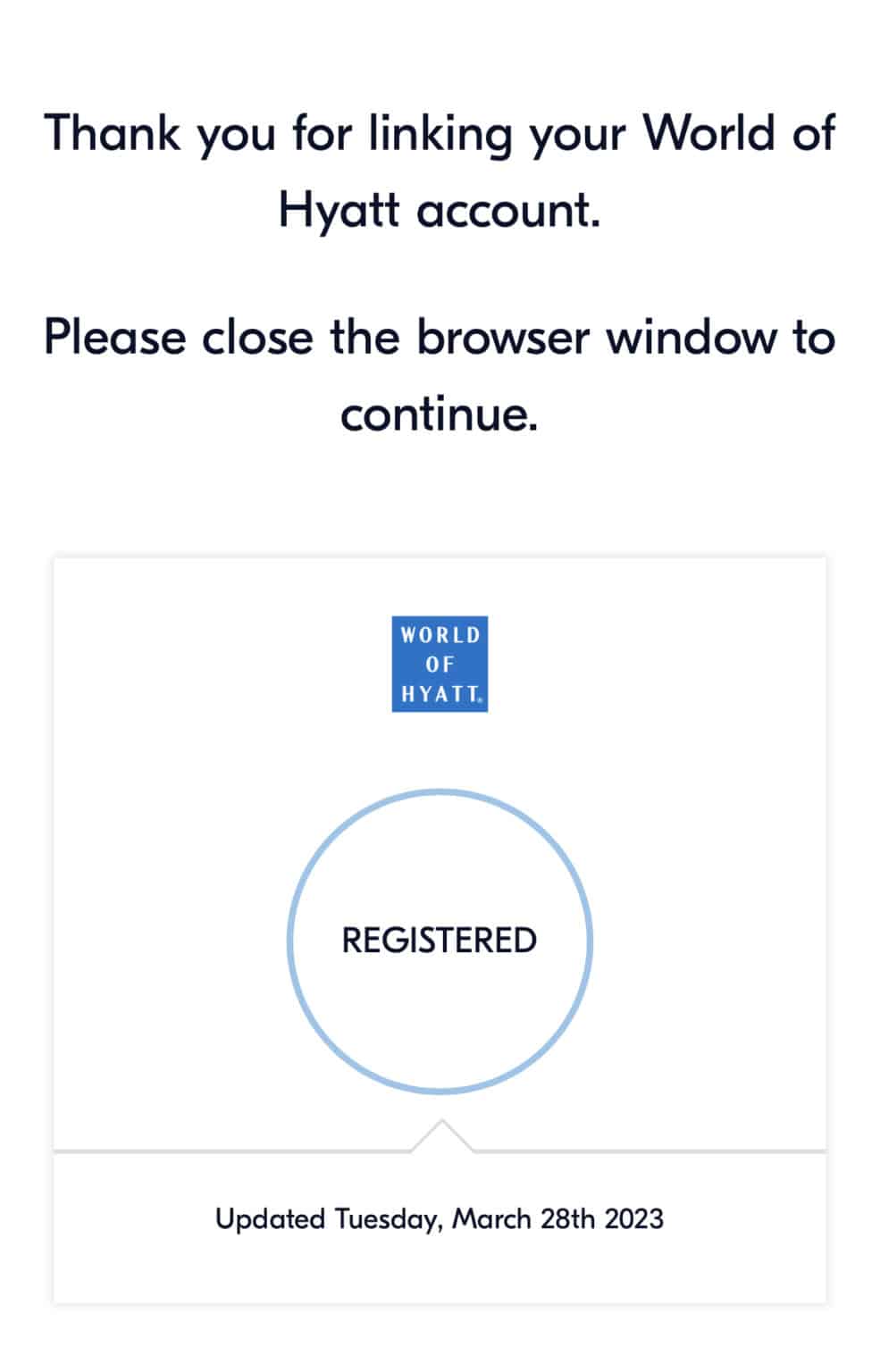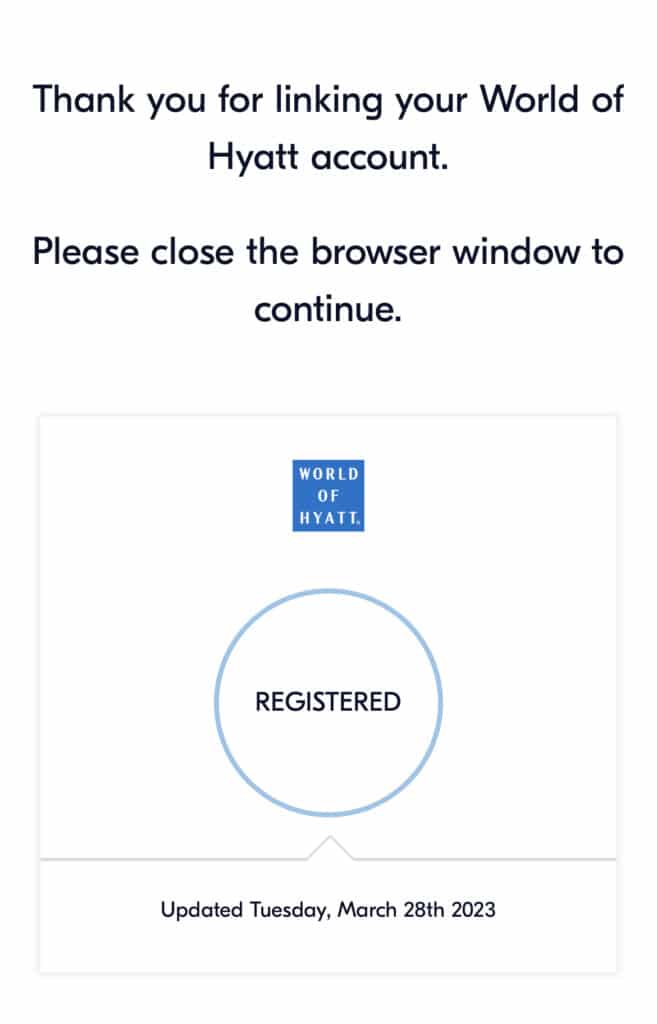 Click "Unlock World Of Hyatt Trial Status" to register
You need to both link your accounts AND register for the promotion.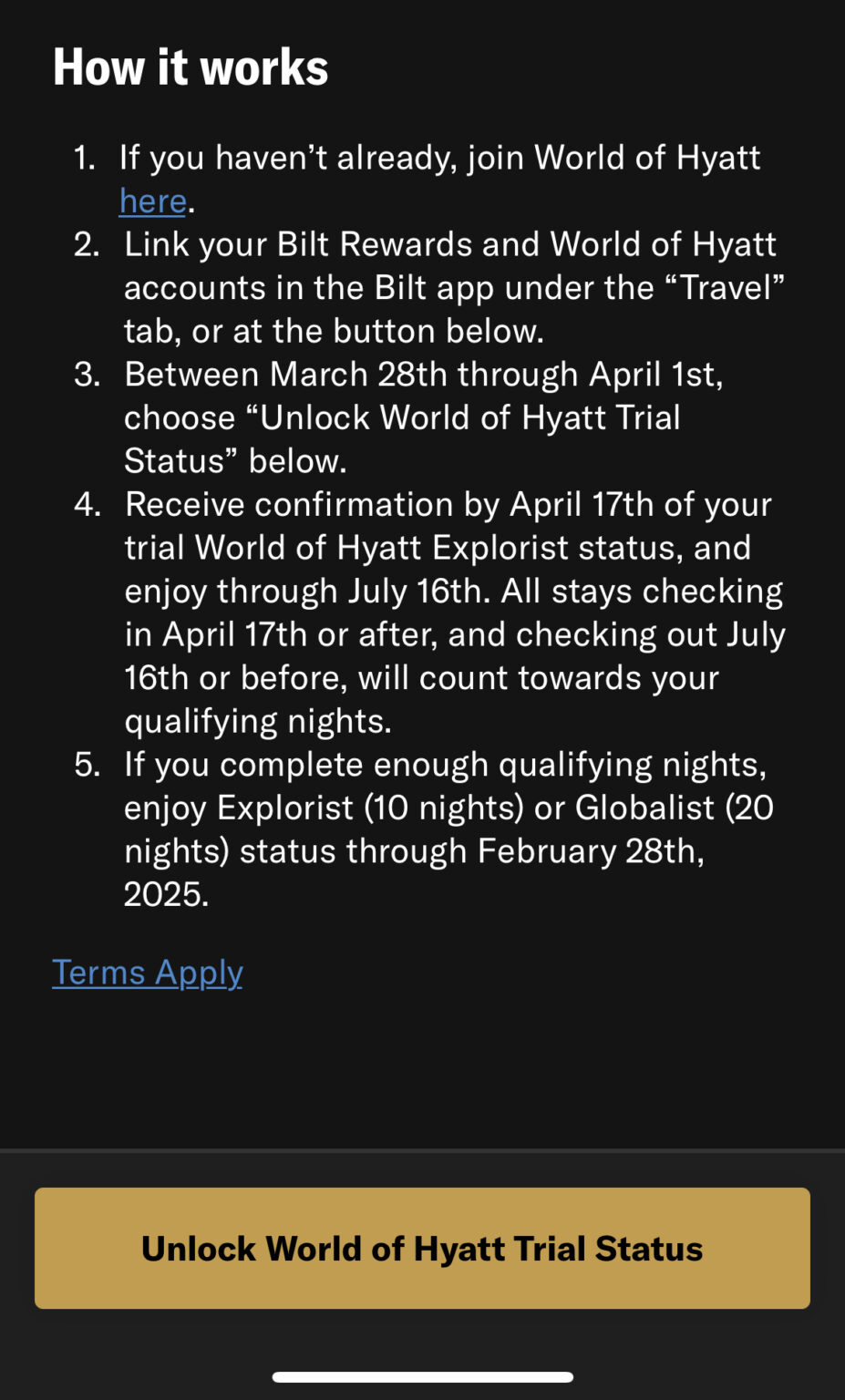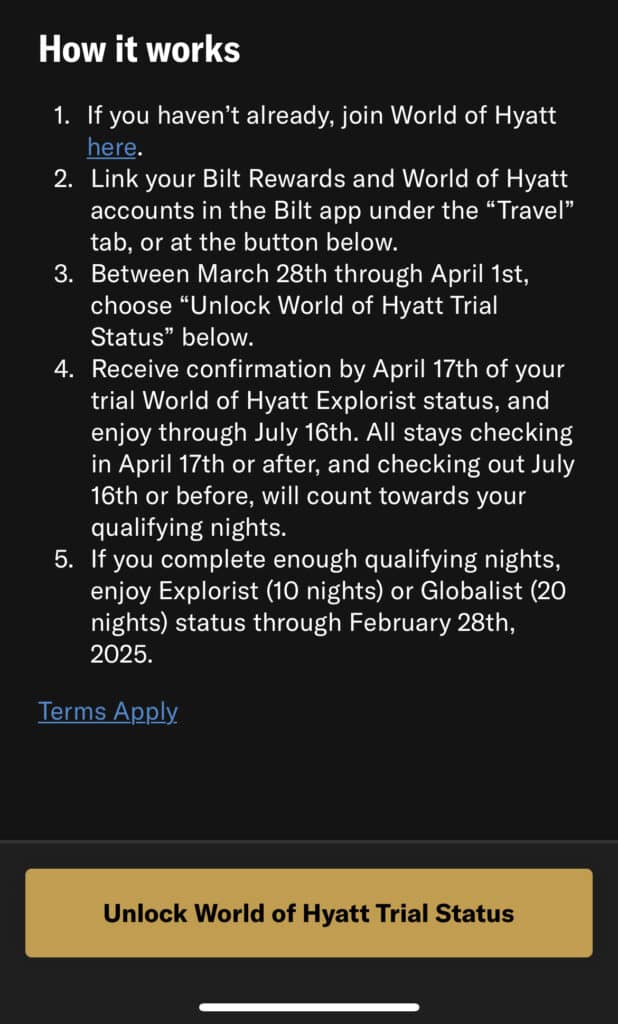 Confirmation Email
You should receive a confirmation email from Bilt similar to this one below. This tells you that you are successfully enrolled.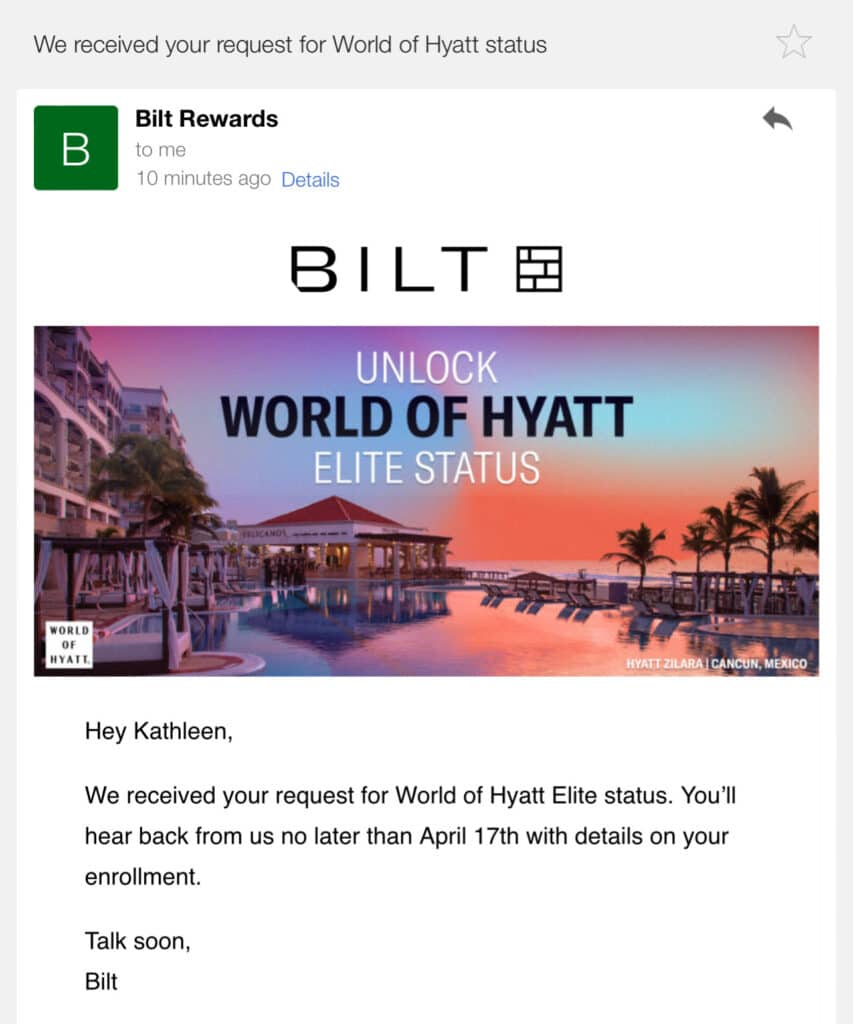 How to Maximize the Promo
While the promo can also allow you to earn Explorist status, that status doesn't really have discernible perks. So I'll just be focusing on how to earn Globalist status with this promo.
You will need 20 nights stayed between April 17 and July 16 to earn Globalist through February 2025.
This promo doesn't stack with most offers
No. If you have a Hyatt credit card that gives you 5 elite night credits, that won't matter. If you've already stayed 10 nights with Hyatt this year, that doesn't matter. If you have a stay that starts on April 10 and checks out on April 18, it doesn't matter. This promo is ONLY about the stays that start on or after April 17 and check out on or before July 16.
This promo DOES stack with the Bonus Journeys Promo
These promotions don't fully overlap. But for any nights that have a check in date on or after April 17 and check out May 26 or before — these will count for both promotions.
As a reminder, that promo gives 3,000 points to you after every 2 nights you stay. (Starting with your second stay). Details here.
Cheapest Possible Way to Earn Globalist
Hyatt Category 1 hotels cost 5,000 points as a standard rate but only 3,500 if you can find off peak dates. Theoretically, if you could book 20 nights at the off-peak rate (starting on April 17), it would cost you 70,000 points.
You'd earn 30,000 points back from the Bonus Journeys promo. Potentially even more if your nights qualify for the extra 500 points back. So you'd effectively be paying 40,000 points for Globalist status through February 2025.
Browse all category 1 hotels here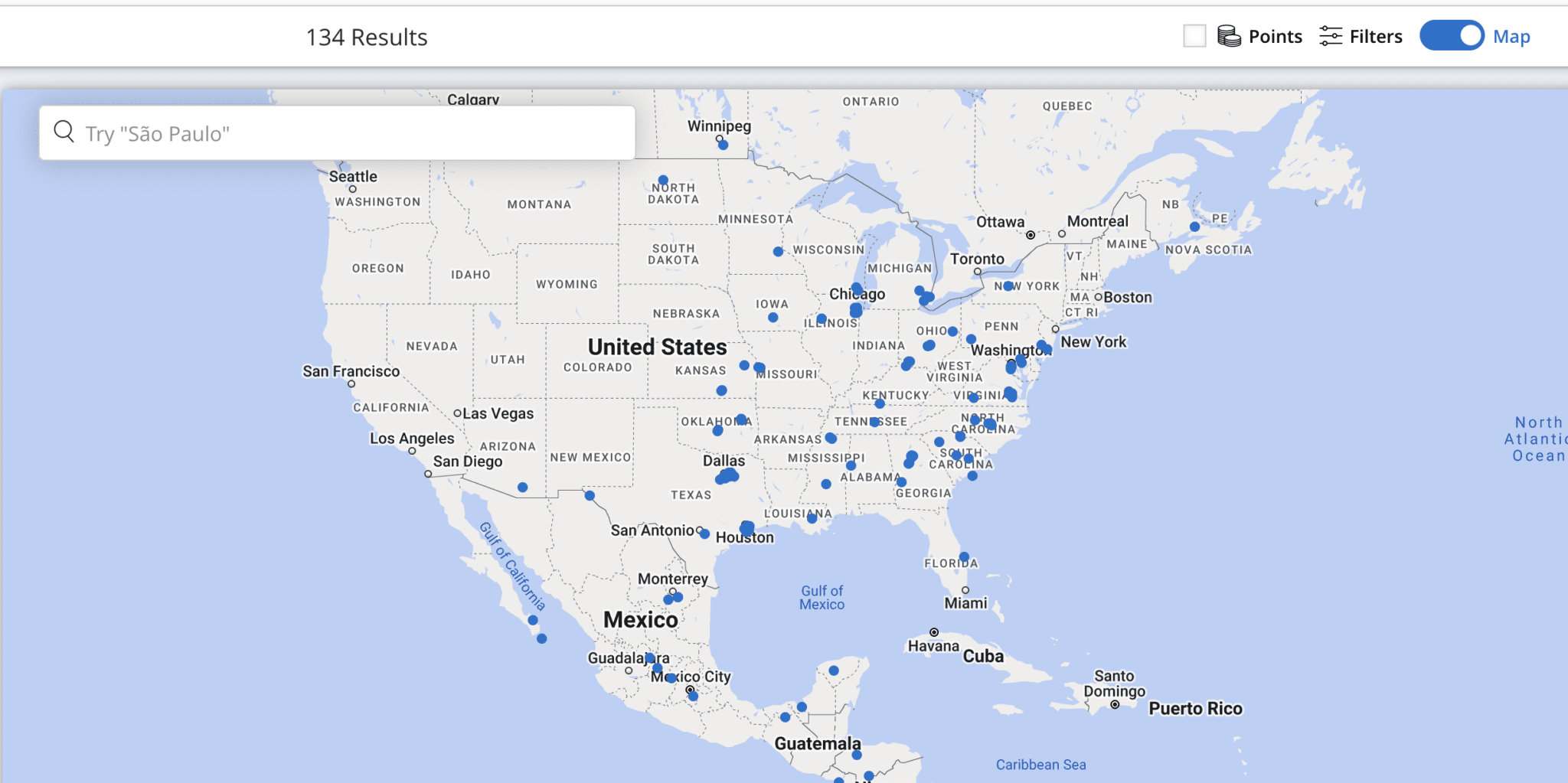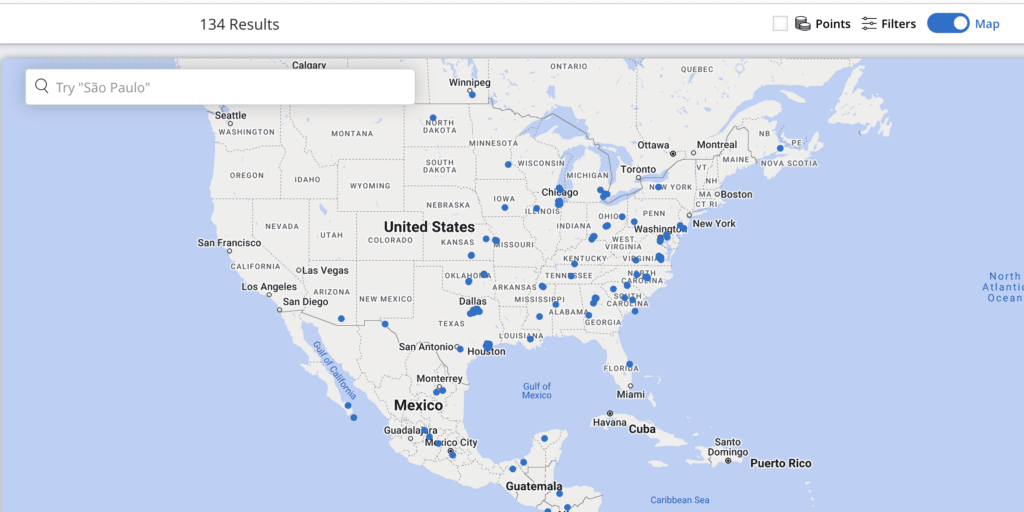 Is this worth pursuing?
First of all, even if you are vaguely considering this, you should sign up for it before April 1. It is free to sign up.
If you already have trips planned and nights booked at Hyatt, you may be quite close to completing it anyway!
I'm not sure you could find 20 nights at off-peak category 1 properties. So if you had zero nights planned, you'll want to carefully consider if the benefits truly outweigh the cost.
My strategy
I personally will be pursing Globalist through this promo. I only had 4 Hyatt nights booked during this promotional period. That means I will need to add 16 more in order to secure this fast track to Globalist.
My favorite perk about Globalist is the ability to gift stays through the Guest of Honor benefit. This benefit has some limitations. While Hyatt does allow members to transfer points to each other for free — it only allows this once every 30 days. That means I can book for a friend and they can reimburse me — but only every 30 days. So I can do this a max of 12 times per year.
I love being able to treat friends and family to these perks and this is worth it for me to burn some Ultimate Rewards points to be able to do that for another year. We earned a lot of those through the now expired Ink offers.
Here's my plan to earn those 16 more nights:
I have 6 nights booked when I can use both promos at an off-peak category 1 hotel. That will cost 21,000 points. I will get 10,500 points back since the hotel is in the Chicago area. This hotel unfortunately has since moved to a Category 2 hotel. I booked these stays a few days ago thinking it would help me reach 60 nights for Globalist. Total Cost: 10,500 points.
I will book 10 nights at Category 1 hotels during the overlapping promotional periods. Total cost: 50,000 points. I will get 17,500 points from the Bonus Journeys promotion since the hotel is in the Chicago market. Total Cost: 32,500
I will end up paying 43,000 points for stays that I honestly don't need. I may not even stay those 16 nights or we may just go and use the pool with the kids. Or I may go use the room to work for the day.
I'm going into this promotion with 23 nights already at Hyatt in 2023. This will put me to 43. I will then make sure I get to 50 nights to get the Milestone Reward of 2 Confirmed Suite Upgrades. But I will have from July 18 through December 31 to get those 7 nights!
Full Terms of the Promo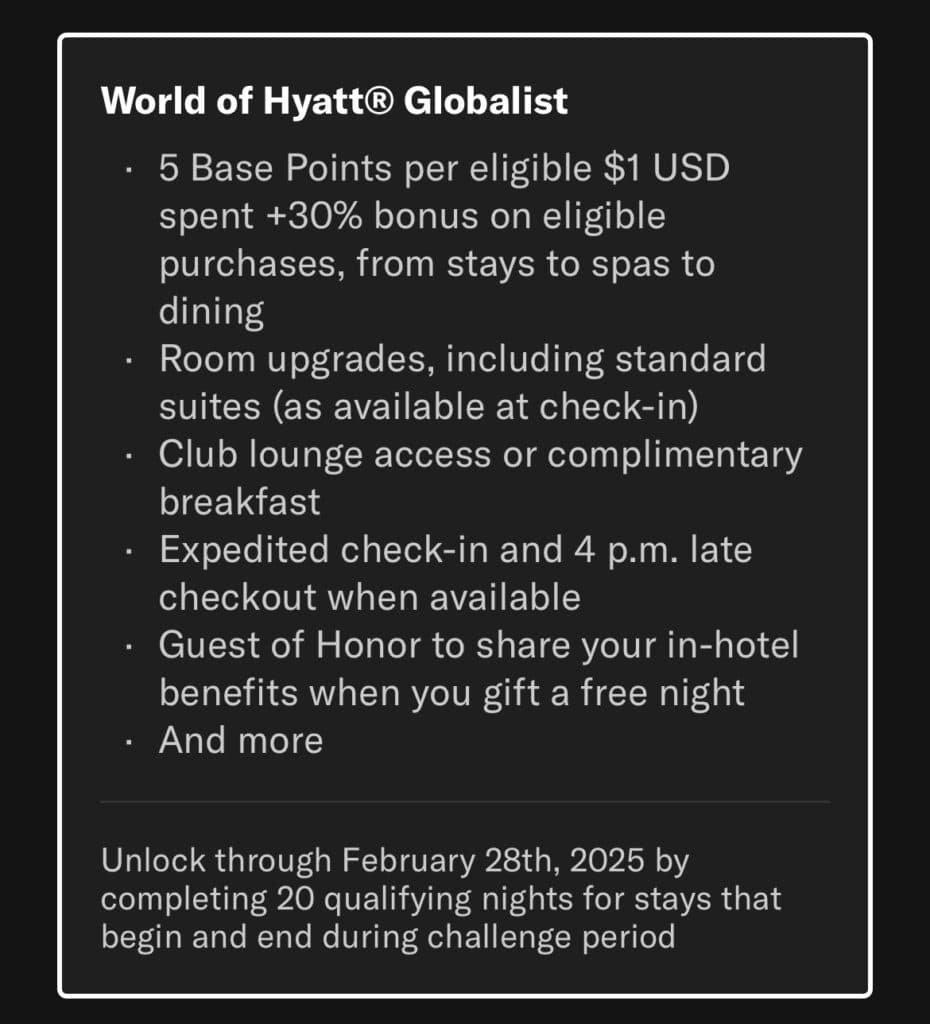 (2) World of Hyatt – Bilt Trial Tier Terms and Conditions 2023
This offer is valid in the registration window starting on March 28, 2023 at 12:00 a.m. ET and
ending on April 1, 2023 at 11:59 p.m PT. Bilt Members can participate in this offer one (1) time.
You must be a World of Hyatt member and a recipient of this offer from Bilt to participate.
Only Qualifying Nights for stays from April 17 and completed by July 16, 2023 ("Explorist Trial Period")
will count towards with this offer. Stays that have begun or which are completed by a member
prior to April 17, 2023 will not count towards this offer (even if any night stayed otherwise qualifies
as a "Tier-Qualifying Night" for purposes of the World of Hyatt program). All qualifying nights must
be on stays completed by July 16, 2023 in order for them to count in this offer.
Qualifying nights on stays completed after July 16, 2023 will not count in this offer. Explorist Trial Period may not be
extended. Hyatt reserves the right to alter or withdraw this offer at any time without notice and
remove any ineligible indivduals at any time. This offer is subject to the complete terms and
conditions of the World of Hyatt program, available at worldofhyatt.com/terms.
Upon registration, World of Hyatt members will receive a trial upgrade to Explorist status through
July 16, 2023. The trial will provide the member with the benefits of Explorist status, as set forth in
the World of Hyatt program terms, provided that the member will not receive any Explorist Club
Lounge Access Awards (as defined in the World of Hyatt program terms) or be eligible to tier
match into MGM Rewards, the loyalty program of MGM Resorts International, as part of the trial.
To maintain Explorist status through February 2025, member must complete at least ten (10)
Tier-Qualifying Nights (as defined in the World of Hyatt program terms) at any participating Hyatt
hotels and resorts worldwide, participating MGM Rewards destinations, Small Luxury Hotels of the
World ("SLH") properties, or Lindblad Expeditions on stays started and completed during the
Explorist Trial Period. If member completes at least twenty (20) Tier-Qualifying Nights at any
participating Hyatt hotels and resorts worldwide, participating MGM Rewards destinations, SLH
hotels, or Lindblad Expeditions on stays started and completed during Explorist Trial Period,
member will receive Globalist status through February 2025.
The offer will provide the member with the benefits of Globalist membership, provided that the member will not receive
Complimentary Suite Upgrade Awards, a Category 1-7 Free Night Award or My Hyatt Concierge
(as defined in the World of Hyatt program terms). Their new status will be applied within 7
business days of checkout of the stay during which they completes the offer requirements. For the
purpose of this promotion, a qualifying night is any night where a member is paying an Eligible
Rate or redeems a free night award. Only the room occupied by the member will count toward this
offer. You must provide your World of Hyatt membership number at the time of check-in for each
stay. Offer may not be valid with other offers, promotions or discounts and is non-transferable.