Christmas is almost here, but your Christmas shopping may not be done. Do you still have some loved ones on your holiday shopping list? Not sure what to get them?
Here are 8 gift ideas any traveler would love to receive – and with the right card, they won't cost you anything extra!
Lounge Access
Add the gift recipient as an authorized user on your Capital One Venture X card.
Venture X cardholders can add 4 authorized users for free, and each authorized user gets lounge access. Venture X cardholders and authorized users have access to Priority Pass lounges (+unlimited guests), Plaza Premium lounges (+2 guests), and Capital One lounges (+2 guests).
To access Priority Pass lounges, the user will need a Priority Pass membership. If you are gifting this membership, you don't even have to give them the credit card to access it (though you should let them know you've added them as an authorized user since it will show up on their credit report). The card will be sent to the primary cardholder, and then you can sign them up for Priority Pass.
This will get the authorized user and any guests into Priority Passes lounges for free. They'll be thanking you every trip they go on!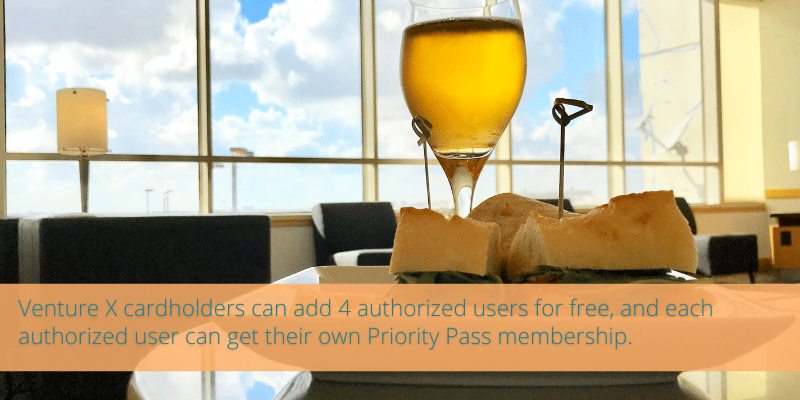 Other notable cards, like the Chase Sapphire Reserve and the Amex Platinum card, also include Priority Pass benefits for primary cardholders and authorized users. However, many of these cards charge annual fees to add authorized users. The Chase Sapphire Reserve charges $75 per authorized user and the Amex Platinum card charges $175 for up to three additional cardholders.
TSA PreCheck/Global Entry
Give the traveler in your life the gift that allows them to zip through security lines.
A lot of travel cards offer a statement credit every four years that covers the cost of TSA PreCheck or Global Entry. You can find out more about our favorite cards that offer this benefit here.
If you don't need this benefit for yourself, or have multiple cards that offer TSA PreCheck/Global Entry, you can pay for a friend or family member to get TSA PreCheck or Global Entry. As long as you pay with a card with this benefit, it doesn't matter who uses it.
Note that for TSA Precheck, you may need to show the card at your interview so this is easier to gift as Global Entry.
3 Months of Skillshare + Discounted Annual Membership
Skillshare is an online learning community where you can watch online classes and create projects – from art to web development to management classes, Skillshare has something for everyone.
If you have a Visa card, you may qualify for 3 months of Skillshare free and a discounted annual membership. You can check your card's eligibility here.
This Christmas, sign up a loved one so that they can try their hand at exploring their creativity and learning new skills!
Hyatt Free Night Certificates
Know someone that could use a night away? Have a Hyatt free night certificate that you don't know how you'll use? Give Hyatt a call and tell them you'd like to gift your free night certificate.
The easiest way to earn a Hyatt Free Night Certificate is with the personal World of Hyatt card that includes an annual Free Night Certificate for a category 1-4 Hyatt.
Hyatt also allows you to transfer World of Hyatt points to another member at no cost. So even if you don't have a free night certificate, you can give someone the gift of a night away.
In order to transfer (or combine) points, members must fill out this form and it can take a couple weeks for points to transfer. Members can only transfer or receive points once every 30 days.
Our favorite way to earn Hyatt points is through a card that earns Chase Ultimate Rewards, like the Chase Sapphire Preferred or Ink Business cards.
Marriott Bonvoy Points
Marriott allows members to transfer up to 100,000 points per calendar year to another membership account. You'll need to call Marriott Rewards Guest Services and have both the sending and receiving membership accounts information available.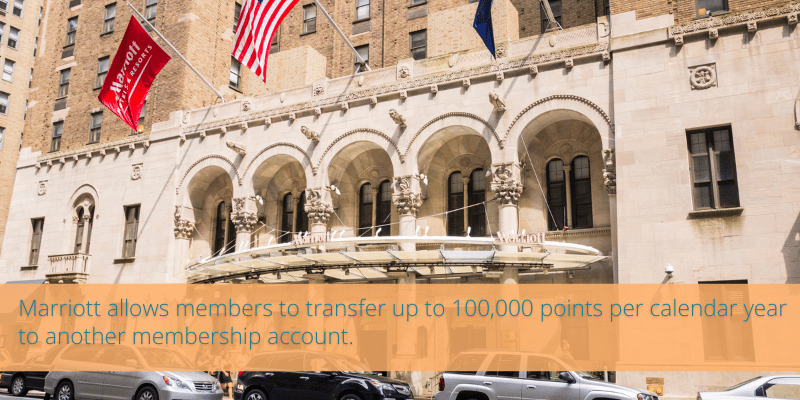 Shipt – Free Same Day Delivery
With Shipt, members can get free same day delivery of groceries and home essentials on orders over $35. Participating retailers include Bed Bath & Beyond, CVS, and Target. Check what stores offer same day delivery in your area here.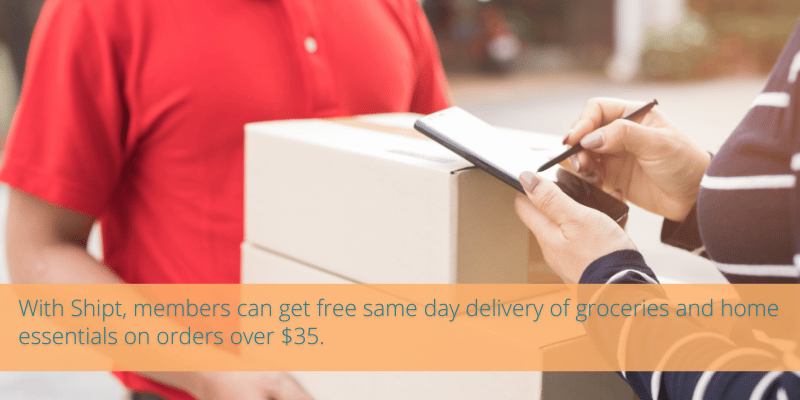 While all Visa cards are eligible for at least a free month of Shipt, if you have a Visa Infinite card (like the Venture X or Sapphire Reserve), you can get 3 years of same-day Shipt delivery for free!
Use your benefit to sign up someone else up here, but make sure the name and address matches their store accounts.
Southwest $75 Gift Card
If you have the Southwest Rapid Rewards Priority Card, your card benefits include a $75 Southwest Annual Travel Credit. You can use this credit to buy gift cards. Give the traveler in your life a Southwest gift card!
Flights
All US airlines (and most international ones) let you use your points to book a ticket for someone else. Book a ticket for them to take a getaway or come for a visit!