Many credit cards with annual fees come with statement credits. If you use these statement credits, they can add a lot of value to the card and make it worth keeping!
Most issuers have moved towards awarding credits based on the card anniversary. This means that statement credits expire and reset based on when you opened the card. However, American Express statement credits typically follow the calendar year.
American Express Statement Credits
If you have a fee-paying American Express card, there's a good chance that you have monthly, quarterly, or yearly credits that expire at the end of the calendar year. This means if you don't use them by December 31, you lose them!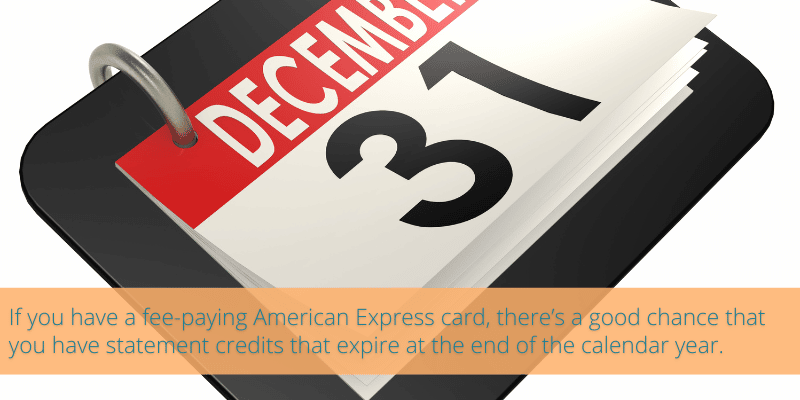 While some American Express benefits are based on the calendar year, there are also many monthly and/or quarterly benefits that are use it or lose it.
Take a look at the table below, with some of the most popular American Express cards. Have you taken full advantage of credits that will be expiring on December 31?
On the table below, benefits that are marked with an asterisk (*) are monthly benefits and benefits marked with a plus (+) are quarterly benefits. Be sure to take advantage of your monthly benefits each month.
Log into your American Express account for all the information on these credits and other benefits.
Card Name
Credits that Expire End of Calendar Year
American Express Green Card
$189 CLEAR membership
$100 LoungeBuddy
American Express Gold Card
$10 Uber Cash*
$10 Dining*
The Platinum Card
$200 Airline Fee
$200 Prepaid Fine Hotels & Resorts or The Hotel Collection bookings through Amex Travel
$189 CLEAR membership
$100 Saks Fifth Avenue ($50 for January-June and $50 for July-December)
$20 Digital Entertainment*
$12.95 Walmart+ membership*
$15 Uber Cash, plus a bonus $20 in December*
$25 Equinox or SoulCycle*
The Business Platinum Card
$200 Airline Fee
$400 Dell
$150 Adobe
$189 CLEAR membership
$90 Indeed+
$10 Wireless*
Hilton Honors American Express Aspire Card
$250 Airline Fee
$250 Hilton Resort
$100 Hilton On-Property
Marriott Bonvoy Brilliant American Express Card
$100 Marriott Bonvoy
$25 Dining*
If you have an American Express card not listed above, make sure to check your card benefits to ensure you've used any applicable statement credits.
If you have the Platinum card, sign up below to get our checklist to help you make sure you are maximizing your benefits all year round.
Track Your Progress
If you aren't sure whether you have fully used a credit, you can log into your American Express account, select the "Rewards and Benefits" section, and scroll down to "Track Your Progress" to see how much of your credits have been used.




Enrollment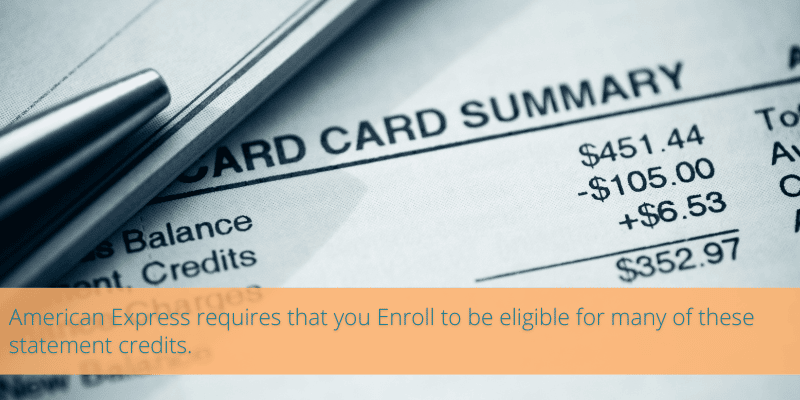 For some of these credits, it's not enough to simply charge the spending to your American Express card. American Express requires that you Enroll to be eligible for many of these statement credits. Enrollment is simple, and only needs to be done once.
Log into your American Express account
Click on "Rewards and Benefits"
Click on "Benefits"
Scroll down and select "Enroll"
Find the benefits you would like to enroll in and follow the prompts.