Are you planning to witness the Great North American Eclipse on April 8, 2024, and wondering how to make the most of your budget? The upcoming total solar eclipse is an event that you wouldn't want to miss. It is also the last total solar eclipse that will be visible from North America until 2044.
With so many people planning to travel for the occasion, the cost of hotels in the path of totality is expected to skyrocket. The good news is that you can save a significant amount of money by using hotel points to book your accommodation. In this blog post, I'll show you how to maximize your hotel points to secure a comfortable and budget-friendly stay for the 2024 solar eclipse on April 8, 2024.
Cities to Watch 2024 Solar Eclipse
If you're not familiar with the term, the "path of totality" refers to the area on the Earth's surface where the total phase of the solar eclipse can be seen. This is the part of the eclipse where the Moon completely covers the Sun, creating a momentary darkness during the day. Being within the path of totality is essential to experiencing the full extent of the eclipse, and fortunately, there are plenty of cities and towns that fall entirely within the path of totality for the 2024 Great North American Eclipse. These cities include:
San Antonio, Texas
Austin, Texas
Waco, Texas
Dallas, Texas
Little Rock, Arkansas
Indianapolis, Indiana
Cleveland, Ohio
Buffalo, New York
Rochester, New York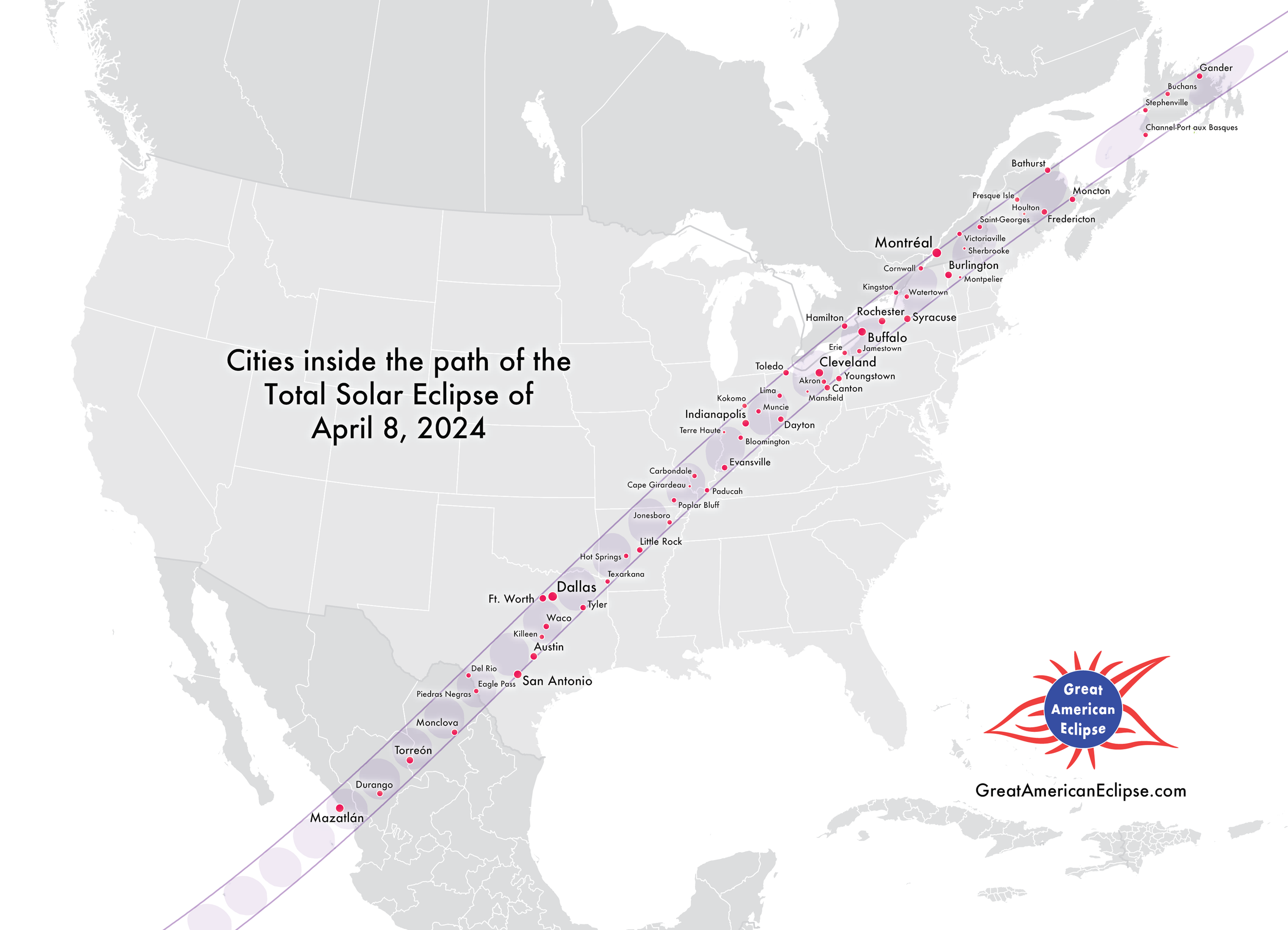 Using Hotel Points to Book Your Stay
One of the biggest expenses of any trip is accommodation, and with the 2024 Solar Eclipse being a popular event, prices are likely to go up and up as it gets closer. But fear not, if you've been saving up hotel points, this is the perfect chance to use them and save on your stay.
If you don't have points for a stay yet — you still have time to prepare! Even one credit card bonus can be more than enough to book a weekend stay.
The most important thing is to book ASAP! Hotel bookings will open starting in April 2023 (some won't open until May 2023). The earlier you book, the better chance you have to secure a great deal.
Best Hyatts To Book For the Eclipse
The World of Hyatt Program is one of our favorite hotel loyalty programs.
Hyatt hotels are assigned a category and this category determines the cost in points to book a hotel room. Category 1 is the cheapest and rooms cost a standard rate of 5,000 points per night. Category 2 rooms costs 8,000 points per night. The great news: there are Category 1 or 2 Hyatts in every major city that is in the "path of totality."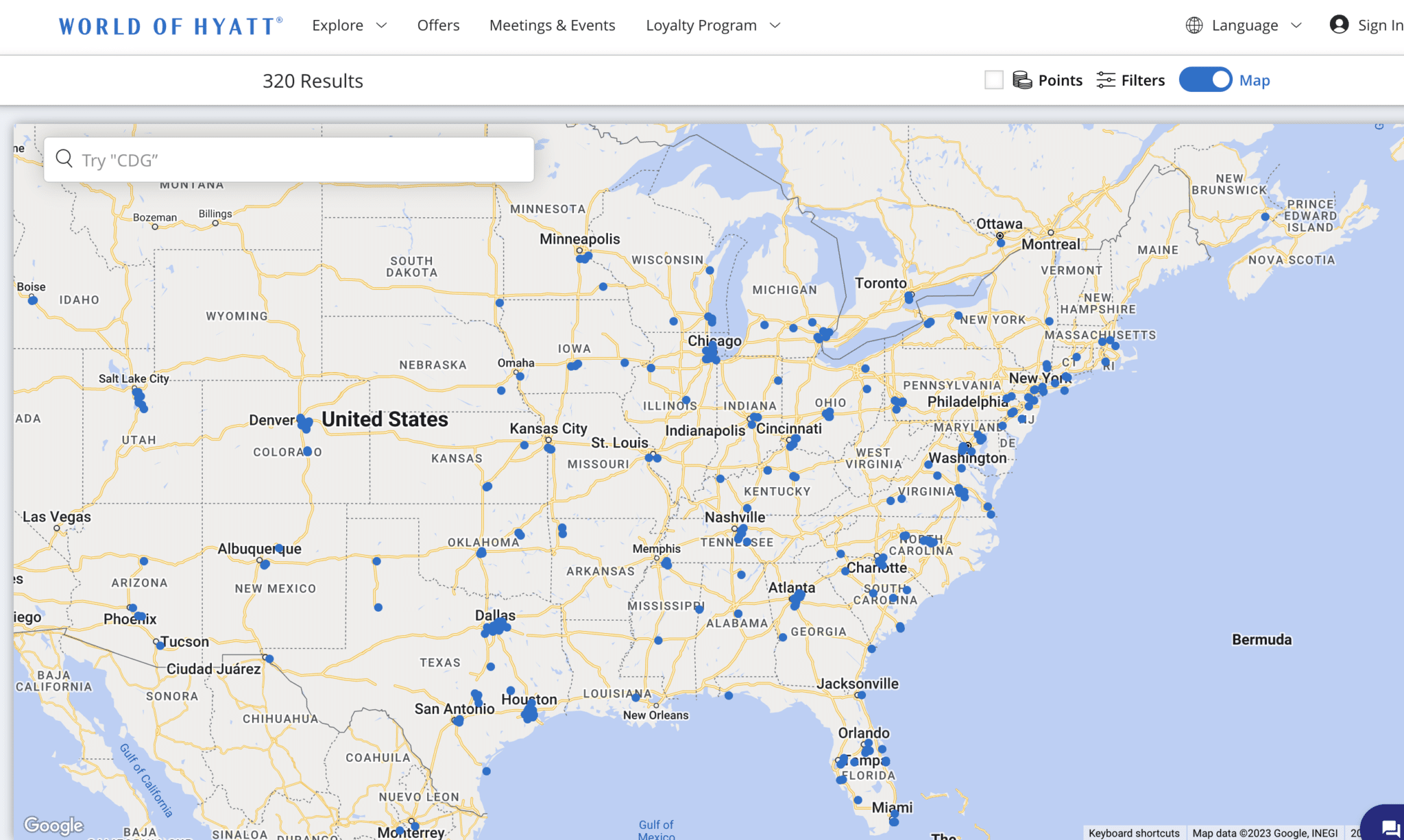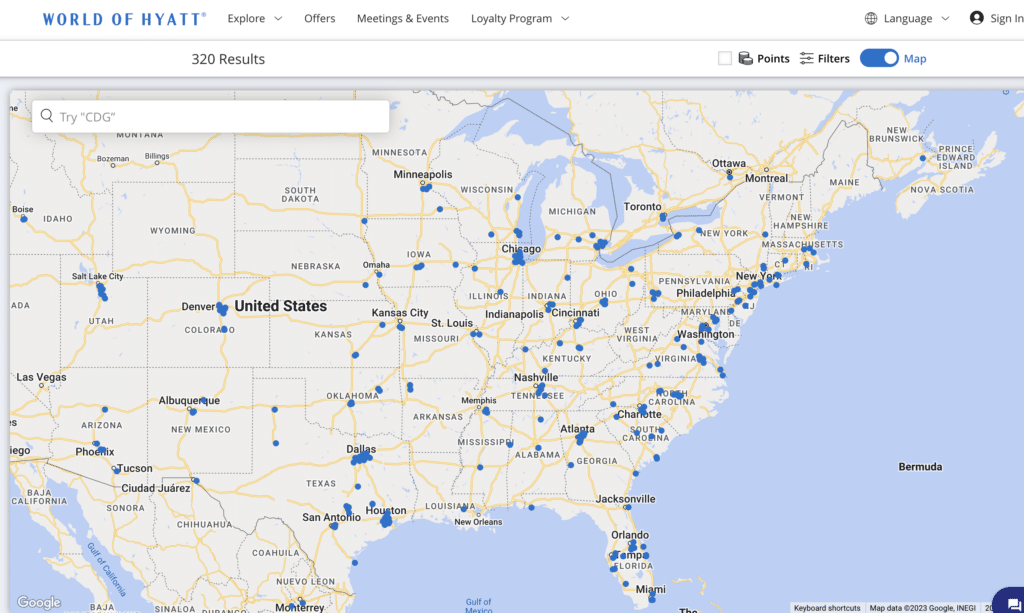 If you're a family, look for Hyatt Place or Hyatt House hotels. Both include free breakfast for all guests. Hyatt Place hotels typically sleep 6 people in a room with two queen beds and a sofa bed. Hyatt House hotels also offer some rooms with a kitchen.
Need Hyatt points? We have a full guide dedicated to Hyatt. The best card to start with is the Chase Sapphire Preferred. Though this cards earns "Ultimate Rewards" you can transfer Ultimate Rewards over to Hyatt points for no fee. The standard bonus on the Sapphire Preferred is 60,000 points, that's 12 nights of stays if you choose a Category 1 hotel!
Best IHG Hotels To Book For the Eclipse
The IHG Points Program is another loyalty program that can help you save on hotel costs during the 2024 solar eclipse. Similar to the Hyatt Points Program, you can earn points by staying at any of the IHG hotels, which include popular brands such as InterContinental, Holiday Inn, and Crowne Plaza.
Unlike Hyatt, IHG hotels use dynamic pricing for award nights. That means the cost in points will go up and down according to demand. If you're able to book early, you can snag a deal with your IHG points — but if you wait till the last minute, except prices to be soaring.
One big benefit of holding the IHG® Rewards Premier Credit Card is that you can get the 4th night free when you book four consecutive nights with points.
If you're a family, look for Holiday Inn Express and Staybridge Suites — both of which have free breakfast. Be sure to check the reviews of the hotel you're looking at. We find that some are very nice and some are disappointing. If free breakfast isn't a priority for you, our favorite IHG brand is Kimpton! There are also two Holiday Inn Vacation Club properties in Texas that sleep 6 people that would be in the path of totality. You can find them here.
Best Marriott Hotels To Book For the Eclipse
Like IHG, Marriott has a large number of hotels which means lots of potential options! But unfortunately, it also uses dynamic pricing which means I expect Marriott hotel pricing to increase as the eclipse gets closer.
There are two family friendly Marriott hotels in Texas in the path of totality listed on my Family Friendly Marriott map. You can also look for Residence Inn or Fairfield Inn which have free breakfast and also often larger rooms for families. With Marriott, if you book a 5 night stay with points, your cheapest will be free.
Book Vacation Homes with Wyndham Rewards
Another option to consider for lodging during the 2024 solar eclipse is vacation homes.
With Wyndham Rewards you can book Vacasa vacation rentals for as cheap as 15,000 points per night. Even better, cleaning fees and taxes are covered by your points! For a detailed description of how to find and book vacation homes this way, check out our full blog post.
The 2024 solar eclipse is a once-in-a-lifetime event that should not be missed. By using hotel reward points programs like Hyatt, IHG, Marriott, and Wyndham, you can save big on accommodations and have the perfect spot to witness this incredible astronomical phenomenon. Remember to start planning your trip today and don't let the high demand for hotels in major eclipse cities deter you!