You have your flight and hotel reservations, you're packed and ready to go. But wait, did you remember to hold the mail?
Whenever we leave for more than a few days, we have a list of things we do beforehand to get our house ready for our trip.
While your list will be a bit different, here are 10 things we do to help ensure our house stays secure while we're away and we don't come back to unexpected disasters.
If you're less interested in securing your home and more interested in Airbnb-ing your home while you're away instead, check out this article.
Hold mail
Of course, you can ask a neighbor to pick up your mail for you, but we always have USPS hold our mail. After you create a USPS account, it's super easy to start a mail hold anytime.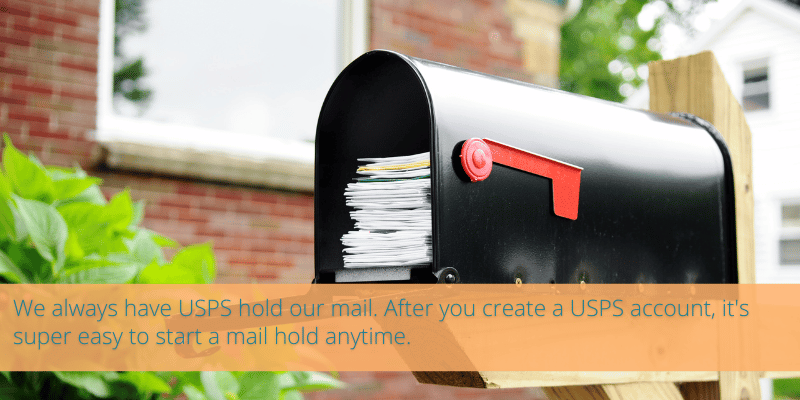 You can start a hold up to the day before you want your hold to start, and USPS will hold it for up to 30 days. You can also easily make changes if your schedule changes. When you set up your hold, you will have the choice between having USPS deliver your mail or going to the post office to pick it up when you are back.
If you are gone for longer than a month, you can have your mail temporarily forwarded for up to a year.
If you expect you might receive anything from FedEx or UPS, you can also contact them to hold any deliveries.
Line Up Help
Do you have pets or plants that need to be taken care of while you're away?
Do you live somewhere where you might need the snow shoveled from your driveway or your lawn tended to?
Our house is fairly low maintenance, but we have some friends with teenagers that we recruit to shovel our driveway when we are gone during the winter.
Adjust the Thermostat
If nobody's home, the house doesn't need to be at a comfortable temperature. Save energy by changing or turning off your thermostat while you're away.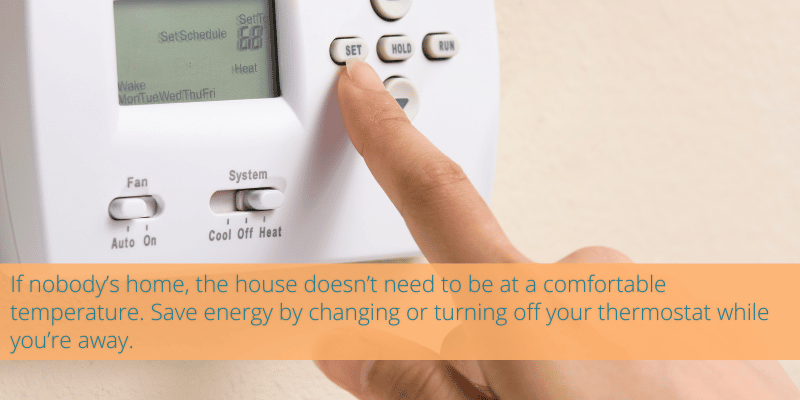 During the summer, we turn off the air conditioning when we leave, and during the winter we turn the thermostat down to the 50s.
If you have a smart thermostat, you probably have a vacation mode setting that you'll want to set up and activate when you leave.
Shut Off the Water
We had so many water problems the year after we moved into our house that we are paranoid about water.
Leaking washer hoses and fridge lines can happen anytime, but if you are gone when these happen you can come home to some serious damage.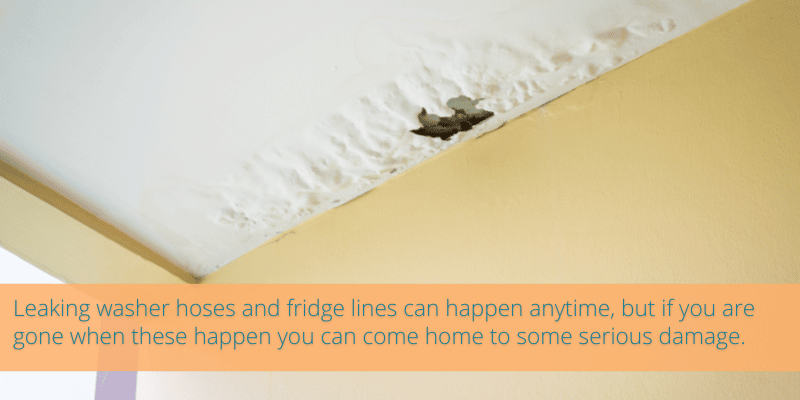 When we leave in the winter when the temperatures may dip below freezing, we shut the water off to the whole house. This also allows us to turn down our thermostat without worrying about frozen pipes.
It took a few times (and a few issues), but my husband has perfected his routine for shutting off our water.
In the summer, when the lawn requires watering, we decide on a case-by-case basis whether to shut off the house water and the sprinkler system.
You can also purchase water alarms that will notify you by email or text if they detect water.
Secure the Garage
The last thing we do before we leave the house is lock the garage door. We don't just shut the garage door, but we lock it.
There are a number of options for locking your garage door.
Physical garage door locks that stop the door from moving at the track are inexpensive and can be installed yourself. Just don't try to open the garage door while it's locked or you can damage the door.
If you have an electric garage door, you likely already have the ability to lock your garage door from the garage door wall unit. Standard units have an open button, a light button, and a lock button. When you push the lock button any garage remotes will not work, providing additional security against someone with a remote programmed to the same frequency from opening your door.
Verify Security Cameras and System are Working
If you have a security system, make sure everything is in working order and anyone who might be contacted if the alarm goes off knows that you're away.
I like being able to log in to our security system app while we're away to access the camera and see that everything is in order. If you have any security cameras, log in to the appropriate app before you go to make sure that everything is working and set up to your preferences.
Clean Out Food
Nobody wants to come back to a fridge full of moldy leftovers and spoiled milk.
Before you leave, take a few minutes to go through any food on the counters or in the refrigerator and discard items and/or move things into the freezer.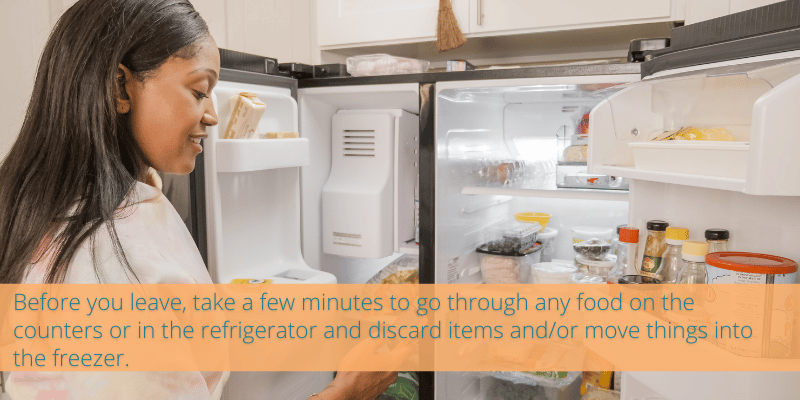 Set Lights
Get automatic light timers and attach them to a few lamps around your house. Make sure these are set-up and working properly so that it's not obvious that nobody is home.
Notify a Neighbor
Let one or two trusted neighbors or friends know that you'll be away and when you'll be back. That way, they can keep their eyes out for any suspicious activity or pick up any packages that might get delivered.
Pause Services
If you are leaving for an extended period of time, you may be able to pause some monthly services.
You might not be using all your subscription services while you're away so why pay for them?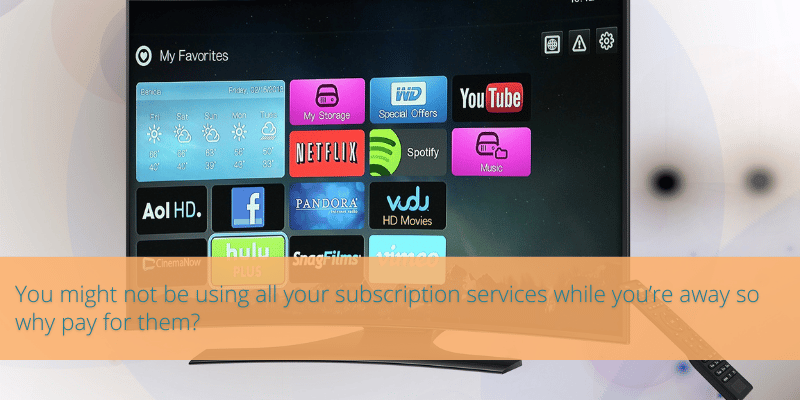 Our trash company will let us pause trash service and pay a restart fee equal to about one month's service.
Go through your expenses and assess if there are services you won't be utilizing while you're away, and what can be done to put them on hold.
Is there anything else on your list? Share your must do items in the comments and sign up below to get my checklist with space to add your own to-dos.